If you're like me, you probably have a lot of tape lying around your house. There's the usual Scotch tape, duct tape, and then there's also double-sided tape.
I always have a roll of double-sided tape in my toolbox because it comes in handy for so many things.
But you may be wondering, does double-sided tape damage walls?
It's a good question because the double-sided tape is very sticky and can be difficult to remove.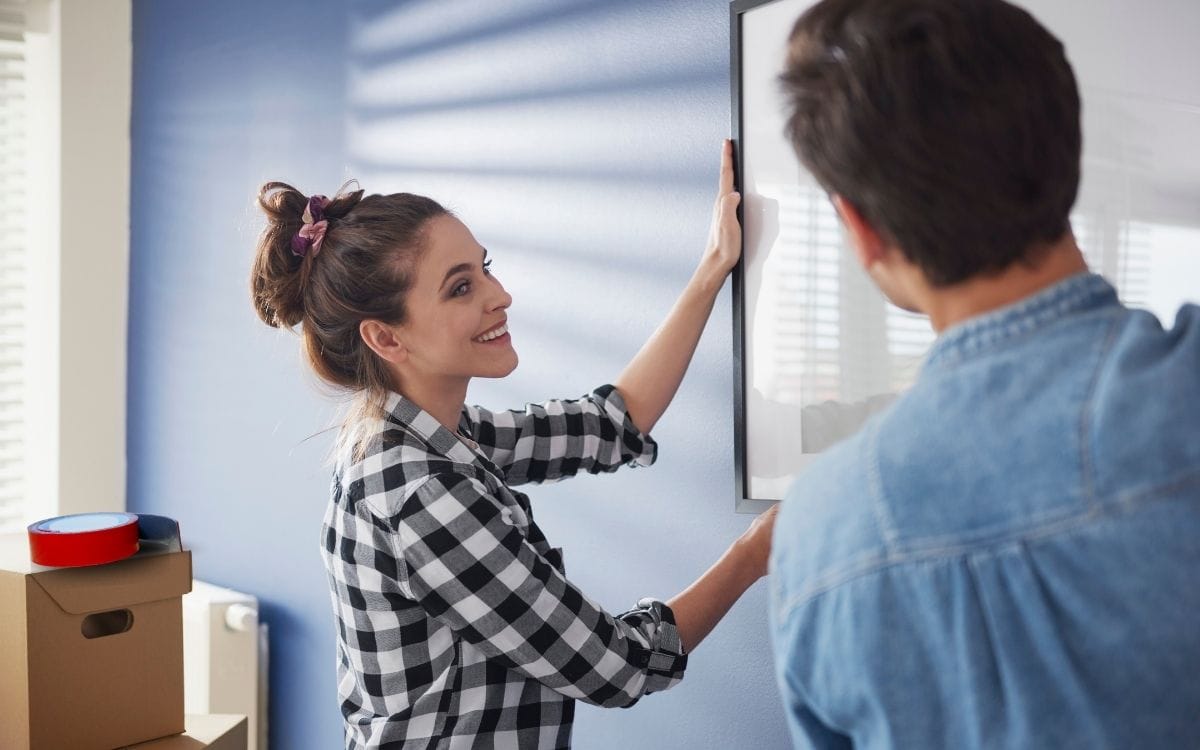 So let's get to the bottom of this sticky question and find out whether or not double-sided tape can damage your walls.
So, Does Double-Sided Mounting Tape Damage Walls?
Double-sided tape is safe for your walls. The wonderful thing about double-sided tape is that it's usually transparent, so you won't have to worry about any marks or residue.
This makes it a perfect option for those who are renting.
For a secure hold that doesn't require making any holes in your wall, we recommend using double-sided tape.
When shopping for double-sided tape, keep in mind that you'll find both permanent and removable options. Naturally, the removable option will give you less fuss if you're trying to keep your walls in pristine condition.
However, both should be able to come off of the walls.
How Many Pounds Can Double-Sided Tape Hold?
The answer really depends on the type of tape you're using. Lighter tapes can hold about 5 pounds while the toughest brands can hold up to 50 pounds.
You'll want to know how much weight support you'll need for your items before choosing a brand so you know you're getting the right tape.
How to Make Sure Double-Sided Masking Tape Doesn't Damage Your Walls
1. Use the Best Double-Sided Tape Available
Using the best quality double-sided tape will help to ensure that your walls don't get damaged.
Stick to brands with good reviews and a proven track record, such as 3M or Scotch.
2. Keep the Paint Type in Mind
If you're using double-sided tape on painted walls, it's important to keep the type of paint in mind.
Some types of paint are more likely to peel than others when a sticky substance is applied. If you're not sure, ask a professional or test a small area first.
Water-based paints are generally more susceptible to peeling, while oil-based paints are more durable. Latex paint is a good option that falls somewhere in the middle.
3. Prepare the Wall Surface Properly
Before applying the double-sided tape, make sure to clean the wall surface and let it dry completely.
Any dirt, oil, or dust will make it harder for the tape to stick and could cause it to come off prematurely.
You could also rough up the area a bit with sandpaper to provide a better grip for the tape.
4. Use the Double Sided Tape as Directed
Be sure to follow the instructions on the package when using double-sided tape. This will help ensure that it doesn't damage your walls.
Applying too much pressure, weight, or using too much tape can cause problems. So can failing to let the adhesive cure properly before adding weight to it.
To avoid these problems, follow the directions and take your time.
5. Remove Double-Sided Tape Properly
How you remove the double-sided tape will greatly impact the quality of your walls. To do this properly, start by heating up the tape with a hair dryer.
This will help to loosen the adhesive and make it easier to remove.
Once the adhesive is loosened, slowly peel the tape away from the wall. If any residue is left behind, use a putty knife or razor blade to gently scrape it off.
You can also use a product like Goo Gone to remove any remaining residue.
6. Use Low-Tack Tape if Possible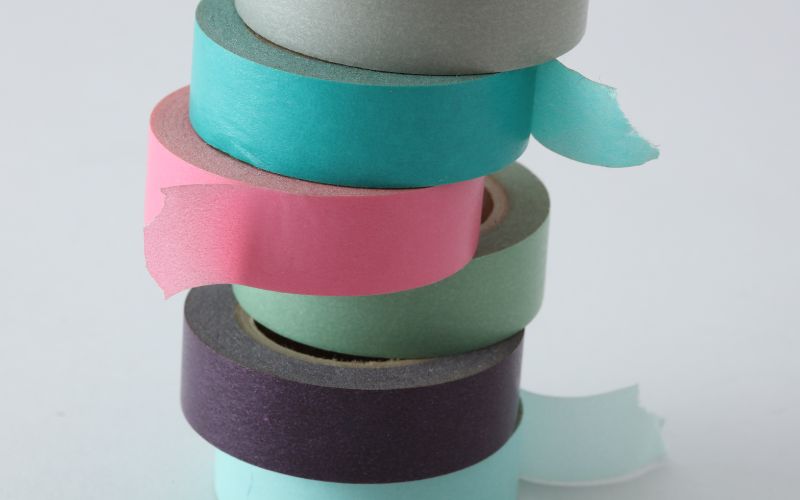 If you're not hanging something super heavy, using low tack tape will help you to avoid getting sticky residue on most surfaces.
You can use these types of tapes on painted walls, wood, glass, and metal without worrying about damage.
Benefits of Using Double-Sided Tape
There are many benefits that come with using double-sided tape. Some of the most notable benefits include:
It's easy to use and doesn't require any special skills or training.
It's very versatile and can be used on a variety of surfaces.
It's generally more affordable than other types of adhesive.
It's perfect for temporary or semi-permanent installations.
Your items will lie flat on the wall for a neater appearance.
You can find double-sided tape both for indoor and outdoor use.
It's affordable and easy to find online and in a variety of stores.
You can cut it to different lengths to suit your needs.
Can I Reuse My Double-Sided Tape?
If you take care of your double-sided tape, you can potentially reuse it. Just be sure to carefully remove it and consider loosening the adhesive strip with a blow dryer so it can come off cleanly.
The double-sided tape lasts between 12 and 24 months, so if you're trying to reuse older tape, be aware that it may not stick as well as it used to.
Reused tape may not stick as well to painted surfaces, depending on how much weight you expect it to hold. Don't expect it to be a heavy-duty strong adhesive.
What Can I Safely Hang With Double-Sided Tape?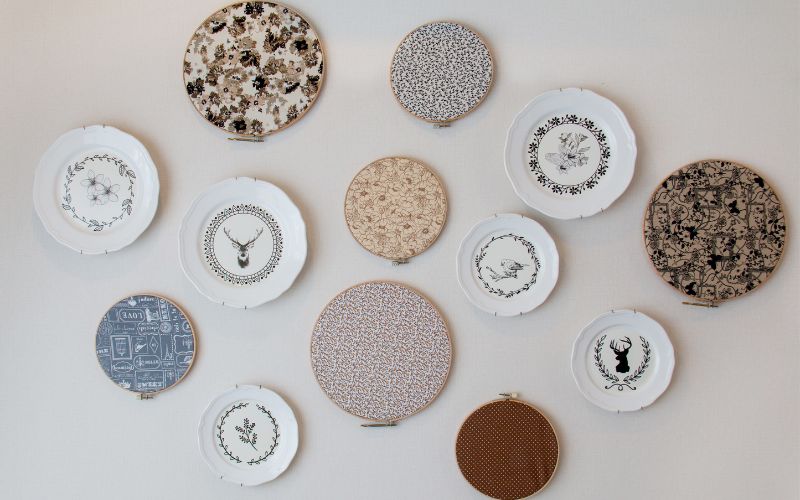 Here are some common uses of double-sided tape:
1. Hang posters
Posters are one of the most popular things to hang with double-sided tape. Just be sure to use a low-tack or removable tape so you don't damage your walls.
2. Put up holiday decorations
Double-sided tape can be a great way to hang up holiday decorations without nails or screws. You can hang things like garlands, wreaths, and lights without damaging your walls.
3. Framed pictures and artwork
If you want to hang framed pictures or artwork without nails, double-sided tape is a great option.
Just be sure to use a heavy-duty tape such as Gorilla Tough adhesive that can support the weight of your frames.
You can also use double-sided tape to hang things like mirrors, clocks, and other wall decor.
4. Make a temporary repair
In a pinch, you can use double-sided tape to temporarily hold things in place. This can be useful for repairing ripped wallpaper or loose tiles.
You can also use it to hold up a fallen picture frame until you can get around to fixing it properly.
Just be aware that double-sided tape is not a permanent solution and should only be used as a temporary fix.
5. Hold down a carpet
If you have a loose or ripped area of carpet, you can use double-sided tape to hold it down. This can be a great way to prevent trips and falls.
You can also use double-sided tape to secure area rugs in place. Just be sure to use low-tack tape so you don't damage your floors.
Wall-Safe Alternatives to Double-Sided Tape
1. Poster Putty or Blue Tack
If you're looking for a wall-safe alternative to double-sided tape, poster putty or blue tack are both good options. These products can be used to hang posters and other lightweight items without damaging your walls.
Poster putty is a pliable substance that can be pressed into place. The blue tack is similar but is a bit more sticky.
Both of these products can be removed easily without damaging your walls.
2. Use Command Strips
Command strips are amazing inventions that allow you to hang things without nails or screws.
You can use them to hang pictures, framed artwork, mirrors and other lightweight items.
Command strips come in different sizes and strengths, so be sure to choose the right size for your needs. Some also have hooks if you need to hang something like a coathanger or purse.
To use command strips, simply peel off the backing and stick them to your wall. Press firmly in place and wait a few hours for them to set. Then, you can hang your item on the strip.
3. Use Velcro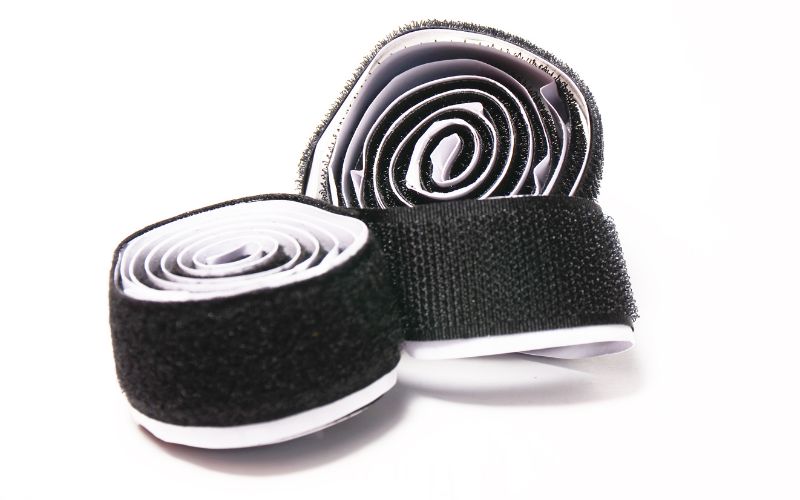 Velcro is another great alternative to double-sided tape. It allows you to take off and put on items quickly and easily without damaging your walls.
This is a good solution for items you will want to regularly move since Velcro can be used over and over again without losing stickiness.
4. Use Nails
Although nails slightly damage walls when used for hanging, they're still pretty easy to fill with a small amount of spackle. This is a good option if you're hanging something that's too heavy for the other alternatives on this list.
Just be sure to use small nails and hammer them in at an angle so they're less likely to fall out. You can also use wall anchors for extra support.
5. Try Magnetic Tape
Magnetic tape isn't as popular as double-sided mounting tape, but it's strong, so it can be good for hanging heavier items. It's also useful if you want to be able to move things around easily since the magnets will hold onto anything made of metal.
You can find magnetic tape at most hardware stores.
6. Use Push Pins
Push pins are another good alternative to double-sided tape. They're not as strong, so they're not ideal for heavier items, but they're still good for things like posters and lightweight pictures.
They also leave a minimal mark, which is great for your walls.
7. Use Painter's Tape
If you have something extremely lightweight to hang such as a postcard or small picture, you can use painter's tape. This is gentle on walls and won't leave a residue.
Keep in mind that painter's tape is not as strong as double-sided tape, so it's not ideal for heavier items. It may also not last long term, so it's perfect for temporary items.
The Bottom Line
Double-sided tape is a great solution for hanging things quickly and easily, but it's not worth damaging your walls for. If you read the instructions on the tape and use it for what it was originally designed for, your wall should be fine.
Thanks for reading!