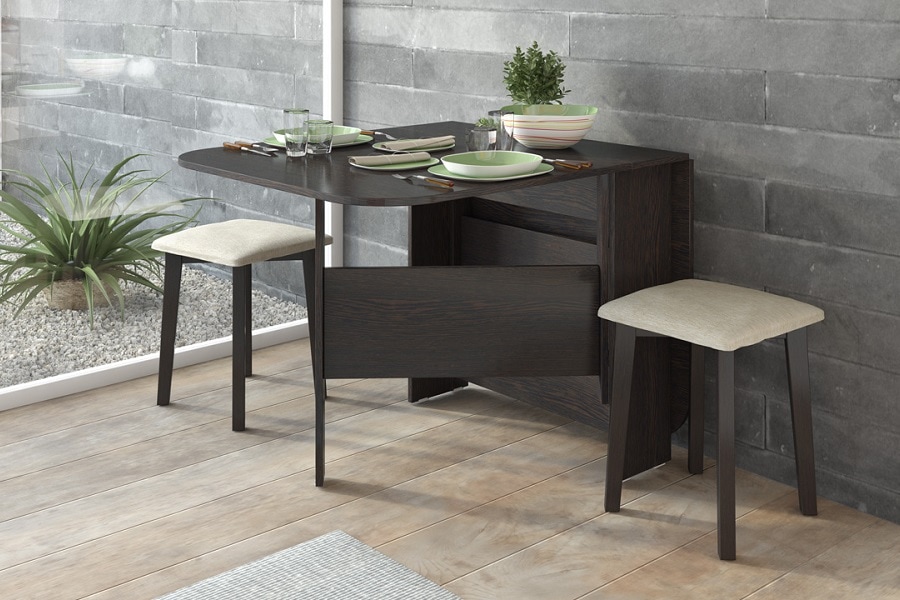 Small dining rooms appeared to have limited potential or less potential than a large dining room; however, this is not necessarily true.
In fact, there's actually a lot you can do to create a stylish yet practical space that will impress family members and guests alike.
Irrespective of whether you have a separate dining area or a small space in your kitchen or living area, there are lots of tips you can use to transform your room and make every mealtime special and memorable.
5 Stylish Dining Tables For Small Spaces 2023
In the following article, we're going to take a look at some of the best dining room tables for small spaces and how you can use them to increase the potential of your small dining room.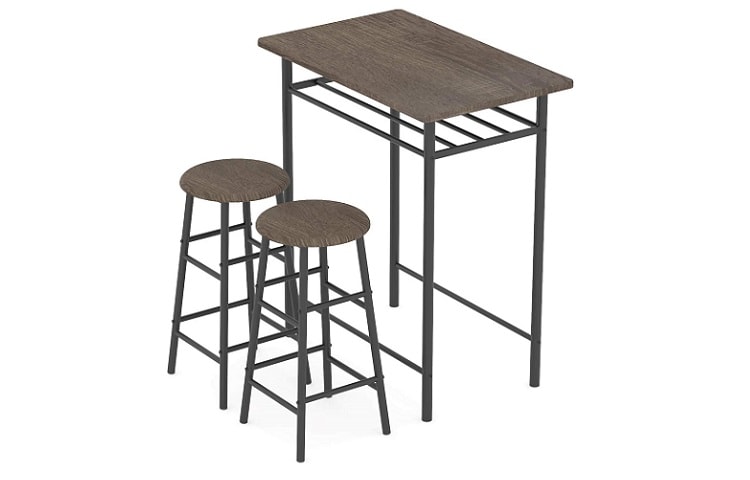 The Weehom three pieces bar home table set is one of the best dining solutions to maximize small spaces. At 9.7 inches deep, the dining table makes it ideal for small dining areas but still offers a large enough surface area for plates, cups, and cutlery.
As a bonus, it contains a storage layer underneath the table, which is elegant and practical. Feel free to use it to store newspapers and magazines or anything else you need on hand while sitting at your table.
The two chairs contain a high-profile design allowing them to easily slide underneath the matching table to keep them out of the way when not in use. This makes it absolutely convenient for smaller spaces, such as apartments.
While the bar height design is intended for two people, there's nothing stopping you from adding two extra stools on either end of the table to seat additional people.
In addition to being used as a dining table, it works perfectly as a desk for kids to do their homework or for you to place your laptop on while working.
As mentioned earlier, the extra storage layer underneath can be used for any purpose, including storing wine bottles or creating your very own private bistro area. The space-saving design allows you to move the chairs underneath the bottom of the table when not in use.
Pros:
Space-saving
Versatile use
Made from MDF board and quality steel
Cons:
Product specifications:
Size: 31.5" x 19.7" x 35.4"
Shape: Rectangular
Base: Steel
Materials: MFD board and quality steel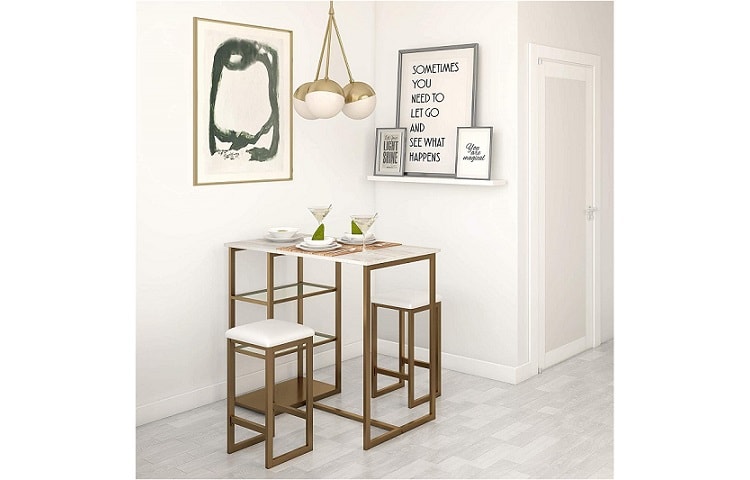 The Dorel Living Tanner 3-Piece Brass Pub Set is a modern design. The brass pub set includes a rectangular table and 2 space-saving chairs. It's designed to be stylish yet practical enough to still meet all of your storage needs, and the compact size allows it to fit into even the smallest of living spaces.
The set features a faux marble table with a soft brass metal finish base and tempered glass tops making it elegant and durable. The wood itself is strong and robust, while the metal construction simply reinforces the entire design. The chairs have straight legs with built-in footrest.
Pros:
Space-saving
Durable materials
Elegant design
Cons:
Multiple users complained that the table arrived damaged
Product specifications:
Size: 40" W x 22" D x 36" H
Shape: Rectangular
Base: Brass
Materials: Wood, brass with faux marble top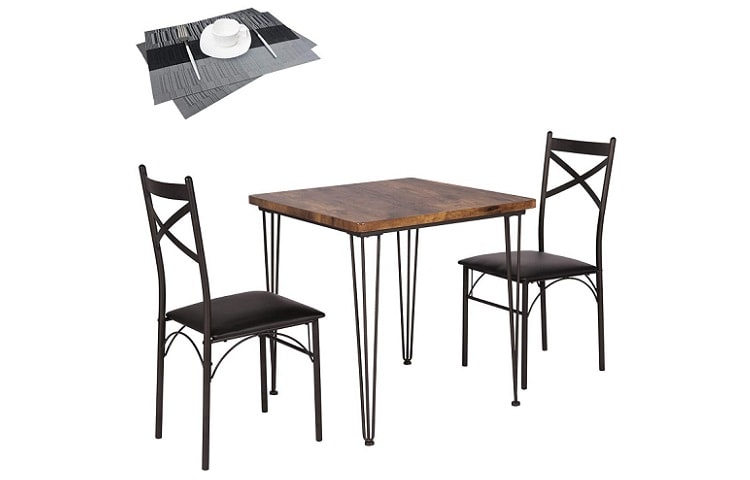 The VECELO Dining Table Set is made up of three pieces, which is a table and two chairs. It makes it an attractive centerpiece in the dining room and also doubles as the ideal furniture set for a pub or small bistro.
It's also great for small apartments and bistros with limited space. The matching chairs contain a high back design, and the rustic industrial style fits with most modern decor. It's ideal for the smallest of spaces in kitchens, breakfast nooks, and apartments. It is constructed from MDF board with a sturdy steel frame for easy maintenance.
Feel free to use this charming set indoors or outdoors. It also doubles as the ideal surface space for playing cards and other board games. Due to its compact size, you can also use it as a study desk or work desk since it is perfect for a variety of purposes.
The great-looking dining table and chairs contain padded seats, which are not just beautiful but comfortable as well. So if you'd like to liven up any living space inside your home with a touch of class and elegance, then this is the set for you.
Pros:
Rustic industrial design
Compact
Sturdy
Cons:
The tabletop is poor quality
Product specifications:
Size: 29″L x 29″W x 30″H
Shape: Square
Base: Metal
Materials: Wood and metal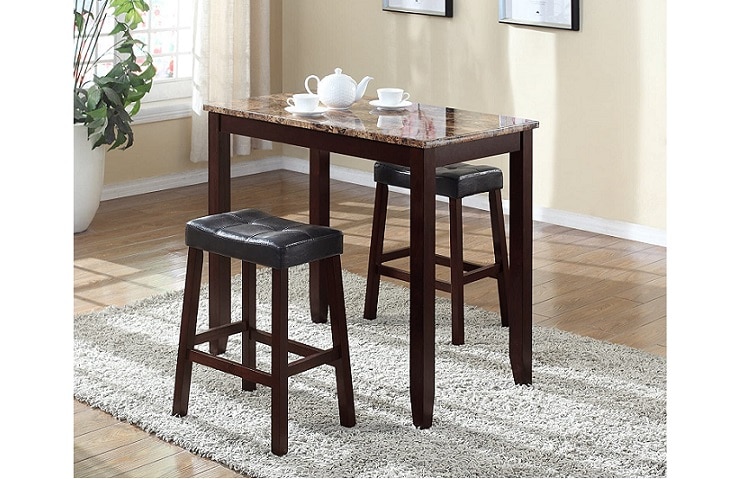 This three-piece counter high set features a contemporary marble-look veneer table. It contains dark brown blended leather as well as dark brown finished legs. It's easy to clean, looks sophisticated, and contains great sunlight resistance properties.
It's suitable for both indoor and outdoor use, and some assembly is needed. The barstools do not contain backrests; however, they are still padded for comfort. Ultimately, this makes the perfect piece of furniture for the smallest of spaces inside your home.
Pros:
Espresso finish legs
Blended leather chairs
Compact
Cons:
Product specifications:
Size: 38″L X 22″W x 37″H
Shape: Rectangular
Base: Wood
Materials: Wood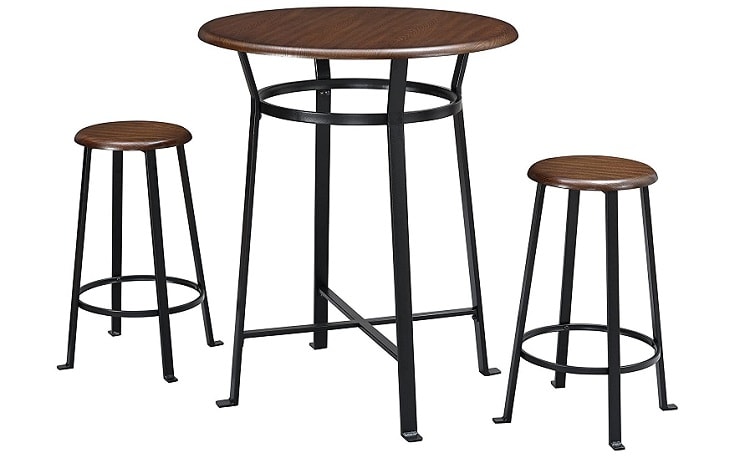 This industrial design dining set contains a wood and metal construction. It consists of a circular table with two matching stools. The set features an X base table design and stools, which have a footrest ensuring added comfort.
Made from a sturdy black metal base and a dark mahogany wood grain top finish, not only is this set practical but elegant as well. It is suitable for most indoor and outdoor spaces due to its small size, which can fit into absolutely any space possible.
With the Dorel Montgomery set, it is easy to create lasting memories during mealtime with family and friends.
Pros:
The circular design is space-saving
The metal base is sturdy
Dark mahogany finish is elegant
Cons:
Product specifications:
Size: 30" Dia. x 36" H
Shape: Circular
Base: Metal X base
Materials: Wood and metal
Dining Tables For Small Spaces FAQ
What shape table is best for a small space?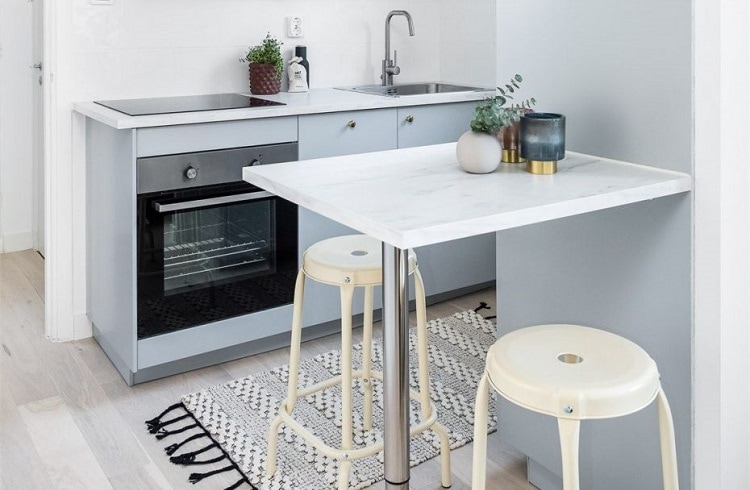 When it comes to which shape of table is best suited to small dining areas, there is often a lot of controversy between round vs. rectangular dining tables.
However, the most important part of any dining room is undoubtedly the dining table itself. This can be likened to the lead role in a play; the dining table also takes center stage, literally.
Since it's the essential part of the room, it's even harder to choose the right table shape.
Lots of people are under the impression that rectangular tables are more functional than round ones and believe that they take a lot more space than round ones.
The reality, though, is that both of these tables have their own pros and cons, and in order for you to decide what works and what doesn't for your space, you've got to understand the pros and cons of each shape.
Rectangular Dining Tables
Rectangular tables are fairly basic and often the most common choice in dining tables for a good reason. People have had rectangular tables in the dining rooms for centuries.
They have the most space for dishes and can usually accommodate more people. However, it's not the perfect solution to a small dining space, by no means.
So let's weigh out the advantages and disadvantages of rectangular dining tables.
Advantages:
Rectangular tables make for a great addition to any rectangular dining room. The shape of the table sits relative to the overall shape of the room and the seating arrangement gives a cozy feeling.
The table also has a lot more space than other shapes of tables.
Rectangular tables are broader and longer, which gives a certain type an appeal to it. Aside from that, on the practical side, it accommodates more people.
The rectangular shape also leaves more space for plates, cups, cutlery, and dishes being served. Each individual has more space without feeling too cramped or pushed into each other.
Another advantage is that when dealing with a more symmetrical space, a rectangular table can be placed in different parts of the room, so it is diverse in its placement.
It can go next to the wall to give more space to your room, or it can go near a window to make for a more pleasant and beautiful spot for family meals.
However, perhaps the best part is that they look great irrespective of how simple they are. You can always upgrade the look with a tablecloth and a centerpiece.
When it comes to sturdiness, simplicity, and functionality, rectangular shaped dining tables are a superior choice.
Disadvantages:
One of the disadvantages of rectangular dining tables is that they tend to take up a lot of space even in a rectangular-shaped room.
The length and width of one of these tables also make them a bad choice for rooms that have a more even shape. So if you happen to have a square-shaped room, then this is probably not the best choice.
These rectangular-shaped tables also don't make for the most intimate and social event. Rectangular tables cut people into specific groups, and people have to go out of their way to hear someone or to be heard.
The edges and corners on a rectangular dining table also present a serious challenge to people walking about the house, especially toddlers and the elderly.
Round Dining tables
Round dining tables have been around for the last few decades that make much more of an artistic choice. The tables may not have a lot of space in terms of elbow space and dish space; however, they do make the social table.
Advantages:
When it comes to the placement, roundtables are incredibly diverse. Irrespective of whether dining areas are square or rectangular, a round table can make a great addition to any space. They are often small and make for great social interaction throughout the table.
It's quite easy to hear everyone across the table regardless of where you sit, and you don't have to be uncomfortable to talk to the other person across from you.
Roundtables also don't have any corners, so they are generally safer for toddlers and the elderly. The shape of the table also makes dishes accessible to everyone sitting on the table without interrupting anyone, and a lot more listening and talking can go on.
Of course, one of the things that you have to admire about round tables is their beauty. Roundtables offer a stylish look from their base, while rectangular tables often make use of four legs for support. Mixed materials and curved legs, plus various other factors make these tables not just functional but immensely beautiful.
Disadvantages:
Although roundtables make for a more intimate social gathering, there simply isn't enough space to keep all the dishes and utensils on the table. So they only house a few people at a time, while others may find it a bit too claustrophobic.
They also require a specific space in the room and just aren't as versatile as rectangular ones. Also, roundtables are simply not adequate for social events where lots of people will be attending as this simply isn't enough space for everyone to sit.
So after weighing the pros and cons of each table shape, we can safely say that rectangular tables are the most likely choice for dining areas and living spaces with limited space.
Where should a dining room table be placed in a small living room?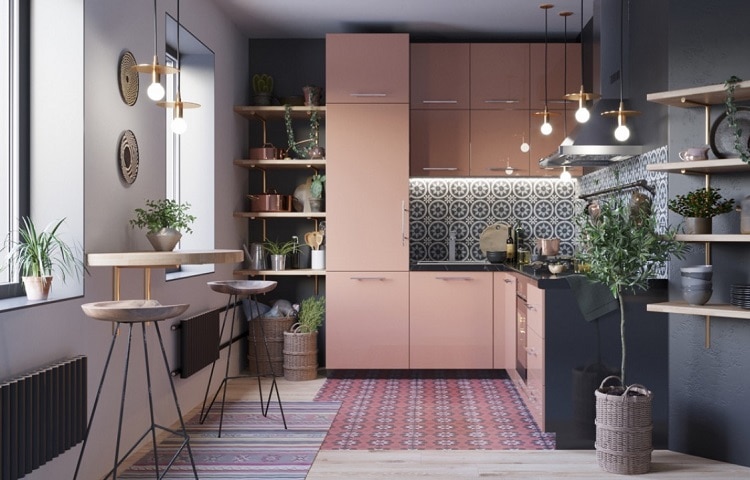 If you don't have a formal dining room, you can still fit the dining table into the living room by using a few suggestions.
Removing the furniture and rugs that define sections of the room is recommended. This is so that you can feel like you're working with a clean slate.
Place the table in a location that acts as a room divider. This gives it a separation between the living room and dining area. In most cases, the kitchen is probably the other room, or it could be your living room. So it makes sense to keep the food as close to the food source as possible.
Also, arrange the couch so that the table is placed behind it. This gives the table its own defined space. Never place your dining room table in front of doorways, hallways, or any high-traffic area in the home. This will be a distraction to those at the table and makes the space less functional or enjoyable than would like it to be.
Also, ensure that you have around 30 inches of space on the perimeter of the table. This will allow you to pull out the chairs and sit comfortably without bumping into pieces of furniture.
How do you maximize space in a small dining room?
If your dining room feels cramped and cluttered, then the last thing you want to do is spend time in it. Unless, of course, you trick your eye into thinking that the space is bigger than it actually is.
It's not rocket science or magic, just smart styling and layout strategy.
Flip out
Apartment living can usually feel like you've got a little more than a wall when eating. So to make your dining room appear bigger before the eyes, you can install a sleek table that easily folds out and then folds away when not in use.
Pair a round table with a banquette
This classic combo is one of the most effective uses of space. It will transform a blank corner and turn it into a lovely eating space.
Use walls wisely
Normally considered an interior designer no-no in other rooms, furniture against the wall frees up space for walking in narrow dining spaces. Folding chairs also stored on the opposite wall can be easily grabbed and opened when company arrives.
Opt for multi-purpose furniture
If you're going to have to sacrifice a part of your dining room for your workspace, then why not get the best of both worlds with a desk. A simple yet elegant office desk can also double as a dining table or buffet serving area when you have guests over.
Get a bench
One of the reasons why benches are a preferable choice for dining areas with limited space is because a bench can seat more than one person, and a handful of kids if you're lucky. It can also tuck away completely under the table when not in use.
Invest in a mirror
A big mirror on the wall in a dining room that has small or limited space is a visual trickery that makes the room appear bigger. The mirror's reflection is great at faking extra space since the light bounces around the room to make it seem airier.
How do you decorate a small sitting room?
Replace a bulky sofa with a snuggler. A snuggler is also known as a "love seat" and is approximately a 1 1/2 seater that can easily accommodate an adult and a child or a cuddly couple.
Making your own media center is another great way to save space. A wall-mounted TV is always better for smaller living rooms and installing a floating shelf above or below your TV is an excellent choice to hold items and keep things clutter-free.
Once again, free up floor space by maximizing the potential of other spaces inside the room. Hanging baskets are a great solution, and not only did they look beautiful, but they are sturdy enough to hold all types of content. Use strong and decorative hooks to store all types of accessories, clutter, and toys lying around.
Have an eye-catching centerpiece such as an oversized table lamp, attention-grabbing piece of art, or even a beautiful upholstered armchair that keeps the rest of the room clutter free. This will make the room feel up-to-date and draw attention away from its size.
Conclusion
If you are a self-proclaimed interior design guru, a small dining room or compact dining area does not need to limit your potential.
In fact, small dining areas can prove to be just as grand as their roomier counterparts. There are lots of tips and tricks that you can use to maximize the potential of your small living area.
And once you do, you can simply sit back and take in the sites around you while giving yourself a well-deserved pat on the back.