Are you an adventure freak?
Do you frequently go on road trips, adventure trips, trekking or camping, solo or with your family or best buds?
If you are the outdoorsy type, you may want a piece of equipment to cook wherever you go conveniently. Can you imagine whipping up something hot and delicious as you enjoy the view from the hills you just trekked? Heaven!
A portable butane stove is a piece of cooking equipment specially designed for this purpose. Lightweight, compact and portable, you can easily pack it with anything else you need on your trip and set off on your adventure!
These are not just for those outdoor trips. These versatile cooking gears can be used for emergency purposes. Below you will find our recommendation for the top 5 best portable gas stoves in 2022. Read on to find out!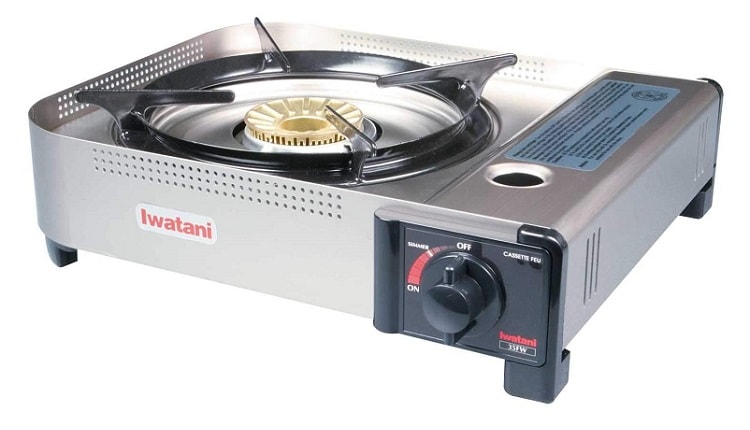 If you are looking for a high-powered cooking store, look no further than Iwatani 35FW Butane Stove.
This portable cooking stove is loaded with features you would typically want when you have to cook outdoors, making it one of the best portable butane stoves. Manufactured in Japan, this stove is easy to use and cleans effortlessly.
Features Specs
Power: 15000 BTU
Size: 13.3 x 11.9 x 3.7 inches
Weight: 4.4 pounds
Material: Aluminium
Pros:
It features a spacious cooktop area.
It is made with Aluminium, which lends durability.
You can cook even in highly windy places without worry that the flame will be put out.
Easy locking and safety.
Cons:
It does not come equipped with a manual lever to detach the canister from your stove.
The piping tends to get clogged with use.
Additional Features:
Iwanti 35 FW produces an output of 15,000 BTU per hour from a solid brass burner. So, you can cook any food of your choice. The construction is sturdy and will last for many years. This butane stove uses Aluminium for its body and brass for its burner.
When you cook outdoors, especially in higher altitudes, the wind is your enemy as it may put out the fire. This stove, however, comes with a double windbreaker. It keeps the flame from turning off even if a gusty wind blows.
One of the best things about this equipment is that it comes with plenty of safety features to ensure safety while cooking. It will automatically shut off the flow of butane and extinguish the flame on detecting an unsafe rise in pressure in the fuel canister. It also comes with a magnetic lock system for added safety. Simply push the fuel can onto the magnet, and it safely locks in place. It makes it impossible to load fuel incorrectly.
Cooking is not just easy but enjoyable with Iwatani 35FW Butane Stove. So, make it your companion for your next outdoor BBQ, picnic, road trip, or camping.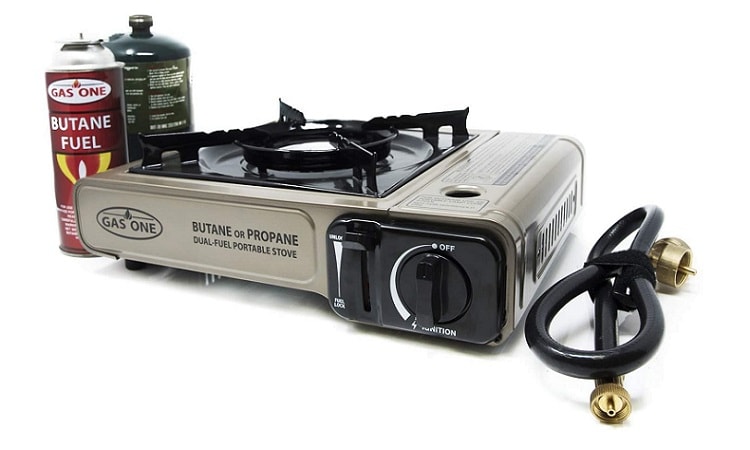 If you are on the fence about which fuel to opt for, or you want some flexibility when cooking outdoors, then the GAS One GS-3400 P is an excellent option for you.
This highly versatile and portable butane gas stove can run on both propane and butane. It can operate on a single 8-ounce butane cartridge or a 16.4-ounce propane cylinder.
Features Specs:
Power: 8000 BTU
Size: 5.31 x 4.41 x 1.73 inches
Weight: 3.1 pounds
Material: Metal/Steel
Pros:
Being lightweight, it is easily portable.
It accommodates both propane and butane fuels.
Safe and easy to use.
Good finish that looks sleek and durable; easy to clean as well.
Non-slip rubber legs in the construction provide added support and prevent slips and falls.
Cons:
The canister may be a little hard to lock in place.
It is not equipped with a windbreak feature so that a strong breeze may put out the flame.
The gas regular may leak.
Additional features:
The most desirable feature of this product is that it is compatible with both propane and butane fuels. Lighting a gas stove with a matchstick or even a lighter can be a little cumbersome. The Piezo-electric ignition feature of this stove eliminates the need for lighter/matches. So, you do not need a lighter or a matchbox to access the flame.
The 8000 BTU output allows you to cook food fast. So, no extended waiting hours when you are done with your adventure activities! It comes with a portable carrying case so that you can easily take it on your outdoor trip.
Not only is this device portable, easy to use, and convenient, it is also designed with safety features like the cartridge ejection device and the flame supervision system. When there is an irregular flow of gas, it automatically shuts off. The built-in cartridge ejection system ejects the butane fuel canister when it detects an unusual gas pressure.
Overall, this one is excellent value for money.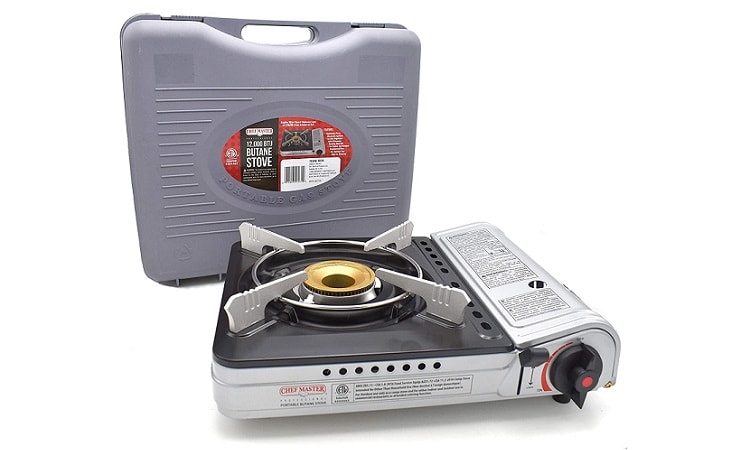 The Chef master comes at only half the price of Iwatani with most of the features offered by Iwatani. Its output is slightly lower, though.
Chef Master comes in 4 models with varying power outputs, ranging from 7650 BTU to 15,000 BTU. This particular model has a heat output of 12,000 BTU. Weighing just 2 pounds, this portable butane stove can be packed easily and carried on your outdoor trips.
Features Specs:
Power: 12000 BTU
Size: 13 x 11 x 4 inches
Weight: 2 pounds
Material: Brass
Pros:
High powerful heat output.
Extremely lightweight, so easily portable.
The flame does not go out even in breezy conditions.
Super easy to dismantle and clean.
Highly safe to use.
You can adjust the heat to the level you want easily.
It comes with a carry case for easy portability.
Cons:
You may face some issues with the quality.
It looks like this model will work only with their fuel. So check before you buy.
Additional Features:
This stove has a high heat output of 12,000 BTUs, along with an adjustable heat range to set to the level you want. Hate fumbling around with matches or hunting for lighters when you cook? This portable stove comes with an Automatic Piezo Electronic Ignition feature so that you can access the flame without a lighter or match.
The burner of this stove is made of brass, which holds heat relatively well. It also resists corrosion, warping, and deforming.
It weighs only 2 pounds, and each burner measures 14 inches. Additionally, the package includes a carry case. All of this makes it one of the best portable stoves for your next adventure.
Two highly appealing features of Chef Master are the Wind Guard feature and an in-built regulator with pressure-sensing capability.
The Wind guard reduces the loss of BTU from a heavy breeze or even an air-conditioner. It guarantees that the flame does not go out when you are cooking. The build-in regulator detects a high/unusual pressure and shuts off the valve to cut off the pressure before it reaches dangerous levels.

If you are looking for a stylish option, the GAS ONE GS-2000 Dual Fuel is an excellent choice. The best part about this stove is that it is compatible with both propane and butane fuels.
Made with stainless steel, it is sturdy and durable. It has two burners, each of which provides a heat output of 8000 BTU. Outdoor use only!
Features Specs:
Power: 8000 BTU
Size: 26.7 x 11.3 x 5 inches
Weight: 10 pounds
Material: Stainless Steel
Pros:
It accommodates both propane and butane fuels.
Safe and easy to use.
No need for a lighter or burner to ignite the flame.
Attractive, sleek, and durable design; easy to clean as well.
Cons:
Some users faced quality issues with the product.
At 10 pounds, it is heavier than some other portable butane stoves, so it may not always be easy to carry it.
It is not equipped with a windbreak feature, so even a moderate breeze may put out the flame.
Additional Features:
A cooking stove with dual fuel is always an advantage because you have more flexibility. GAS ONE can operate efficiently on an 8-butane cartridge or a 16-ounce propane cartridge. Made of stainless steel, it is sturdy and durable.
When combined, the two burners give a heat output of 16,000 BTU. Besides, the adjustable dial allows you to tweak the temperature to your preference. It is enabled with the piezo-electric ignition feature that ensures you can ignite the flame without the need for a lighter or a matcher.
It is not just easy to use, but it is also safe. It comes with an in-built cartridge ejection system and gas flow cut off mechanism. The unit will remove the cartridge and cut off the gas flow on detecting a high/unusual pressure of 5-7 kg/cm² or greater.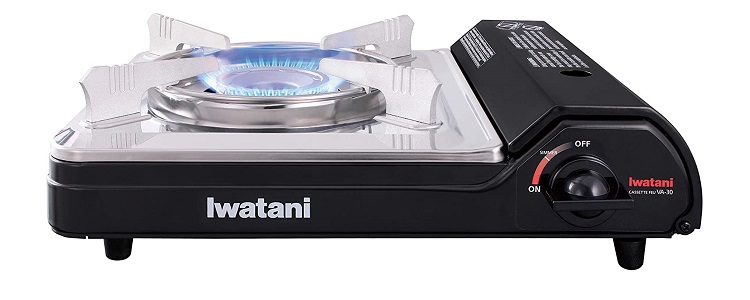 If you are looking for a high-quality cooking store, Iwatani (of Japanese origin) stoves have some pretty great options. This specific model is an excellent portable option with both indoor and outdoor usage. The advanced technology of Iwatani allows this stove to provide a fuel usage of 12,000 BTU per hour.
Features Specs:
Power: 12,000 BTU
Size: 11 x 13 x 3.8 inches
Weight: 3.1 pounds
Material: Lightweight aluminum and durable steel
Pros:
It is safe and easy to use.
It is lightweight and therefore conveniently portable.
The free rigid carrying case makes portability even easier.
The flame will not go off despite powerful winds, so you can continue cooking.
Ideal for indoor and outdoor use.
Cons:
Few users had issues with the melting of the metal pot holders overhanging the stove element.
Poor quality case.
Additional features:
It features an advanced heat panel that utilizes the entire butane can and maintains the maximum heat output, leaving behind no residual fuel. It is the ideal cooktop for indoor and outdoor use. The windbreaker safeguards the flame from both wind and air conditioner.
This stove is easy to use as it does not come with any locking levers. All you have to do is push the fuel can onto the magnet, and it locks in safely. There is no way you will load the fuel can incorrectly!
If the pressure in the fuel canister happens to rise to unsafe levels, the pressure sensing device will shut off the butane flow and extinguish the flame.
Portable Butane Stoves FAQ
Is a portable butane stove safe?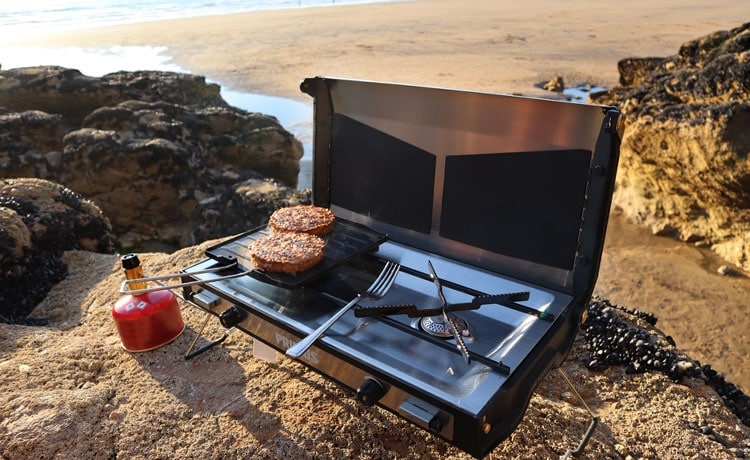 Butane is a colorless and highly flammable gas. It produces carbon monoxide and carbon dioxide when burned.
Butane gas stoves can be dangerous if incorrectly used. The most common danger associated with portable butane gas stoves is that if exposed to extremely high heat, the gas canisters can overheat and explode.
You can prevent this by looking for a butane stove with an automatic shut-off valve when the pressure increases to dangerous levels.
It is recommended you don't use these indoors. If you have to, ensure that you have proper ventilation in place.
Why are portable stoves popular in Asia?
The Asia Pacific accounts for the leading share in the butane gas cartridges market. This is because China and Japan are home to several manufacturers, traders, distributors.
So, we see not just extensive production but massive consumption of butane gas cartridges as well. This is only expected to increase rapidly in Asia in the coming years, with China being at the forefront.
There is yet another major cause for the popularity and increased demand for butane gas cartridges and stoves in Asia. And that is the rise in tourism to Asian countries over the last decade.
Where can I buy a butane for a stove?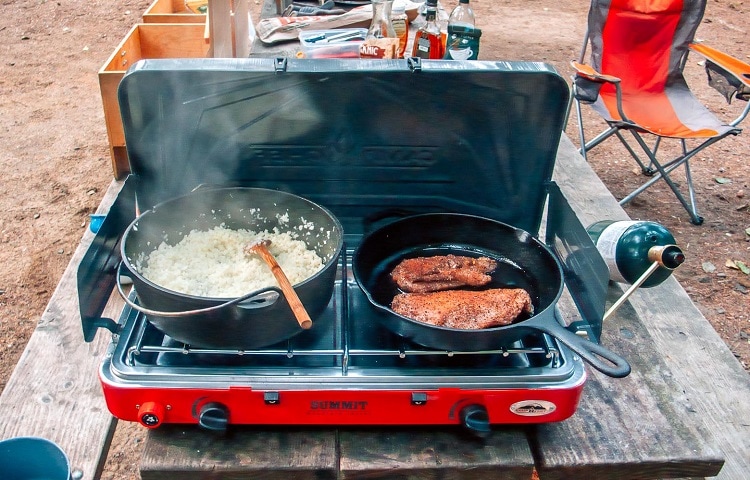 Butane is readily available at many hardware and outdoor stores, as well as at your local service station. Alternatively, you can also get them online retailers like Amazon and Sam's club.
Is butane safer than propane indoors?
Since butane is highly flammable, there is the risk of explosion. It can be used indoors only if adequate ventilation can be provided. Propane is a great fuel for cooking but can only be used indoors in an appliance rated for indoor use.
It is actually rather difficult to find a propane appliance rated for indoor use. While one is not safer than the other, it is best to reserve butane and propane outdoors.
Does butane or propane last longer?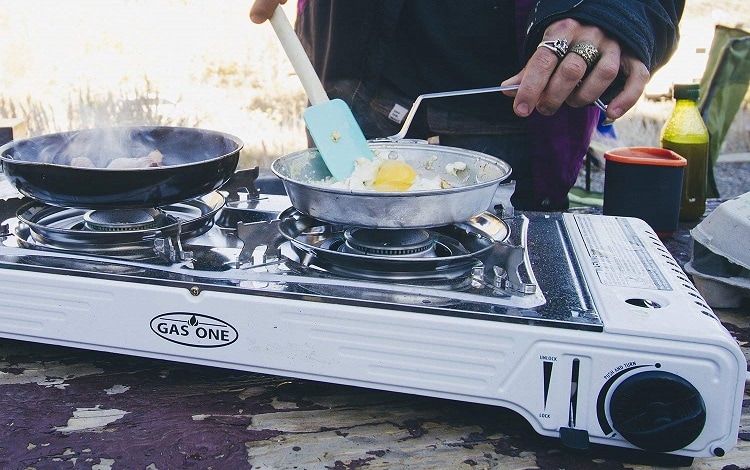 You can use either propane or butane gas for your stoves. While both are popular choices, butane gives 12% more energy than propane for the same volume of gas burned. This is one of the reasons why butane is highly preferred.
Butane systems are smaller, lightweight, and so better if you are looking for a portable solution.
A regular 8-ounce butane canister can last for up to 4 hours at a simmer and burn for around 2 hours at high heat. A disposable 16-ounce propane tank will last for around 1.5 to 2 hours.
What gas bottle do I need for a portable stove?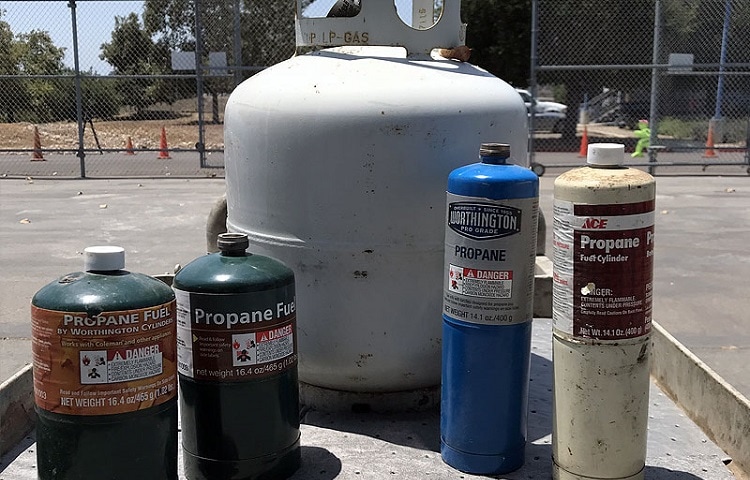 LPG is a common camping fuel that is used. LPG gas bottles are portable, cost-efficient, and safe. You can purchase either refillable or disposable gas canisters for your portable stove.
Butane gas canisters are smatter, disposable, and easily portable. So, they are perfect for hikers, campers, trekkers, or just about anyone who likes to travel light.
Conclusion
Portable butane gas stoves are excellent and provide you with a compact, convenient and lightweight option to carry with you when you go camping or hiking. To buy the best, there are some aspects that you will have to analyze to see what you like best.
Firstly, look to the BTU (British Thermal Unit) rating. The higher this value, the longer the flame will last, and the faster your stove will heat.
The butane stoves we highlighted in this list have BTUs ranging from 8000 to 15000. If you need plenty of cooking power, go with higher BTU stoves. Otherwise, stoves with a heat output of 7000 or 8000 BTU is more than enough.
Safety is the most critical consideration since butane stoves are prone to gas leaks. Invest in a stove that comes with built-in safety features like an automatic shut-off system and pressure sensor system. When too much fuel travels through the line, the pressure sensor will detect this and cause the unit to shut down to prevent explosion and injury.
Quality of construction is another crucial aspect. Exposure to the outdoors may cause the stove to rust and corrode, so you should buy ones that are resistant to rust, corrosion, and scratches. The stove should feature a durable metal body construction. Stainless steel is a great option. A high-quality stove should have a surface that is easy to clean and wipe down.
The number of burners also matters because, yes, Butane stoves come with single or double burners. Single burners are lightweight, compact, and therefore easily portable. Setting them up is a breeze. Double burners may not be as compact, but you can cook two things simultaneously. It is perfect for RV or campervan cooking.
Additional features to look out for are:
Piezo-electric ignition feature that makes matches or lighters unnecessary.
Knob for flame adjustment.
A carry case that allows for easy portability and storage.
Dual fuel (propane and butane) compatibility for more flexibility.
In-build wind guard that will secure the flame from wind and keep it on for greater thermal efficiency.
Armed with this guide, we are sure you will have no trouble in finding a fantastic portable butane gas stove that is just right for your camping, hiking, trekking, or BBQ needs.
Happy outdoor camping and cooking!