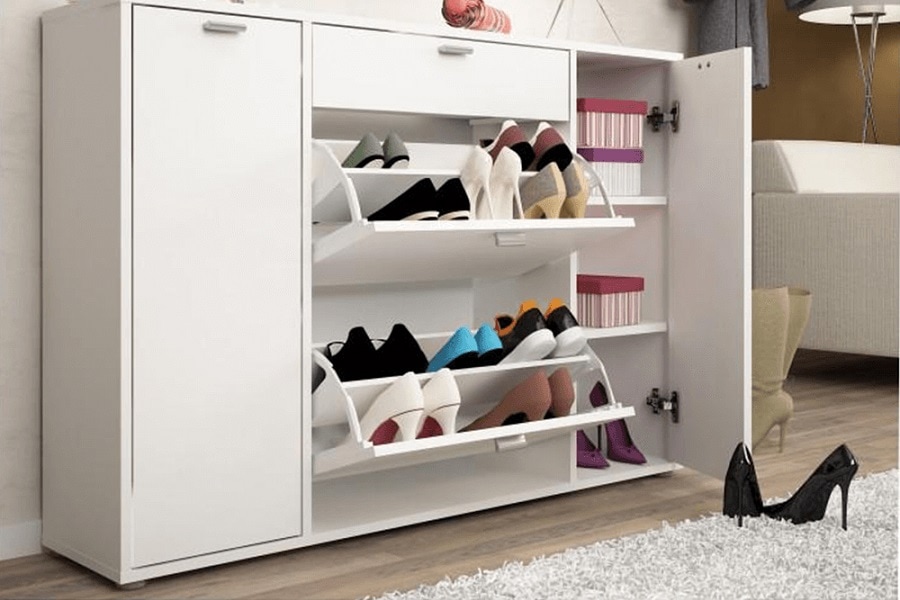 If you have a shoe fetish or simply like to acquire a lot of shoes, then you are familiar with how painful it is to store them. This is especially if you have little space for all of them, then it can be an even bigger challenge.
One solution to this problem is definitely downsizing or getting rid of the shoes that you don't really wear or haven't worn for some time.
However, if you cannot afford to part with them, then there are various shoe storage ideas for small spaces that can help you get your shoes organized and in an easy to reach place.
In the following article, we're going to take a look at some of the best shoe storage ideas for small spaces.
20 Clever Shoe Storage Ideas
1. Tiny drawer for shoes near doorway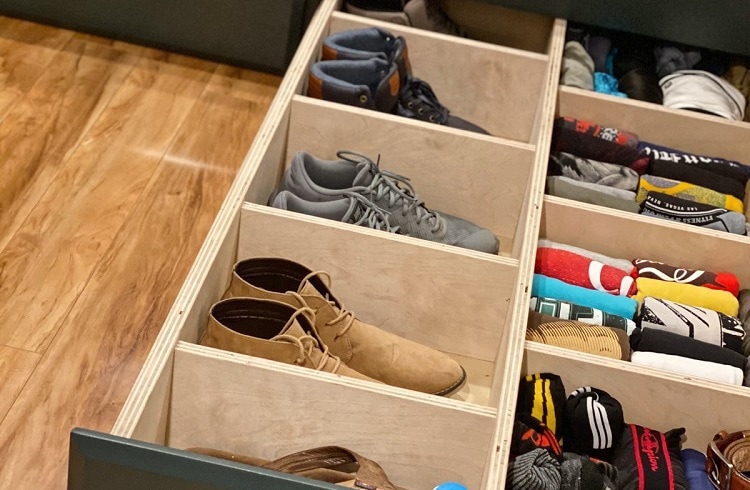 A separate area or space for your shoes to separate it from the rest of your belongings is an easy solution to end your shoe storage troubles. The top of the storage drawer can be used for other belongings such as your watches, keys, and glasses.
You can place these drawers near the doorway or entryway or any area inside the home where you have space for the small drawer.
2. Shelves
Shelves are one of the most versatile ways of creating storage space for absolutely anything inside your home. So if you don't particularly like the idea of keeping your shoes in a drawer, then shelves are the best alternative.
You can place it beside the door or make use of an empty wall inside your home that you are not using for any other purpose. The narrower the shelves, the more space it will save. So as long as the shelves are narrow enough to securely store your shoes, it will work.
3. Shoe shelves in corners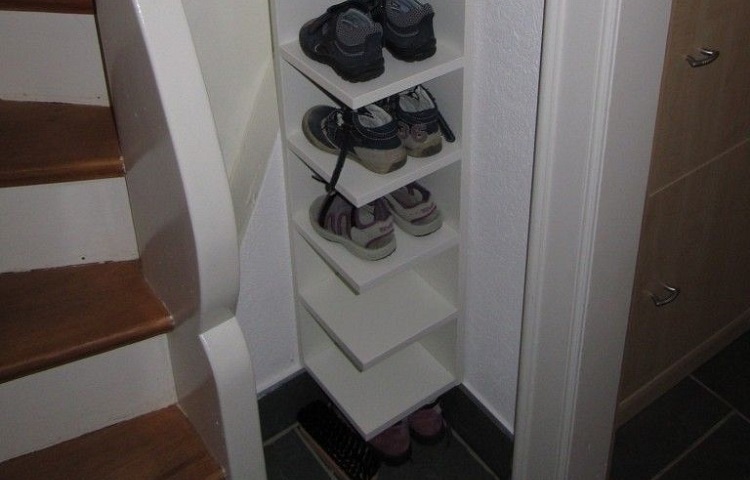 If you've got available space in a corner or any other area of the home, you can maximize the space to turn it into storage shelves for your shoes.
You would, of course, have to tweak the shape and size of the shelves to neatly and aesthetically fit into the corner of your home, but ultimately, it's an excellent use of unused space.
4. Build a shoe rack on the wall
Measure the area that you want to use for shoe storage. Then invest in crown moldings and cut them according to measurements. Install them and conveniently hang-up your shoes.
Moldings work fine with seals except on those with a rounded toe platform. So if you have this type of shoe, it may not work for you.
5. Store shoes under the couch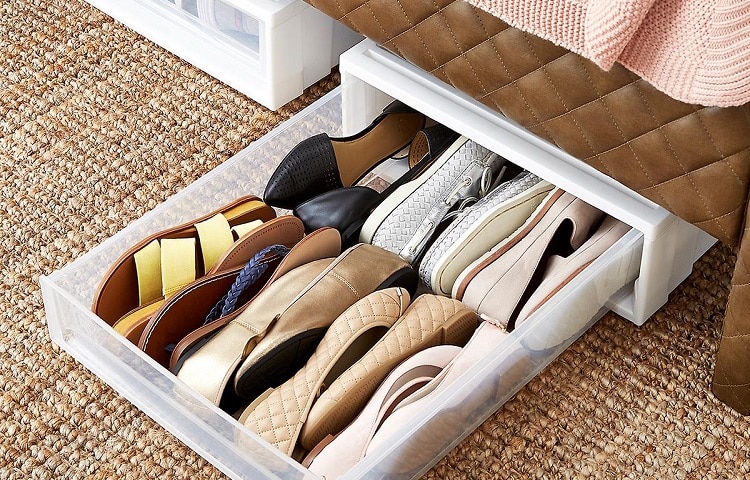 This may not sound like an immediately appealing idea at first; however, the space underneath the couch is golden. Couches are not just for sitting or laying on, they are also very practical inside the home.
In fact, it may just be the perfect home for your shoes. One of the best ways is to buy a couch that has built-in cubbies underneath.
However, if you are an experienced woodworker, then you can simply do this yourself or simply create a couch like this on your own.
6. Shoe storage inside the walls
When you have little space, you need to get creative. And one way to do that is by building shoe storage inside your wall. This can be any wall in the home that's not in use. Walls in the hallway or entryway work best for this.
What is ingenious about this idea is that it won't block the way, and you can extend it as high as you need it. Put the shoes that you don't always use on the top since you can always get a chair or short a ladder to reach them when you need them.
The ones that are frequently used can be stored at the bottom, so it's easy to reach, and you can also install hooks or dots to hold hats and coats in the house.
7. Invest in an ottoman built for shoes
While there are various types of ottomans in different colors, shapes, and sizes available on the market. There are ottomans specifically designed to store your shoes inside.
The bonus is that these ottomans are glamorous and appealing, so you don't have to hide them out of sight. You can use it to decorate your bedroom and living room or absolutely any other room inside your home proudly.
8. Buy or make a wooden bench with shoe storage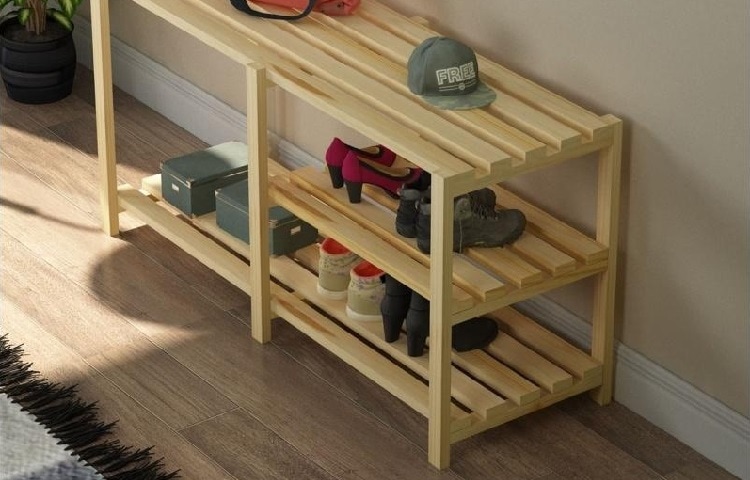 This works with the same concept as the ottoman, and you can seat on top of the storage area. However, your shoes are not completely hidden, so you need to keep them neat and organized at all times.
9. Use baskets for storage
When it comes to organizing personal belongings, baskets are always a lifesaver. It's a great way to add space in a closet, drawer, kitchen, and in fact, every nook and cranny of the house.
So when it comes to storing your shoes safely, this is an option that we simply could not leave out. When it comes to choosing the shape and size of the basket, it will all boil down to personal preference.
The baskets, however, are a great option since they give you the ability to store more shoes and personal belongings. And because the baskets are appealing, you'll want to keep them inside rather than keeping them hidden.
10. Wall mount storage bin
This is an absolutely adorable option, especially when it comes to storing little boys' and girls' shoes.
You can also make one for yourself if this is what you prefer. Apart from shoes, they can be used to store socks, gloves, sweaters, scarves, small ties, and hats as well.
In fact, they handle just about anything that is small enough to get misplaced. So the storage is functional but still fashionable as well.
Feel free to mount it on the wall as it won't take up much space. You can also adjust the measurements of the bin to suit the length and width of your wall.
11. Wall hanger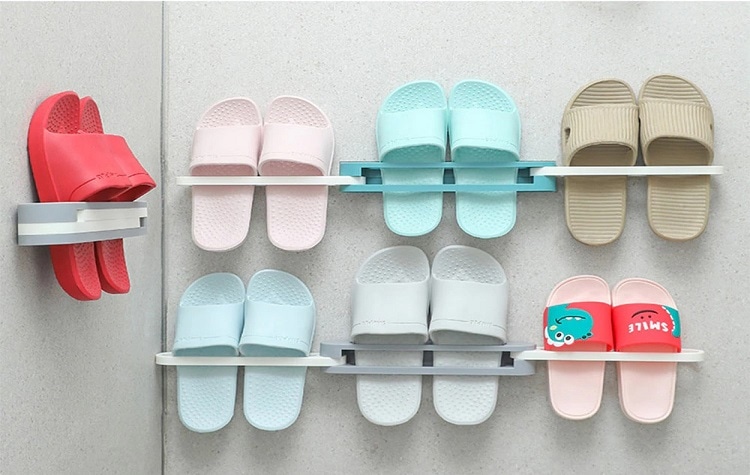 If you don't have lots of pairs of shoes, then a single wall hanger can help you out. In fact, it will help you keep your shoes in line and organized. Simply mount them on the wall and hand your shoes inside.
12. Wooden crates
One of the best ways to organize your shoes is to use wooden crates. However, this idea is different than the rest because it is positioned in a little corner and actually reveals that crates can fit in tiny spaces.
If you've got a tiny corner in the home that you are not using or a lot of vertical space, try fitting in wooden crates. It also helps turn that lifeless corner into valuable and practical shoe storage.
13. V-shaped shelves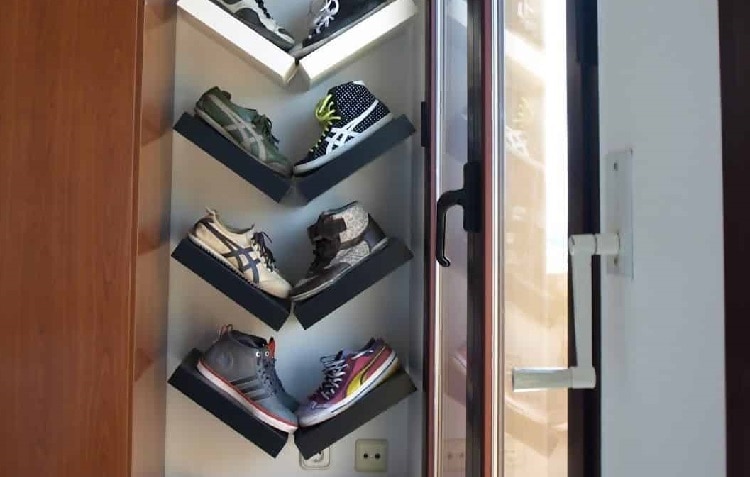 Usually, the shelves that you see are straight or horizontal. V-shaped shelves, as the name suggests, are shaped like a V. The shelves can be drilled into the wall with angles to form the V-shape.
The angles also make it possible to squeeze the shoes in that really tight corner. So you can store approximately 16 pairs of shoes in a very small space using V-shaped shelves.
14. Pegboard
Now, this is an idea that doesn't immediately come to mind. However, making a pegboard to hang up your shoes is an absolutely brilliant way to store your shoes.
All you need to do is attach the pegs to the wall. Then simply hang up your shoes and that's it.
15. PVC pipes
So this is gonna sound a bit strange, but you can use PVC pipes to store your shoes. You've probably seen PVC pipe organizers occupying an entire wall, and you probably also thought that it is only for big houses.
Well, think again because PVC pipes can be used in any size home. All you need to do is secure them to the wall and use the nook on the inside to store each pair of shoes.
And depending on how you decorate the PVC pipes, they can actually turn into a feature in the room and be quite aesthetically appealing.
16. Hangers and pegs for flat shoes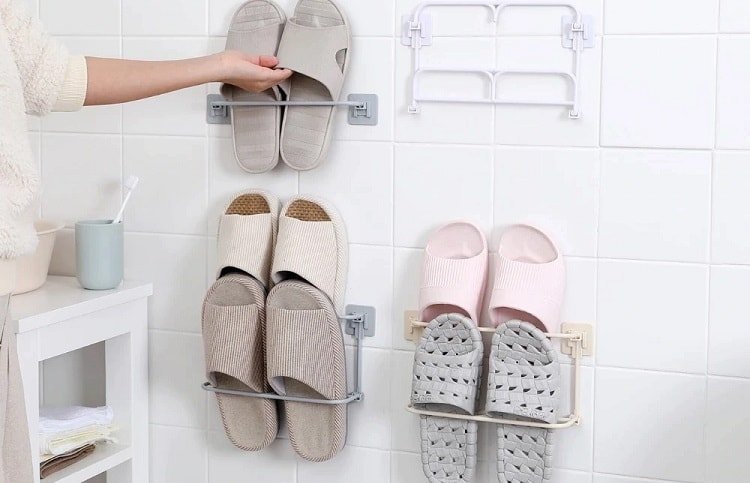 Keep your shoes neat and organized, and also free up some space in your shoe organizer. You can use your coat hangers and some pegs to creatively hang up your shoes.
If you got some spare wire hangers laying around, why not bend the ends upwards to form a hook shape that you can hang your shoes up with.
17. Revolving shoe rack
Investing in a revolving should rack is another great idea to store your shoes. If you are an experienced woodworker, why not make your own and save the extra cash.
You can place it in the corner since it rotates 360°, and you will be able to reach any pair of shoes on demand. It also looks clean, and you can place other things on top of it.
18. Copper shoe rack
A floating copper shoe rack is another great idea. When things are floating, it's easy to keep that space clean since you can sweep and mop underneath them easily. This also saves a lot of time and effort.
19. Magazine holders for flipflops
This is another ingenious idea. You can store your flip-flops in magazine holders. These magazine holders can be placed near the mudroom, entryway, or outside the house, where you normally store your shoes.
If you have flip-flops that are not used, place them in a magazine holder and put them in your closet until you are ready to use them.
20. Clear storage bins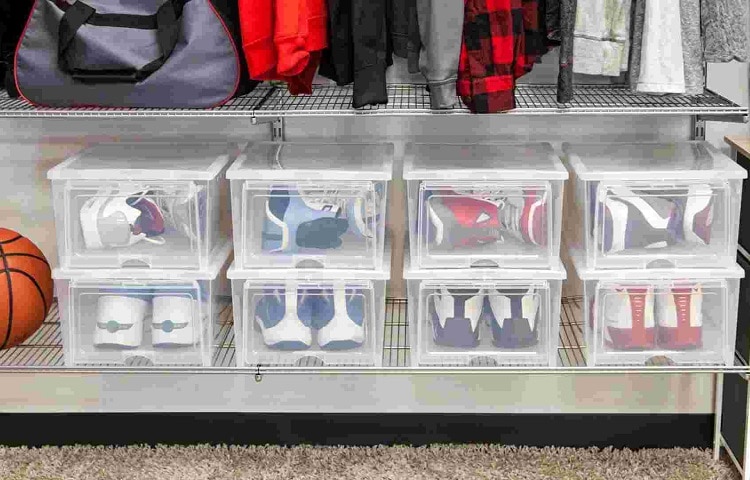 If you love showing off your shoes, what better way to do so than using clear storage bins. These bins not only save space but also double as a display showcase for your favorite and most stunning pairs of shoes.
Therefore, there is no need to hide them out of sight, and you can display the cases anywhere you would like to.
Conclusion
The above-mentioned shoe storage ideas are not just ingenious and creative but will also add a decorative element to your home. So why not go ahead and get creative and try out the above-mentioned options to see which one suits you best.