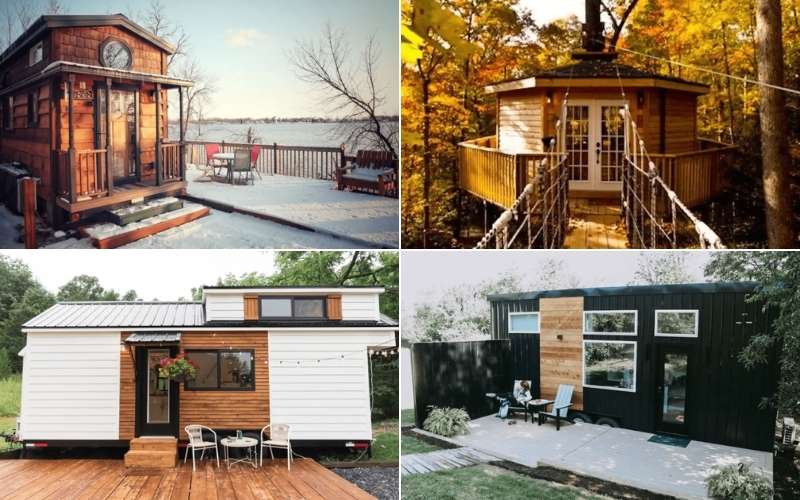 Explore the 27 best tiny houses that you can rent on Airbnb across the USA! From a hobbit hole to a whimsical treehouse, these Airbnb tiny houses need to be explored.
One of the best things about renting from Airbnb is the chance to experience a completely different place than you are used to.
If you're traveling by yourself or with just 1-2 other people, then a tiny house is the perfect way to vacation!
What Is A Tiny House?
A tiny house is a complete place to stay with 600 square feet or less. Some tiny homes are built on foundations. Others are mobile and sit on trailers so that the owners can move them as they travel.
Other creative places like Yurts and treehouses can be considered a tiny house too because they are under 600 square feet in size.
Lots of people enjoy renting a tiny house to see if living in a small space is right for them. It's a great way to combine a vacation and test out if tiny house living is for you.
Are Tiny Houses on Airbnb Cheaper Than Full-Sized Homes?
No, this is not always the case. In fact, some older homes are cheaper to rent than new tiny homes.
The reason some tiny homes cost more is that many of them were custom-built. They are often new with lots of upgrades that will make your stay feel more luxurious and memorable.
How Many People Can Stay In A Tiny House?
This depends on the house. Some tiny homes have enough beds and space to sleep up to 6 people.
Other listings specifically state that only 2 guests are allowed to stay at a time.
It's best to respect the host's listings. If they say "2 guests" don't try to sneak in 4 more people. Not only will it be crowded and make you have a worse time, but it will create more work for the host to clean up when you leave.
How To Find Unique Tiny Houses on Airbnb
Unfortunately, when you first log into Airbnb.com, there isn't an option to search just for "tiny homes." The easiest way to find places that aren't just another house or apartment is to scroll down under "Live Anywhere" and tap "Unique Stays."
It will bring up unique places to stay within a specific area of the map. Then, just move the map to where you are traveling and find some new and different places to stay that are near your destination.
Click here for an example in New York State.
You'll find all sorts of things – from glamping tents and Yurts, to treehouses and even boxcars converted into small homes.
Now, let's look at the best tiny houses on Airbnb. I split this list up by state – and the states are listed in alphabetical order. Browse the list and find a unique and different place to relax on vacation.
Please keep in mind that the rates listed in this article will vary depending on the season and occasion. Always check Airbnb for the most accurate and up to date rates.
Tiny House Airbnb In Alaska
1. Stay & Play In Valdez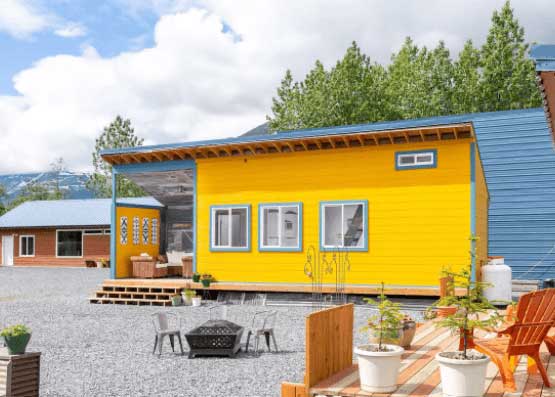 Location: Valdez, Alaska
Rate: $160/night
This bright yellow tiny house can't be missed. It is located on 3 acres of property and best for couples or anyone with older children.
It sits on a mini-farm that even has chickens – so you get to wake up to the sounds of roosters!
It's made up of 247 square feet on the main floor and 81 square feet of sleeping loft space. It comes with one queen-sized bed and a floor mattress (another queen-size) in the loft storage space. It has stunning views of the mountains.
Airbnb Tiny Houses For Rent In California
2. TheNest Romantic Sanctuary
Location: Mount Shasta, CA
Rate: $144/night
Described as a romantic getaway, TheNest is artistically decorated and sits on top of the host's jewelry studio. People who stay here rave about how beautiful it is and the scenic views of Mt. Shasta. People say it is "a divine, gorgeous, dream!"
It's best for small groups of people. It has 1 queen-sized bed and a sofa bed. This is a stunning place to stay with beautiful views of the mountain.
3. Water Tower Retreat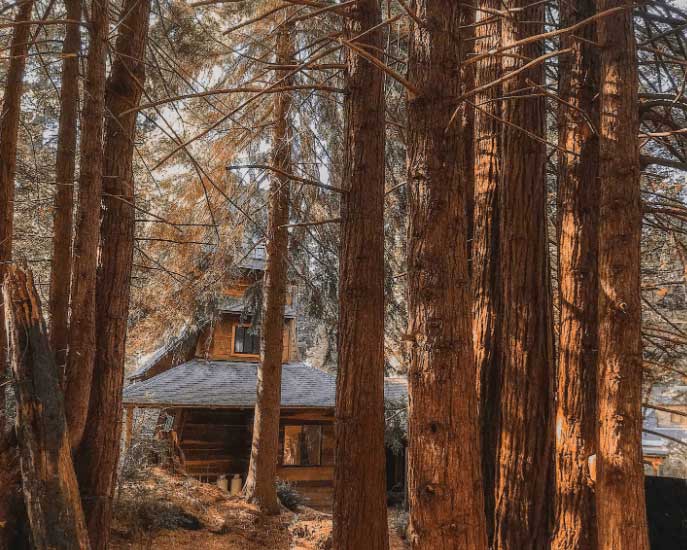 Location: Elk, CA
Rate: $175/night
The Water Tower Retreat is perfect for individuals or couples who want to disconnect and get away from it all. There is no WiFi or cell phone service, but they have a landline phone you can use for emergencies. It is located just a few miles from the Pacific Ocean.
They are booked up to 3 months in advance, so make your plans early. People book this picturesque location because it's the best way to unplug and recharge their internal batteries.
This is a cute space with just one queen-sized Casper bed and daybed seating in the common area, so it's best for a couple or a solo traveler.
Tiny Houses On Airbnb In Colorado
4. Manitou Springs Yurt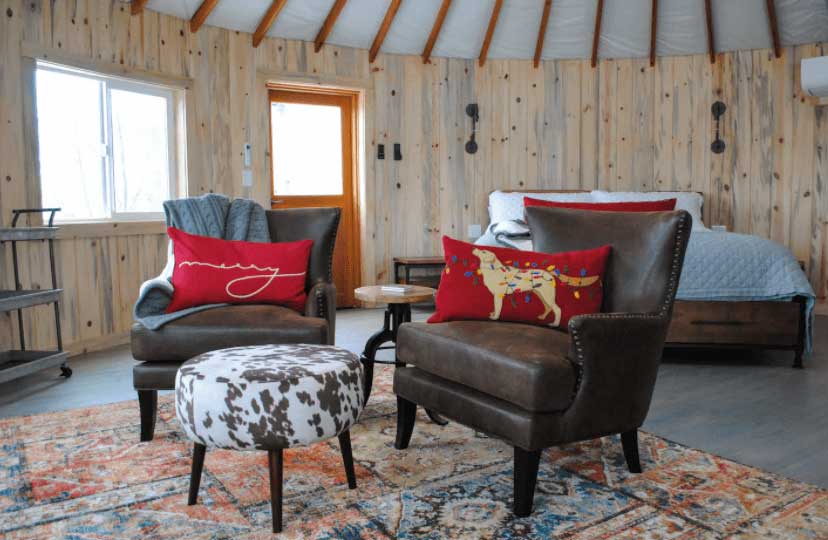 Location: Manitou Springs, Colorado
Rate: $135/night
Stay in a gorgeously-decorated and sparkling clean Yurt in Colorado. If you have ever wanted to experience how it feels to stay in a yurt, stay in one that is located close to mountains where you can ski!
This is a compact and small space that is stunningly decorated. It's best for 2 guests because it just has one king-size bed.
It includes an outfitted kitchen and a spa-like bathroom. It's only 10 minutes from Colorado Springs where there is a lot to do.
Tiny Home Airbnb In Florida
5. Award-Winning Tiny House Barn Model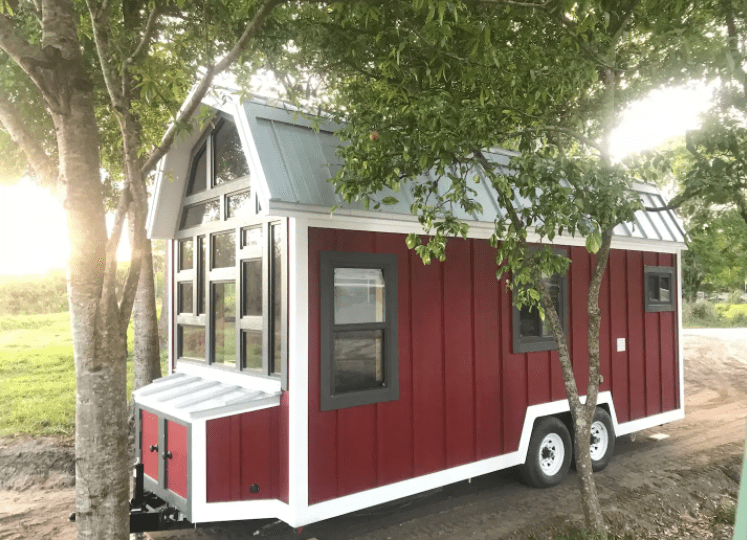 Location: Melbourne, Florida
Rate: $68/night
Nestled under orange and oak trees, this beautiful tiny house has everything you need for a comfortable stay. It looks tiny on the outside, but inside is everything you need for a comfortable getaway. In fact, up to 3 guests can stay comfortably.
This lovely house has a full-sized refrigerator, custom bathroom, and even has an oven and stove!
Sleep peacefully in the queen-size bed after you relax on the deck and use the fire pit.
Airbnb Tiny Houses In Hawaii
6. The Phoenix House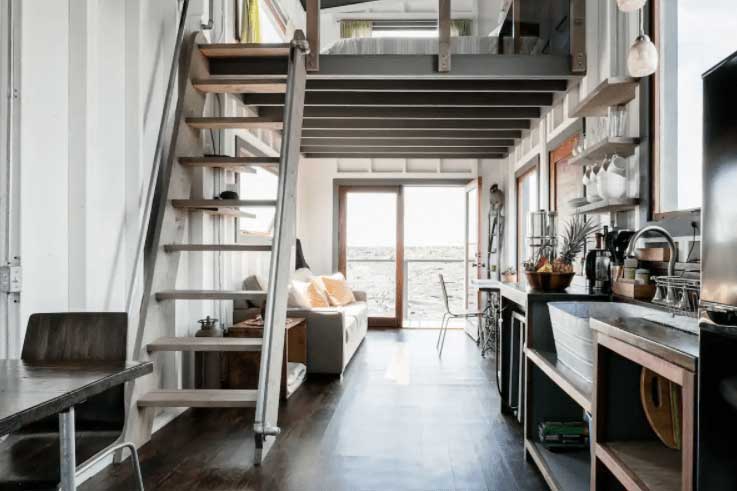 Location: Pahoa, Hawaii
Rate: $116/night
One of the most popular tiny house Airbnbs in Hawaii is the Phoenix House. You will never forget what it was like to stay on a real lava field! This vacation home is on the Big Island just minutes from the ocean.
It's best for 2 guests. It has a full kitchen and a washer and dryer. Plus, you can't beat the price!
Tiny Homes On Airbnb In Idaho
7. Teton Tiny Home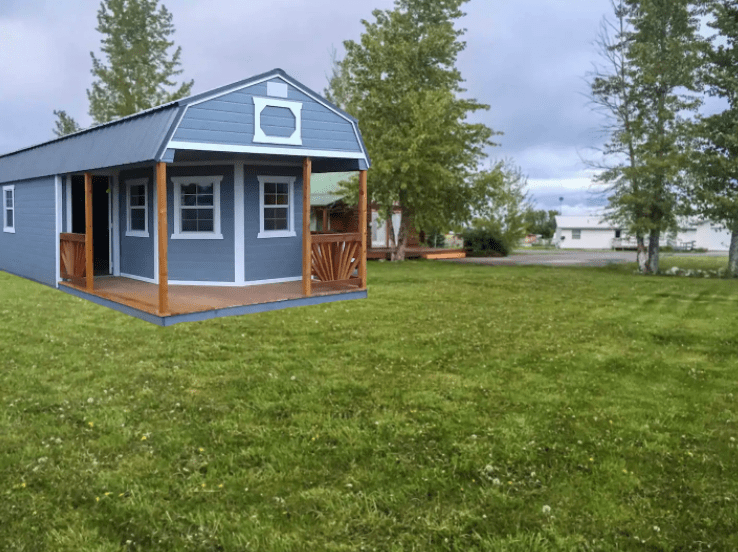 Location: Victor, Idaho
Rate: $100/night
If you are traveling to Grand Targhee or Jackson Hole, then this tiny home is perfect. It is still fairly new – it was just finished in 2018-2019. Up to 4 guests can stay comfortable. It has 2 queen-size beds and a sofa bed.
This cute little house is packed with modern amenities – it has a full kitchen and WiFi. People who stay here love how quiet it is and how beautifully decorated it is inside.
Tiny House For Rent Airbnb In Illinois
8. The Has Bin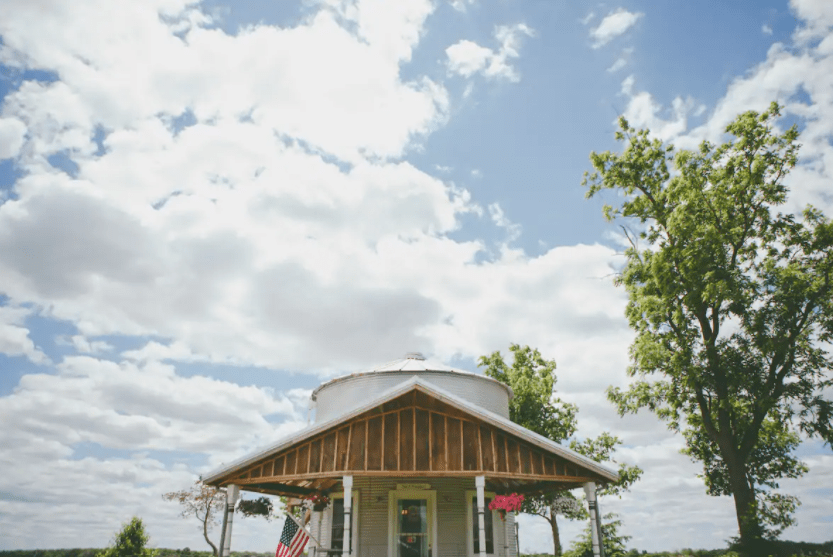 Location: Alvin, IL
Rate: $115/night
This is one of the most unique stays on the list! They actually converted a grain bin into a tiny house. It's surprisingly spacious inside. It sleeps up to 4 guests – It has 1 queen-size bed, 1 double bed, and a sofa bed.
It also has views of a train that runs behind it and sits on a real working farm. If you enjoy spending time outdoors, you'll love relaxing in one of the 3 outdoor seating areas. This is a peaceful and quiet escape from city life.
Tiny Homes Airbnb In Kansas
9. Sante Fe Boxcar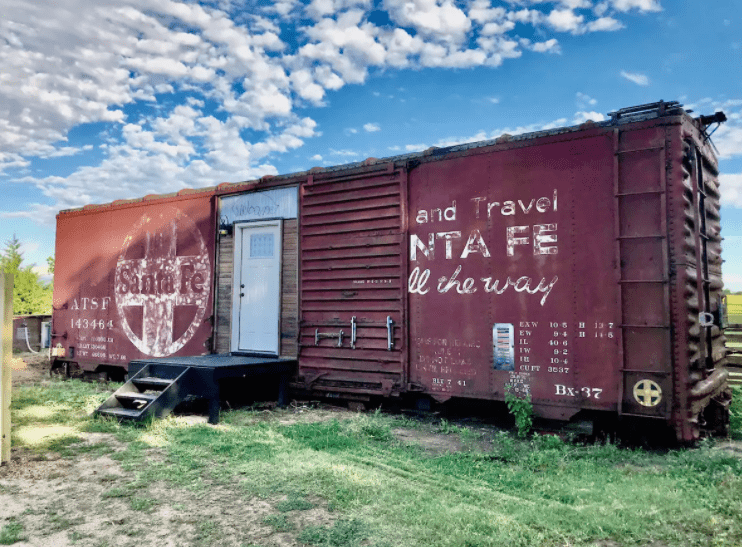 Location: Hutchinson, KS
Rate: $89/night
Who else can say that they stayed the night in an old train boxcar? This Santa Fe Boxcar house is stunning on the inside. This is perfect for small families.
Up to 5 guests can stay comfortably. It has 1 double bed, 1 single bed, and a sofa bed. Plus there are tons of amenities too!
Guests who stay here love how beautifully this place is decorated, calling it charming and cozy. Plus, they even included a selection of Boxcar Children books for you to read while you are there!
Airbnb Tiny House In Louisiana
10. The A Frame On The Crane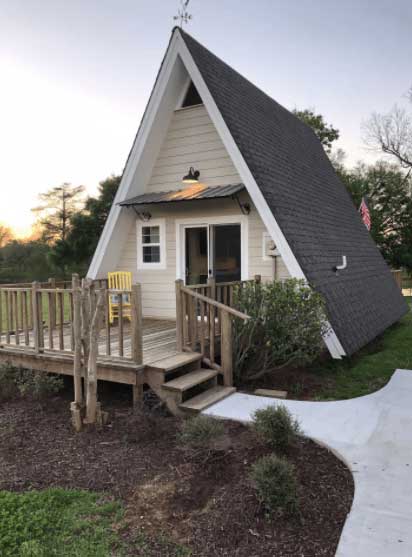 Location: Natchez, LA
Rate: $125/night
If your vacation is taking you to Louisianna, then you need to check out this adorable A-Frame house.
It looks tiny from the outside but comfortably sleeps up to 3 people. It has a double bed and a sofa bed. There is also a complete kitchen and bathroom inside.
The best part about it is the location. It is just 15 minutes south of Natchitoches. It is also located near the Cane River Creole National Historic Park, which is fantastic for hiking.
This quaint little A-Frame sits in a quiet neighborhood right on the Cane River.
Airbnb Tiny Homes In Maine
11. Off-Grid Modern Tiny House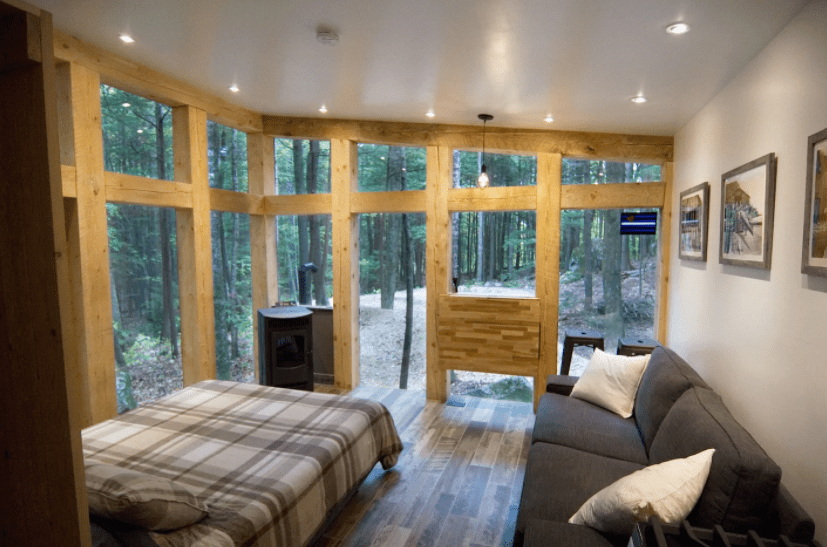 Location: Jay, Maine
Rate: $185/night
If your travels take you way up north to Maine, this off-grid modern tiny house is a must! It's best for 2 guests, it has one bed and one sofa.
You will be totally immersed in the forest. This stunning house has two glass walls with views that will take your breath away. It all faces privately-owned land so you will have total privacy.
This home is completely solar-powered and off the grid. It has a stove and a shower, so you don't have to "rough it" at all.
Stay In A Tiny House In Minnesota
12. Bless This TINY HOUSE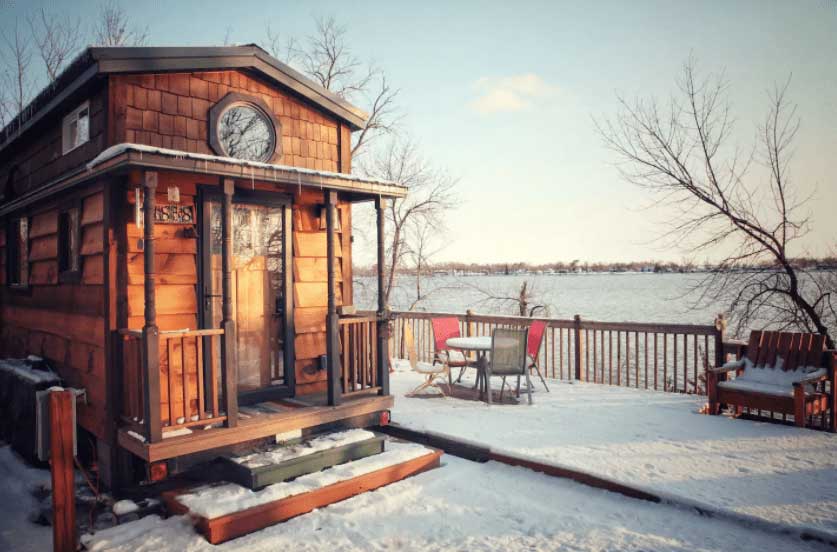 Location: Fairbault, MN
Rate: $134/night
Another gorgeous home is up in Minnesota. When you stay in the Bless This TINY HOUSE, you will be staying in a home that was featured on the TV show Tiny House Nation (Season 1, Episode 8).
With only 267 square feet, it's best for 2 guests. It only has one double bed.
You can't beat the views – it overlooks the lake, which is stunning at sunset.
Tiny House Airbnb In Nebraska
13. Kottage Knechtion Treehouse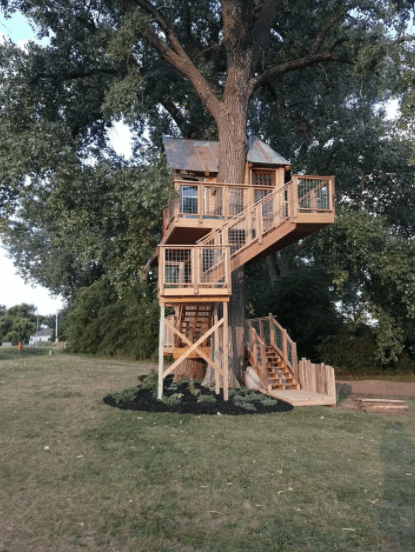 Location: South Sioux City, Nebraska
Rate: $165/night
Another fun place to stay is the Kottage Knection Treehouse in Nebraska. After you walk up the stairs to the treehouse, you'll be 18 feet in the air!
This fun treehouse sits between 2 cottonwood trees and is completely built with reclaimed and repurposed materials. It's best for 2 guests, it only has one queen-size bed.
It overlooks 5 acres of detailed landscaping. One thing to note – the private shower is a few feet away in the greenhouse.
If you enjoy coffee and breakfast foods, then enjoy the free breakfast offered to guests from the Koffie Knechtion nearby.
Tiny Homes From Airbnb in New Hampshire
14. Stylish Tiny House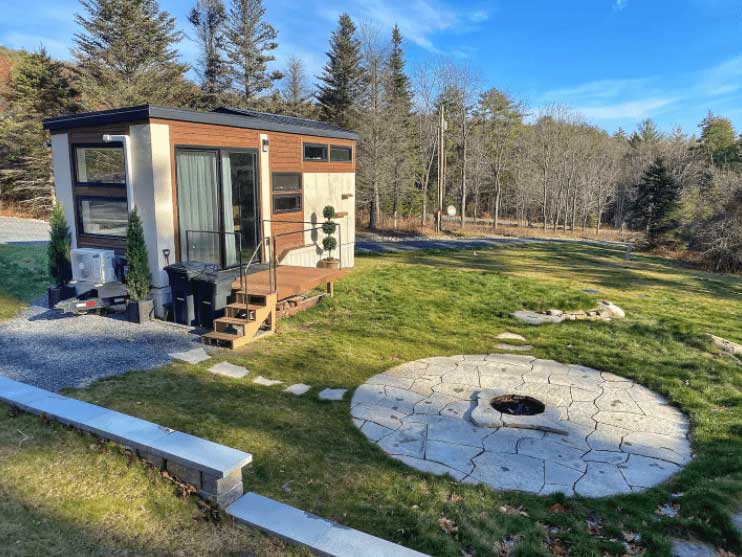 Location: Claremont, NH
Rate: $199/night
This charming home in New Hampshire is listed as a "Stylish Tiny House" and it lives up to its name.
It sits on a private 9-acre lot that you can hike and explore.
This is best for up to 3 guests. It has 1 queen bed and a couch. If you enjoy winter sports, then you'll love that it is located near ski mountains and activities for all seasons.
As you relax, you'll enjoy seeing lots of wildlife around and a working farm across the street.
Tiny Houses In New York
15. Outside Inn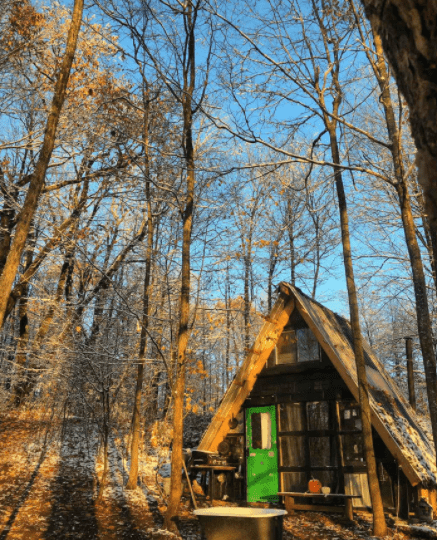 Location: Sherburne, NY
Rate: $139/night
Experience glamping in the lovely forests of New York, near the village of Sherburne. When you stay at the Outside Inn, you will be immersing yourself in the outdoors with the comforts of a home. It's a really cute place at only 200 square feet.
Up to 4 guests can stay in this cute A-frame. It has a queen bed and a sofa bed. You are surrounded by at least 10 state forests with access to tons of local trails. This is the best place to unwind and unplug. There is a small wood stove for heat in the cold months.
It has a modest kitchen with a propane flat-top grill, a mini-fridge, and a coffee maker. The bathroom is an outhouse with a composting toilet.
Airbnb Tiny Houses North Carolina
16. Modern Tiny House In the Trees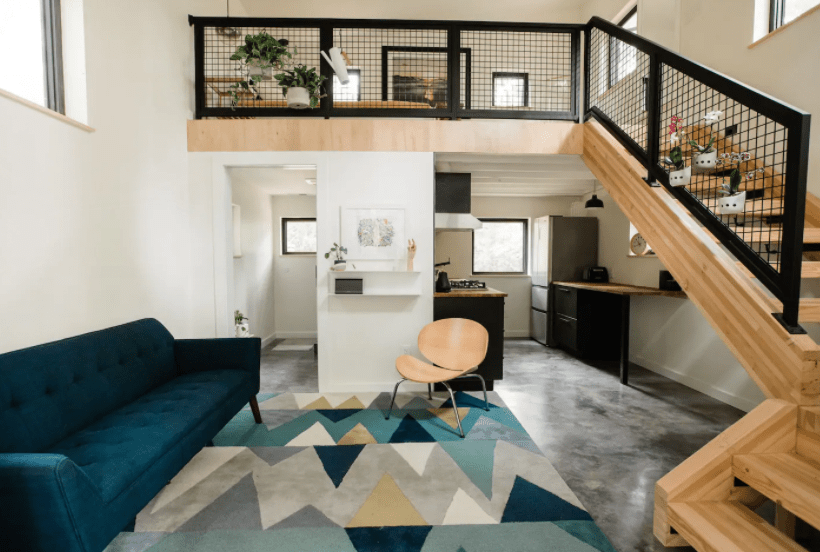 Location: Durham, NC
Rate: $142/night
If you would prefer to stay closer to a major city (for things to do), then this modern tiny house in the trees is perfect. It is conveniently located just a few minutes from Durham.
This tiny house is placed snug in the trees. People who have stayed here say it is private and quiet.
This is the best place to go if you really want to relax – there is no TV, but it does have excellent WiFi.
It's best for up to 2 guests – it only has 1 queen bed.
Airbnb Tiny Homes For Rent In Ohio
17. The Scandi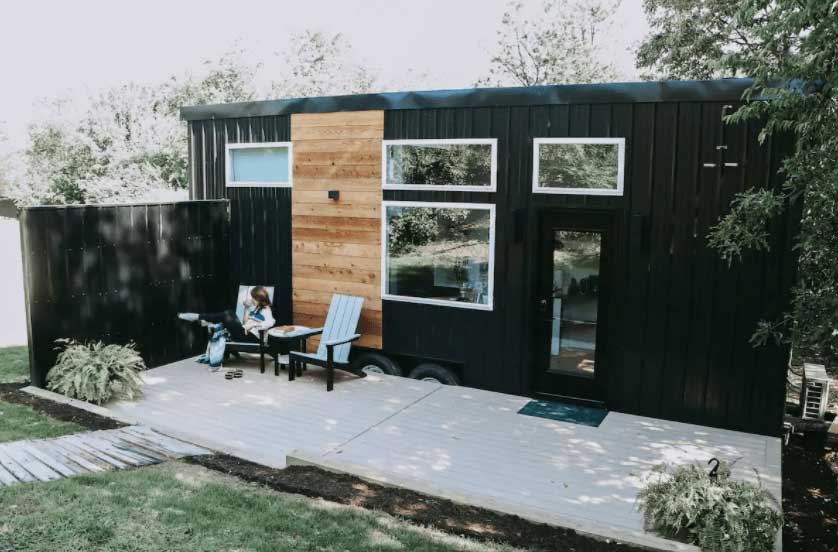 Location: Millersburg, Ohio
Rate: $187/night
Another really unique experience is The Scandi near Millersburg, Ohio. You'll get to enjoy tons of modern luxuries in a small space.
It has 12-foot ceilings and a stunning 55-inch 4K TV. At the end of the day, fall asleep in the memory foam queen bed. It also has a sauna you can use!
This is best for up to two guests and kids older than 12 years old. Pets are not allowed.
Oregon Tiny Houses For Rent
18. Mt. Hood View Tiny House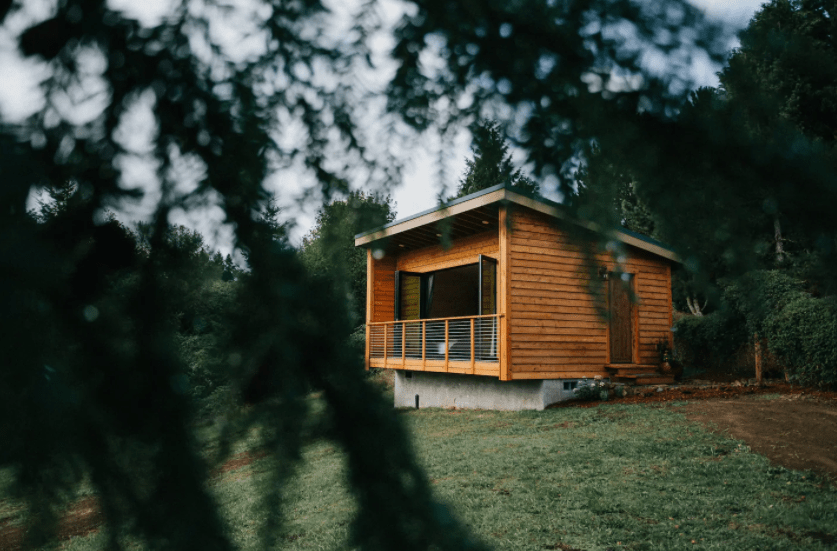 Location: Sandy, OR
Rate: $125/night
Mt. Hood is one of the most spectacular sites in Oregon, and this Mt. Hood View Tiny House is the best place to stay when you want to explore it!
It's really easy to find because it is just one mile from Highway 26. It's still private because it sits on a 23-acre plot of land.
When you want to soak up the outdoors, open the moving window wall system and take it all in! This is best for 2 guests because it has one queen bed.
Pennsylvania Tiny Homes On Airbnb
19. The Perch at Persimmon Hill, State Park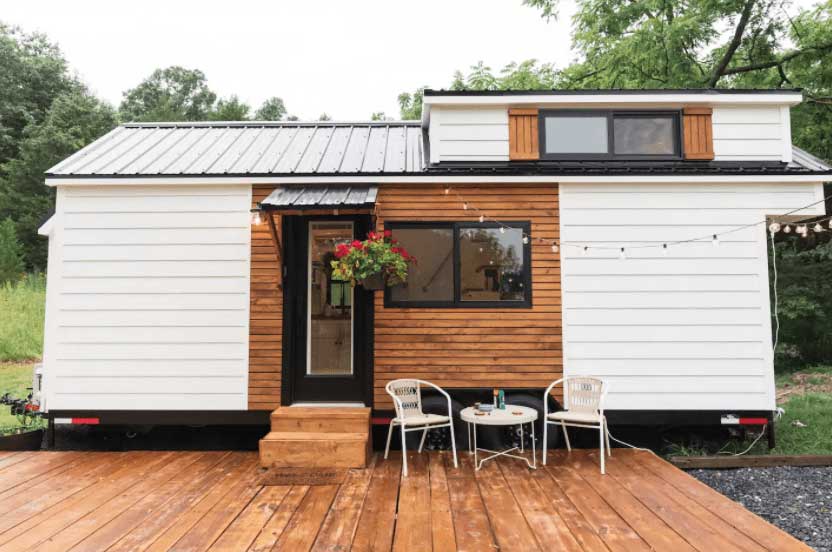 Location: Wellsville, PA
Rate: $144/night
Sit on the lovely deck or relax inside the beautifully-decorated home. You will enjoy your time in The Perch.
This is ideal for 2 guests, it only has one queen-size bed. It does have WiFi so you can stream your favorite shows while you relax in the lovely home.
Pets, parties, and smoking is not allowed. What is allowed is a few people that want to get away from it all and relax around the fire pit or at the lake.
Tiny Homes For Rent In Tennessee
20. Wee Nook – A Hobbit Hole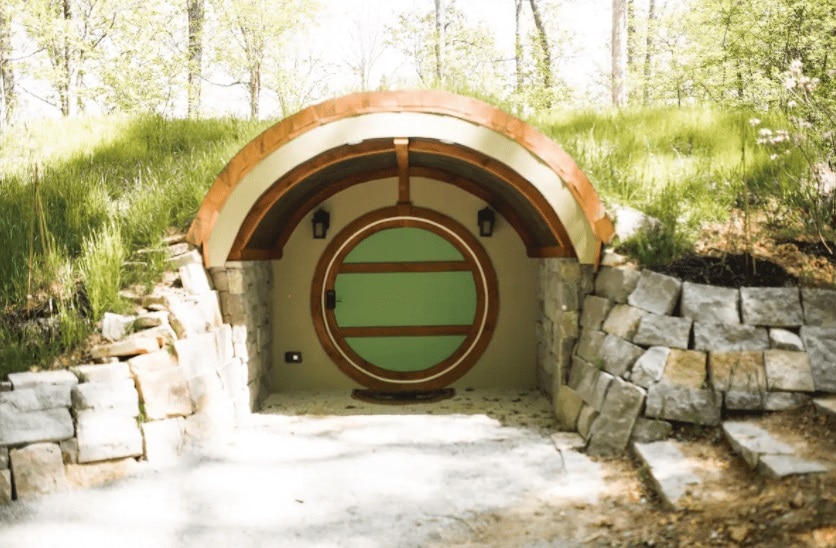 Location: McEwen, TN
Rate: $140/night
This is my favorite listing of all! You can actually stay at Wee Nook – A Hobbit Hole, in Tennessee. It really is the perfect size for a Hobbit – best for no more than 2 people. It has one queen-sized bed and a sofa bed.
It's a cozy 360 square feet with a full kitchen and bathroom. It literally sits underground in the middle of the woods. There is no WiFi and no TV, so unplug and read some Tolkien while you are here.
Visitors can walk to and enjoy the local pond. It is also about 45 minutes from Nashville, with plenty of shows you can see.
Texas Tiny Homes For Vacation
21. Tiny Harvest House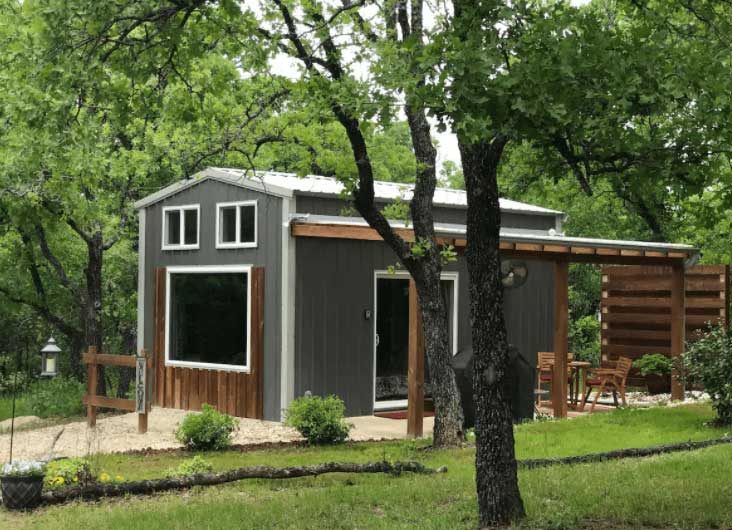 Location: Weatherford, TX
Rate: $96/night
Another cozy getaway in Texas is this quaint Tiny Harvest House. It is situated on a quiet, private 4-acre lot.
This is best for up to 2 guests, it only has a double bed. This is one of the few tiny homes on the list that welcomes dogs – but you have to let the host know ahead of time and there will be an extra cleaning fee.
Tiny Houses For Vacation In Utah
22. //ABODE³ at East Zion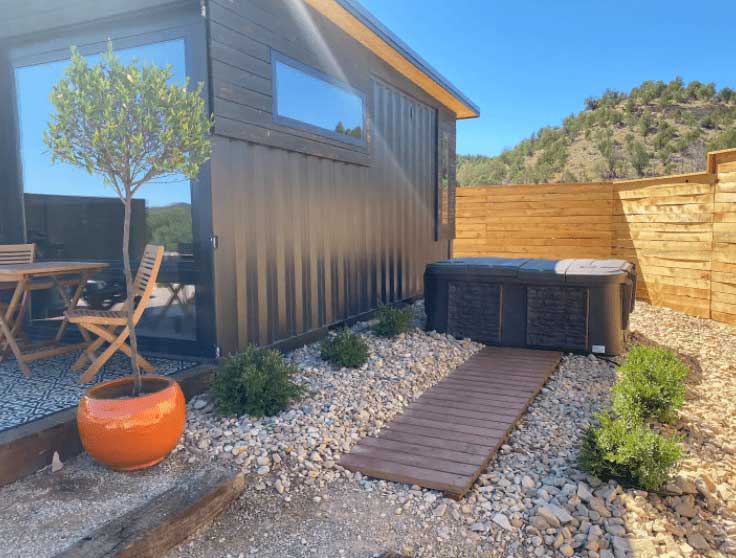 Location: Orderville, UT
Rate: $146/night
Stay among the scenic southwest mountains in Utah. The ABODE³ tiny house is perfect for up to 2 guests without pets. It has a queen bed and a stunning walk-in shower.
You'll be able to bask in the sunshine that streams in from the floor to ceiling windows. There is also a hot tub where you can soak under the stars.
Relax among the views of the East Zion White Cliffs.
Tiny Houses Airbnb In West Virginia
23. Holly Rock Treehouse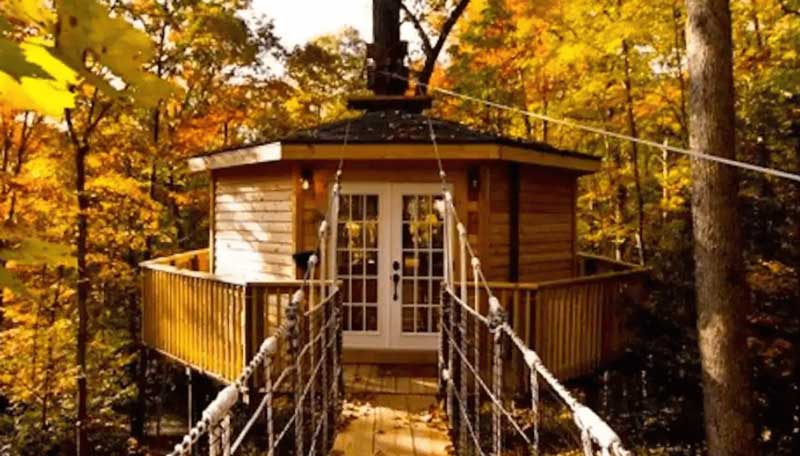 Location: Hico, WV
Rate: $201/night
There is something so exhilarating about staying up high in a real treehouse – and the Holly Rock Treehouse does not disappoint. The hosts thought of everything with this stay.
Best for up to 2 guests, it has one queen bed and a private hot tub on the canopy level.
The hosts also provide a private picnic area with a gas grill and a picnic table. They also provide other comforts like WiFi and TV.
Keep in mind that during peak seasons, they require a 2-night minimum stay.
24. Tiny House on 23 Acres of Forest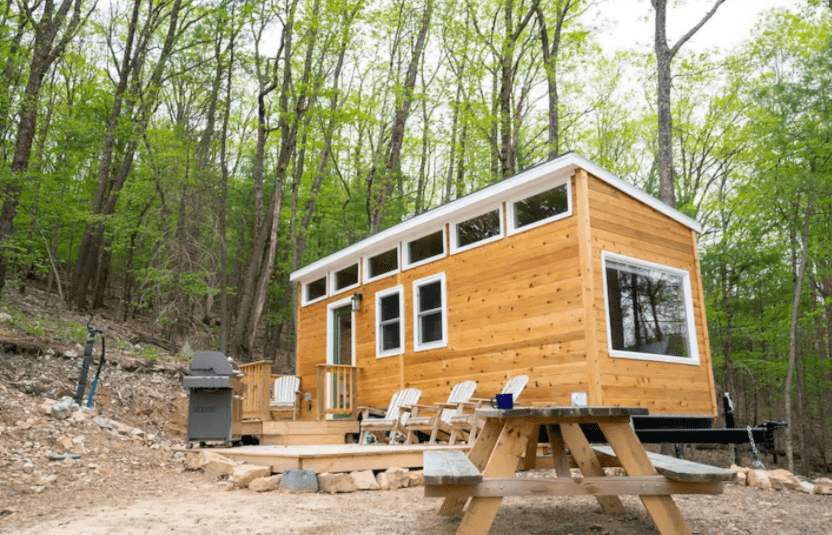 Location: Mathia, WV
Rate: $235/night
Another nearly-new home that you'll enjoy is the Tiny House on 23 Acres of Forest. It's located close to the Lost River State Park.
This is best for up to 4 guests – it has 2 queen-sized beds.
If you enjoy the mountains and off-roading, then this is for you! You'll drive up a very steep road for about 1/4 a mile before you arrive at the home.
This is one of the most dog-friendly places on the list! They even provide a dog bed and dog bowls.
Airbnb Tiny Home In Wisconsin
25. Tiny On The River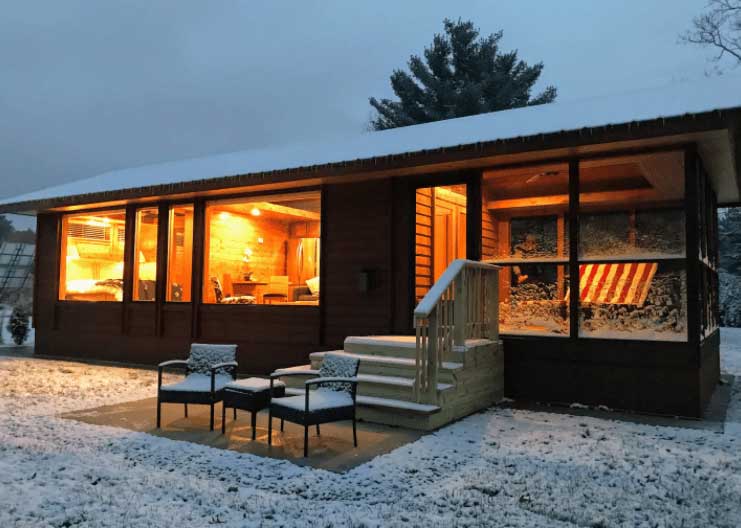 Location: Black River Falls, Wisconsin
Rate: $135/night
This Tiny On The River has the best views of the river from inside the living room. Up to 2 guests will enjoy the queen bed and WiFi.
It has a convenient location just a few minutes from the interstate. You'll also enjoy the many little luxuries – like the cherry cabinets, oak floors, and marble countertops.
Airbnb Tiny Houses In Wyoming
26. Little Cabin With A View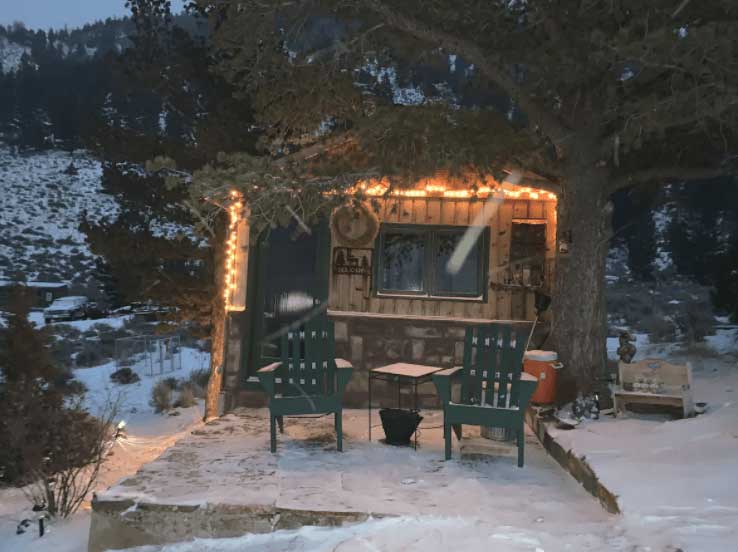 Location: Albany County, Wyoming
Rate: $125/night
People travel to Wyoming because they want to experience relaxation in the lovely mountains. The Little Cabin With A View gives you just that!
It's as close to roughing it as you can get and still be serenely comfortable. It has one double bed (so it's best for up to 2 people). The bathroom is the outhouse just a few steps away from the house.
It also has a hot tub and is super close to mountain sports and experiences.
27. Adventure Dome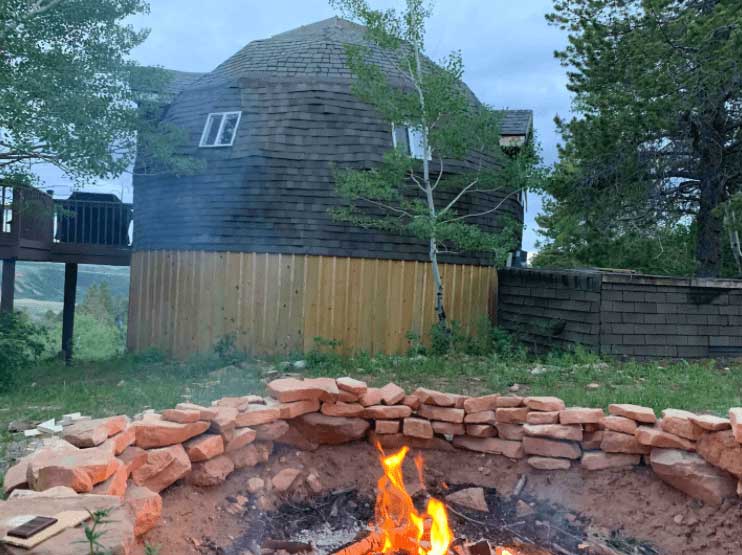 Location: Casper, Wyoming
Rate: $125/night
Finally, stay in one of the most unique places on this list! The Adventure Dome is a geodesic cabin – which means it is a complete dome.
The hosts say it can comfortably fit up to 6 guests, but that might be pushing it. It has a sofa bed and an air mattress. You can't beat the location though!
It sits on the backside of Casper Mountain and overlooks thousands of acres of natural beauty. Getting to the dome might be an adventure, but they will let you rent their 2010 Jeep Wrangler if you need something that will drive through the snow.
It has a full kitchen and a nice bathroom, but you will need to bring bottled water for drinking and cooking. It's a wonderful place to go and connect with the outdoors.
Final Thoughts
Staying in a tiny house is the perfect way to travel alone or as a fun trip with someone you love. Lots of people who stay in tiny homes they find on Airbnb come back saying they want to own a tiny house of their own!
In fact, staying in one for a week is a really great way to test the waters and see if tiny house living is for you.
From yurts to treehouses and even mobile tiny homes sitting on trailers, there are a ton of different options out there.
You can completely disconnect and go off the grid or stay near a busy city. The options are endless! Just find a cute and unique place that fits your travel goals and start exploring.