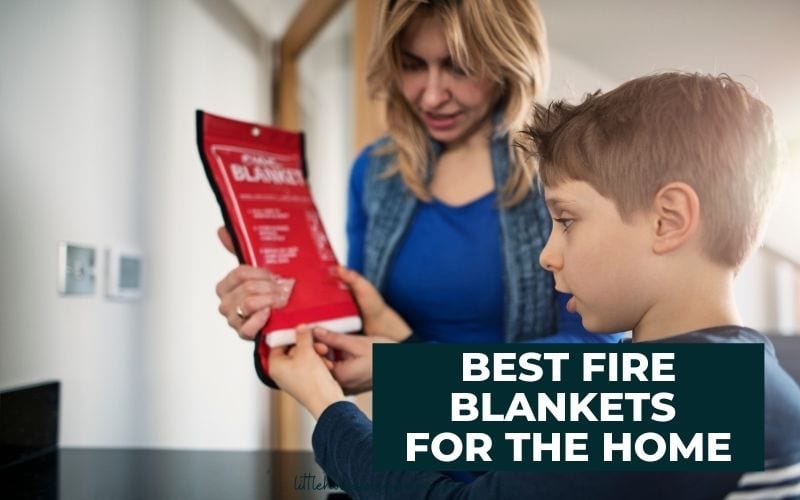 A fire blanket is something every home should have, yet so many don't.
While we all tend to check our smoke alarms are working – at least every now and then when we remember – many of us have never thought buying a fire safe blanket. Why would we need one?
Well, any consumer report would tell you that a fireproof blanket can be a very effective first defense. If something bursts into flames, an emergency fire blanket can smother those flames to put a quick stop to the fire.
In the event of a fire – whether that's a grease fire or electrical fires – the flame retardant materials of fireproof blankets can help prevent disaster. Such as the type of house fires that cause significant property damage.
Click here to see our top pick as best fire blanket overall
So what are the best fire blankets to buy in 2022?
If you're wondering where to buy a fire blanket, then this guide is for you.
We list 10 of the best firefighting blankets so you can decide which one will suit your needs most.
Read on to discover a range of fire blanket reviews and recommendations so you can find the ideal fire safety blanket. Or even a multipack.
In this guide you'll find all the top fire blankets for sale right now, including extra large and eco-friendly products and even welding blankets.
Firstly though, we'll briefly run through what to look for when buying a fire protection blanket.
What To Look For When Choosing the Best Fire Blanket
There are several factors that may influence your decision when choosing the best fire blanket.
It's important that the product can perform in case of emergency, so considerations should include the size, safety and type of material.
As well as your budget.
Size
Size matters when it comes to fire safety.
A kitchen fire blanket should provide peace of mind, so make sure it is big enough to cover the entire body if necessary.
While a larger size is good, it should also be easy to grab, carry and use.
A square meter is a good minimum size to look for, which equates to just under 40 by 40 inches.
Material
Fiberglass material is often the most affordable choice when buying fire blankets for homes.
This material is a very effective fire extinguisher, so in case of a fire this is the top line of defence.
Fiberglass fabric is also non-toxic, and causes less mess than other kinds of material used to put out accidental fires.
Fire blankets made from a wool blend also tend to be of high quality, and more portable ones may be wool-based.
Safety
Safety first, right?
After all, that's exactly why you're reading this article. It's worth checking that your chosen fire blanket meets approved safety standards.
EN, ASTM or CE are the acronyms to look out for. EN-1869 is the required safety standard for fighting fires caused by cooking.
Budget
How much do you want to spend on your fire extinguishing blanket? The price is likely to reflect the quality of the materials, the blanket's size and the ease of use.
It's not necessarily a good idea to simply opt for the most expensive one, however. The key is to choose one that ticks all of your boxes.
Related: How Does A Fire Blanket Work? (Including VS Fire Extinguishers)
The Best Fire Blanket Product Reviews
Size: 40 x 40 inches
Material: Fiberglass
Safety: Meets EN-1869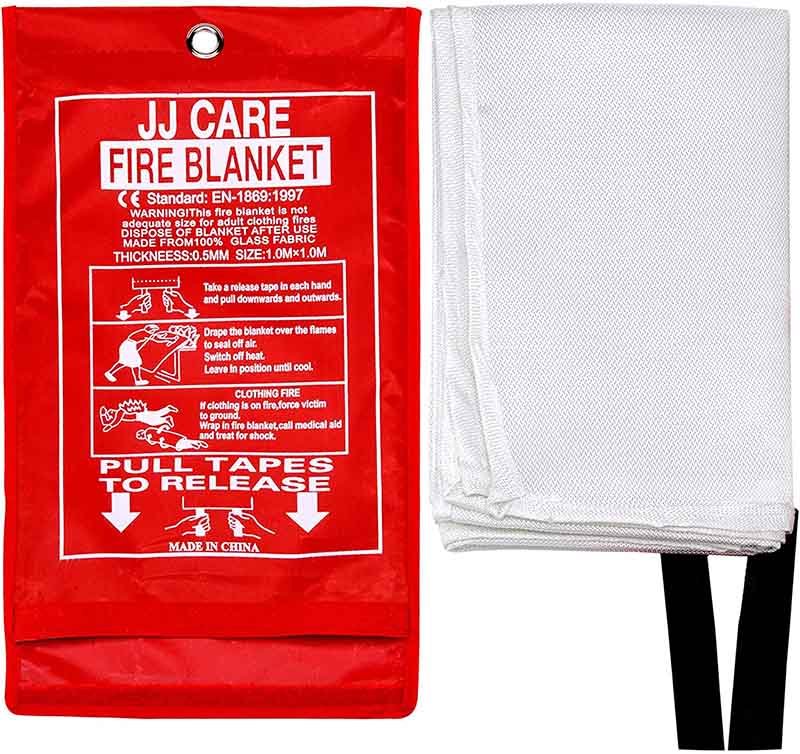 The first item is our list of best picks is a JJ Care fire blanket.
This JJ Care fire blanket is for sale as a single item, or in packs of anything from 2 to 10 fire blankets.
It also comes complete with hooks and gloves.
Made from 100% flame retardant material, this high quality fire blanket comprises double layers of fiberglass cloth, as well as a fire retardant film layer inside.
It can deal with high temperatures of up to 1076°F.
This fire blanket is also simple to use.
You just pull down, spread it out and use to cover the fire.
Within a few seconds, this excellent addition to your home should have extinguished any flames.
It can also be used to wrap around anyone who needs to escape, in order to protect them.
In this case it will act as a heat shield to safeguard them from the flames.
Pros:
Hooks and gloves included
Double layered
Cons:
Click here to see the latest prices and reviews for JJ Care fire blankets
Size: 39.3 x 39.3 inches
Material: Fiberglass
Safety: Meets EN-1869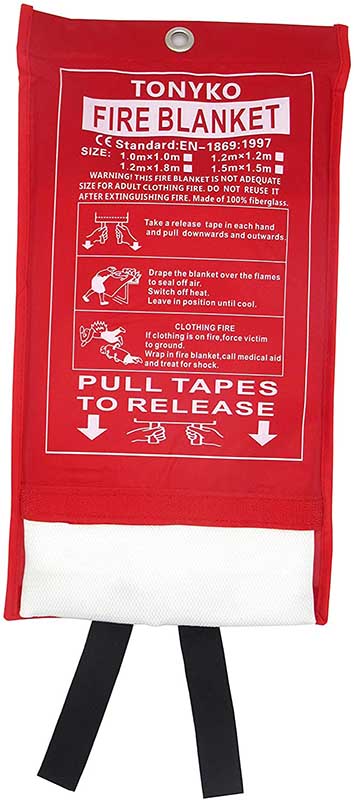 A Tonyko fiberglass fire blanket is also a good choice.
Again, these come in packs containing 1 or multiple blankets.
Like other fiberglass fire blankets, this one will minimize mess once used to put out various types of fire.
It is also non-toxic.
This Tonkyo fire blanket is easy to use and is a great item to have around the home, garden, office, car, campsite – or anywhere flammable liquids are present.
It can also be used as a welding blanket, or to wrap around the body, thus shielding a person from the heat source.
Pros:
Can be used for welding
Reduces mess
Cons:
Click here to see the latest Tonyko fiberglass fire blanket reviews and prices
Size: 47 x 47 inches
Material: Fiberglass
Safety: CE-approved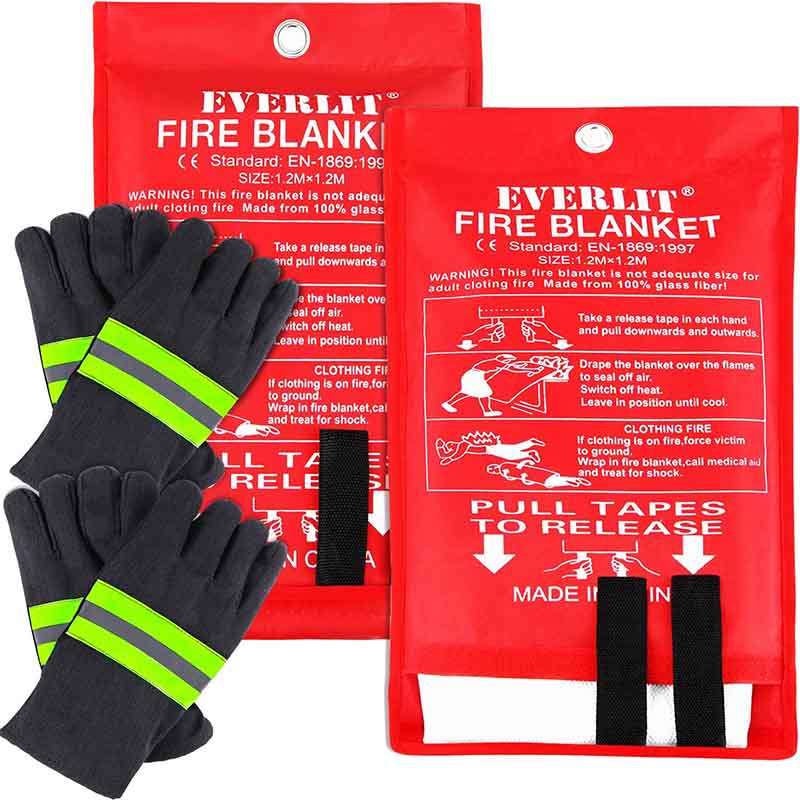 This Everlit fire blanket comes as a handy 2-pack.
Do you need 2? Well within the home it's a good idea to keep a fire blanket on each floor for starters – or at each end of the house if you live on one level.
How about the garage, by the BBQ or in the car too?
Buy a 2-pack and you may be closer to that fire blanket just when you need it most.
Such as at the gas station one day.
Or you could always split the pack with a friend or family member.
Everlit may appeal to you because of its heritage.
The company was formed by a group of US veterans, dedicated to helping protect the public against disaster.
As for the blanket, it can cope with temperatures as high as 1022°F.
It's easy to use, and at 47 inches square a little larger than some.
It also comes with a good quality pair of heat resistant gloves, complete with reflective safety trim.
Pros:
2 pack
US veteran-run company
Heat resistant gloves included
Cons:
Click here to see the latest prices and reviews for Everlit fire blankets
Size: 39.3 x 39.3 inches
Material: Fiberglass
Safety: CE-approved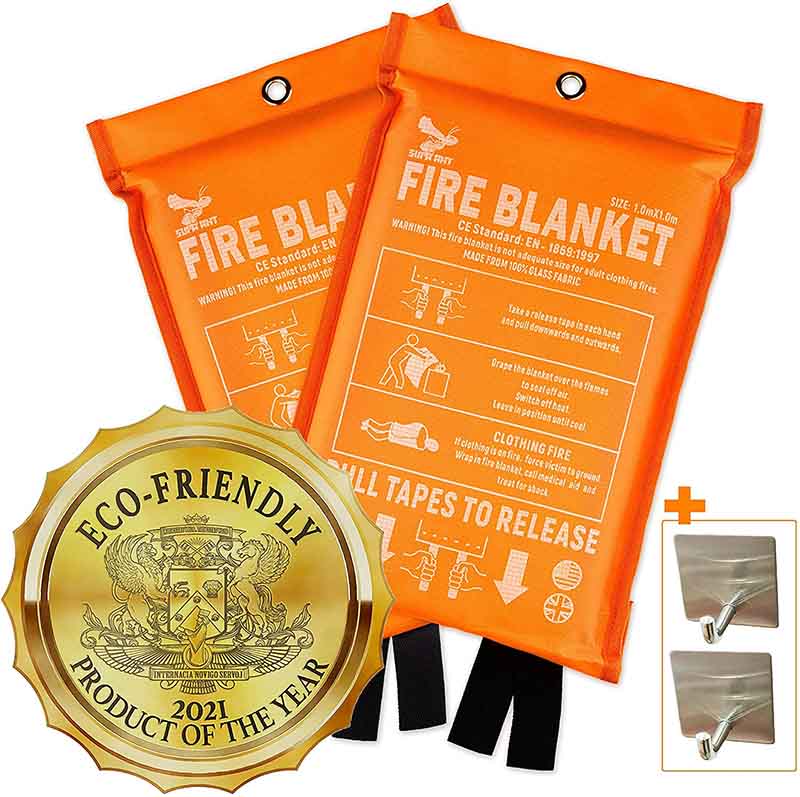 If you like to look after the environment, then this Supa Ant fire blanket might just be the right pick for you.
Again, there are 2 blankets in the pack, one for each floor of your home or giving you an extra to keep in the car or garage.
This can deal ably with a small fire, or in the case of larger fires can be used to protect the body from flames when wrapped around a person.
Measuring around a square meter, this environmentally conscious fire blanket is compact for storage and simple to use.
The fluorescent orange blanket can even be re-used if undamaged, and has no expiration date.
Pros:
Kind to the environment
Highly visible fluorescent orange color
Reusable and no expiration date
Cons:
Click here to see the latest Supa Ant fire blanket prices and reviews
Size: 40 x 40 inches AND 59 x 59 inches
Material: Fiberglass
Safety: CE-approved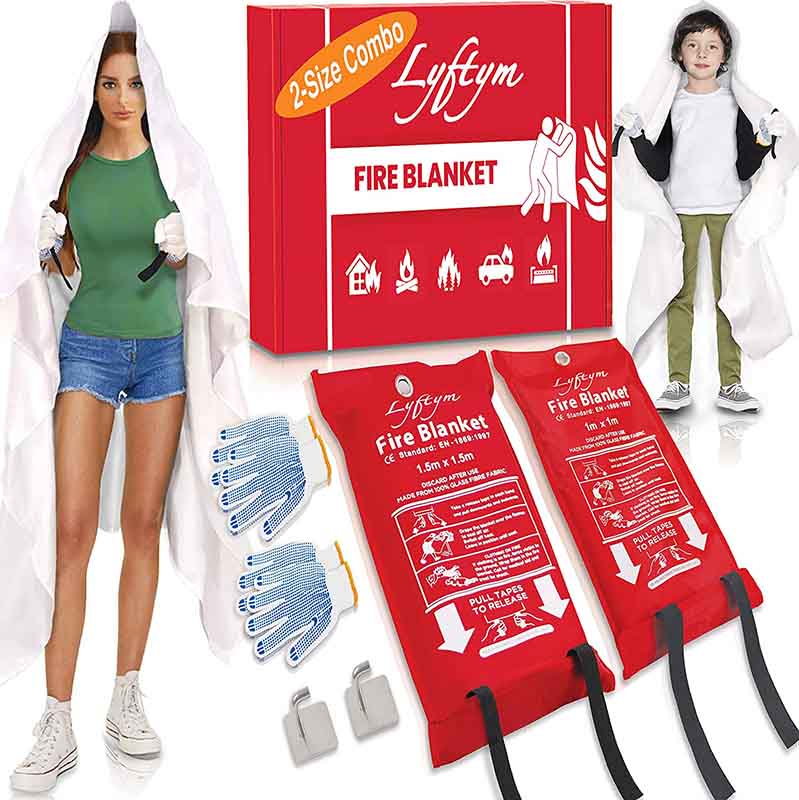 If you're not sure which of the fire blanket sizes to go for – why not buy both with this 2-pack?
It contains 1 Lyftym 40 by 40 inch fire blanket and a large one measuring 59 by 50 inches.
Designed and developed in the US, this Lyftym fire blanket 2-pack consists of 2 items, both made from fiberglass material.
They are suitable for extinguishing fires before they spread or evacuation purposes.
This pack comes complete with hooks and gloves, so there's no excuse for leaving it lying around on the kitchen counters.
Again, there is no expiration date, and both blankets can be reused as long as they suffer no damage.
Pros:
2 different-sized blankets
US designed and tested
Includes hooks and gloves
Cons:
Click here to see the latest prices and reviews for Lyftym fire blankets
Size: 79 x 79 inches
Material: Fiberglass
Safety: EN-1869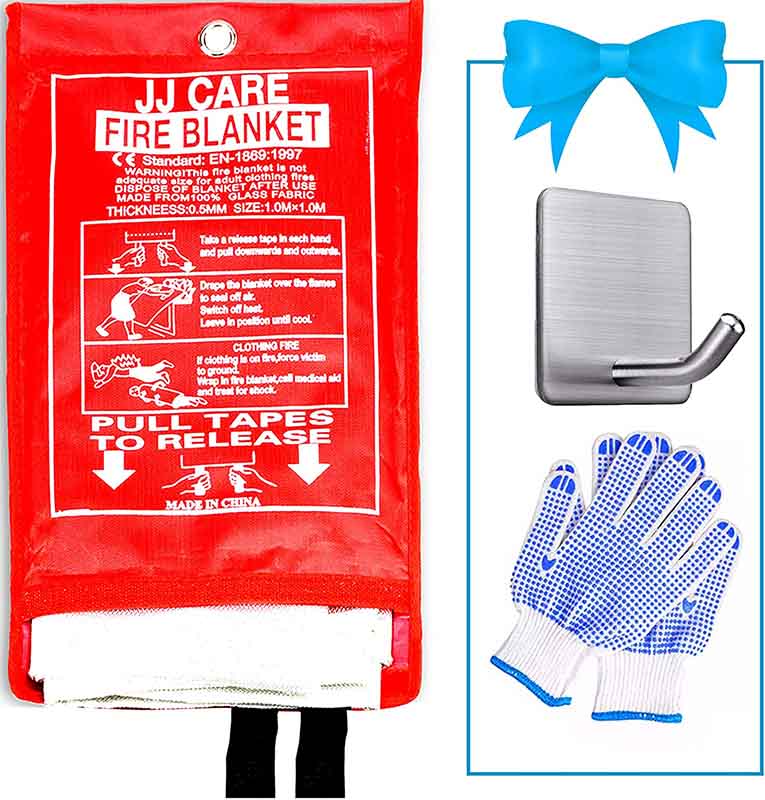 Want an extra large fire blanket?
Then check out this one by JJ Care. At 79 by 79 inches, it is significantly bigger than the average fire blanket.
Whether you need to put out a kitchen fire or want protection in case of liquid fires, there should be less need to call the fire department when you have this to hand.
This big fire blanket can cope with up to 1076°F, and is easy to use.
It will quickly put out cooking fires, so these products are ideal for use as kitchen fire blankets.
As with other fire blankets, this item works by ending the oxygen supply to the fire so it dies out.
It can be used as a shield for those escaping a burning building too.
Pros:
Extra large fire blanket
Larger area covered
Cons:
Click here to see the latest JJ Care fire blanket prices and reviews
Size: 78 x 78 inches
Material: Fiberglass
Safety: EN-1869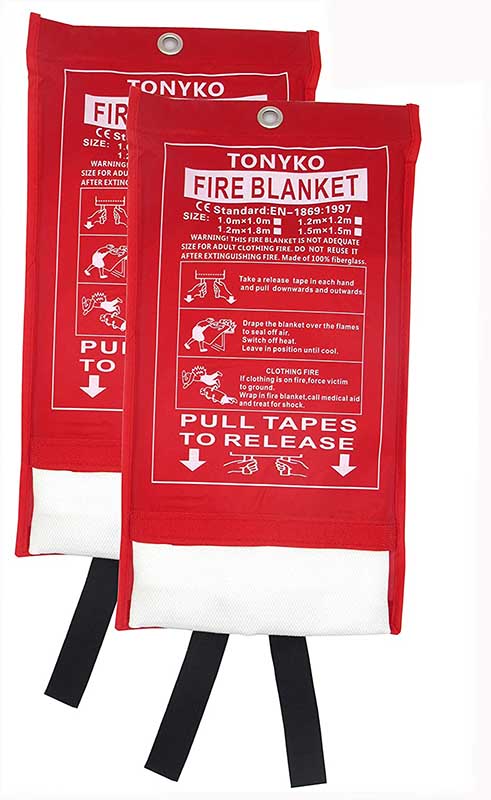 Another option for those seeking extra large fire blankets is this Tonyko product.
It's great for covering a larger area – or even a bigger person who is trying to escape the fire to protect them from burns.
Suitable for camping, home, office or vehicle use, this super-sized Tonyko fire blanket gives the user real peace of mind.
It can extinguish various types of fire – including grease and liquid – while leaving as little mess as possible behind.
There are 2 fire blankets in this pack, so you can keep one at home plus one at work, or in the car, BBQ hut or garage.
Or perhaps you'd prefer to store one on each floor of your house.
Pros:
Super-sized fire blanket
Bigger area covered
Cons:
Click here to see reviews and prices for the Tonyko XL fire blanket
Size: 4 x 6 feet
Material: Fiberglass
Safety: N/A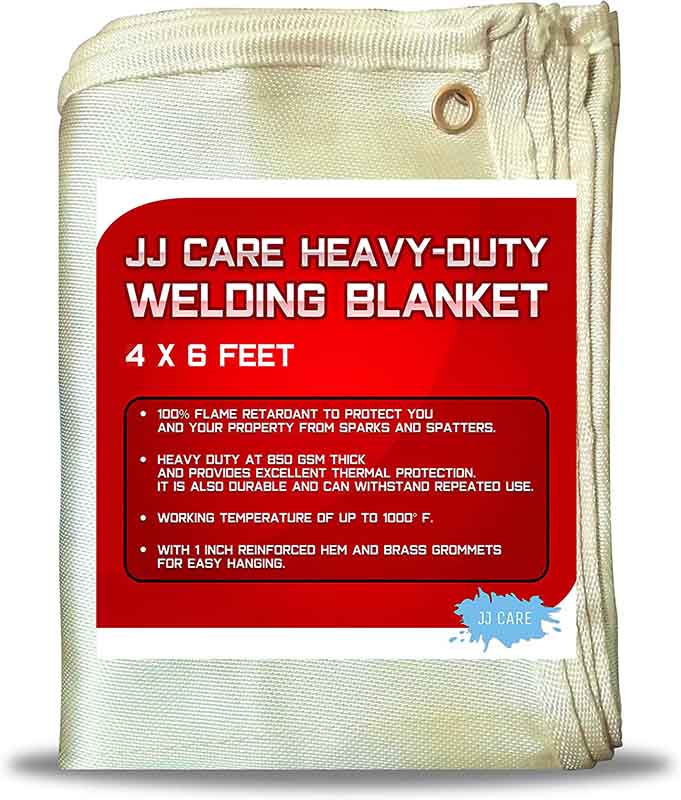 Another type of fire safety blanket is a welding blanket.
Whether every home needs one is debatable, but if a hobby or your line of work makes sparks fly then it is definitely a must-have.
This flame retardant welding blanket is a heavy duty item made with 850gsm fiberglass cloth.
This product provides protection against burns caused by sparks, embers and molten metal – in the form of a blanket.
Fire risks do not always take the form of flames.
The blanket can be hung as a barrier between the welder or cutter.
This protects the user when undertaking light, medium or even heavy duty tasks.
It can cope with temperatures of up to 1000°F.
Pros:
Heavy duty welding blanket
Can be hung as curtain
Cons:
Click here to see the latest reviews and prices for this welding blanket
Size: 62 x 82 inches
Material: 30% wool, 70% man-made fiber, 100% Olefin core
Safety: N/A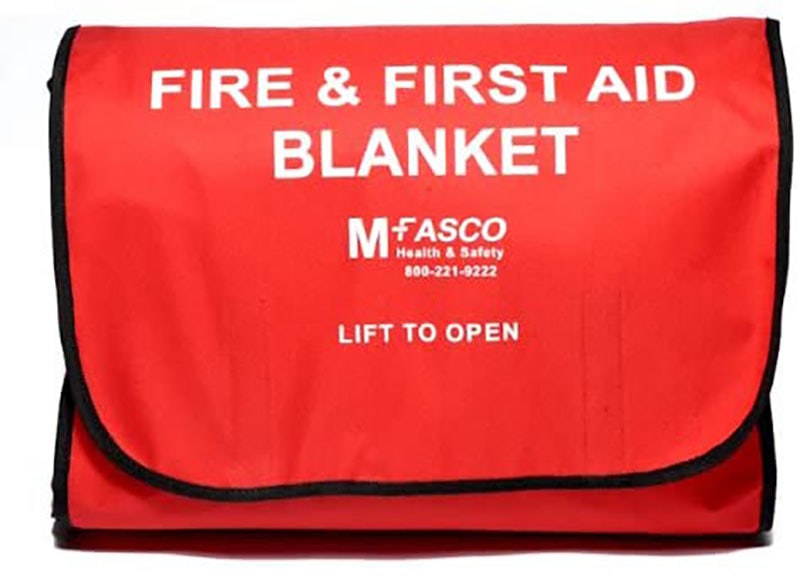 Perhaps the best fire blanket for you is something very compact and portable.
If that's the case, check out this emergency first aid fire blanket from a US company.
It comes complete with its own pouch, so it's ideal for hikers to carry around, or to store in a tent pocket when at the campsite.
This is designed for extinguishing small fires before they take hold.
The strong nylon pouch keeps it safe, and you can access the fire blanket really easily by opening the velcro fastening.
This travel fire blanket can put out cooking or welding fires, and is made from a flame-retardant mix of man-made fibers and 30% wool, with 100% olefin core.
Olefin is resistant to sunlight, abrasions and chemicals as well as fire, so this one can cope with a few knocks.
Pros:
Lightweight and portable
Carry pouch included
Cons:
Click here to see Michigan emergency fire blanket prices and reviews
Size: 62 x 84 inches
Material: 80% wool, 20% man-made fibers, Scotchlite reflective material
Safety: ASTM D-4151 & CS-191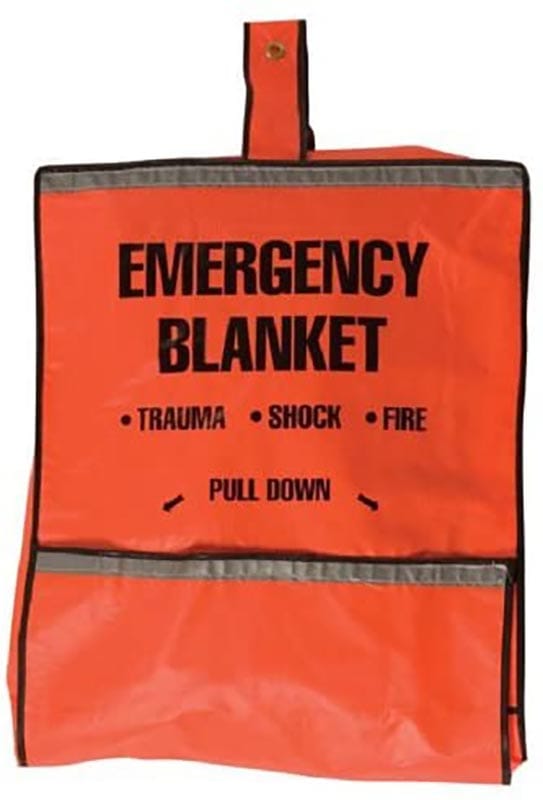 This is a well-priced item if you want a top quality, wool-based fire blanket with its own pouch.
Again, this is a more portable item than most others.
Wool is a great choice as it's naturally flame retardant.
A US made product, this 80% wool fire blanket comes with its own storage pouch, complete with a hanging loop.
In a bright orange color with reflective trim, it's easy to spot even in darkness.
As it's one of the simplest to use, this fire blanket would be ideal for young people heading out on their first camping trip.
Pros:
Portable and compact
Pouch with hanging loop
Cons:
Click here to see the latest prices and reviews for the Safety Flag fire blanket
Which is the best fire blanket for you?
We hope this guide is helpful when choosing between the best fire blankets.
Whether your priority is practicality, portability or price, these are 10 of the highest rated fire blankets available today.
Related: