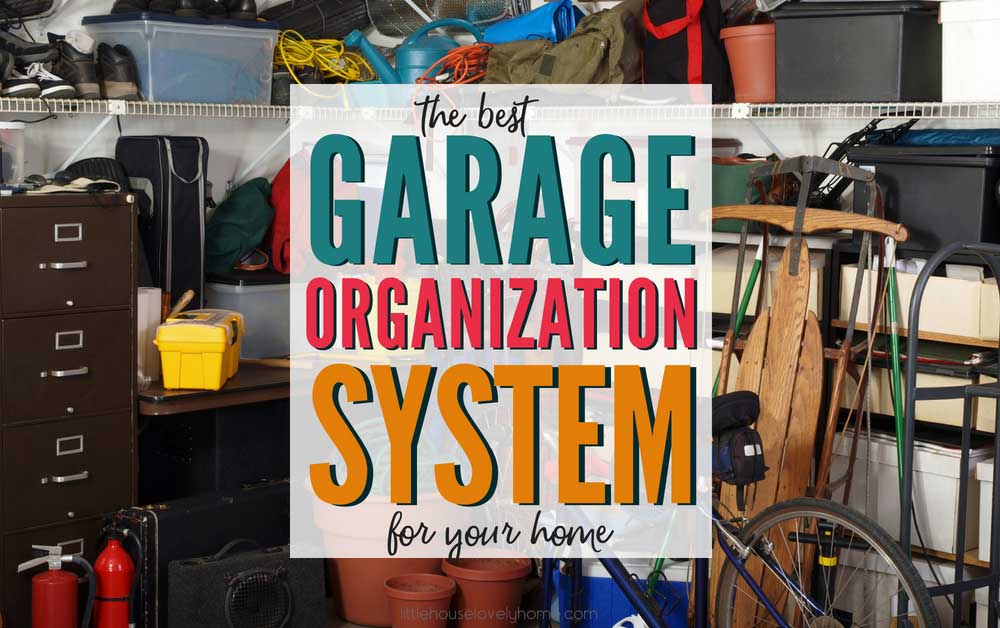 There is no one best garage organization system as it really depends on your individual family and garage circumstances.
The best garage storage system for you depends on a variety of factors such as how much stuff you need to store, the sort of items you want to store as well as how much space you have. Once you start to consider these factors you will be one step closer to having a clutter-free garage.
If you need help working out what the right garage management system is for you, then you are in the right place because this is a complete and comprehensive guide on the best garage storage systems.
In this guide, I am not only going to take you through the various garage storage systems available, but I will help you choose which is the best garage organization system for you and hopefully give you some garage organization tips along the way.
Once you have decided which of the best garage organization systems is right for you, I will take you through the various products currently available to make your garage clutter free.
In the garage storage system reviews, I look closely at a variety of products such as garage wall organization systems, cabinets for garage storage as well as overhead garage storage systems.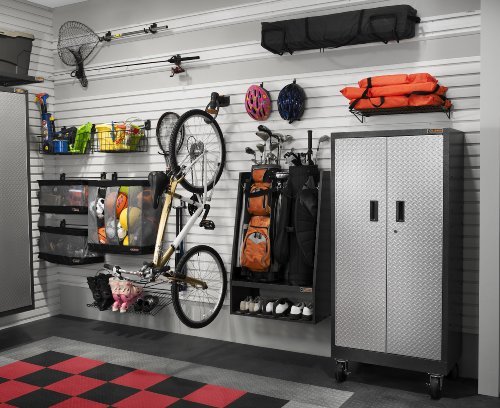 Regardless of your situation, I have no doubt you will find the ultimate garage storage system perfect for you in this guide.
Whether you are looking for a two car garage organization system or single car garage organization ideas, cheap garage storage or a high-end solution, maybe you are after a garage tool organization system or bicycle garage storage racks – whatever your storage issue, there is an answer for you in this guide.
Comparison Chart of the Best Garage Organization Systems
Don't have time to read the entire garage storage solutions guide? Below is a table listing out the various garage organization solutions I review below. You can quickly see the different products and compare their features side by side.
For more information about these garage storage and organization products keep reading my full garage storage reviews below.
Garage Organization Systems and Storage Solutions
What to Consider when looking for the Best Garage Organization System
Ok get out your pen and paper and consider the following factors before you rush out and buy any garage organizing system.
1. What do you want to store?
The average household stores various items in their garage such as sporting equipment, DIY and home improvements items, gardening tools, Christmas decorations not to mention the car!
Perhaps you're the sort of family that keeps everything just in case, so you have loads of stuff to store or maybe it's more the case that you have a small home and so need the garage space to store the odd bits and pieces that there is no space for inside.
Whatever it is, before you rush off and purchase a garage organizer system, make a list of what you want to store and be realistic on just how much there is. Now is a good time to downsize too!
Now you know what it is you want to store, how often you want to access it? Every day, each weekend, once a year?
This will greatly impact on the garage storage organization product you buy. For example, if you want to store your bike that you ride regularly you should consider the best garage bike storage where you can easily access it.
Perhaps you haven't ridden your bike for years but aren't ready to part with it, so having it somewhere out of the way will do just fine. Go through this process for your various items and be honest with yourself.
It is also important to know how much your stuff weighs as garage organization storage systems have a maximum load capacity. You don't want to purchase a garage storage organizer only to realize it is not strong enough to hold your things.
2. How much do you want to spend?
Are you looking for garage storage organization that is top of the range or a cheap garage organization system that does the job?
Garage organization and storage systems can be as cheap or as expensive as you like.
The best garage storage ideas aren't necessarily expensive, but the price will be greatly impacted by the durability and quality of the home garage storage product you choose (more on that below) however it's good to have a budget in mind first.
3. Your Garage Floor Plan
Ok so you are nearly ready to consider what the best garage storage solution is for you, but first, do a quick floor plan of your garage. No point purchasing what you think is the ultimate garage organization product only to realize now you can't get your car in!
Measure up the garage, mark where any windows, doors and switches are as well as how much room your car takes up. This is important regardless of whether you have plenty of space or are only looking for small garage organization ideas.
The best garage organization ideas are the ones that take up the least amount of space, so you need to know the garage organization layout you have to work with before you purchase anything.
What are the Different Types of Garage Organization Systems?
Ok so you know what you want to store and how much space you have, let's consider the different type of home garage organization systems available.
1. Freestanding Shelving Units and Cabinets for Garage Storage
A garage cabinet system is a great way to organize your things. Cabinets can be freestanding or fixed to the wall and come in a variety of materials, shapes, sizes and colors to suit a variety of garages.
Garage organization cabinets usually have adjustable shelves, can include drawers or wheels and can be lockable. There are cheap options or the best garage storage cabinets which are high quality and durable cabinets that will last you a lifetime.
The benefits of a lockable garage storage cabinet are that you can lock your most precious (or dangerous) items away; your items are out of view and if you move to a new house you can easily take them with you (if it is freestanding).
The negatives of cabinets for garage organization is that they tend to be bulky, take up precious floor space (if they are freestanding), limited to storing smaller items and be can difficult to assemble.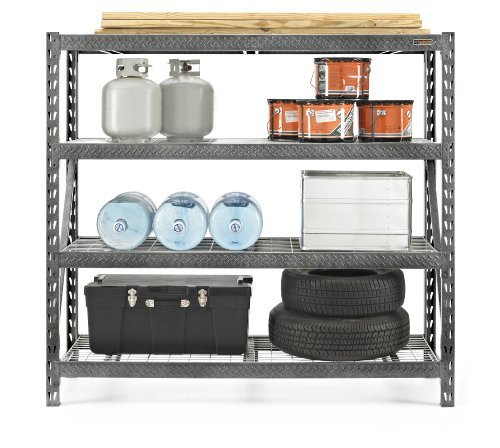 Freestanding garage shelving organization units are like cabinets but don't have any doors.
The benefits of freestanding shelving units are somewhat like cabinets in that they are freestanding, so you can take them with you should you move to a new house but due to their open nature you can store more bulkier items.
Of course, the disadvantage is that you can't lock away your precious items.
Cabinets and free-standing shelving units tend to work best in larger garages as you do need to have more room. For even the best garage cabinet system you need to factor in the space required for opening and closing doors.
The other situation where they work best is if you don't have a lot to store and are looking for a quick and simple garage organization solution.
You can also purchase a complete garage storage system, like the New Age 50405 Bold series mentioned below. These systems are made up of a combination of cabinets and other storage systems such as a workbench and wall system.
2. Garage Wall Organization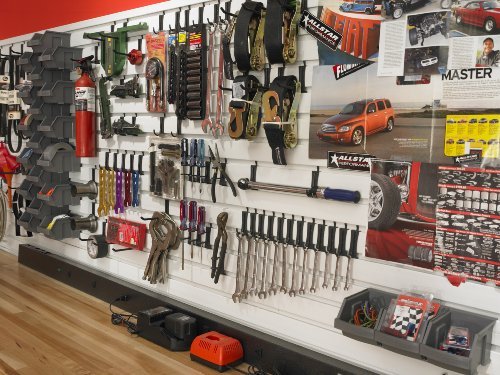 The next type of garage storage system is the type that is mounted to the wall. These wall garage storage systems may be floating shelves, pegboards, racks, hooks or rail systems.
A garage wall organizer system is perfect in small garages where you don't have the floor space for free standing garage organization units. They are also great for accessing items quickly as your items are visually on display.
A garage rack system is great for larger items such as sporting equipment. These days you can get garage organization racks for pretty much anything.
There are bike racks, kayak racks, paddle board racks even one for the mower – whatever you got – there is a rack for it!
There are even small rack systems that can hold your brooms and shovels etc so they are neatly out of the way.
A garage pegboard organization system is old school but still a great solution as are garage storage hooks and rail systems.
These are all somewhat similar to racks but are better suited to smaller items and are great garage storage for tools. These vertical organizational systems are extremely flexible allowing you to design a system that suits your specific needs.
You can use a variety of hooks, racks, and small garage storage baskets in a range of shapes and sizes to keep your items organized. This type of garage storage for sale are perfect for organizing tools, and gardening items.
3. Overhead Garage Storage Systems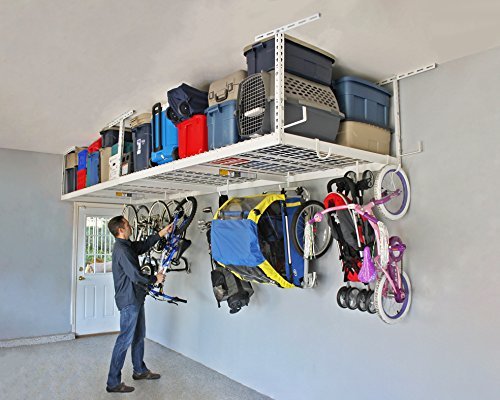 Another great system that keeps things off the floor is the overhead garage storage system.
This type of garage hanging system takes advantage of the unused space just below the ceiling. Overhead garage storage shelves are best for storing items that you don't use often as it can be a bit of an effort to have to climb up and grab your items.
However, there are also garage lift system options which are on a pulley cable like the Racor PHL Cable Lift Shelf which is discussed below.
What to Consider when Choosing the Best Garage Storage System
1. What type of storage system?
I have mentioned the various types of options for the best garage storage solutions above. Now you have considered the various benefits and disadvantages of each type, consider what will work best for your garage.
2. How easy is it to assemble?
Consider the ease of putting together your garage storage system. If you fancy yourself as a bit of a handyman then you should have no issue at all, otherwise, consider one of the top garage storage systems that come pre-assembled or even partially pre-assembled. Many systems come with clear instructions and most don't even require any tools.
You could of course also hire someone in to ensure the storage system is set up correctly.
3. Fixed or Adjustable Shelves?
In my view adjustable shelves or the ability to move things around on your wall is vital to a good storage solution. You don't want to be locked into the shelfing heights designed by the manufacturer and not only that, things change over time and the best garage organization solutions will provide you that flexibility.
4. Do you need lockable cabinets?
Again this comes back to what you want to store. Are you wanting to lock away expensive items or items considered dangerous?
5. What's it made from?
It is super important to consider what your garage storage product is made from to ensure it is long lasting. Some materials do better in certain weather types than others as well as have better rust protection. Here is a quick overview of the more popular material storage systems are constructed from:
Metal: A sturdy and long lasting material often found in cabinets and shelves which are made from steel or aluminium. Metal can hold a lot of weight and is unlikely to break or bow. Metal does tend to be more expensive though, heavy and can be prone to rust if not sealed correctly.
Wood: Available in a variety of shapes, sizes and finishes wood can be used to make cabinets although this is not as common these days. Wood is sturdy and durable however it is not resistant to moisture and can crack, bow or break if exposed.
Plastic: A relatively cheap option, plastic is lightweight and moisture resistant. Plastic is great for storing lightweight items but can crack or splinter over time.
MDF: A cheaper option than wood, MDF is reasonably durable. However, like wood, it is not moisture resistant and will break over time.
Wire: You will often see wire in shelving as it is a cheap option. Wire is great for air ventilation decreasing the chance of mold and mildew.
6. How Safe & Durable is it?
It's really important to purchase a storage system that is not only durable but also safe.
You want a system that can deal with you loading and unloading your stuff onto it on a regular basis as well as not likely to break in the middle of the night destroying your stored items.
The Best Garage Storage System Reviews
1. Gladiator Full-Door Wall Box
Gladiator garage organization products are among the best when it comes to top quality garage cabinets and this Gladiator ready to assemble full door wall cabinet is no exception.
Save your floor space with this durable off the ground cabinet. Constructed with steel panels, heavy-duty Allen head bolt screws and back plates this cabinet will last you a lifetime. This cabinet has a simple assembly process (confirmed in various Gladiator garage storage reviews) with a tab and loop design which removes the need for tools when assembling. Mount it to any of the Gladiator wall systems or directly to the wall.
This is a good size cabinet which is perfect for you to store various items. You will love the two adjustable shelves which can hold up to 40 lbs each as well as the fixed base shelf.
Whilst this cabinet doesn't include a lock, it does have a durable magnetic catch for a stronghold. It is also backed by a 10-year warranty.
These cabinets are one of the best-rated garage storage cabinets around and a perfect choice for those looking for top quality metal garage storage cabinets for their garage storage solutions. Click here to read more reviews and check the price
2. Suncast Wall Storage Cabinet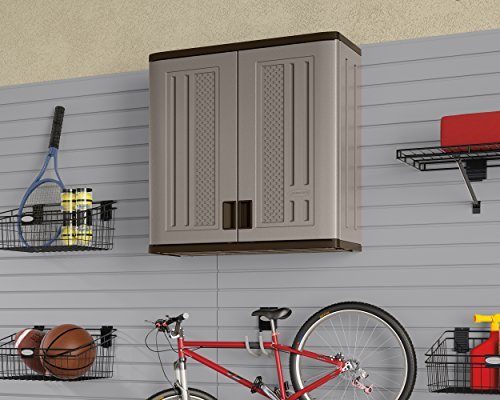 If you're in the market for some of the best garage storage units, Suncast garage storage cabinets are a great choice.
This cabinet fixes to the wall of your garage, saving your precious floor space and super easy to access. Made from a double wall resin construction with platinum color doors, side, and a slate color top, back, bottom and handles, it looks great too. It also has 1 steel reinforced shelf that can hold up to 75lbs.
This garage storage system has lockable doors so you are able to lock away any items that may pose a hazard to children or animals, and you can also lock away extra valuable items too.
Although this product is designed to be mounted to the wall of your garage and comes with a metal frame and screws, it can easily be placed on the floor if you are wanting a less-permanent system.
Various reviews state this is a well-built and affordable garage storage solution. Click here to read more reviews and check the price
3. New Age 50405 Bold 3.0 Garage Storage Cabinet Set with Worktop
Available in grey or red, the New Age 50405 is the ultimate garage storage system that is made up of lockers and cabinets with adjustable shelving and even a workbench.
This garage storage system is built with 24-gauge steel frames and doors and has a scratch and stain resistant powder-coat paint finish. It is made up of 2 multi-use lockers, 3 wall cabinets, 1 base cabinet and 1 rolling tool cabinet. There is a spot for everything you could think of!
The weight capacity for the lockers are 800lbs, wall cabinets have a maximum of 100lbs and the base cabinet and rolling tool cabinet both have a maximum of 600lbs. The workbench is made of bamboo and is the perfect accessory to help keep anyone's garage organized, neat and tidy.
All the doors have full-length aluminium handles that are fully lockable so you can have the peace of mind knowing your valuable or dangerous items are always locked away safely.
It is true, you get what you pay for, so if you are after the ultimate garage storage organization system, this is definitely one to consider. Click here to read more reviews and check the price
4. Keter 2 Door Storage Cabinet
If you are looking for a free-standing garage organization system, then the Keter Garage Storage cabinet might be the best option for you.
With adjustable shelves that can be configured in any design to suit your needs, you really can't go wrong with this storage unit. If you need to store larger items, you can always remove the shelves altogether and just take advantage of the secure cabinet made from a polypropylene resin construction that you know will be easy to maintain and won't rust, peel or dent.
The compact dimensions of this design give you the flexibility of making it fit in tight spaces so this would be ideal for someone with a small garage, or a lot of other things already stored in their garage too.
Although this storage cabinet does not come with lockable doors, it would be very easy to padlock them closed if needed.
If you are looking for a low-maintenance and easy to move around if necessary garage storage organization system, this is a great option to consider. Click here to read more reviews and check the price
5. Gladiator GARS774SZG Tool Free Shelf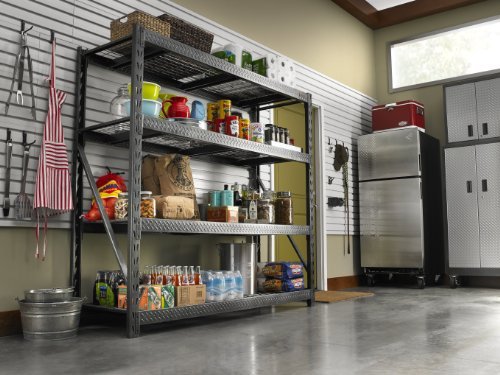 If you are looking for one of the best garage shelving system options available, the Gladiator Tool-Free Shelf is one you can't look past.
A huge bonus to this garage organization shelving set is that it has super quick and easy assembly and you don't need to use any tools at all. They are also completely free-standing so you can move them around your garage or wherever you want to keep them as desired.
The shelves are made with a powder coating process that electrostatically bonds and bakes the protective coating to bare metal creating a very effective corrosion barrier. Each of the four-tiered shelves can hold up to 2,000lbs of weight so you can store your heaviest items safely on them.
This shelving set is NSF Certified for professional environments and is suitable for use in restaurants and home pantry applications.
So if you are after one of the best garage storage shelves, make sure to check out these ones. Click here to read more reviews and check price.
6. AmazonBasics 5 Shelving Unit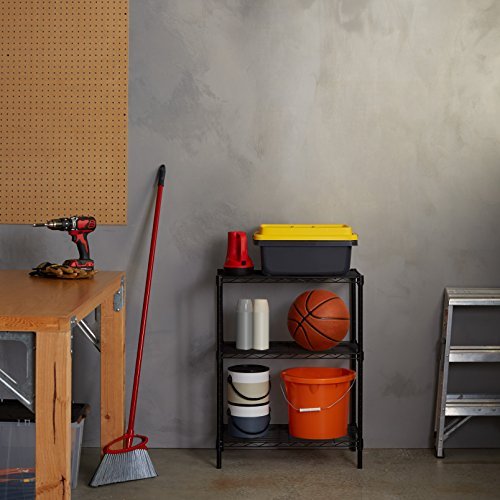 The AmazonBasics 5 Shelving unit is a great option for portable garage organization shelves, particularly if you are after good cheap garage storage solutions.
The heavy-duty steel construction with levelling feet, and a black-coated chrome finish, offers remarkable strength, versatility and convenience for all your garage organizing needs. This unit has 5 adjustable shelves that each hold up to 350lbs of even distributed weight.
Another great feature of this garage organization system is that no tools are required to assemble the unit and it can easily be moved from room to room as required.
Garage storage systems don't need to be expensive and this AmazonBasics 5 Shelving Unit is one of the good cheap garage organization ideas available. Click here to read more reviews and check price.
7. Gladiator GAWP082PBY GearWalls Panels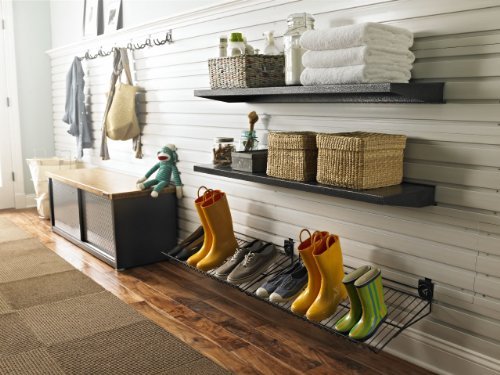 If you are looking for garage wall organization systems, the Gladiator GearWalls Panels are a great option to consider.
Garage organization wall systems are designed to reclaim the floor in your garage and maximize storage space and flexibility. With this system, each panel can hold up to 50lbs of weight per square foot, which is more than enough capacity to hold the heavier items in your garage such as bikes or heavy cabinets. You can easily lock into place hooks and baskets too.
The screw track makes this garage wall system super easy to install and will turn your cluttered garage space into a super organized area that will make all your gear so easily accessible.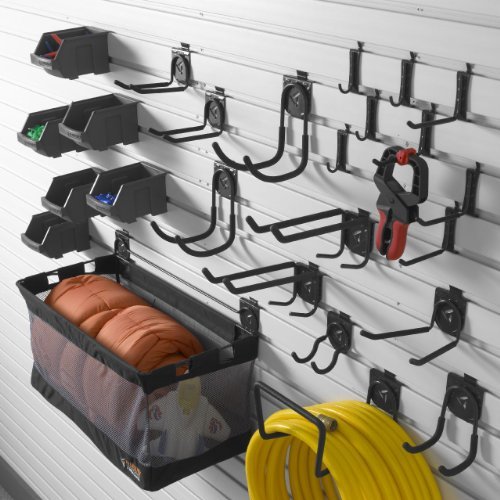 The GearWall panels are designed to be able to link together giving you the option to purchase as many as you like to make the best garage wall storage system for your needs. If you are looking for garage storage kits, you can buy the full accessory kit here –
Many reviews state that this is a product that looks great and is well worth the money. Click here to read more reviews and check price.
8. Rubbermaid FastTrack Garage Storage System All-in-One Rail & Hook Kit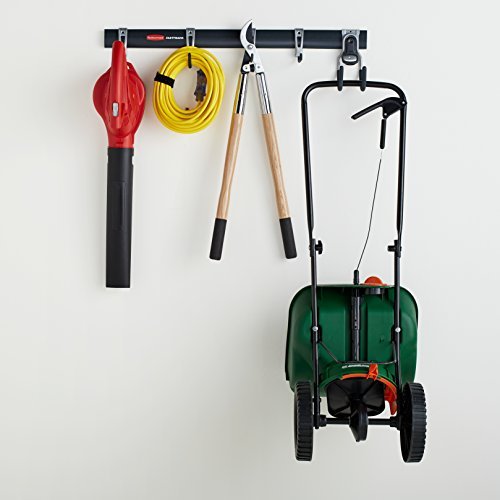 The Rubbermaid Garage organization system is the perfect way to get your garage organized and this kit has everything you will need to get started. (Plus, we love it for bike storage, too).
This kit comes with a 32-inch FastTrack garage rail, utility hook, two 1-handle hooks and 2 scoop hooks. This Rubbermaid garage storage system also has all the hardware you need for set-up and installation included.
It includes locking grippers on the accessory hooks that provide security when attaching hooks to the rail, and the ability to attach other accessories quickly making it one of the best garage track system options available, particularly if you are after cheap garage storage systems.
This Rubbermaid FastTrack Garage organization system also features predrilled holes on the rail that fit 16-inch or 24-inch studs for sturdy and secure installation.
Various reviews state this is a great way to transform your garage and is a professional looking upgrade to your storage solutions. Click here to read more reviews and check price.
9. Wall Control 30-WGL 200GVB Galvanized Steel Pegboard Tool Organizer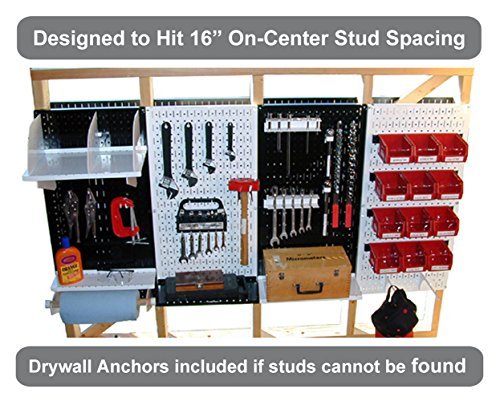 Pegboard garage organization systems may be old school, but the Wall Control 30-WGL Galvanized Steel Pegboard is certainly a great way to organize your tools in the garage.
Pegboards are still one of the best garage tool storage system options available, and this particular unit is over 10 times stronger than the conventional pegboard. It features a high-quality metallic galvanized finish and accepts ¼ inch pegboard pegs, Wall Control slotted pegboard pegs and slotted, stable secure hooks, brackets and shelves.
This tool organizer has magnetic panels and the steel prevents the pegboard holes from getting worn out. It also has a galvanized rust-resistant finish.
Another great feature of this steel pegboard organizer is that you can mount directly into the studs or sheet rock with no extra framework required. The mounting hardware is included.
Garage organization wall systems are a great way to get all your tools organized and this Wall Control Steel Pegboard Organizer is no exception. Click here to read more reviews and check the price
10. Fleximounts 2 Pack Floating Shelves
The Fleximounts 2 pack Floating Shelves are a great option when considering metal garage storage systems.
These metal garage storage shelves are super easy to install and have all the hardware needed for installation included. They come with a template to mount holes and a bubble level to get the perfect horizontal location.
The heavy gauge steel construction makes these shelves sturdier and more stable than just any regular floating shelf unit and all hardware has gone through a strict testing process. High-quality screws are included so you can have peace of mind knowing the shelves won't fall down in the middle of the night. They are able to hold up to 400lbs total.
These steel garage storage shelves are suitable for securing to either wall studs or directly into a solid concrete wall but does not fit for metal studs.
Most of the reviews on these floating shelves state that they are a great design and easy to install but some reviews question the sizing of the shelves as they may overlap. Click here to read more reviews and check the price
11. SafeRacks 4×8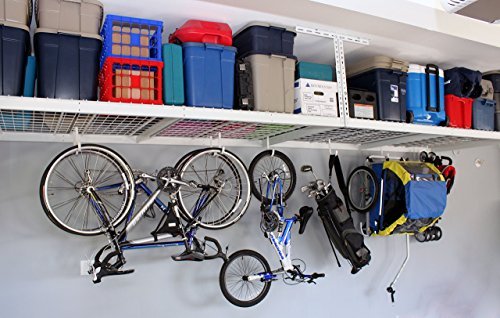 The Saferacks garage storage system is a unique rack designed to free up as much space as possible in your garage.
Made from industrial steel and a powder coat finish, it can hold up to 600 pounds of weight. You can customize the ceiling drop-down distance to suit your specific needs and set it up to measure a distance of anywhere between 24-inch and 45-inches.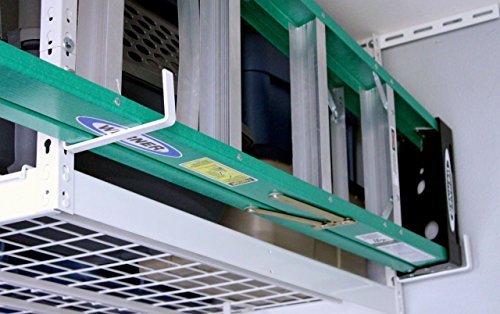 This best garage hanging system has an easy step-by-step setup process and comes with detailed instructions. You also have peace of mind knowing you have full-time support staff to call if you have any questions regarding the installation.
Another great feature of this best garage hanging system is that it comes with a lifetime warranty so you know when you buy this product it will go the distance or be repaired or replaced if faulty.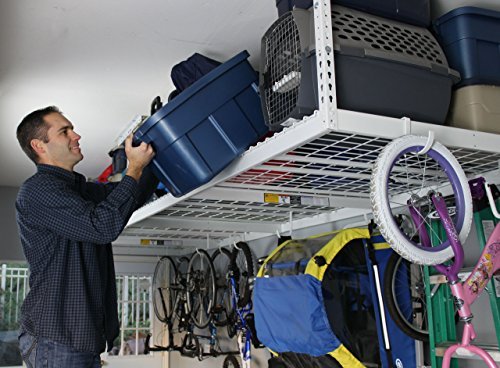 According to various reviews, this is a strong and sturdy hanging rack that has helped many people to reclaim their garages. Click here to read more reviews and check the price
12. Fleximounts 4 x 8 Overhead Adjustable Garage Storage Rack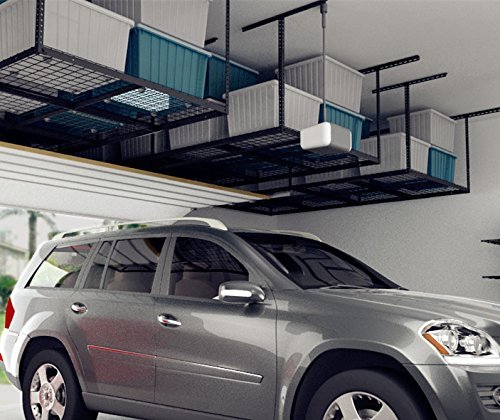 The Fleximounts Overhead is another great garage storage ceiling rack also constructed with top quality materials.
When looking at garage ceiling storage solutions, it is important to ensure that they are safe. The last thing you want to risk is the storage rack coming down on top of your car or any other valuable items in the garage. The Fleximounts storage rack has long ceiling brackets designed to be attached to 2 studs and six vertical posts to ensure optimal safety.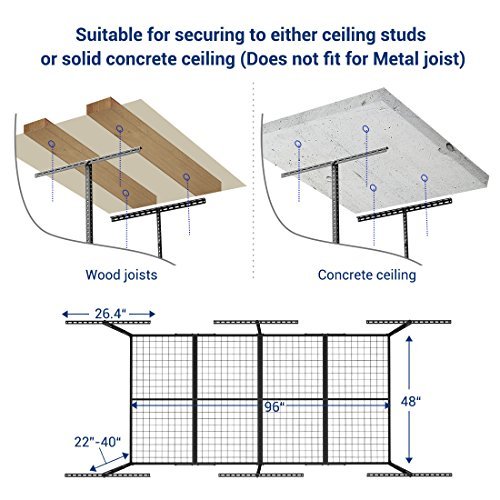 Overhead garage storage installation can be expensive so it is a bonus when you can find a storage rack that has a DIY installation process. This specific one comes with a step-by-step instruction manual, an installation template and a YouTube video to help with installation.
Other great features of this storage rack include the option of the adjustable 22-inch to 40-inch ceiling drop down dimensions, different integrated grid design, and the heavy-duty hardware that have gone through strict testing and can hold up to 600lbs.
Various reviews state this is a great product and the installation was very simple and easy. Click here to read more reviews and check the price
13. Racor PHL – 1R Pro HeavyLift 4 by 4 Foot Cable Lifted Rack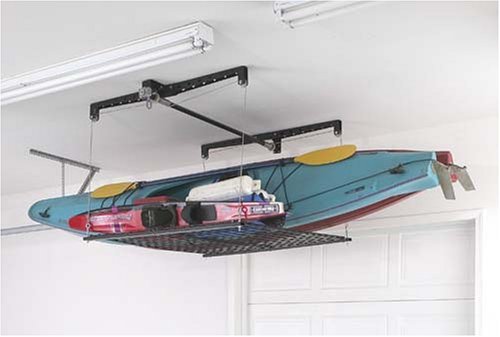 The Racor PHL is a fantastic home garage lift system that can lift and store your valuable items off the ground giving you back precious garage floor space.
This garage hoist system includes a roof-mounted stock rack and a pulley system that raises and lowers for super easy access. The 4-square-foot platform is supported by heavy-duty steel beams and has a winding axle, vinyl coated steel cable and mounting hardware.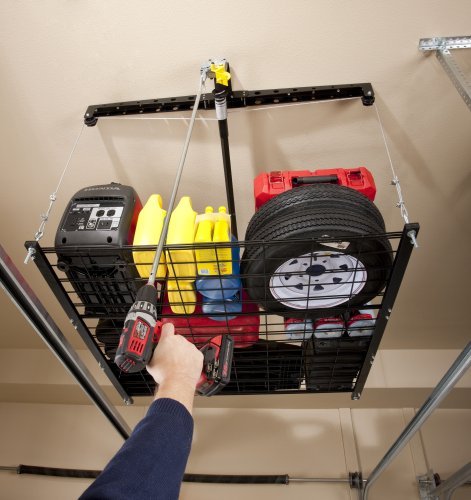 It can lift and hold up to 250 pounds off the garage floor freeing up 16 square feet of extra space on the ground.
This is perfect if you have a smaller garage as you can still park your car inside while storing larger items such as kayaks and bikes on the lifted rack.
The drill driver attachment means you can raise and lower the platform with your own drill.
This product also includes a 1-year limited warranty and a safety lock that ensures it will stay locked in position when the platform is raised.
This is one of the best overhead garage storage lift system options available and must be considered if you are looking for a garage lift system. Click here to read more reviews and check the price
I really hope this guide to garage storage and organization has been helpful. If you like it, pin it for later using the images below. You might also like my outdoor bike storage guide.