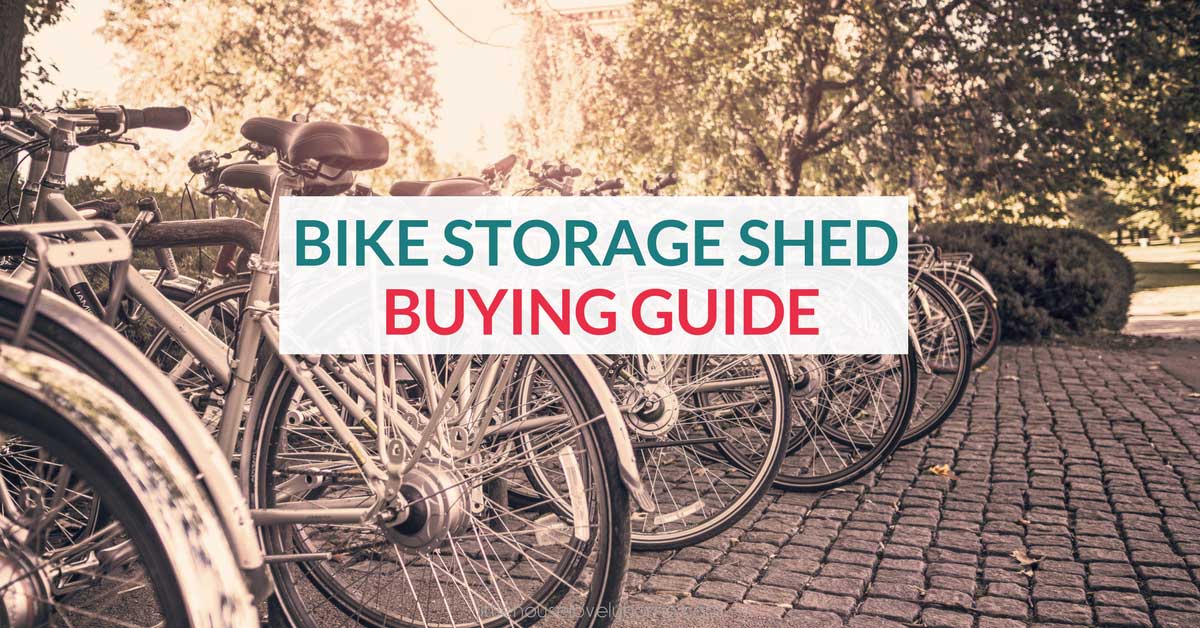 Searching for outdoor bicycle storage solutions?
If you don't have a garage and don't want to store your bike inside, you might wonder what to do.
Our readers love the Suncast Stow-Away Horizontal Storage Shed.
I was not prepared to give up my bike just because I moved to a smaller home and no longer had secure outdoor bike storage.
Plus, a bicycle is my husband's main mode of transport (we only have one car) and my kids are really starting to enjoy riding their bicycles.
No bikes is not an option for us.
For this reason, I started looking for an outdoor bike storage shed we could install ourselves.
I wanted a small shed for bikes that would lock and not take up too much space in my yard.
In my search for outdoor bike storage ideas, I was delighted to find out about dedicated bike storage sheds!
These small sheds for bikes are usually low lying so they don't take up a lot of space (important if you have a small garden) but allow you to keep your bike safe and out of the weather – genius!
If you're looking for a quick solution to your bike storage issues and you think a bike storage shed is an answer, use the comparison table to find the right bike shed for you.
Bike Storage Sheds Comparison Table
This list features some of the best bike storage sheds available in the market right now, from the most basic and economical bicycle storage shed to the top-of-the-range options.
If you're looking for outdoor bicycle storage ideas – keep reading.
After over 25 hours of research, shortlisting different storage sheds, scoping out their specs (yes, I'm obsessive like that) and combing through various marketplaces online for bike storage reviews and recommendations, it's safe to state that the Suncast BMS4700 The Stow-Away Horizontal Storage Shed is the best bike storage shed out there.
Why?
Put simply, it ticks all the boxes for a good bike storage solution.
In fact, this storage could be the perfect complement to any home – both in form and function, proving that bike storage can be both stylish and practical.
More details on the Suncast Shed here: The bike shed is a compact, weather-resistant and maintenance-free storage solution that has a lot of good things about it: a lovely design, heavy-duty construction, comfortable size, enough space, and, best of all, a great price tag that is hard to beat for all the benefits on offer.
Sure, you can pay almost twice as much for a premium bike storage unit like the Bosmere Trimetals A300, but the extra money you shell out doesn't buy you something that's much more practical or useful than this one–which is fantastic. Keep reading for a more in-depth review.
Top 5 Outdoor Bike Storage Sheds to Buy in 2023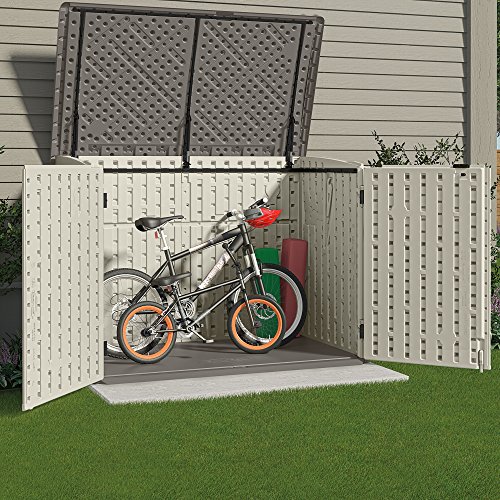 Are you searching for a shed to store your bikes and perhaps shove in some yard gear? Enter the Suncast BMS4700.
Specifically designed as a replacement for large storage sheds this is the shed you need if you are a little cramped for room.
Made of high-quality plastic, this handy bike shed boasts smart features (including powerful gas shocks) and guarantees enough durability to keep your bikes safe, secure and well-protected even in rough weather conditions.
What makes it the 'shed to beat' (more than anything else) is its affordable price. A special mention to the manufacturer for proving that affordable and practical could go together.
Hits
It is easy to assemble when compared to other plastic storage units of its kind. It might seem that there are just too many screws and bolts to deal with, but putting it together is relatively easy.
Made of very sturdy plastic, this shed keeps your bikes dry and warm on winter nights, and safe and secure in blustery weather.
Its size has got to be one of its biggest pluses. And that makes it a great pick for those homes where space is at a premium.
It's definitely a wallet-friendly option and I'm sure all you bargain-hunters will appreciate the price-to-performance ratio of this outdoor storage shed.
It's quite spacious for two bikes and adequate for three (some reviewers have remarked at fitting in 2 adults and 2 kids' bikes). And it can hold more stuff than you think it can.
There's a handy little latch for putting a padlock through, which is a nice touch.
Misses
It's a bit of a bummer that you need to lift the lid (although partially) to be able to open the doors.
Even though opening and closing the doors is relatively easy, some users noted that door construction, in general, is a bit substandard.
Several reviews also reported that the screws that hold the hinge in place come loose, causing the hinge to be wobbly at times.
Verdict
A cheap, practical and durable storage solution, this Suncast BMS4700 storage shed sets a new standard for affordability. It fits the bill if you are looking for a simple and solid storage unit that won't break the bank.
Good to know: The BMS4700 is made in USA.
Despite being the most expensive in this roundup of top bike sheds, the Bosmere Trimetals A300 is still one of the most sought-after units in the UK for design, security and durability. Guess what? It's considered a safe haven for people who live in areas thick with thieves.
Designed for storing three cycles and other equipment, it's quite robust and is built from special PVC-coated galvanized steel panels, plus a padlock system, meaning your bikes should be safe and secure.
Not only does this top-of-the-line shed make storing bikes outside more comfortable and effortless, but it can also hold up to years of abuse.
And, that explains the awesome 15-year guarantee from the manufacturer.
Bosmere A300 is the ideal storage solution for your bikes, cycling kit and accessories, pool toys, gardening kit supplies and other paraphernalia. Agreed the price is a bit steep.
But it's a good investment nevertheless for long-term renters needing bike storage for small spaces and property owners who've got more than a few costly bicycles to protect from the elements.
Hits
Guaranteed to last long. Specially coated galvanized steel, stainless steel outer fixings, and sturdy hinges and rivets reinforced with aluminium make A300 corrosion-free and extremely durable.
Its unique spring-assisted action lets you access the contents easily and quickly.
Provides more storage space than you'll ever need. Easily accommodates two bikes, cycling equipment, and other gardening tools and supplies with room to spare.
It's well secure by design- comes fitted with a curved piece of stainless steel with a hole in it that you put a padlock through. It also lets you bolt it down to the concrete floor or a wooden frame.
It has a relatively medium footprint so it really doesn't matter how much room you have available for a storage unit in your yard.
Misses
The space, security, and durability of this storage shed come at a price, which might be simply too much for many.
Assembly is not easy as you'd imagine but it shouldn't take more than 60 minutes to build and install if you have someone helping you through it.
The unit looks just like a mini tank and may not be too pleasing to the eye.
Verdict
At over $1000, it's certainly a huge investment and more expensive than a simple garden storage shed, but it's the most secure bike storage shed on offer and worth it if you are seriously concerned about theft.
Handy Hint: Give it a flat standing ground. A hard concrete surface should do just fine. Drill the fixings and anchor into the ground, the stronger the fixing the more secure it will be.
If someone wanted to buy the best bike storage shed out there, I would recommend that they buy the Rubbermaid Outdoor Slide-Lid Storage Shed.
The Rubbermaid bicycle storage shed is a be-all-end-all solution for those looking for a safe and secure way to keep their bikes and cycling gear dry and accessible.
Standing the test of time, the brand Rubbermaid continues to satisfy its customers by rolling out practical and durable products that make for excellent storage solutions.
It comes as no surprise that they have come up with yet another winner in the storage shed department with the slide lid storage shed.
Made of tough plastic, this Rubbermaid shed comes with a slideable rooftop for easy and quick access to all your items.
It also features reinforced and durable walls that resist rust and are maintenance-free, making it much more durable than other storage sheds of its kind.
Hits
The shed has a very low profile design, which means it could fit under standard 6-feet fences comfortably.
In spite of its low profile design, the storage shed has more than enough room for your bikes, kits and other gear.
Assembly is relatively easy and doesn't take much time either. Note: the instructions in the user manual are fairly easy to follow and help a great deal in making sure you put this thing together without any hassles.
Lots of wall space means you get enough room for accessories like hooks, hangers, pegboards, racks and other things that you need to keep everything neat and tidy
It has a slideable top. That means no more digging around for the stuff you really can't see.
And you don't have to stoop down or bend over under the roof either. The lid slides front and back so you could get to everything inside with little effort. What it also means is that you can see how much space you have utilized and how much you have left.
Rubbermaid's outdoor bike storage locker can be padlocked for peace of mind
Misses
Although it's a very sturdy unit, the top tends to get knocked down a little too easily in windy conditions.
Another minor gripe about the Rubbermaid bicycle shed is that sometimes it appears as if the front roof is stuck to something, making it really hard to roll it back.
Verdict
If you're someone with a lot of stuff to store this is a bike shed to die for. It's got everything you need- space, security, comfort and it's excellent value for money.
Want a decent dumping ground for your bikes and other stuff? One of the more economical outdoor bike storage solutions is the YardStash III.
YardStash II proved that big wheels can be stowed away in compact spaces. The all-new YardStash III seems to be a better, stronger, tougher outdoor storage shed than its predecessor.
And the best part is, nearly every aspect of its design has evolved in one way or the other.
Some of YardStash III features include reinforced seams, strong full zippers from top to toe, a solid weatherproof coating; a well-secure integrated floor; and a patented design to keep your bike and other cycling equipment out of sight and protected from adverse weather conditions.
Hits
It does what it is intended to do- keeps your bikes nice and dry- and at a great price.
This freestanding and self-supporting tent-like bike storage is sturdy, and, once erected, can be moved around with ease.
It's lightweight and very easy to set up.
It has a storage area that is large enough for two bikes and some lawn tools.
The small footprint is a real advantage when you find yourself faced with a cramped space for a bigger outdoor bike shed in your yard.
Misses
The color of the fabric might fade away quickly. Several reviews also noted that the fabric started to wear out with frequent use.
Reviews suggest that the fabric would delaminate or wear thin after a year or so. Despite its decent build quality and good choice of materials, it appears that prolonged exposure to sun might do some serious damage to the fabric, rendering it useless over time.
Another common complaint is the seam tends to rip and fray right at the point where the flap meets the poles, which doesn't bode well for its longevity.
Verdict
With its good tiny-tent design and budget-level pricing, the YardStash III is a great bet if you're after a simple, affordable bike storage solution that can resist the elements.
But there are better storage sheds out there if you're willing to spend some more money.
Handy Hint: Anchoring it securely to the ground is a must especially if you live in a windy area.
Looking to make a bit of style statement in your yard? Well, Keter has got a cute and compact storage shed with a cottage-like design for you.
The Keter Manor Large Outdoor Backyard Garden Storage Shed is made from hard plastic and features extruded wall panels for added strength and stability.
Sized perfectly to be tucked against fences or into corners, this storage shed does double duty- providing valuable storage for your bikes and gear and adding a bit of style to your backyard.
Hits
Beautiful details such as windows and vents make this storage shed a welcome addition to any home.
The closure feels sturdy, framed by double wall extruded panels
There's plenty of room for two bikes and most of your garden supplies.
It is compact, has plenty of room to stow your stuff, and includes a window to flood natural sunlight onto the storage space.
The double door provides wider access which comes in handy when you're dealing with adult-sized bikes.
The shed includes several small vent panels that improve airflow and minimize heat. A big plus if you're used to overloading your shed with a ton of things.
Misses
It is not the sturdiest of storage sheds; certainly not the easiest to put together either. However, it looks beautiful.
It might hold up well in the heat but does tend to struggle to hold tight in windy conditions. Few reviews noted that the whole thing came crashing down whenever there was a gusty or strong wind.
Several users complained that the plastic panels on the floor feel flimsy. That's a definite flaw in what seems to be a decent bike storage shed with many good features. Here's a nice workaround: put down plywood boards and nail the flimsy plastic panels down on them to reinforce the floor a bit.
Might take a lot of work to add shelves to it.
Verdict
Charming and practical, this detail-rich storage shed will remain a focal point of any yard. At the price, this outdoor bicycle storage shed is certainly not the cheapest, but it's one of the most stylish designs I've ever seen. Overall, it's a worthy storage solution for bikes.
Handy Hint: Bolt it down to the ground to make sure it doesn't blow up during high winds.
There you go. We've come to the end of this bike storage shed comparison article.
Suncast comes up trumps as the best bike storage shed with its solid shed. In terms of effectiveness, it is in a league of its own.
As was mentioned earlier, it has everything a good bike shed should have. Size, quality, safety, durability and features.
So, stop scratching your head about how to relieve your storage burden and start collecting all your gear in one place.
Related: