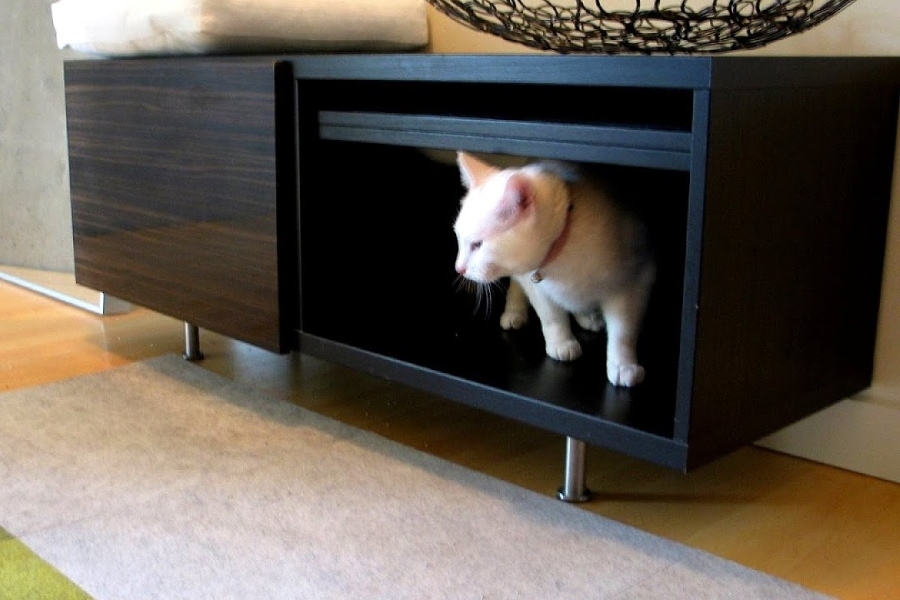 If you are a cat owner, you know how challenging it can be to raise them.
They need space to roam around and play. They are also somewhat finicky and fussy about where they relieve themselves.
Maintaining a litter box in tip-top condition can be a difficult task in itself. One, the litter box may occupy a lot of space in your apartment. Secondly, your whole apartment may stink with the smell of cat litter.
5 Best Cat Litter Boxes for Small Homes
To keep your home clean, avoid the mess, and smelling fresh and free of unpleasant odors, a litter box is a perfect solution.
To make your life and that of your cat easy and comfortable, we have rounded up 5 of the best cat litters available in the market.
Here are the top 5 best cat litters for your beloved pet.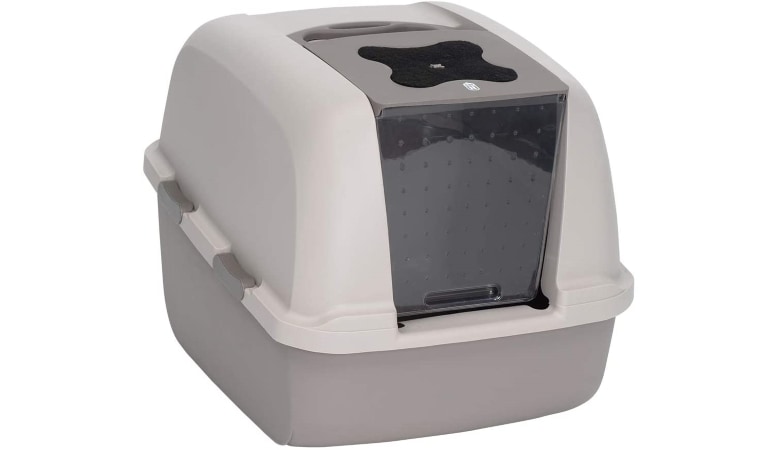 Features Specs
Size: 22.44 x 16.93 x 18.11 inches
Capacity: 1.68 pounds
Material: Plastic
The jumbo hooded cat pan litter from Catit is one of the best cat litter boxes.
If you are constrained by space and live in a small apartment, this is an excellent choice.
It provides plenty of room for your cat(s) to take care of their business without any disturbance.
The litter box comes with a swinging door that gives your finicky cats the privacy they need when doing their business.
The swinging door not only enhances the privacy of the litter box but also keeps the litter contained and keeps odors off as the whole box is enclosed.
The design is reliable, and the price is reasonable. Overall, it is excellent value for your money.
Measuring 22.44 x 16.93 x 18.11 inches, it provides humongous space even for a larger cat or if you have multiple kittens.
The large hood is easy to lift when you want to switch out the bags or clean.
One of the most appreciable features of this litter box is the built-in bag anchor, which allows for easy scooping.
The built-in bag anchor of the litter pan helps to keep the bag open and frees hands for scooping. If your pets prefer open access, you can satisfy their needs, thanks to the removable hood.
The litter pan is equipped with a carbon-impregnated filter to trap and remove unpleasant odors from the litter box effectively.
The advantage of this litter box is that no unpleasant odors will spread throughout your home. The litter box is easy to clean and maintain.
Moreover, it is easy to put together as well. The four locking tabs will keep the unit sturdy and intact. Simply hand wash with mild soap and water.
Few customers have faced some quality issues with this litter box. The users had problems with leaks, and also few said that their cats tore up the carbon filter.
Again, not all cats will like the swinging door. This enhances the privacy of the litter box. If your cat is not too keen on it, it can be removed.
It is a large-capacity litter box that can accommodate large cats or multiple cat families.
Pros:
Keeps litter tracking to a minimum.
The bag anchor makes cleaning easy.
The carbon filter reduces odors.
The swinging door keeps the litter contained.
Cons:
Quality concerns among few customers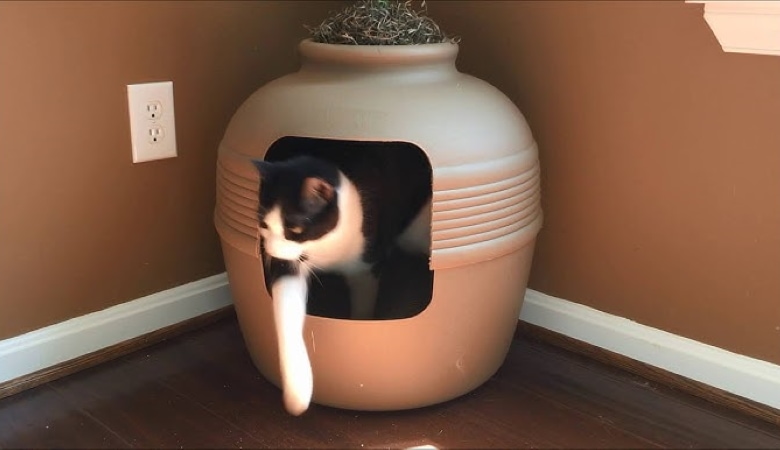 Features Specs:
Size: 19 x 19 x 20 inches
Capacity: 6 pounds
Material: Plastic
The Good Pet Stuff Litter Box is an excellent litter box that will blend beautifully with the rest of the decor in your home.
It is disguised as a clay pot with a large potted plant. The plants and the litter box parts are housed between the top and bottom sections of the litter box.
It is a large capacity cat litter box that features a lovely plant and decorative moss on top.
You can place it on the corner wall, and it will look like a beautiful planter – a piece of decor by itself. This litter box comes with a plant, filter, and moss.
The base of this litter box serves two purposes. For one, your pet can crawl inside the base of the planter and use the litter box undisturbed.
The base can also be lined with bedding so that your furry buddy can lay on top of it and rest for a while.
The litter box provides proper ventilation. The vented design and filter do a fantastic job controlling dust and odor.
The litter box measures 19 x 19 x 20 inches and weighs 6 pounds. It is big enough to hold larger cats or even more than one cat at a time.
It is ideal for homes with multiple cats. It is constructed out of durable polypropylene that is built to last.
Pros:
It comes in the form of a decorative decor that conceals the litter box.
Plenty of space for larger cats or multiple cats.
Made with durable polypropylene, it is long-lasting and steady.
It comes with a 1-year limited warranty.
The vent system and filter trap dust and odors.
It can be used as a pet bed too.
Cons:
If you hope the plant in this cat litter would look like a real one, you may be disappointed. A few customers expressed their disappointment that it looked fake. But it comes down to personal preference. You may love it!
It holds a large amount of litter, which can get a little heavy and difficult to clean. Plus, it does not prevent litter tracking.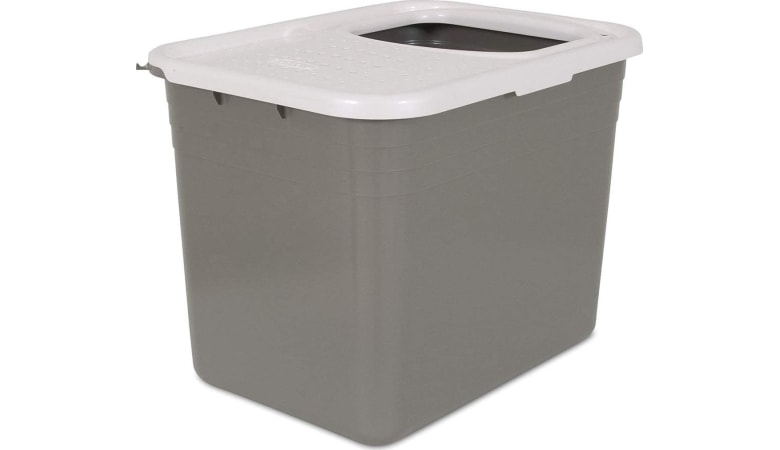 Features Specs:
Size: 20.29 x 15.07 x 15.2 inches
Capacity: 3 pounds
Material: Durable, pre-consumer recycled plastic
Petmate comes with over five decades of experience in manufacturing pet-friendly products for your fur buddies' comfort.
It includes dogs, cats, chickens, and more. It is using durable, pre-consumer recycled plastic that does not cause any harm to the environment.
Petmate's cat litter provides a comfortable and convenient retreat for your cats even as the litter is hidden from view, thanks to the high walls that enclose the cat litter on all sides.
Your pets can dig and cover their waste without the litter spilling onto the floor.
Once your cat comes out of the litter pan, the loose litter will fall onto the pan below.
The lid is textured, and it gently wipes the trash from your cat's paws as they make their way out.
You can clean the litter conveniently through the top entry point. It comes with built-in handles that can be lifted easily. The hook helps to keep the litter scoop for when you need it.
Cats are super fussy creatures and need privacy for doing their private business. The high walls will keep your cat litter out of sight and keep your dogs and other curious pets away.
This litter box comes with a relatively wide top lid that provides enough space for larger cats.
Pros:
The wide top entry design accommodates even large cats.
You can keep your floor litter-free and mess-free.
You have the provision for swift clean-up.
Durable, pre-consumer recycled plastic goes into making this product. It is eco-friendly.
It is compatible with Petmate Top Entry Litter Pan Liners. It makes cleaning even more effortless.
It keeps odors away.
It comes with rounded edges, which ensure easy lifting and pouring.
Using the handy little hook, you can hang the litter scoop when you do not use it.
Cons:
The one major drawback users had with this cat litter is that the lid is hinged on one side with hinges that don't hold it in place. It somewhat negates the advantage of less garbage on the floor.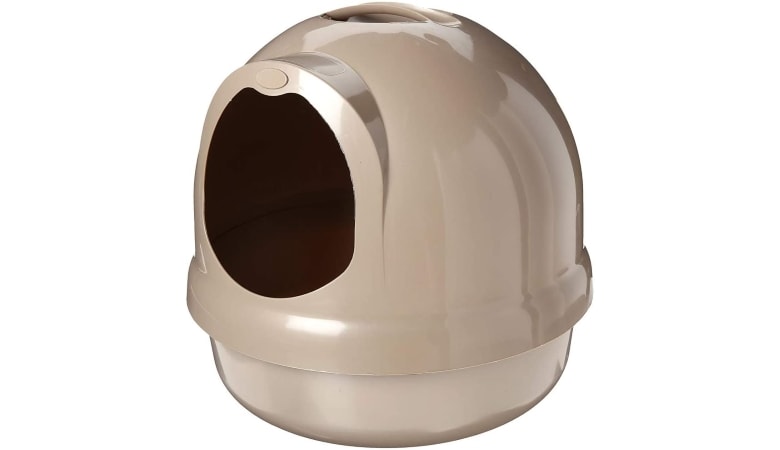 Features Specs:
Size: 17.5 x 17.5 x 17 inches
Capacity: 1 pound
Material: Plastic
Pros:
The Booda Dome Litter Box design is unlike any other litter box in the market. It comes shaped like an igloo, which looks super sleek and looks visually attractive. It is also super large, which means more space for your pets. It features a unique design and comes in three pearlescent colors, such as brushed nickel, pearl white, and titanium.
Not only is this cat litter box beautiful, but it is also super functional. The igloo design and the hooded top, which enclose the pan from all sides, provide privacy for your pet. You can put it together within minutes.
The plastic build makes it very easy to clean. If you are looking to save space and your cat doesn't kick litter too badly (we mean really unusually badly!) and does not pee all around, this litter box will work well for you. And best of all, it is affordable too.
This box assembles within minutes and is equipped with a charcoal filter that absorbs unpleasant odors. So, you can place it anywhere in your home without worrying that the smell will get to you!
We can go on about the ergonomic design! Just when you think this cat litter box has it all, it comes with more stunning features. The litter box is equipped with a handle on top of the dome. It will allow you to lift and lock the cover into the base effortlessly. The curved design of the walls helps to prevent mess apart from providing your cat with the privacy he needs.
Weighing 1 pound and measuring 17.5 x 17.5 x 17 inches, this litter box is ideal for smaller cats because of its compact shape. Overall, this cat litter offers excellent bang for your buck!
Cons:
The one minor issue a few cat owners face is that your cat will knock it off every time they bump against it when getting out.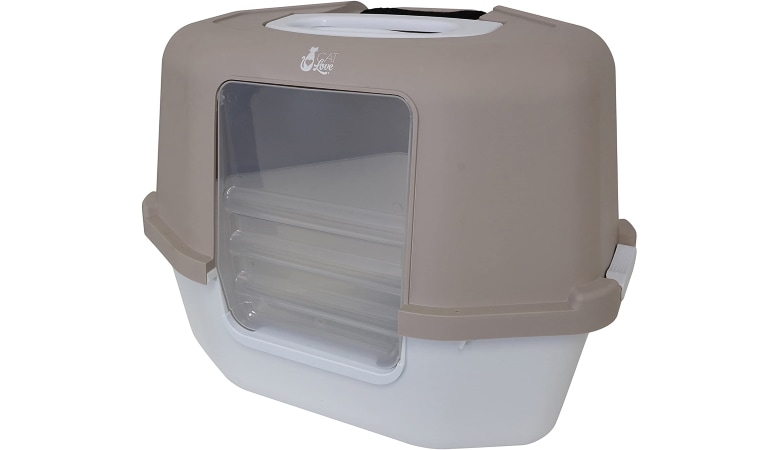 Features Specs:
Size: 23 x 17 x 10.6 inches
Capacity: 1.1 pound
Material: Plastic
Pros:
The Cat Love Space Saver Corner Hooded Pan provides plenty of privacy for your cat. Plus, it also retains the litter inside the pan. If you have a large cat or if your cat has grown exponentially in the last few months, then this will be an excellent option for you. The cat litter is not only roomy, but it also looks good.
It perfectly contains litter box odors due to the carbon-impregnated filter. Note that the replacement carbon filters are sold separately. Weighing just 1.1 pounds and measuring 23 x 17 x 10.6 inches, it will be a space-saving solution that can fit snugly into the corners of any of the rooms in your house.
The cat litter is equipped with a large hood that lifts, and you can clean the unit easily. Further, you can keep the bag open with the help of the built-in bag anchor. It also frees the hand for effortless scooping. If you are cramped for space but have a senior cat that occupies a lot of space and needs plenty of room, go for this cat litter.
Cleaning is no work at all due to the large, separate hood.
It comes with a built-in bag anchor to keep the bag open if needed.
The carbon-impregnated filter keeps unpleasant odors to barely perceptible levels.
Comes in 2 attractive colors: green and taupe or tan.
The corner shape helps to save space.
Cons:
Some users had issues that the size was off and that their cat litter box was too small. Not all cats may take to the door, and the door does not fit properly. So, it may get stuck, and your cats may struggle to get in or out. You may just have to remove the flap altogether.
Litter Box For Small Apartment FAQ
Where should I keep my litter box in a small apartment?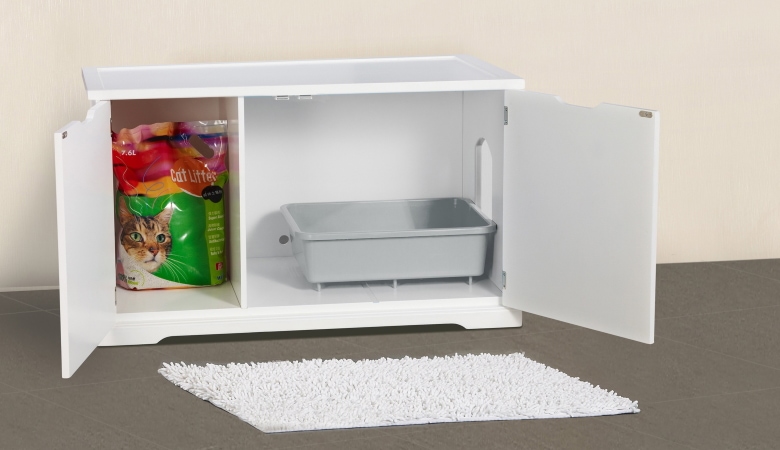 If you live in a small apartment and the space is limited, you may have concerns about where to put up the litter box.
You will have to see that the litter box does not take up too much space.
But the spot where you put it up should have enough privacy so that your cat(s) may do their thing with absolute privacy.
The best spot would be one with low-traffic and good ventilation. When it comes to picking the perfect spot, there is no suitable place.
It should be a spot your cat should love. You may also have to think out of the (cat litter) box!
Some of the attractive spots in your home where you can put up your litter box include the corner of your living room, the bathroom, or bedroom.
If there is no room in these spots of your home, you can put your litter box in your closet too.
Some people say the perfect place for a litter box is in a corner in the living room. Others say that the perfect place is in the bathroom. Still, others prefer their litter box in their bedroom.
If you're cramped for space, you could place it in your closet. But if you are putting it in the closet, the doors must be left open or wholly taken off.
Just look for a place where your litter box will fit nicely, blend in with the rest of your decor, receive plenty of ventilation, and where there is very little traffic.
How can I hide my litter box in a small apartment?
The cat litter box is a handy pet accessory that is indispensable if you own a cat.
To keep your cat litter box hidden, you can put it inside a large basket, or if you have some ingenuity, you can build a mini cat house litter cover. It will make for awesome décor too.
You can use your cabinet as a cat litter if it comes with two doors and no drawers. The only thing you have to do is add a cat door.
If a cabinet in your home comes with plenty of drawers, you can remove them and add a hinged door. You can even install the cat door in your wardrobe cabinet.
If you have an artistic streak, you can paint some patterns on a basic cat litter box cover. The sink is another place to keep them well-hidden. Curtains will come in handy too.
The other option you have is to build a custom cat litter box. Or, you can simply buy a cat litter box that doesn't look like one.
Is it OK to have a cat in a small apartment?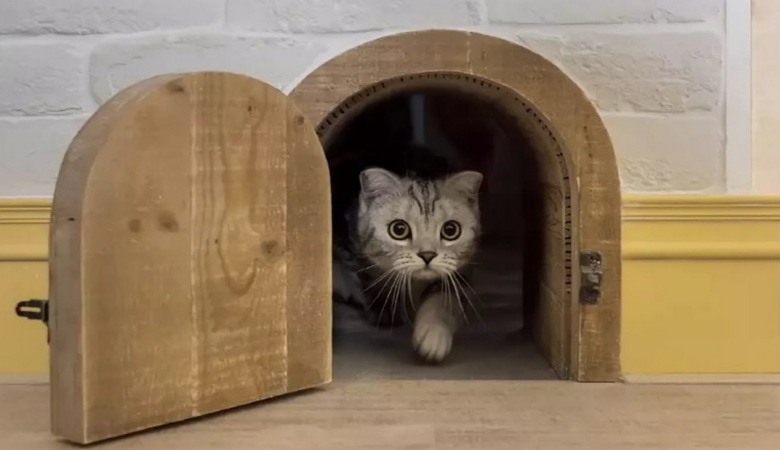 Absolutely!
If you love cats and would love to be a cat parent, you can totally get a cat. But if you live in a small apartment or a one-bedroom house, you may be concerned about space availability.
But you don't have to worry that they won't be happy or comfortable about living in your small apartment space.
You just need to keep the space in which they live clean and well-maintained. Show consistent attention, and they will love being in your home just as much as you. And, of course, give them all the affection they deserve. They couldn't be happier!
To take care of their overall health, comfort, and well-being, you can do few things.
Adding cat trees, wall shelves, or window perches can help your cat enjoy his space. He can climb atop them to rest comfortably and enjoy the view around them. You should also pay attention to the ventilation and not use products with strong scents.
Finally, keep your cat litter clean and odor-free.
How do I get rid of the cat litter smell in my apartment?
Cats are quite picky and finicky!
If your cat is particularly fussy, you may have to clean the litter box after every use. Moreover, it is also healthier to do so.
Typically, you must scoop your cat's litter box once a day. You may have to do it more often if you have more than one cat.
If the feces and urine sit in the cat litter box for longer than a few hours, they will start to raise a stink. It can be particularly unbearable in a small living space.
Be a responsible cat parent and clean up after every use, or once a day, and make life easier for you and your cat!
Conclusion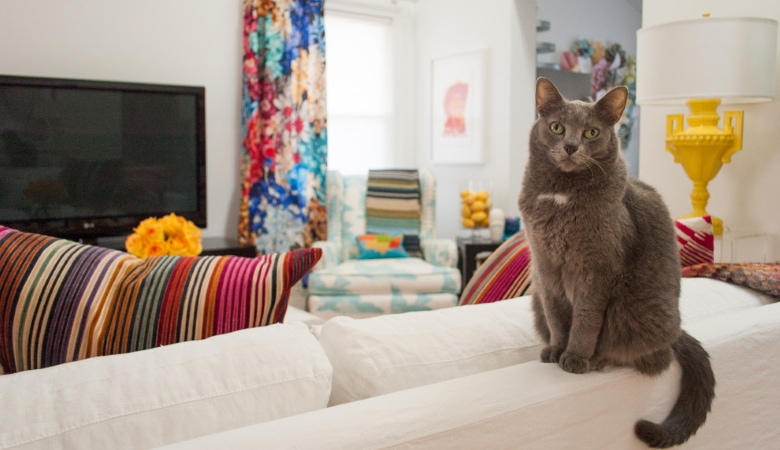 Owning a cat is a joy.
No matter the size of your apartment, you can take care of your pet's needs. All you need are a few accessories and plenty of love to shower on them.
Before you choose a litter for your cat, you will have to consider several factors.
The size of the litter box is a prominent factor. If you have a smaller cat, a small litter box will do. If you have a larger one, you will need a larger box or feel cramped.
The height of the litter box also matters, more so if your cat has an improper aim or he tends to kick litter around.
In such a case, go for ones with taller walls or a cover. This way, you won't have to clean up trash off your floor.
The aesthetics, type, and design will be the second consideration. In a small apartment, the litter box is even more conspicuous. So, choose one that blends in with the rest of your décor.
We have a plant-style litter box and an igloo-style litter box, which are aesthetically appealing.
You can go for hidden or disguised options if you don't want your litter box to be noticeable.
Material is a crucial factor that really matters. Your litter box should be durable and last the distance. BPA-free, eco-friendly, polished plastic that doesn't retain odors or cause any harm to your cat is ideal.
The other essential features you should look out for before you make a purchase are that your cat litter should be easy to clean and equipped with odor-trapping capabilities and anti-litter tracking capabilities.
Related: How Many People Can Live In A Two-Bedroom Apartment?