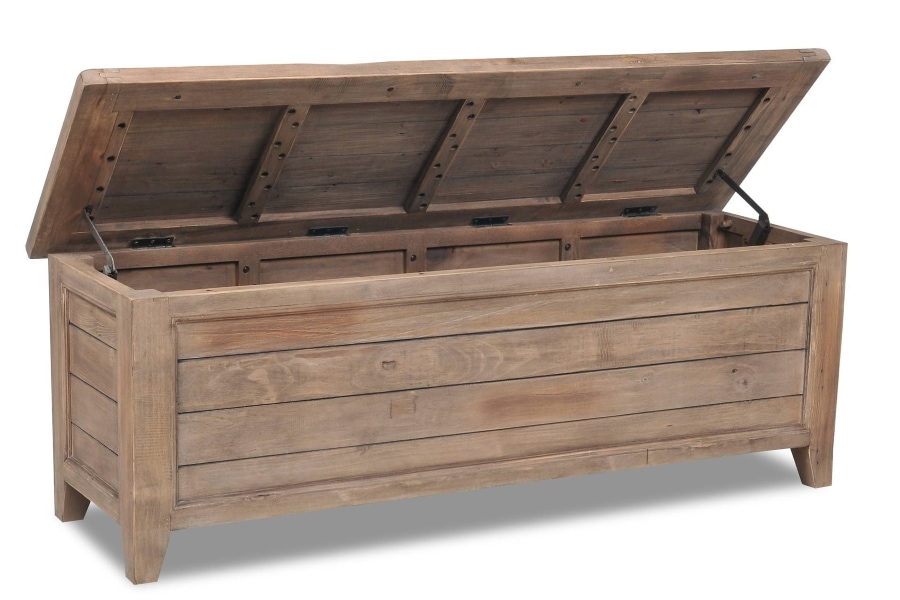 Let's assume that you were on the internet for a considerable amount of time, and during your surfing session, you came across an ad for a big blanket that you can wear.
What did you do? Yes, you impulsively bought it. Cut to today- you have a house full of cozy blankets that are just ruining your decor aesthetic – and are sticking out like a sore thumb.
Even if you are not an impulsive buyer, a blanket is something that is so stapled in everyone's house that one can easily find 4 to 5 blankets that are just sitting in a corner.
Take a deep breath because we are going to show 11 amazing blanket storage ideas that will make you fall in love with its practicality.
(Deception alert: Some don't even look like storage, but we know what's the real deal *wink* *wink*).
Let's look at some of the most interesting storage ideas: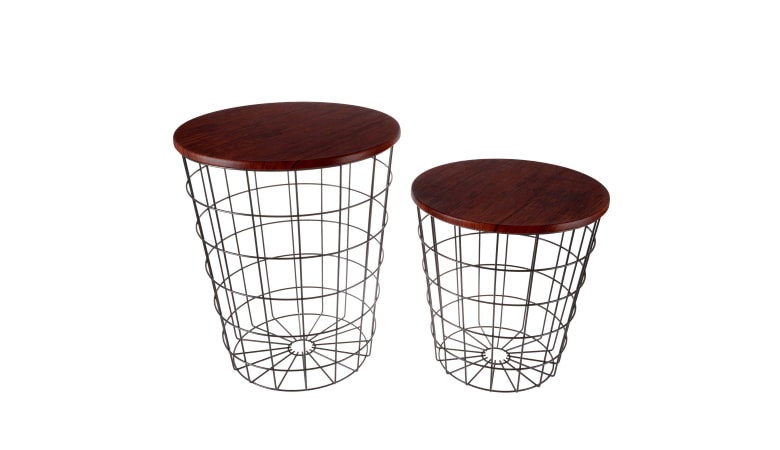 This is a perfect set to store your extra blankets.
It comes in 2 sizes that are more than enough for an ideal blanket storage option. It's practical and fits perfectly in any corner of your house. Make it your side table and whip out blankies when you are lounging on your sofa.
One main feature that attracted us to this product is the universal design and look.
Don't worry if your house is mid-century modern or country-inspired, vintage, or minimalist. This easy solution will look amazing in every house type. Lock up the top part, and you have a lovely table that works just like any other table.
Additional Details:
Dimension of large table: 5" H x 17.5" W x 17.5" D
Dimension of small table: 15.5" H x 15.5" W x 15.5" D
Materials used: Wood and metal.
No assembly is required.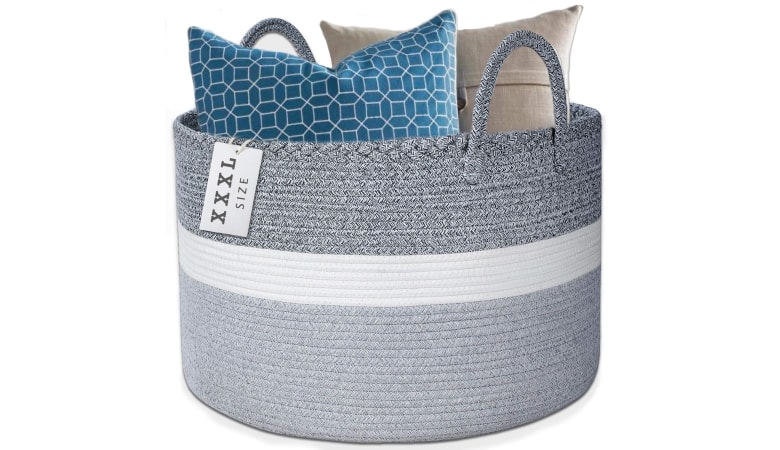 This basket is a win-win solution for all the women out there who love rope baskets.
This basket is a perfect neutral addition to your house. The grey and white color combination do not clash with your wall color or decoration. Its USP is its size.
Fit in a whole blanket, and you still got space to put your little furry friends on top as they sleep comfortably in this basket. Extremely easy to maintain and easily washable.
Go ahead! Put this basket with your rope planters to give your house a cohesive look.
Additional Details:
Size dimension – 22" x 22" x 14"
Material – 100% handmade cotton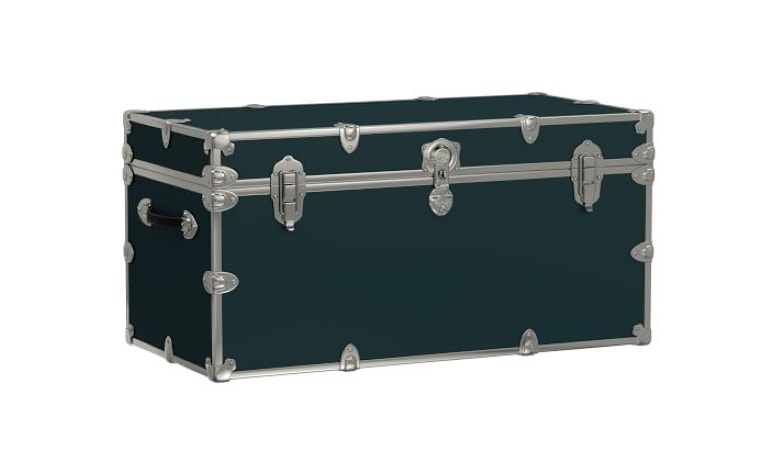 Honestly, this is more than a storage option.
Go ahead, forget about the blankets and add all the stuff that you could find in your house. This trunk will work as a statement piece in your house. A perfect addition to your house if the whole house is devoid of interesting pieces.
Keep it as a center table or put it away under your stairway cubby.
It's sturdy and will not break so easily. Don't forget to click Instagram-worthy pictures of this beauty.
Additional Details:
Size dimension: 36″ long x 18″ wide x 18″ high
Material: Baltic Birch Hardwood plus vinyl
You can even attach a padlock to keep private things more private.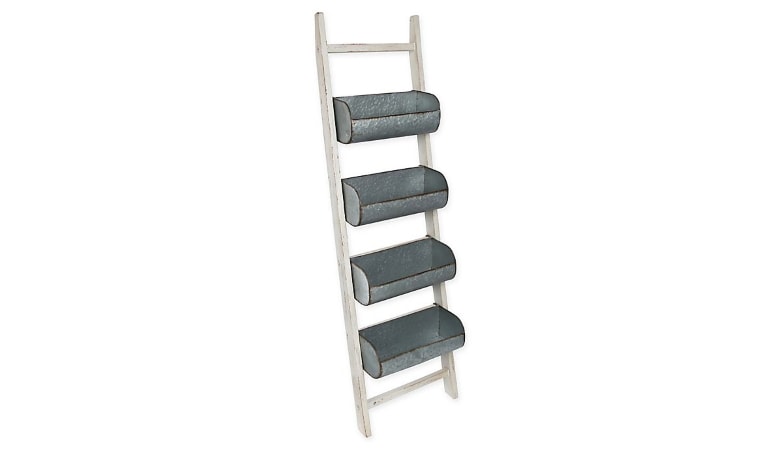 This ladder is our personal favorite because of one simple feature- extra storage bins!
A ladder is convenient and perfect for homes that are a little tight on space. It stands quietly in a corner and does its job of storing blankets.
Use the extra bins to add dimension, place your indoor plants or simply use it as a catch-all tray.
The rustic look can quickly warm up any place. You can even arrange your blankets according to color-coding. Create an art piece by layering different blankets of different hues and textures. Use it either vertically or horizontally.
It's only going to serve you good no matter what.
Additional Details:
Size dimension: 25″ L x 8″ D x 64″ H
Material: Wood and metal
Assembly required.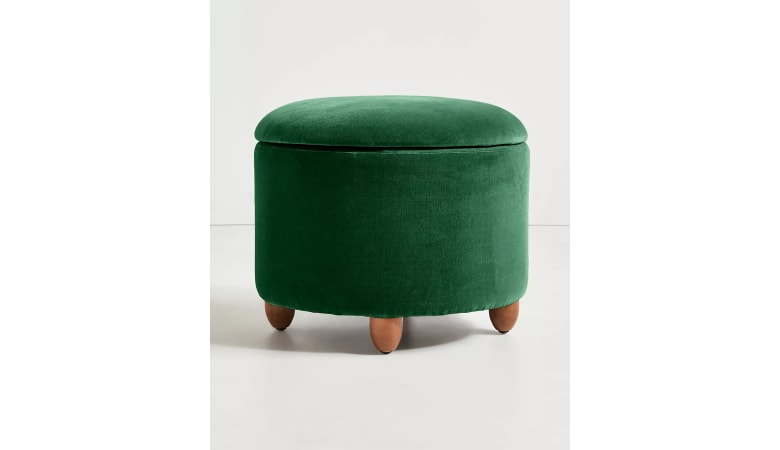 This cute little piece is a must-have if you are not into large bulky storage options.
Upholstered with green velvet fabric, this ottoman looks rich and luxurious. Use it as a stool or footrest while it provides you the space for storing away your blankets. It has wooden legs for good support.
If your room has a retro theme going on, feel free to add this as a perfect accessory.
Additional Details:
Size dimension: 18.5''H, 20.75" diameter
Material: Velvet, the seat is foam and fiber filled
Assembly not required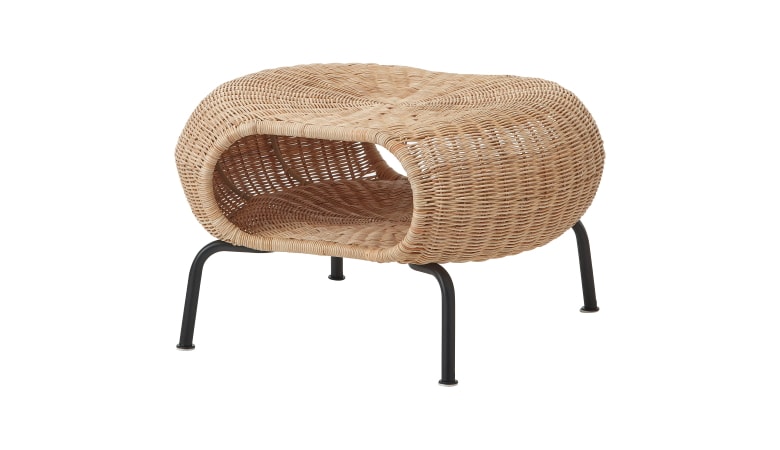 This unique shaped table works as a coffee table plus has storage.
Made out of rattan that is a live material and won't deteriorate. It will add color, texture, and strength as time passes. A great piece to use if you love natural products and want something natural looking in your house. Legs are of metal, so it provides a sturdy base.
Foldaway your blankets and quickly use them whenever your legs are getting a little chilly.
Additional Details:
Size dimension: 14 1/8 ", 24 ⅜'' diameter
Material: Rattan, Metal
Requires assembly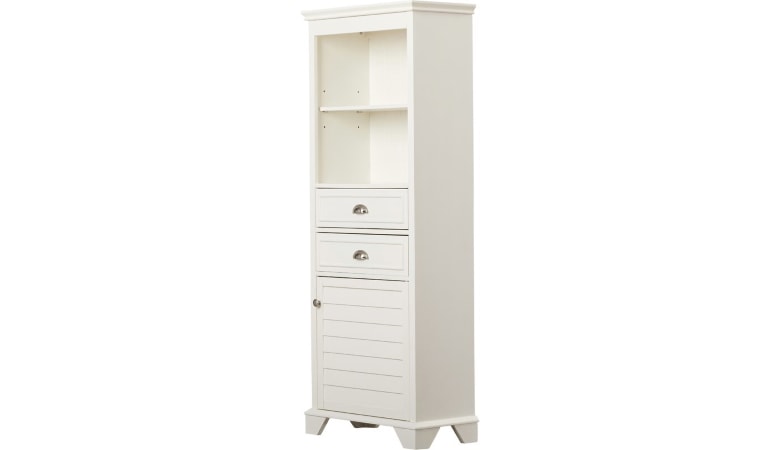 What if you have a huge drab wall that does nothing for your room.
Try this cabinet that will not only hold your extra blanket but will also make a nice display for your little art pieces. Add planters, little picture frames, books, or your latest crystal collection set.
It has huge space and can easily fit 3 to 4 blankets. It comes with adjustable open shelves so you can choose the height of each open space according to your needs.
Additional Details:
Size dimensions: 60.125" H x 23.5" W
Material: Wood and metal hardware
Assembly required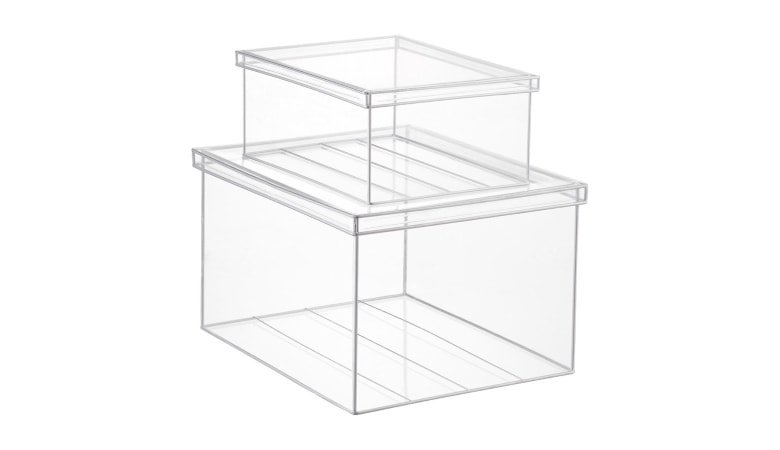 The acrylic decor is back, and this time, it is here to stay.
Make your room look sophisticated and stylish with these simple, clear acrylic boxes. They come with two sets that work great for storing double the items. We know you have spent lots of time picking the right color of the blanket, so don't hide it now.
Let people see and admire your blanket picking skills. These cases are sturdy and strong. They won't crack, a perfect choice for people who like long-lasting things.
Additional Details:
Size dimensions:

Medium box 11-5/8″ x 15-5/8″ x 6-3/8″ h
Large box 15-1/2″ x 19-5/8″ x 11-1/4″ h

Material: Clear PVC
No assembly required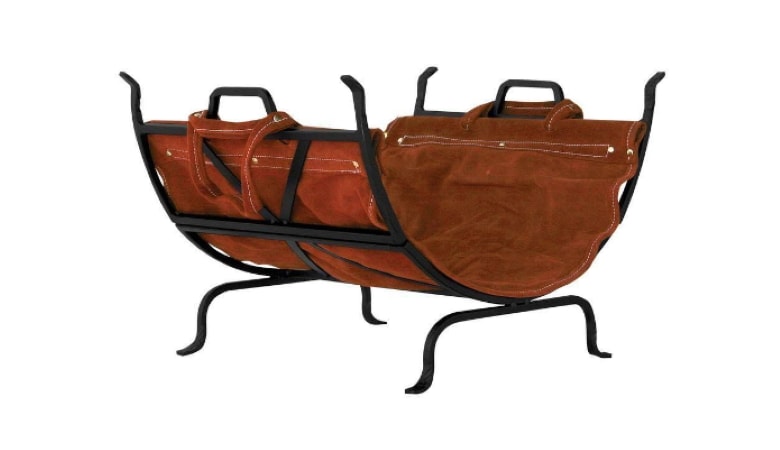 This perfectly innovative idea adds a little touch of creativity.
Utilize this log holder for your blankets. Simply, roll up and line them on this holder. Kids would love to whip out whichever blanket they want. It is fun, unique, and adds an element of country living to your house.
If leather and metal are not your styles, plenty of holders out there are sleek and have just metal as their base material. These plain metal circle log holders look amazing and complement any modern or contemporary theme.
Additional Details:
Size dimensions: 12L x 34″W x 18.75″H
Material: Wrought iron with leather carrier
No assembly required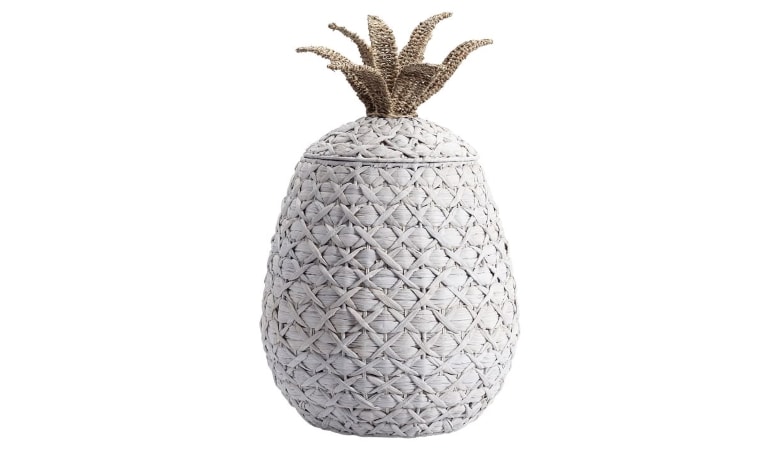 We instantly fell in love with this hamper because of its shape and material used.
A quirky design that will add an oomph factor to your house. One hundred percent handwoven, made out of water hyacinth and seagrass.
It even has a cloth lining that will ensure your blankets stay perfectly safe and don't rip.
Additional Details:
Size dimensions: 5″ diameter, 26.75″ high
Material: Water hyacinth and seagrass, detachable cotton lining
No assembly required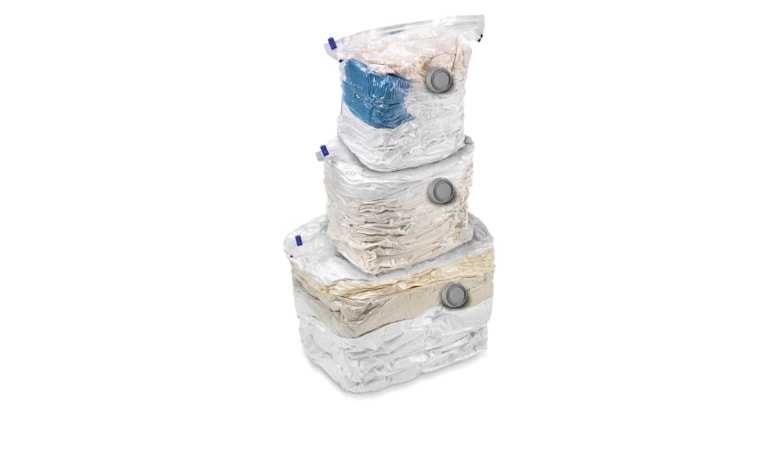 This storage idea is perfect if your house has little to no space or if you want to store away your extra blankets in summer.
Use these vacuum sealing bags to store almost anything without taking up a lot of space.
Fill it, vacuum it and store away all your unnecessary blankets.
Additional Details:
Size Dimensions:

Large: 27″ W x 35.25″ H x 10.25″ D
Extra Large: 35″ W x 39.25″ H x 15″ D

Jumbo: 43″ W x 39.25″ H x 17.25″ D
Material: Vinyl
No assembly required
Things To Know Before Purchasing Blanket Storage
You don't want to unfold your blankets only for them to smell musty.
It can happen and will ruin your precious blankets as well as your mood. One common cause for that musty smell is lack of airflow. A wet blanket can also cause this problem if it starts growing bacteria.
To avoid this, make sure your blankets are clean and dry before storing them.
If blankets are stored in open baskets, the chances of getting them musty are less because of the continuous airflow.
Use fragrance sachets in your cupboard. Fill these sachets with dried herbs and essential oils. Lavender works best, but you can try tee tree oil, rosemary, or even lemongrass.
If you don't want to spend a lot of money, you can use dryer sheets that are readily available in your laundry closet.
Simply poke a few holes in a baking soda container. It absorbs and neutralizes the odor.
Make sure to change this container every few months for optimal results.
When Should You Clean/Wash Your Blankets?
Since we use blankets as our snuggle buddies, they must be clean to avoid rashes and skin problems.
If you use blankets everyday, wash them every week in a low or normal washer and dryer setting. If you use blankets once or twice a week, make sure to wash them at least once a month.
How Do You Keep Your Blankets Soft?
Your blankets can turn a little firm after continuous use and washing with detergent.
Throw it in your washer for a long wash but swap detergent with a cup full of white vinegar. Vinegar will soften the fibers and remove any unwanted odor. It is excellent for small spots and dirty patches.
What To Do If Your Blankets Start Pilling?
When your blankets get a tiny layer of lint or fuzzy balls, it is called pilling.
It can make touching your blankets an unpleasant task. You can follow the instructions given with the blanket to avoid it from pilling in the first place, but if your blankets have started pilling, try using a safety razor and remove these tiny bubbles.
Wrapping Up
Make sure you are doing it carefully because a little extra force can damage the blanket by ripping it.
If your blanket has lint all over it, try using a lint roller. It is effective and works like a charm if your house has pets.
Now get on with your blanket storing spree!