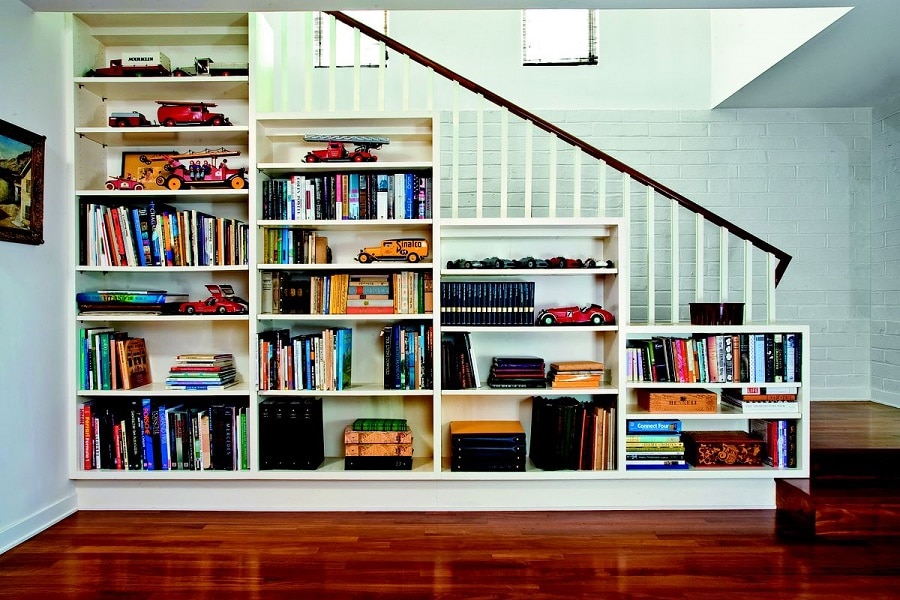 Using walls for storage space has many benefits. However, one of the main benefits is that you free up your floor space so that you can store other stuff as well.
Wall storage also allows you to organize your items and belongings in an orderly fashion, making them look aesthetically appealing to the eye.
Your floors will remain clutter-free while everything you need can be found in a matter of seconds since they are neatly organized and arranged.
In the following article, we're going to take a look at some wall storage solutions and why you should be considering them.
Empty wall is unused space
If you've got untapped vertical space inside your home, you probably don't realize how much you can do with that.
All of that space can be used to add more storage, sophistication, and style to your home. Think about those empty corners, the space above your toilet or stove, the exterior walls behind your flower beds and even the half inch behind your furniture.
All of that space can be used as extra storage. It's time to take those unused walls and harness that power to do something practical and exciting with them.
Advantages and disadvantages of wall storage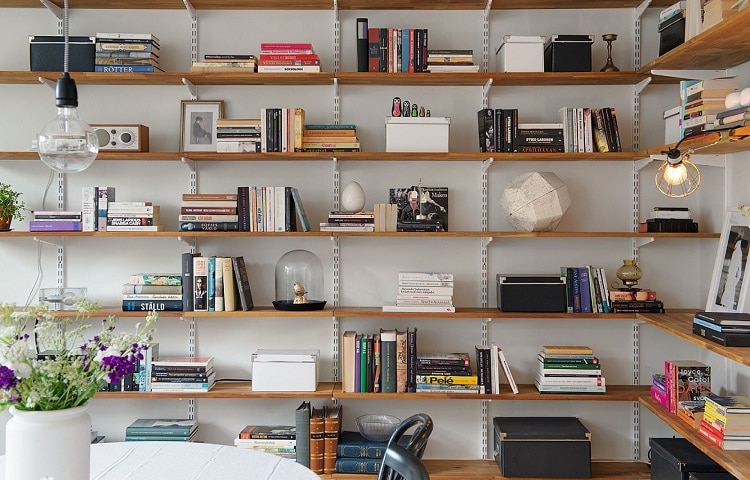 Pros:
One of the best things about wall storage is that you can install shelving to store items that you need to access quickly. You will know where everything is, and you will know exactly when it is ready to use.
Also, seeing your pieces will encourage you to use more of your serving dishes and china if you have stall wall storage in the kitchen. Since they are never out of sight, they are also never out of mind.
Functionality
Shelves on the wall work seamlessly for one of two situations. You're either going to display the pieces that you use on a daily basis for easy access, or you're going to display more decorative items.
With these pieces, there is definitely no issue with cleaning as these pieces are moving from shelf to table to the dishwasher, and this becomes a pattern. So they are not just laying there collecting dust on the shelf.
Items that you don't use on a daily basis, irrespective of where you store them, should be rinsed before each use.
Affordability
One of the benefits of open shelving is the greatly reduced cost of installation. So one of the things to bear in mind when installing shelving on your walls is that you'll be saving some dollars that you could use elsewhere.
Versatility
Wall storage doesn't have to include open shelving only or exclusively. Lots of people, in fact, prefer a mixture of open shelving and cabinetry. Open shelving can be used for decorative items that you want out in the open and in sight.
Items that are usually considered to clutter the rooms can be concealed in wall-mounted cabinets to keep them out of sight. Some people have concerns about open shelving being bothersome.
However, when you consider the fact that we make beds up in the morning only to mess them up every night and display fancy handheld towels that no one is supposed to use in guest bathrooms, then open shelving makes much more sense.
Cons: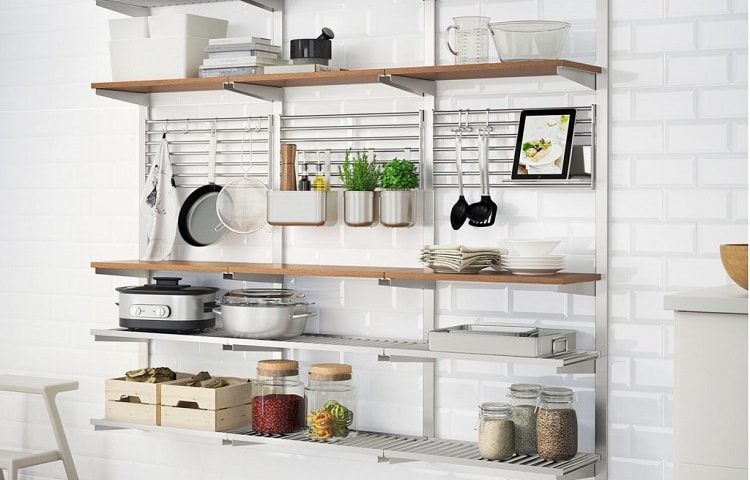 Dust
One of the disadvantages of having wall storage is that if you have open shelves, then the items tend to collect dust.
Unfortunately, this is inevitable, and even if it's being vacuumed on a regular basis, there is likely to be a little bit of dust on your items. This is especially for items that are not used on a daily basis.
Unsightly
The second disadvantage of open shelving on your walls is that if you don't have your items or belongings neatly organized, then it can tend to look quite unsightly.
Clutter
When installing open shelving, try to have your stuff neatly arranged and organized in an orderly fashion, so it is visually appealing.
Unorganized items on your shelves simply mean moving the clutter from your floor to your walls. A bit of symmetry goes a long way as well when it comes to aesthetics in a room.
Best items to keep on wall storage system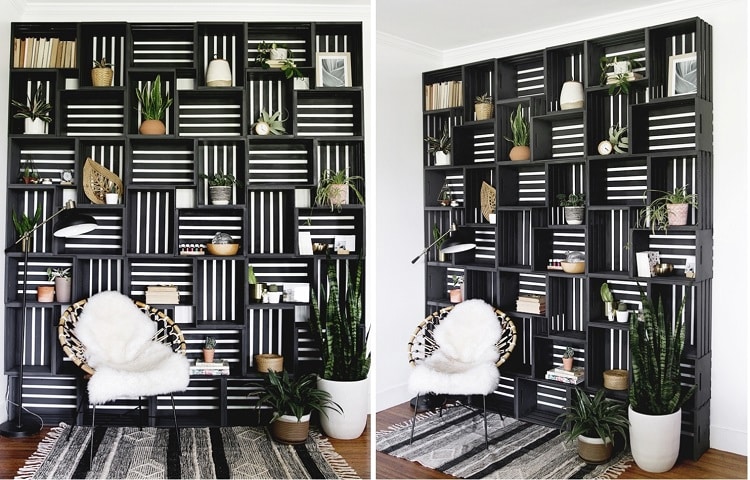 Wall-mounted shelves are easy to build, install, and remodel in almost any situation. This makes them increasingly versatile and excellent for a variety of purposes.
They can be installed in any part of the home and used to complete your interior décor.
There are also lots of tips and tricks to get the most out of your wall-mounted shelving all of the empty spaces inside the house.
Not only are they useful when it comes to providing additional storage space, but they are great for displaying decorations, collections, and other things that are excellent for brightening up or sprucing up a blank wall.
Wall shelving can be used for two main purposes. The first purpose is for decorative uses. Wall shelves turn any empty wall inside the home into a blank canvas.
This means you can put up shelves of any shape or size and decorate them with items as you please. Ultimately, it transforms dull and boring walls and makes them come to life.
Secondly, shelving on the wall can be used for practical purposes such as creating extra storage space and making room for items that you don't have space for in drawers, closets, and cupboards.
DIY wall storage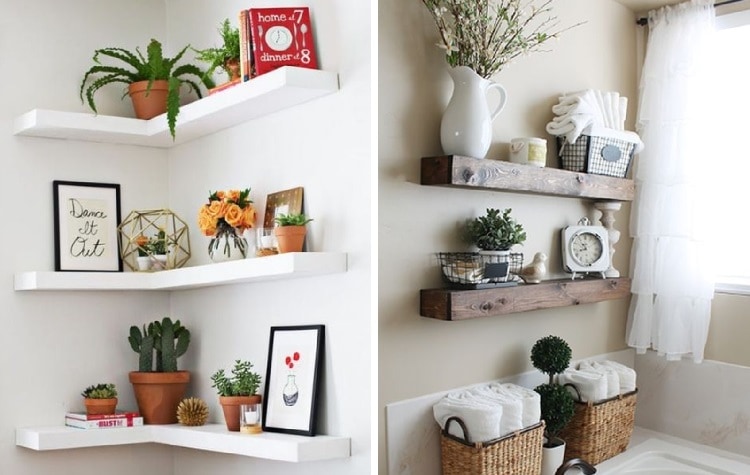 When it comes to DIY wall shelving, there are many options.
You can choose to go with a single shelf mounted to the wall, or alternatively, you can choose to use cubes of any shape and size and mount them to your wall. Alternatively, you can choose to create shelves using baskets and boxes too.
Wall racks and hooks are also another great way to spruce up blank and empty wall spaces. Pegboard hooks, for instance, can be placed inside the home as well as inside the garage.
You can paint it in a bright color and use it for hanging up craft supplies, bathroom toiletries as well as kitchen utensils.
For a more industrial look, you can opt for DIY wire wall racks. Use S-shaped hooks to hang items that you use every day.
This will allow you to keep them close at hand, and you won't have to consume valuable wall, floor, or cabinet space.
Wall racks and hooks are ideal for displaying decorative items. You can also choose to be creative with apple crates, baskets, drawers, and trays.
You don't have to have them sitting on the floor or your furniture. Simply turn them around and mount them to the wall. This is great for storage as well as decorative purposes.
Using a ladder will help you get more height and place your shelves higher towards the ceiling if that's what you prefer. So ultimately, it will allow you to increase the storage and decor space considerably.
Have your mind on aesthetics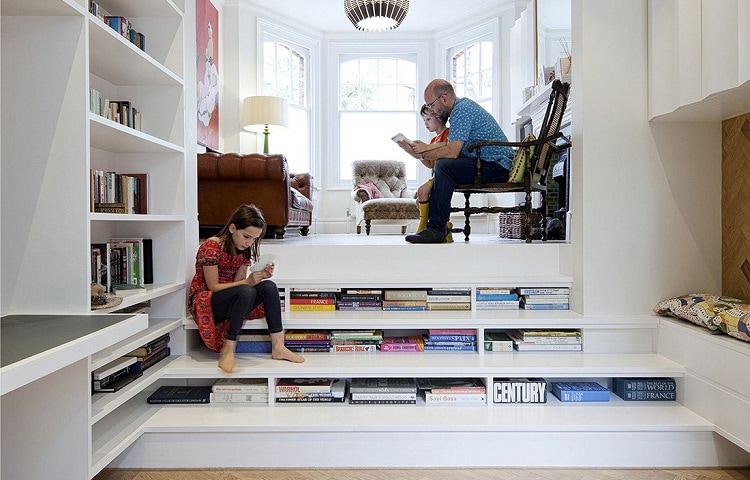 Due to a growing number of factors, such as global expansion and the fact that people are constantly accumulating personal items and belongings, space is now evermore valuable than it was before.
The good news is that there are plenty of options that you can use to maximize the amount of space inside your home, irrespective of whether it is large or small.
Floating glass shelves
Floating shelves are extremely beautiful irrespective of what type of material you use to build them.
However, floating glass shelves are even more stunning with any backdrop and make a practical addition to offices, bathrooms, bedrooms, living rooms, and kitchens as well.
Since the shelves are made of floating glass, they exude elegance, and since it contains reflective properties, it offers extra space near cabinets and bookshelves.
They may look fragile; however, they do offer a study structure that supports most contemporary homes and smart storing solutions without cramping.
Floating shelves are great for the overall aesthetics of the room and can be used to store absolutely any item from decorative to practical ones.
White shelves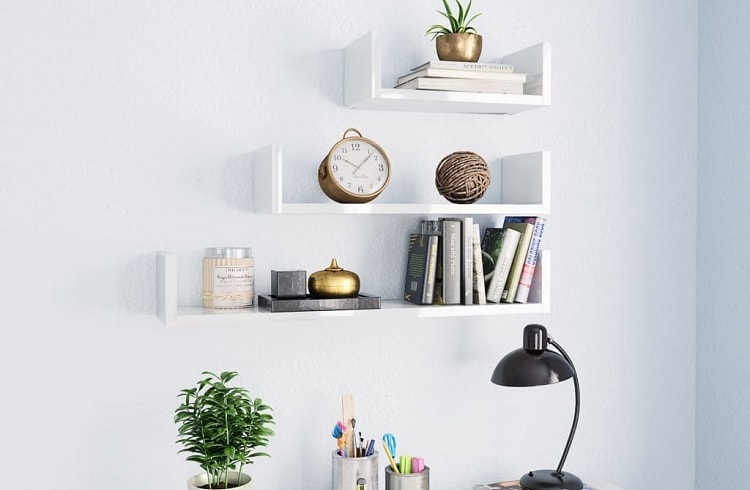 These shelves are beautiful in a simple way. It's a matter of choice as home interior decorators whether you want to use them or not. They look best with regular maintenance to help retain their purity.
This means constantly dusting and wiping them clean. White floating shelves also give off a minimalistic ambiance and look.
These floating shelves can be the center of your home by providing practical and yet visually appealing solutions.
Corner shelves
When you combine imagination with creativity, there are no limits to what you can do. Corner floating shelves are ideal for the bathroom, allowing you to hold toiletries and shampoo bottles.
It also offers the convenience of storage on the wall. You can turn any corner in your home into a feature with a floating shelf. They make the best choice since they look contemporary and will match modern decor exquisitely.
Square shelves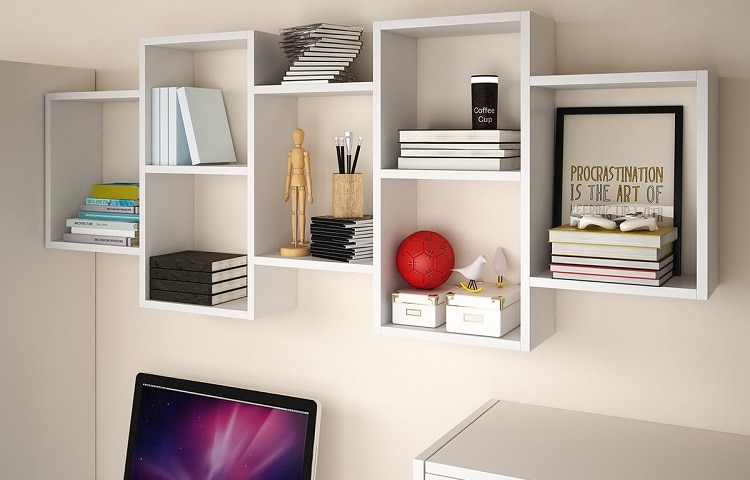 Square shelves provide the ideal surface for storing a number of items. These shelves are beautiful and create space, making it stand out on any type of wall.
So if you're looking to maximize space on a blank wall, square shelves are a great option. You can mix and match backdrop patterns and make it look appealing as it all comes together.
All of the above-mentioned shelves, irrespective of the color, shape size, provide an excellent surface display for decorate items.
Alternatively, if they are done the right way, they also provide valuable storage space for shoes, jewelry, gadgets, and every other item that you use on a daily basis and need to access and easily.
The shelves can be nailed to the wall or mounted, providing a sturdy surface for your items.
Conclusion
Irrespective of your personal preferences and how you like to decorate your home, there's no denying that wall storage systems are a valuable addition to any home.
Irrespective of whether your house is big or small, floating storage shelves can be used for just about any purpose.
From storing extra shoes, gadgets, and accessories to providing a canvas to display your decorative items, floating shelves are space-saving and priceless inside any home.
Related: