If you live in a condo, townhome, or apartment, finding the ideal place to put a TV can be challenging. Single-family homeowners with smaller living rooms or less wall space can also face the same dilemma.
Things like fireplaces, multiple windows, and doorframes can limit your options. Many people in these situations find themselves asking, "can you put a TV in front of a window"?
So, Can You Put a TV in Front of a Window?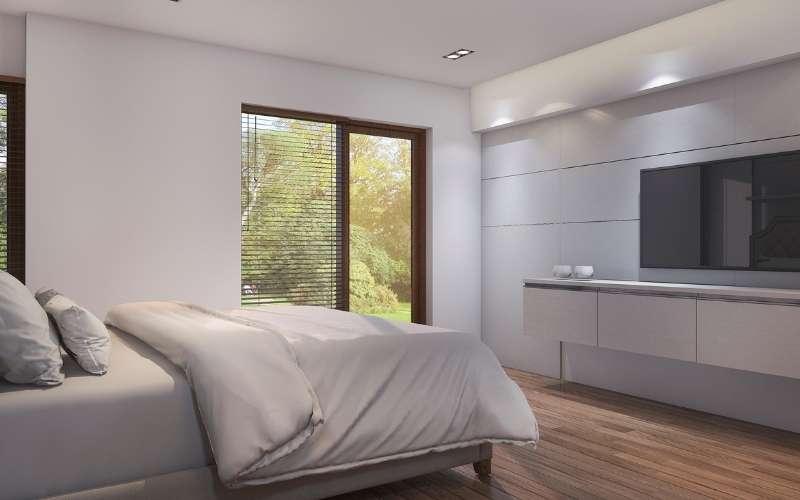 While nobody's saying you can't put a TV in front of a window (it's your home after all), it's not the best place for many reasons:
The light that comes in from the window during the day can cause glare on the screen.
The TV can also block your view from the window.
If there's a strong storm and your window gets broken, objects near the window are more likely to sustain damage.
We'll discuss a few alternatives for TV placement in smaller homes and challenging spaces. As well as what to do when placing your TV near a window is your best or only option.
Good Alternative Placement Ideas
The first thing you'll want to consider is the location of available electrical and cable outlets.
Of course, the latter only applies if you still need to connect your TV to a cable box or if you want to place a smart TV within an acceptable range of a cable modem.
As subscribers move away from traditional cable TV services, many providers have started delivering broadcasts through apps instead of boxes.
Check with your service provider about alternatives if you still subscribe to cable television. This can open up your placement possibilities, especially if you only have one cable jack in the room.
Once you've figured out where you can logistically connect the TV to a power (and possibly cable) source, look at the position of your furniture. In a living room, you'll want to see the TV screen from the couch or armchair.
For a bedroom, the screen needs to be viewable from your bed. In a home gym or entertainment room, you may have exercise equipment or furniture you want to see the TV from.
Some homes also have built-in entertainment centers with surround sound, power, and cable hookups you can take advantage of.
Before you decide on placement, get a good sense of where the light falls during the day. Open the blinds and curtains to observe how the light shines in and where. Take note of differences when they're closed.
Consider when and how often you'll be using the TV in that room.
If you plan on watching TV in your bedroom at night, sunlight isn't probably going to matter as much as moonlight or street lamp reflections that peek through.
Placing TVs on an entertainment center at an angle can help people see the screen from multiple positions on a couch or lounge chairs.
With built-in entertainment centers, you'll face limitations because of the allotted space and which wall the center is on. However, you may be able to slightly angle the TV itself or your furniture.
If you have a fireplace, see if there's enough space to mount it on the wall above the mantle. With a sturdy enough mantle and room, you can place the TV on top as long as it's far enough away from the heat source.
Mounting your TVs on walls in bedrooms, home gyms, and living areas also gives you additional flexibility.
A lot of wall mounts let you change the position and angle of the TV as needed. In bedrooms, you can also get away with placing smaller TV sets on top of armoires and chest drawers with enough height from your bed.
Sometimes, it's helpful to consider moving your furniture around to accommodate TV placements away from the windows.
What to Do If There Aren't Good Alternatives
Despite the best intentions, at times, the floor plan of your home won't allow for placing a TV away from your windows.
It could be that the window spans most of one of the walls, limiting where you can put other furniture.
The room may also have multiple windows and a fireplace on a single wall.
There may be a built-in wall accent or shelf above the fireplace that doesn't give enough room for a wall mount or TV set.
There are also floor plans with outlets next to windows, especially if it's an open floor plan with limited space.
In these cases, you can try angling an entertainment center that blocks some of the light from the window. You can also install blackout curtains or motorized blinds to block the light when you watch TV.
Some manufacturers make anti-glare TV sets you can look into. The technology that goes into these screens reduces glares and reflections.
This can work better in homes with open floor plans where windows from the kitchen, front door, and living area blend together.
If you don't want to invest in one of these sets, there is also anti glare film you can put over your windows and screen protection you can install over your existing TV (although Samsung have stated that the sun won't damage your LCD tv, we personally wouldn't be comfortable taking the risk).
Some people also hang TV sets from ceilings or have them retract into the ceiling when not in use. This does require some technical knowledge or the financial means to hire a vendor with expertise.
Roll-away TV stands are another option that gives you more flexibility so you won't have to rearrange furniture or find a permanent area.
A Final Word
Homes with limited space and a lot of natural light can make it more difficult to find places to put your TV sets.
Additional challenges can stem from power outlet placement and open floor plans without as many walls.
For these homeowners or residents, many think, "can you put a TV in front of a window"? Often, that's one of the few places where there's an outlet or a wall nearby.
Placing a TV in front of a window isn't the best due to glare and reflections. Consider your alternatives before resorting to blocking out light.
Related guides: How to Clean Flat Screen TV Without Streaks