If you're like most people, you can't start your day without a cup of coffee. And if you're like most people, you also don't have a lot of space in your kitchen.
This can be a problem when it comes to finding room for your coffee maker. But don't worry, we've got some tips for you!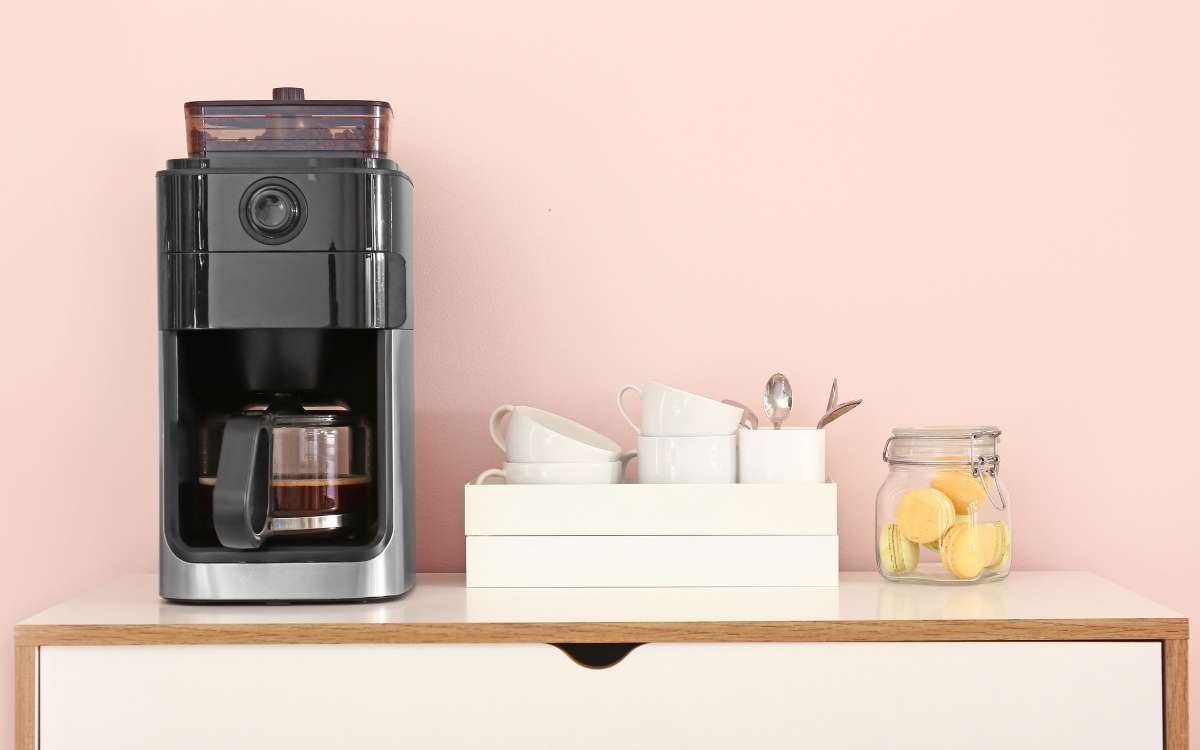 In this blog post, we will discuss the best places to put your coffee maker in a small kitchen.
10 Small Space Solutions for Your Coffee Maker
Here are a few of our favorite solutions for coffee makers in small kitchens:
1. Put it on the Countertop
This is probably the most common place to put a coffee maker. It's easy to access and is the best option for daily coffee drinkers, even if space is limited.
Find a countertop area that is away from your sink, your food prep area, and your dishwasher. This will help to prevent dangerous spills and messes.
If you like the idea of keeping your coffee maker on the kitchen counter but don't have enough space, consider using a coffee serving tray.
This will make it easy to store your coffee maker in another area of the home and then carry it to the kitchen when you're ready to brew a cup.
The easiest way to store the tray when it's not in use is by putting it inside a nearby cabinet when not in use. If this isn't an option, you can also store it in another area of the house.
Make sure that you let the coffee maker completely cool down before handling the tray and moving it to another area.
Another great way to free up countertop space is by using floating shelves. This option gives you the ability to store your coffee maker on a shelf that is out of the way but still easily accessible.
When choosing a floating shelf for your kitchen, there are a few factors to consider.
First, since it is an external design element, you'll want to make sure it matches the rest of your kitchen's decor.
Secondly, it will need to be a deep enough shelf to fit your coffee maker and whatever other accessories you want to place on the shelf.
Finally, you'll also want to make sure that it is installed properly and is safe for use. This means that it is securely attached to the wall and will not fall down under the weight of your coffee maker.
It also means installing it in an area where no one will bump into it and no doors will hit it.
4. Get a Kitchen Appliance Garage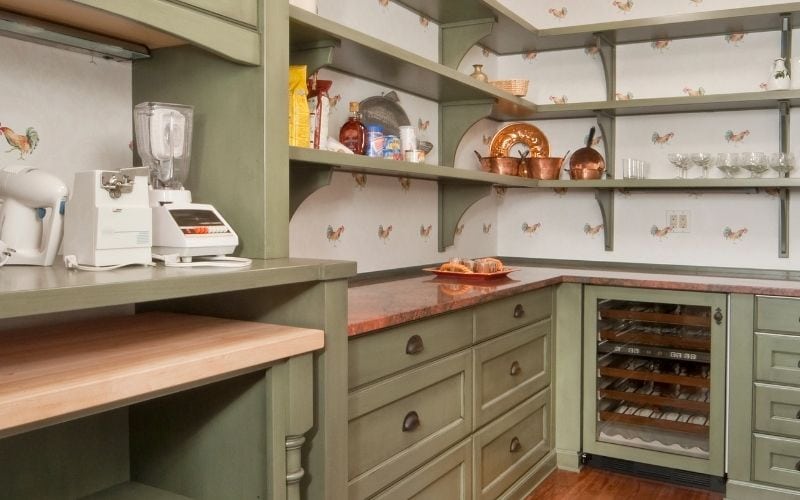 An appliance garage is a great way to store your coffee maker and other small kitchen appliances. This option is a cabinet-like structure that sits in a recessed area on or near your counter.
You can open it up and slide it out, and it will have a space to store your coffee maker and other appliances.
When not in use, you can close the garage and it will look like part of your cabinets. This is a great option if you have limited counter space and want a convenient and attractive way to put your coffee maker away.
An appliance lift is a motorized shelf that can be installed in your kitchen cabinets. It is the perfect solution for storing your coffee maker and other small appliances.
When you want to use the appliance, you just push a button and the shelf pops out so you can access it. When you're done, you just push the button again and the shelf goes back into the cabinet.
This is a great option if you want to store your coffee maker and other appliances out of sight when they're not in use.
6. Turn a Cabinet into a Coffee Station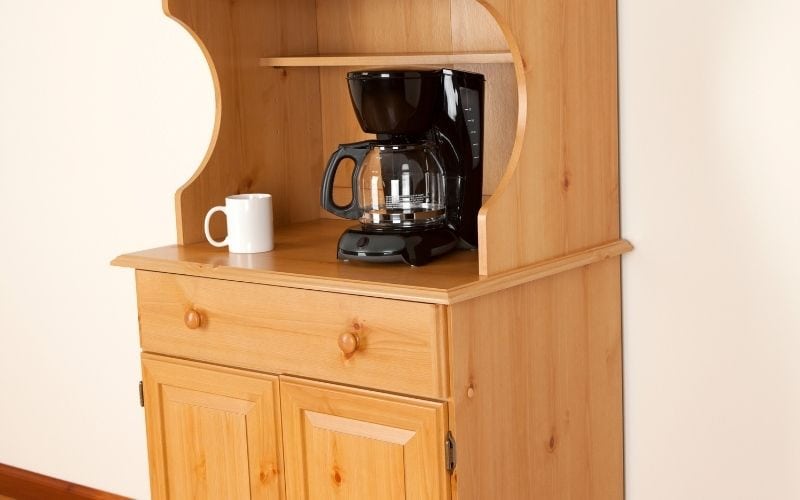 Installing an appliance garage or an appliance lift can be expensive! If you're looking for a more affordable option, simply use a cabinet.
You can either use an existing cabinet in your kitchen or you can install a new one. If you're using an existing cabinet, make sure that the dimensions are wide enough to fit your coffee maker and other appliances.
If you're installing a new cabinet, make sure to measure the space so that it will be the right size for your needs.
Once you have the cabinet, all you need to do is add a few shelves and hooks to create a coffee station. This is a great option if you want to store your coffee maker and other appliances in one place.
You can remove the cabinet door if you want an open look and to more easily access your coffee supplies. Or just leave the door on if you prefer a clean, minimal look.
Kitchen islands are great for adding additional space to a small kitchen. You can put your coffee maker on an island to make more space, and you can even store it in the drawers or shelf underneath when it's not in use.
It's best to use a rolling kitchen island if you have a smaller space so you can move it out of the way if you need to use your kitchen in a more functional way.
Many rolling islands have locking mechanisms that help to keep them stable and safe while you're working or prepping on them.
A rolling cart is a similar solution to the kitchen island. The benefit of using a cart is that they come in many different shapes and sizes, making it a great custom option for your home.
Many people like this option if they have a small gap between appliances that can fit the cart into, which helps to utilize small odd spaces in the home.
You can choose many different types of aesthetics when it comes to a rolling cart. They come in plastic, metal, and wood, depending on your budget and preference.
They also come in many different sizes, so you'll be able to find the best option for your coffee maker.
9. Set Up Your Coffee in a Dining Room or Breezeway
You don't necessarily have to have your coffee maker in your kitchen, especially if you put it near your kitchen. Consider underutilized spaces such as the dining room or breezeway as a home for your coffee maker.
You can even make the area look like a coffee bar or small cafe setup. If it's located in a dining room, this makes the perfect space to sit and enjoy your cup of joe. It also helps make the coffee-making area more sociable.
You can use any of the above-mentioned ideas when you're thinking about how and where to install the machine.
Stacking kitchen racks are a great way to add vertical storage space to your kitchen. The best part about this option is that it doesn't require any special installation and is quite affordable.
For certain models, you can even stack multiple tiers of the product at once, in effect, creating shelves in the kitchen.
Make sure that your coffee maker will fit appropriately. You can place it under or on top of the rack depending on your machine.
Most people choose to place their coffee makers on top so that it's easy to access and open.
Additional Ways to Save Space With Your Coffee Supplies
Now that you have a good idea of what space-saving coffee maker options are out there, it's time to look at a few additional tips that will help to free up even more precious kitchen-counter space:
Electric coffee makers can be big and clunky. But there are other models available that may work for you.
A French press works by adding hot water and coffee beans to a beaker. After letting the mixture of hot water and coffee grounds steep in the device for several minutes, you can press down on the handle and extract the coffee.
The French press makes coffee taste creamier and richer, so you may even like it more than your normal drip machine!
Pour-over coffee creates a milder and smoother flavor, making it great for coffee on hot days, or coffee that you'll eventually turn into.
Hang Your Coffee Mugs
Coffee mugs can take up a lot of space, and hanging them in your kitchen can be a great choice. You can screw in hook nails under your cabinets or use a mug tree to hang them up.
There are also racks that can hold your mugs and keep them safe while lying flush to the wall and taking up a minimal amount of space.
This makes it easy to access your mugs when you're in the kitchen and frees up cabinet space for other items. It's also aesthetically pleasing and allows you to show off your favorite mugs when guests come over.
Store Coffee Beans in an Airtight Container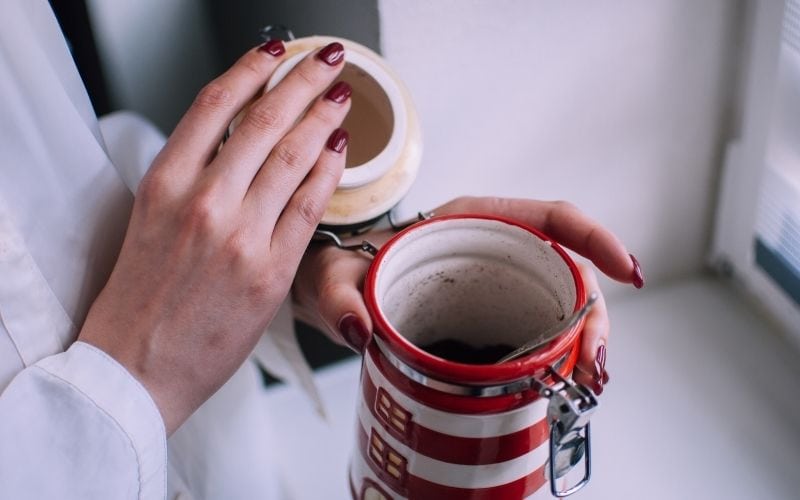 Beans can take up a lot of space, but if you store them in an airtight container, it'll help to keep them fresh. These containers are stackable and easily fit into most cabinets, taking up minimal counter space.
You can also purchase a coffee grinder that will allow you to grind the beans when you're ready to make coffee, ensuring that your coffee is always fresh.
Use a Drawer for Coffee Grounds and Sugar
If you don't have a lot of space in your kitchen, consider using a drawer for coffee grounds and sugar. This is an easy way to keep these items organized and accessible.
They will be at arm's reach and you won't have to search for them in cabinets.
Just be sure that the drawer is easy to open and close, as you'll likely be using it frequently. You can also label the contents of the drawer so that you always know where everything is.
Use a Condiment Organizer
A condiment organizer is a great way to store your coffee filters, sugar, and creamers. This will free up some valuable countertop space and keep these items organized.
Most organizers are modular and can be customized to fit your specific needs.
They also come in a variety of colors, so you can choose one that will match the aesthetic of your kitchen. Plus, they're easy to clean and don't take up a lot of space when not in use.
Considerations for Your Coffee Maker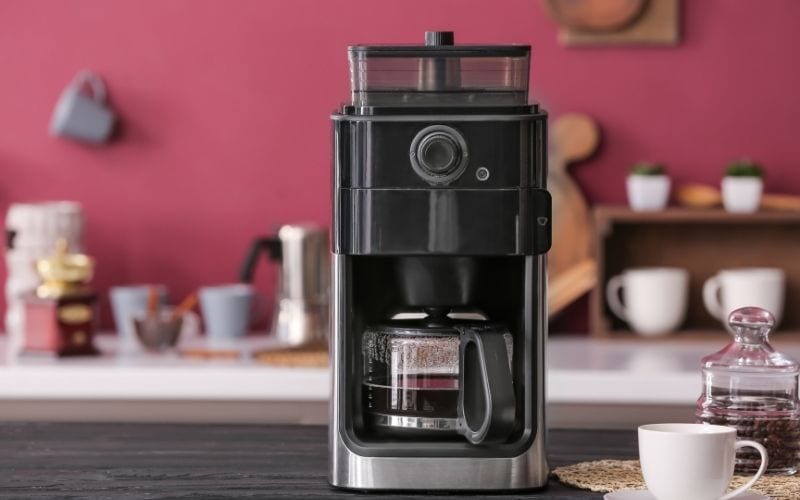 Here are some things you should keep in mind when purchasing a coffee maker:
Buy a Slim Design
When looking for a coffee maker, try to find one that has a slim design. This will help to free up counter space and make the appliance easier to store.
This could be a one-cup coffee maker or a one-use Keurig machine or even a small Espresso machine. These designs will take up less space in your kitchen overall.
Place Your Coffee Pot Near an Outlet
If you're using a standard coffee pot, make sure to place it near an outlet. This will prevent you from having to use an extension cord and will make it easier to plug in the pot.
It's important not to trip over cords in the kitchen or get them wet. These can be dangerous and can easily lead to a kitchen fire or injury.
Place It at the Right Height
It can be fun to think of space-saving locations for your coffee maker, but they aren't really effective if you can't reach them. Make sure to place your coffee maker at a height that is comfortable for you to use.
You don't want to have to strain your neck or wrists in order to make coffee.
Final Thoughts
Now that you know some great tips for coffee makers in small kitchens, go out and find the perfect one for you.
Make sure to keep your budget, style, and functional needs in mind, and you will be sure to find the perfect coffee maker storage solution for your home.