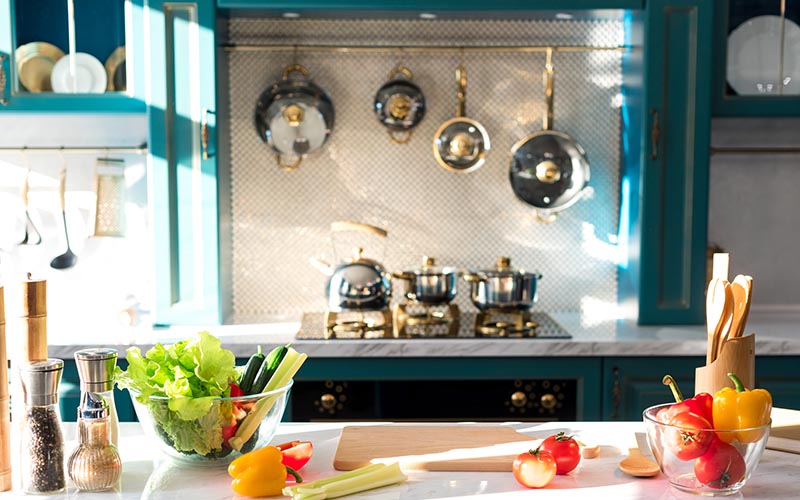 If you've ever felt like there's no counter space in your kitchen, then this article is here to help. Where real estate is at a premium, tiny kitchens are often a fact of life.
How can you make extra kitchen counter space when this is the case?
Entertaining friends and family is fun and eating together is a great way to connect with people you love.
The best kitchen counter space savers can make this a reality, as they free up extra counter space so you can chop, stir, mix, simmer, bake and sear to your heart's content.
What To Look For When You Need Extra Kitchen Counter Space
How do you achieve that seemingly impossible goal of adding counter space to a small kitchen? It's not as tricky as it sounds.
The idea is to free up what kitchen countertop space you do have by using clever storage solutions. There are all sorts of countertop space savers available to buy that will give you more elbow room.
So if you think you have no counter space in the kitchen, solutions are really not that hard to come by.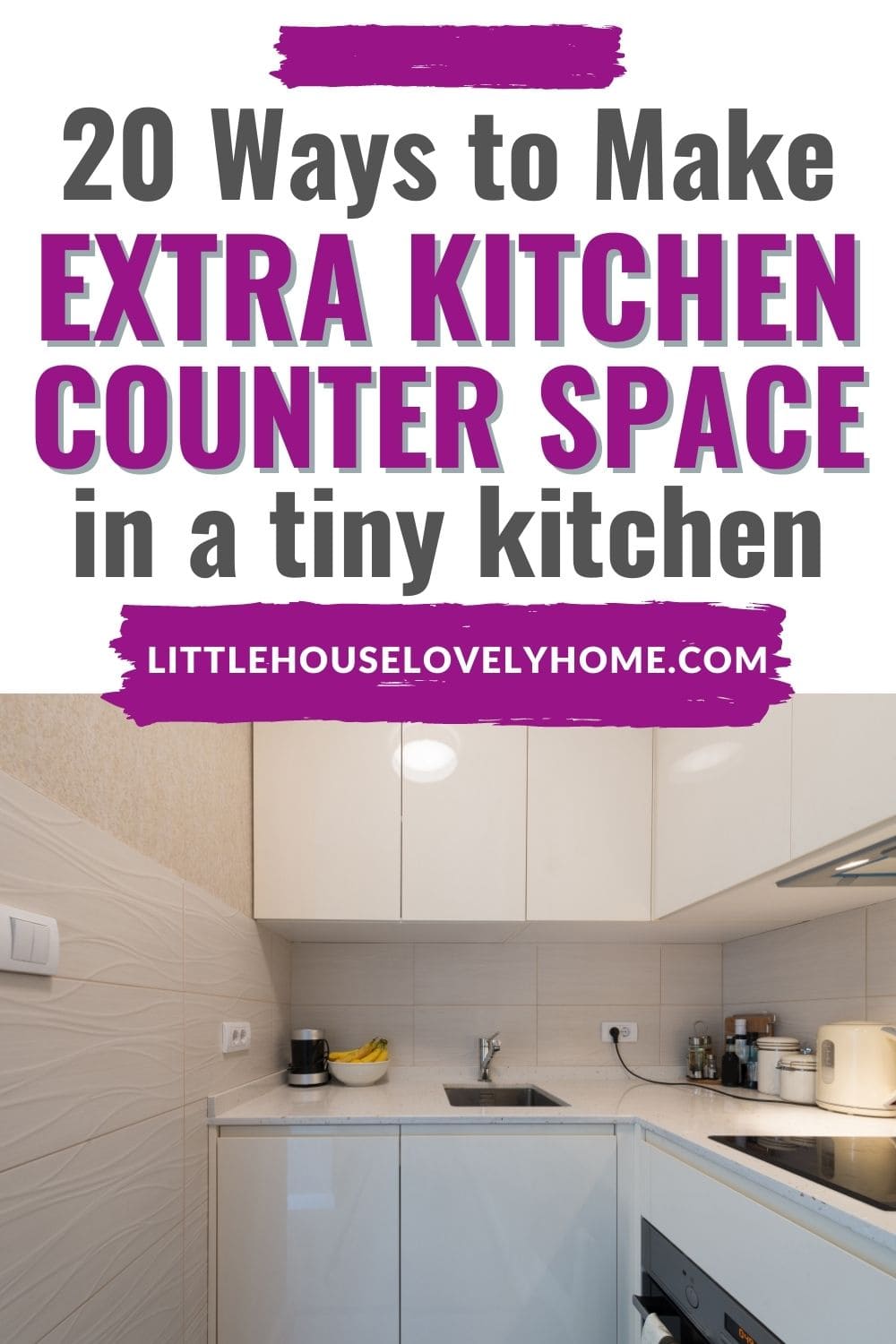 Extra counter space for small kitchens can be achieved by using innovative – and often inexpensive – products that make the most of every bit of dead space that isn't yet being used to its full potential.
So read on to find the perfect small kitchen counter space ideas for your little home.
Freeing up existing counter space
The main way in which to create additional kitchen counter space is by freeing up the counter space you already have.
That means finding new homes for anything that already sits on the kitchen countertop.
So the first thing to do is to think about how else you could store these.
Creating more kitchen counter space
Depending on the room you have, you may also have the option of actually adding more counter space – in the form of items like a folding table or rolling cabinet.
The former has the potential to turn your kitchen into a dining room when required – or even to double up as a study area.
Emptying other kitchen storage spaces
If the storage solution won't actually hold items from your kitchen countertop, then think outside the box a little.
It can be used for storing things previously kept in your kitchen cabinets and drawers, thus freeing up that space for the items that are cluttering up the counter.
Just a simple reshuffle can do the trick.
20 Best Extra Kitchen Counter Space Products
Want extra counter space?
A table that folds down from the wall when required is a great idea.
Wall mounted fold-down tables can be used in so many ways – as a desk, dining table to provide an additional food preparation area.
Imagine having your own breakfast bar that tucks neatly away.
This highly rated fold-down table uses any wall space you might have to create an extra surface just when you need it.
It's a great way to provide extra space – but only when it's required.
The rest of the time it's folded neatly against the wall and out of the way.
The beauty of it is that you can place it where it might normally be in the way a bit – such as near a doorway – and pop it back up when you need that space again.
This is a clever way of creating some extra kitchen countertop to use as required.
It also means you can work, study and even eat in the kitchen too.
As this product is strong enough to use as a workbench – and to hold up to 110lbs – it's suitable for chopping and placing cookware on.
Pros:
Incredibly versatile
Supports up to 110lbs
Includes 3 year warranty
Cons:
Takes up wall space
Installation required
Needs brick, stud or concrete wall
Size in inches: 23.6 x 15.6
This provides those looking for a fold-down table with a second highly rated option.
It comes in 2 sizes and color options. Again this addresses that lack of counter space issue, as it can be used as an extra surface.
This one can hold up to 50lbs in weight. It's very versatile, as it can be used as a table, desk, storage or work surface.
All the brackets and other items required for installation are included – along with full instructions.
As it fits very flat against the wall when not in use, place a white one on a white painted wall and you'll barely even notice it's there. Except when you want to use it.
Pros:
Use as desk, table or shelf
Holds up to 50lbs
Folds very flat against wall
Cons:
Uses wall space
Needs installing
Not as strong as other option
Size in inches: folded: 6 W x 20 D x 36.25 H, Unfolded: 25.5 W x 20 D x 36.25 H
Rolling kitchen carts can be great kitchen counter space solutions, as they are tucked tidily away when not in use.
As this particular one can be folded down, it takes up even less room.
The sturdy wood top on this rolling cart means it can be used a little like a butcher's block, providing an extra work surface as required.
Extra storage space is also supplied by the shelves beneath and a towel rail at one end.
It's surprisingly strong, holding up to 300lbs in weight, and smart locks on the wheels stop it rolling away while using it as a cutting board.
In a nutshell, this one is like having a kitchen island at your disposal, just when you want more space to cook or for storage.
Making a folding cart like this was such a good idea from Origami.
Pros:
Fully pre-assembled
Holds up to 300lbs
Folds for storage
Cons:
Requires storing and unfolding
No storage when folded away
Size in inches: 5.1 W x 15.17 D x 34 H
This rolling kitchen cart is incredibly slim.
At just 5.1 inches wide, it can squeeze into the narrowest gap – such as the space between the refrigerator and the counter.
It's available in white or black, so it should blend in with any kind of kitchen décor easily.
4 wheels mean you can simply slide it out of the gap when you need to get to something that's stored on the 4 shelves.
If you're low on cabinet space (or have no pantry)this is also great as you can use it to store pantry items like canned foods, jars and bottles.
You can also use it to keep things away from the kitchen worktop, such as salt and pepper pots, cooking oil or tea and coffee canisters.
If there's a narrow gap in your kitchen, then be sure to squeeze one of these into it!
Pros:
Super slimline design
4 storage shelves
Hooks also included
Cons:
Not suitable for use as worktop
Very narrow shelves
Size in inches: 32 W x 3 D x 32 H
A peg board can be a simple solution to the problems posed by having a tiny kitchen.
It can keep so much stuff on the wall, out of the way yet within reach.
Use it as a pot rack, for example, and you can use that drawer space for something else that previously cluttered up the kitchen counter.
This kitchen pegboard comes in your choice of color, with a range of options including red, orange, yellow, green and blue as well as metallic and monochrome shades.
This product provides extra room for items such as mugs and utensils as well as pots and pans.
Related: 16 Genius Ways To Organize Pots And Pans
It can even give your kitchen that cool utilitarian look at the same time.
What's not to love?
Pros:
Cool industrial look
Range of colours
Strong, wall-mounted storage
Cons:
Click there to see the latest prices and reviews for this kitchen pegboard
Size in inches: 48 W x 9 D x 32 H
We're sticking with Wall Control for this second option – featured as it's more customizable than the first.
It's also a fair bit wider and 3 times as deep.
Wall Control says this is 10 times stronger than your average pegboard, and the accessories you can fit to it include shelves.
Other optional extras include spray can and kitchen roll holders.
If you want a larger and more versatile kitchen storage solution, go for this one.
With a few well-chosen accessories this has the potential to free up lots of counter, cupboard and drawer space.
Storing kitchen tools on the wall will also give you enough space to store something else in their former space.
Pros:
Utilitarian looks
Wide range of colours
Holds shelves, brackets and more
Cons:
Size in inches: 10, 14, 16 or 18
Why let a knife block take up valuable space when you could store your knives on a magnetic strip?
Not only is this a space saver, but it's safer too.
A must for families or anyone who has young children to visit, as the knives are kept well out of reach of small fingers.
While this does not save as much space as other products, it's such a great idea anyway.
As well as very affordable.
Storing your knives on the wall also looks pretty cool, and might even inspire you to keep them sharp.
This Gorilla Grip knife strip comes in 4 sizes, ranging from 10 to 18 inches.
Kitchen knife holders are great for keeping kitchen scissors and pizza cutters out of the way too, so bear that in mind when selecting your size.
Pros:
Stores knives out of the way of kids
Range of sizes
Strong magnet holds 6 – 9lbs
Cons:
Requires simple installation
Size in inches: 8 – 36 or custom length
If you want a bigger knife strip, or would prefer a wood finish, take a look at this one.
This US made magnetic strip is crafted from walnut, and can even be ordered in a custom size.
This professional quality kitchen knife strip looks equally good when mounted on a wall, on a cabinet or even inside a drawer.
With 12 sizes ranging from 8 to 36 inches plus a custom option, there's sure to be one to fit even the smallest kitchen.
Pros:
Stylish walnut wood finish
Stores knives safely
Huge range of size options
Cons:
Requires easy installation
Size in inches: 37.6 W x 11.02 D x 33.46 H
This is one of the ultimate kitchen space savers, and can be used for wet or dry dishes.
The top shelf can also be used as a permanent home for all sorts of items – from plastic containers or glass jars to a coffee machine.
Whether you pick black or silver, this item has a stylish metallic finish to give your kitchen a contemporary look.
The sturdy stainless steel rack is corrosion resistant and simple to install.
It also comes complete with accessories, including knife and cutlery holders, storage basket, cup hanging area, hooks and a cutting board rack.
Pros:
Makes great use of dead space
Rust-proof stainless steel
Lots of storage options
Cons:
Not ideal if kitchen window in front of sink
Size in inches: 8.5 W x 14.25 D x 13.25 H
If you're not keen on the idea of storing items above the sink – perhaps as that might block light from a window – then what about beneath the sink instead?
This is often a classic example of unused space.
Or at least underutilized space.
These under sink organizers are stackable, so you can make the most of every square inch.
Each has 2 drawers.
They don't just have to be for under the sink, either.
Whether you need extra storage in the bathroom, kitchen or office, these are ideal.
Meaning you could use them in future – even if you don't stay in your small but beautiful home forever.
Pros:
Makes the most of all available space
Smart and stylish storage drawers
2 drawers in each and stackable
Cons:
Size in inches: 17 W x 2.5 D x 1.5 H
If your pots and pans or kitchen utensils are in the way, then why not hang them on the wall?
A wall mounted rail like this lets you do exactly that.
It's an inexpensive and easy way to make more countertop space.
This robust rack comes complete with hooks, which can be used for hanging mugs right over the coffee machine, or pans right over the hob.
Or throw away that utensil pot that takes up countertop space and use this instead.
It looks good, keeps everything within reach and frees up valuable space for cooking.
Also, it's easy to install and cost effective, while also giving your kitchen a professional look.
Pros:
Makes the most of wall space
Holds pots, mugs, utensils and more
10 hooks included
Cons:
You may need more than one
Size in inches: 36 W x 8 D x 1.5 H
If you like the idea of the previous product but fancy going one step further, why not opt for a pot rack with a shelf over?
This strong, stylish wooden one comes complete with 6 swivel hooks.
This gives you a lot of storage potential.
You can stack pots on top of it as well as hanging them from the hooks.
Or use it as a place to keep stacking plastic containers, utensils and a whole lot more.
Extra hooks can be purchased, and this wall shelf with hooks can be fitted by using a phillips head screwdriver.
Pros:
Provides shelf and hanging space
Stack and hang pans, utensils and more
6 swivel hooks included
Cons:
Higher price than rail without shelf
Size in inches: 21.25 W x 11 D
This is an incredibly clever yet super simple idea.
The legs on this Prosumer's Choice cutting board mean you can suspend it over the stove, effectively creating extra kitchen countertop space when making a salad or baking a cake.
Made from sustainable, premium quality bamboo, this cutting board looks fabulous too.
It even has a built-in 'juice trap' to catch liquid that runs from meat, vegetables and fruit during preparation.
This easy-to-clean cutting board gives any kitchen an elegant look and is one of the simplest ways to create extra workspace.
Pros:
Provides extra counter space
Can be used over stove
Juice trap catches food liquids
Cons:
Covers part of stove when in use
Size in inches: 20 W x 11.5 D
An alternative to an over stove board is this over sink cutting board with strainer.
Again, it helps make use of all available space, and can even be used as a colander too.
The 2.5 quart strainer is collapsible and removable.
Non slip rubber edges ensure it stays firmly and safely in place, and it can also be cleaned in the dishwasher.
The colander can also be used as a basket for vegetable peelings, fruit offcuts and the like.
Pros:
Frees up countertop space
Designed for use over sink
Built-in strainer
Cons:
Covers sink when being used
Size in inches: 15.75 W x 3 D x 12.5′ H
It's listed as a spice rack on Amazon, yet this smart space saver can be used to store all sorts of small items.
What's more, it can be wall mounted or even attached to the inside of a kitchen cabinet door.
Making great use of that dead space once more.
Those who do want to show it off will be glad to have the option of 3 colors – white, bronze or silver.
It has 3 tiers, and you can add another one above, below or next to it to create even more kitchen storage space.
This is a versatile item that can be purchased and hung as one or a set.
It is also useful in the bathroom, especially for holding items like nail polish bottles.
Pros:
Creates extra storage
Can be mounted inside cabinet doors
Choice of 3 colors
Cons:
A little small for cans and larger jars
It's highly likely that your fridge takes up a fair bit of your kitchen space. So why not put it to good use by buying a set of small magnetic storage jars?
That way, you can create an attractive spice rack on your fridge. The sets from Gneiss Spice comprise 10 or 24 small jars, or you could opt for 12 or 24 large ones.
They are hexagonal, making a great visual impact in any kitchen. The silver metal lids are magnetic, and they come complete with labels included.
This product makes a beautiful display and is the kind of kitchen must-have that could last a lifetime.
Pros:
Choose small or large hexagonal jars
Magnetic lids for sticking to fridge
Investment and artistic piece
Cons:
Small jars don't hold a lot
Size in inches: 17′ W x 11. 5′ D x 14 H
Buying a storage rack for your canned goods can save so much space in a small kitchen. This will free up cupboard space for storage of some items currently kept on the countertop.
A quick glance at the image of this product pretty much tells you all you need to know. It's so simple, yet ingenious.
Where one can stand you can now stack 3 – without them falling off and getting dented, or hitting your foot, as you open the cabinet door.
This 3 tier rack holds up to 36 cans of varying sizes, and is easily and quickly put together.
Pros:
Store 3 cans in place of 1
Frees up kitchen cabinet space
Available in 3 colors
Cons:
A set of stackable food containers can ensure you make the most of the space inside your kitchen cabinets or on the wall shelves.
Whether you use them for storing dry food or want them to keep leftovers fresh in the fridge.
This Rubbermaid set is stackable and includes 50 pieces of various sizes.
Anyone who's previously had trouble pairing up their containers will also be pleased to learn that these come with 'easy find lids'.
This means each lid is compatible with multiple containers.
They are also freezer, dishwasher and microwave safe and the bases will nest snugly inside one another.
Pros:
Set of 50 in various sizes
Ideal for dry or fresh food storage
Stackable design with 'easy find lids'
Cons:
You can see more of the best dry food storage containers here
If you can't imagine life without a coffee maker yet wish it took up less worktop space, then you have 2 options.
Store it somewhere else – or invest in a mini model that takes up just the tiniest amount of room.
This Keurig mini coffee maker fits the bill very nicely (super compact if you're stuck on how to fit a coffee maker in your tiny kitchen), and looks super stylish too.
Available in some gorgeous colors – including a soft, dusky pink and a fresh pastel mint – its good looks will enhance even the smallest kitchen.
The highly rated machine turns out a pretty mean cup of coffee too.
But what else would you expect from a Keurig?
Pros:
Under 5 inches wide
Range of lovely colors
Produces top quality coffee
Cons:
Stand mixers are another of those items that can take up a lot of space. Not ideal when there's not a lot to start with.
If you must display your Kitchenaid for all to see – as well as to whip up a baking storm whenever the whim takes you – then check out the Mini Series.
The color options are nothing short of gorgeous. How does Bird of Paradise, Honeydew or Hot Sauce grab you?
These are great looking, high performance machines in a smaller package. The Artisan Mini mixer can whip cream, knead dough and make cake batter just as well as a bigger machine. It attracts outstanding reviews, too.
Pros:
20-25% smaller than a classic Kitchenaid
Beautiful bright or pastel colors
Premium branded mixer
Cons:
Which Is The Best Countertop Space Saver For You?
What will it be – a stylish new fridge-mounted spice display, an over sink cutting board or storage unit or a smaller new appliance?
How about a fold-down table, pegboard or rolling cart?
Whichever you choose, there are plenty of ways to make extra kitchen counter space – even in a tiny house.
Related guides: