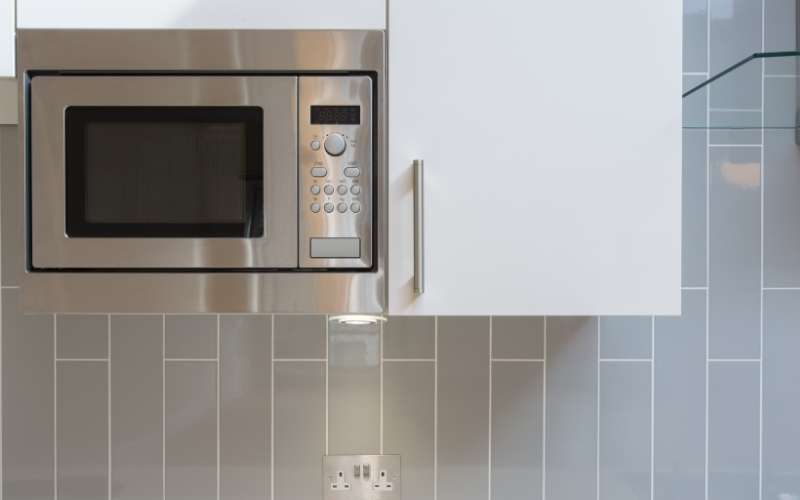 Microwaves are an extremely common kitchen appliance in modern kitchens.
Unfortunately, they are relatively bulky appliances that can take up quite a bit of space in a kitchen. If your kitchen space is limited, it might be difficult figuring out where to place your microwave.
When determining where to put a microwave in a small kitchen, the ultimate goal is to create or maintain as much space as possible.
Therefore, the best places for a microwave in a small kitchen would be on a microwave rack, a baker's rack, or hutch pantry, as well as inside custom cabinetry or counters.
Read on to learn how each of these tools and locations can benefit your small kitchen and help you store your microwave without sacrificing precious kitchen space.
8 Places You Can Put a Microwave in a Small Kitchen
Kitchen organization is key to efficient productivity when cooking meals, cleaning dishes, packing school lunches, and hosting guests.
Having a small kitchen can be a challenge in itself, but we don't want you to give up on having a microwave because you don't think there's anywhere convenient to put it.
Depending on the size of your microwave and the setup of your kitchen, there are numerous possibilities of where you can place your microwave that won't take up excessive counter space or prove difficult to access.
Custom Cabinetry
Possibly the most common aesthetic of the modern kitchen is the use of custom cabinetry to keep all appliances flush within your cabinet space and off of your limited counter space.
This option could be a bit pricy if you're looking for simple solutions, but it is by far the most effective.
With the use of custom cabinets, you could place your microwave into open spaces built:
1. Over the range: a common resting place for microwaves right over your stove (not the best choice if your stovetop has a hood).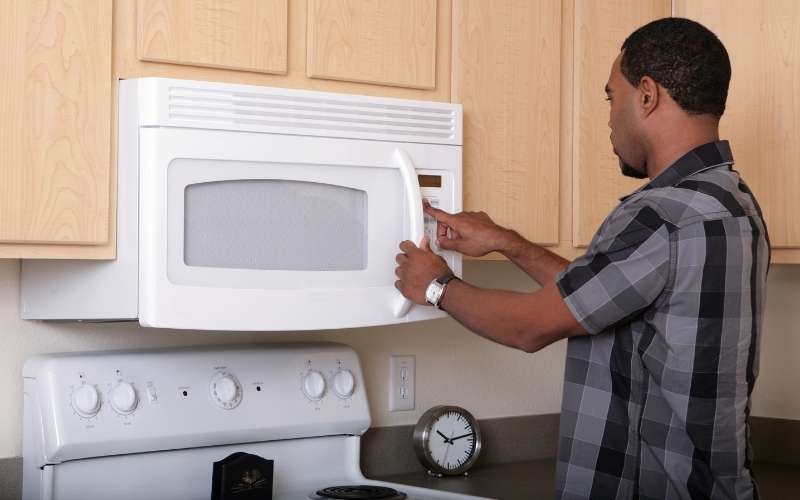 2. Above your oven: many modern kitchen owners will have a pillar of their appliances where their single or double oven is below their microwave.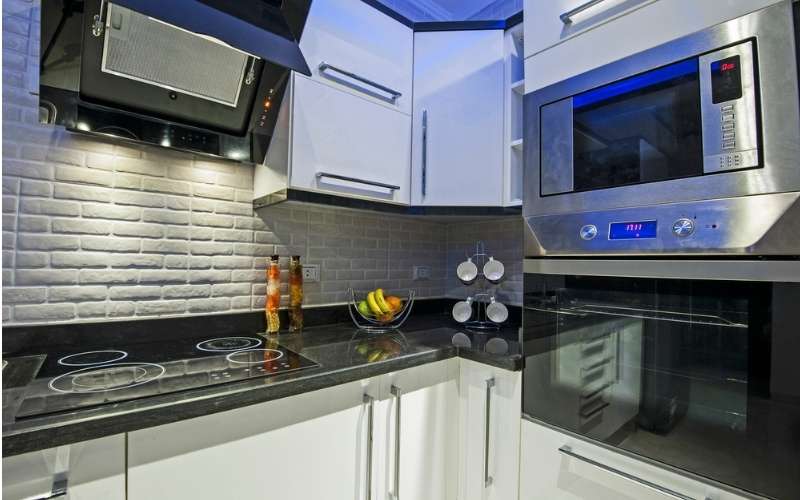 3. Within surrounding cabinets: another common choice where you create a little alcove for your microwave where it fits perfectly surrounded by your other cabinets and a trim kit.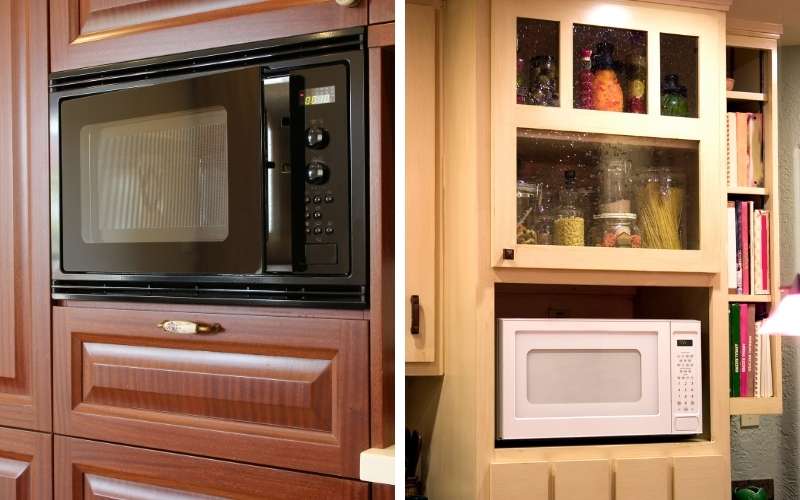 If your small kitchen already has these features, they are undoubtedly your best option for a sleek and modern aesthetic while keeping your microwave neatly tucked away.
Some individuals will even opt for a unique choice of storing their microwave within their cabinets.
This would require your microwave to have access to electricity from within, but it is a fantastic way to hide it from view or keep it out of the way, especially if you don't use it frequently and have the space to spare.
Custom Shelving
Another option that might be a little more cost-effective than custom cabinets would be custom shelving.
Shelves can be a saving grace to small kitchens because they supply a substantial increase in vertical storage space if you happen to have an empty wall.
Décor + Function
Custom shelves can also act as an accent piece for your kitchen if you opt for something guests can see, such as open shelving, where you can store decorative dishes, spices, and even your microwave.
Often times, these shelves are made from wood that is not only visually appealing and compliments your kitchen but is also sturdy enough to support the weight of your microwave that could be as much as 55 pounds.
4. Suspended Shelves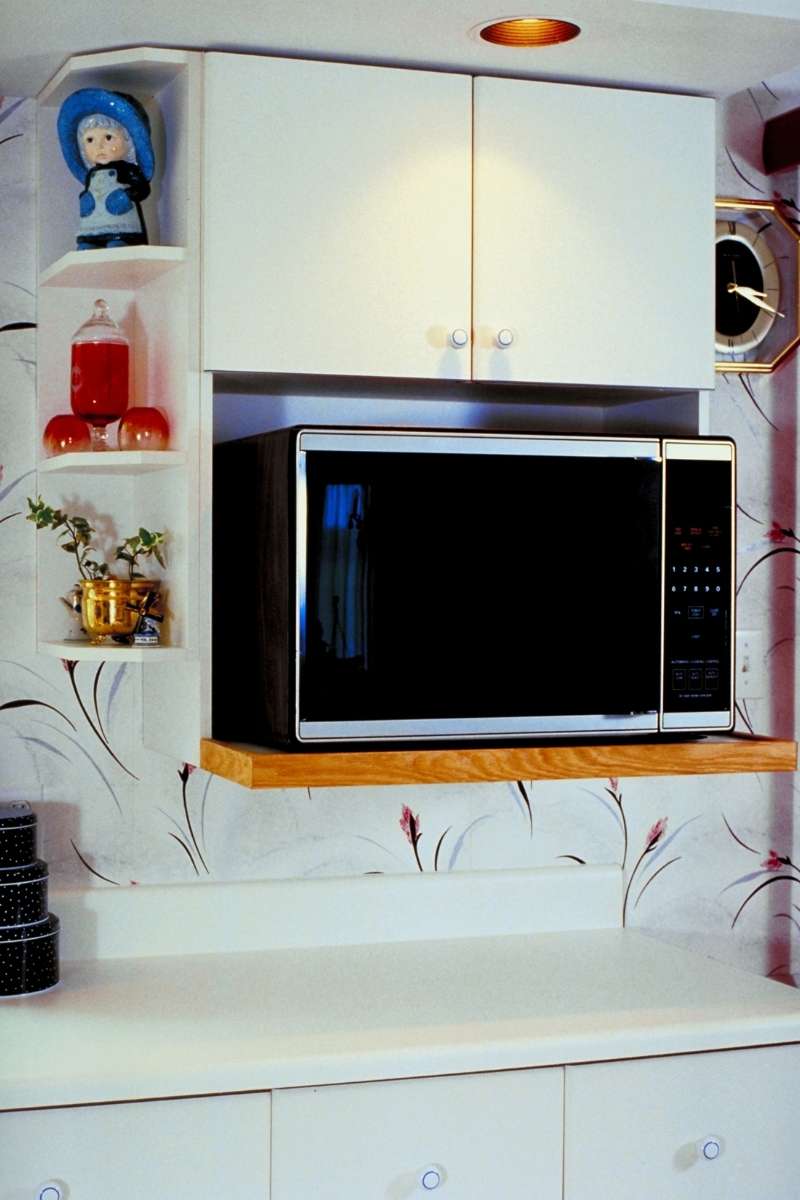 Another custom shelving option would be an upper shelf you would install directly below your cabinets if your kitchen has high cabinets with ample space between them and your counter.
You could also use hanging shelves. These are prime options if your kitchen is small because it borders an island or eating bar.
5. Wall Brackets
Simply install a hanging shelf or wall brackets over your bar or island and store your microwave within. Be sure the shelf can handle the weight of your microwave before installation.
We really like these Heavy Duty Wall Hanging Support Brackets
Maximize Unused Space
The last shelving option for storing a microwave would be on a shelf within your bottom cabinets, below your countertop.
It is not uncommon for the cabinets directly below your countertop to have fake drawers or décor that can be repurposed into a shelf for holding your microwave.
This is a good option for individuals that would prefer not to constantly reach up for their microwave.
Baker's Rack, Hutch Pantry or Microwave Rack
A baker's racks and hutch pantries are both great kitchen accessories for tiny kitchens with very limited counter or pantry space but have space along an unused wall where they can fit one of these units.
Not only can these be used to increase counter space and storage, but they are also optimal locations for your microwave. We also look at a microwave rack as an option.
6. Baker's Rack
A baker's rack is best for a tiny kitchen that has limited space along an open wall, either length or height-wise.
These units tend to be smaller than a hutch pantry and will consist of 2-4 shelves where you can store bulky items, such as a microwave, crockpot, or coffee machine, so they are off your main counter.
You can also store smaller objects such as spices, pans, and jars of cooking supplies, to free up space in your cabinets.
A microwave can be placed on one of the spacious shelves, or you can place it on the rack's built-in countertop.
This Mr IRONSTONE Vintage Kitchen Baker's Rack looks great and has excellent reviews.
7. Hutch Pantry
Many kitchen owners dream of the day they can have a walk-in butler's pantry, but if you're looking for some extra storage in your kitchen and a place to put your microwave, a standard hutch pantry will do the trick.
These pantries tend to be bigger than a backer's rack because they are built with spacious cabinets above and below a built-in counter.
This countertop of the hutch pantry is the optimal location for your microwave unless the hutch has a built-in space for it underneath or above the counter within the cabinets.
Buying a hutch pantry is a big decision, so you'll likely want to shop around, but there are some great options on Amazon you can view here which will give you some ideas.
8. Dedicated Microwave Oven Rack
Obviously, you could simply place your microwave on the countertop and be done with it. The kitchen countertop is possibly the easiest place to access and store your microwave.
There are always outlets around your counters for electricity, they are sturdy enough to handle the weight of even the heaviest microwaves, and you don't have to reach for the skies or bend towards your toes to reach it.
However, placing your microwave directly on the counter in addition to other kitchen necessities could easily lead to a cluttered counter space that leaves you little room to work.
One way to store your microwave on the counter while still providing additional storage space would be to use a microwave oven rack.
Similar to a shelf riser, these racks provide a sturdy option for creating vertical space as well as giving you a place atop to store spices, ingredient jars, and other objects that would usually take up counter space.
A microwave rack is a great solution for small kitchen microwave storage when you simply cannot think of another way to fit a microwave in a small kitchen.
This GEMITTO Expandable Microwave Oven Rack rates highly on Amazon and offers extra storage options that us small kitchen dwellers definitely appreciate.
Final Thoughts
Finding enough space to place your microwave in a small kitchen can be tricky. Fortunately, there are numerous locations, such as in your cabinets or on custom shelving, where you can store them and ensure they are not obstructing your kitchen tasks.
You can also invest in some handy kitchen accessories, such as microwave racks and a baker's rack to increase your storage space around your microwave, as well as finding a new place for it without installing custom work.
Related: