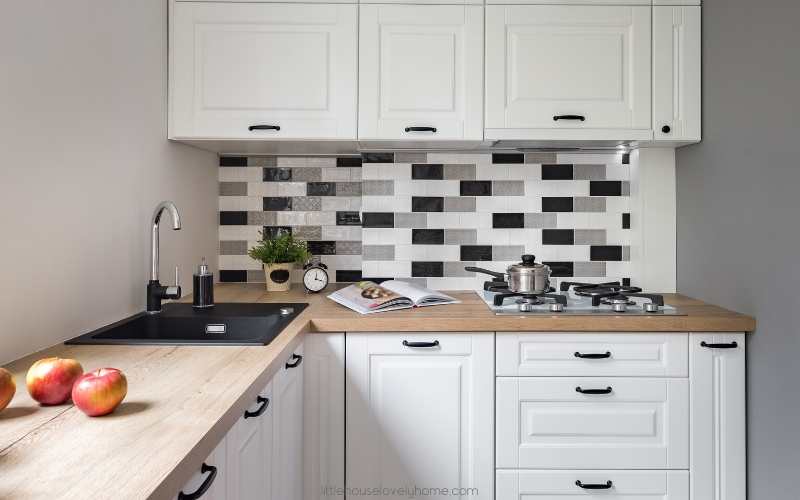 Organizing a kitchen with no pantry is a tough ask. I know, I have been searching for no-pantry solutions since we moved into our small home.
If you've recently downsized or are looking for solutions on how to effectively downsize, these no pantry solutions may be just what you need.
People say that the kitchen is the heart of the home.
But what happens when your kitchen is tiny and you're out of ideas on where to put your much-needed ingredients and supplies?
Trust me on this one…you aren't alone in this thought process or issue. Many homeowners feel the one area of their home that could be a bit bigger is the kitchen space.
A lot of homes don't have a pantry at all. If this is your space, don't fret. You don't need a pantry to have a home that's functional and flows well. You have just to get a bit clever about it.
Here are some simple no pantry solutions that could be a true game-changer in a small kitchen space.
10 No Pantry Storage Solutions for Small Spaces
From galley kitchens large open spaces, pantry's are not always a "thing". If your kitchen is lacking one, try these small pantry ideas instead.
1. Repurpose a bookshelf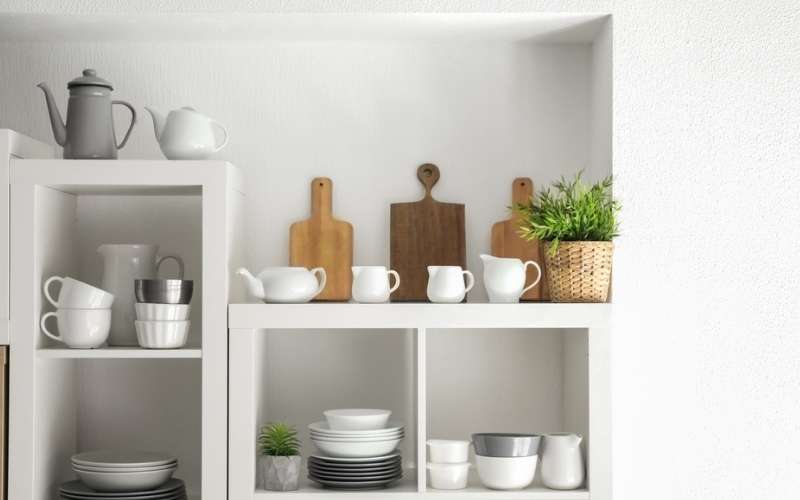 Not only does adding a bookshelf to your kitchen work really well but it's also a super affordable way to make a makeshift pantry.
First off, it's sleek and slim and can easily go right up against any wall or side of the fridge.
Secondly, it has a ton of space and shelving that can really take your kitchen organization game to a whole other level.
If you're worried about having an open pantry for the world to see, just sew fun and funky curtains to hang up and put over the front of your pantry bookshelf.
2. Use a rolling pantry
The slimline rolling pantry pictured above is a clever way to utilize any spare space you have between your refrigerator and wall or any other narrow gap.
Simply roll away when you're done.
Check it out here
3. Hang open shelving on blank wall space
More than likely, there is probably blank space on your walls that you could easily fill with shelving.
This will allow you more room to can store your plates, cups or other items as needed.
If you're not using the wall space for anything in particular, then you're just wasting precious real estate space that could be turned into more storage.
Check out these stylish wall mounted pipe shelves here
4. Use a Cabidor Storage Cupboard
I have an entire post dedicated to my adoration of this clever storage solution because it's super-versatile and perfect for small spaces.
The Cabidor is a hinge-mounted behind the door storage cupboard that you can use anywhere in your home (with a door, of course).
This is the ideal way to fit a slimline pantry into a tiny kitchen.
Read more about the Cabidor here
5. Invest in stackable storage containers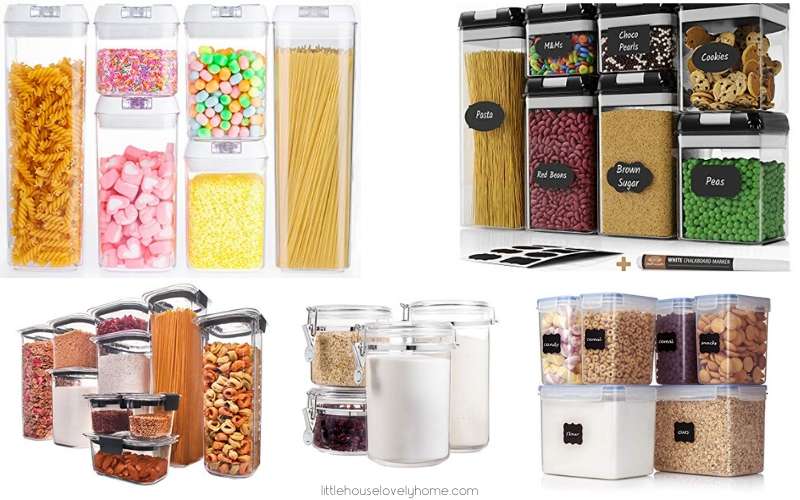 Stackable storage containers can make your kitchen look more streamlined, especially if they are on open shelving.
Investing in high-quality kitchen storage containers will allow you to reduce a lot of waste in your home too, if you shop at bulk food stores you can fill up the containers directly and eliminate the packaging waste.
Read our guide to the best dry food storage containers on the market today.
6. Make a pantry in another room
This might not sound perfectly ideal but it's a way to get your pantry without having to sacrifice too much.
If you have a storage closet or space in another area of your home, who says that you can't turn that usable space into the perfect kitchen pantry for yourself?
All it will do is cause you to have to take a few more steps to get to it, but walking is always a good thing anyway, right?
Put those extra blankets and towels somewhere else in the house and take charge of that hall closet.
What was your storage overflow closet can now be a simple solution for decluttering in your kitchen and creating a functional kitchen pantry as well.
7. Get a stacking can dispenser
These highly-rated can dispensers are designed for maximum space efficiency and ease of access. You can place them on a countertop or in any cupboard space that fits.
(Pro tip: they are amazing for organizing your fridge too!).
Some reviewers have noted using them under a dining table or in other non-kitchen spaces.
Check them out hereSimpleHouseware Stackable Can Rack Organizer, Chrome
8. Build a pantry between the studs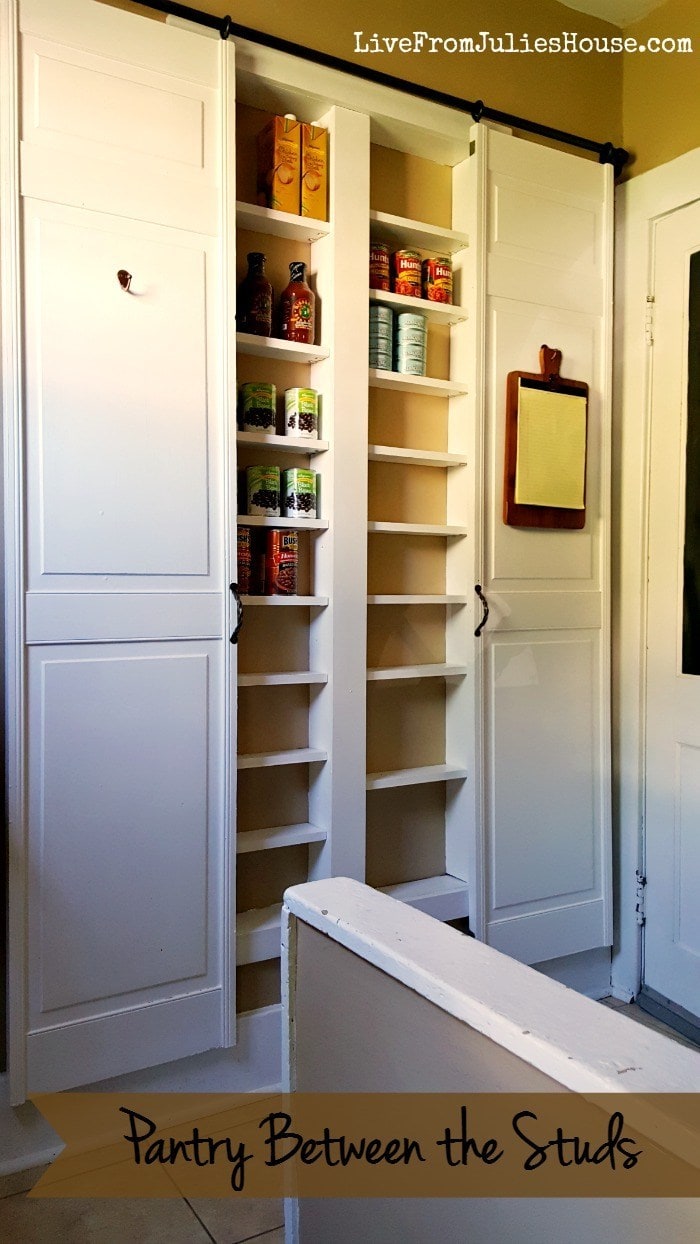 Julie from Live from Julie's house has built a pantry between the studs of her walls.
She has written an in-depth tutorial on her blog which you can find linked below.
I am in love with this idea and empathize with her on cutting into a lathe and plaster wall – utterly terrifying! But the result – WOW!
Click here to read the full pantry between the studs tutorial
9. Get a bakers rack
This bakers rack can be used for a multitude of uses including as a pantry.
If you don't like the exposed look, you could easily hang some lovely fabric over the bottom half to cover up the shelving while using the top as a handy place to put your toaster or microwave.
Check it out here
10. Minimize what you have
If you can't possibly find a way to make a space work in your creation where you can create your own pantry, then it might be time to face the fact that you need to reduce some of the items that you have.
Take stock of your plates, cups, silverware and cooking pans and ask yourself if you're using them all and if it's necessary to keep them all.
If you can easily ditch some of them, do so. Decluttering your kitchen will free up some of the space in your cabinet that you can then use to create a cabinet pantry.
Sometimes the easiest way to obtain what we want is to get rid of some of the things that we already have.
You really don't need to spend thousands of dollars remodeling your kitchen to have your pantry dreams come to fruition.
Instead, try these simple no pantry solutions above and see how well they work for you.
If after that you find that they just aren't very good solutions for what you need, you can then dive into the more expensive and time-consuming options and see what might work best for you there.
The point of having a pantry is to create a sense of flow, have a place to store your foods or kitchen supplies and to allow you to have a bit of food stored ahead of time to be able to meal plan for your family.
If you can find a simple storage solution that you can easily implement that will give you all those needs, that's a total win in my book!
Related guides
Like it? Pin it for later.