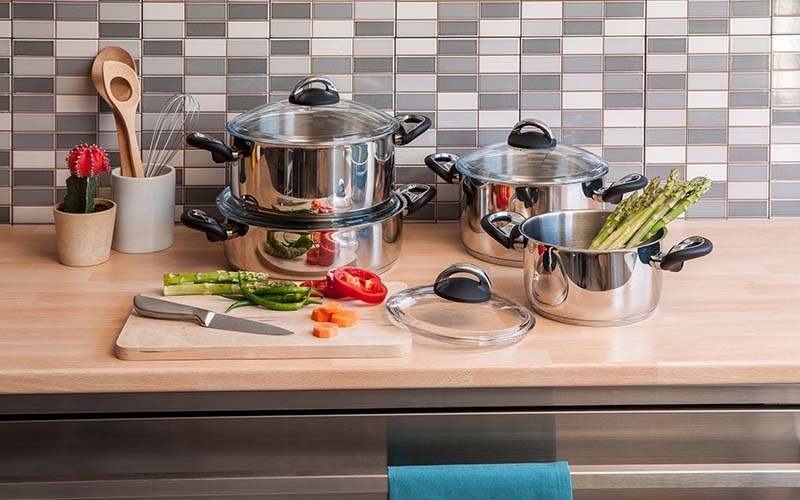 When you live in a compact condo, small apartment or tiny house, working out how to organize pots and pans can be a bit of a headache.
Being heavy and often bulky, it can be a challenge when you don't have many kitchen cabinets.
Fortunately, though, there are lots of simple, yet effective, storage solutions out there. Many of which are very affordable indeed.
With a few simple hacks, you can easily find an efficient way to store all the pots and pans you really need.
Whether you have lots of stainless steel pans of different sizes, numerous pot lids or prefer to cook using sturdy pots that can take up a considerable amount of space.
Do bear in mind that stacking pots and pans inside one another can cause damage to their surfaces, particularly in the case of non-stick cookware.
If you do this, it can also invalidate the product warranty, so it's best to find another way to store them.
Having said this, there are some ranges that are specially designed for stacking, so treating yourself to a new set of good quality cookware is always an option.
Check out the first suggestion on the list for more on this.
If you're wondering how to store pots and pans in a small kitchen, read on to discover a range of innovative ways in which to do just that.
As with most little house issues, organizing pots and pans really can be simple when you know how!
Before You Buy – Get Organized
Before you go ahead and order that pans organizer to make your kitchen more streamlined, the first step involves taking a good look at what you already have.
Do you have any pans that are damaged and have definitely seen better days?
Are there any that you never actually use?
You may also have large pots you only use a few times per year – such as for Thanksgiving and Christmas.
If this is the case, could you store these in a less accessible place elsewhere in the home, and just get them out when you need them?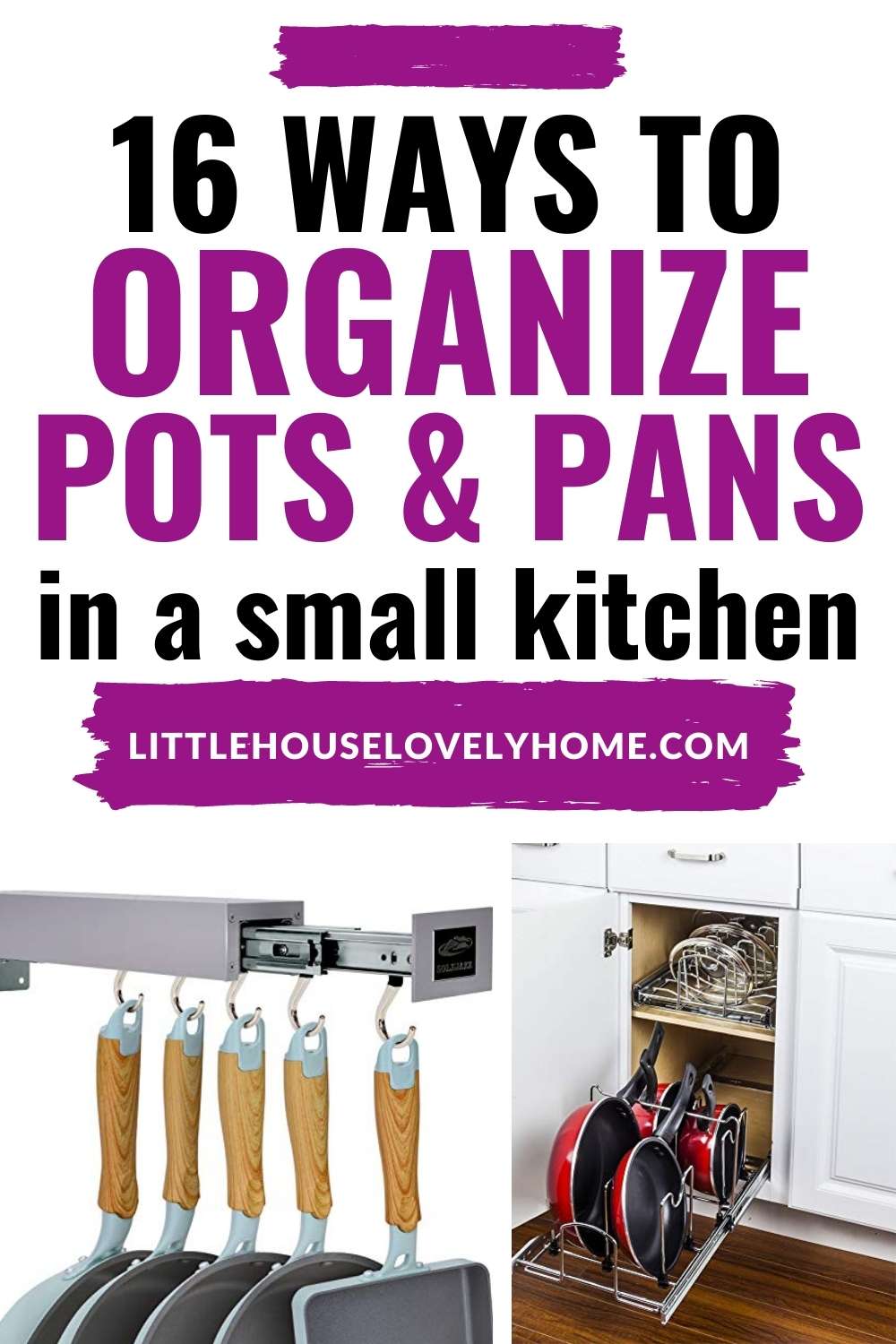 During November and December only, you could always just store them on top of a kitchen cabinet for a few weeks.
Once you know which frying pans and cooking pots you need easy access to, you can then concentrate on finding a great way to store them.
So if you need to know how to organize pots and pans, you'll find plenty of cool ideas listed below!
How To Organize Pots And Pans: 16 Space-Saving Hacks
Premium kitchenware brand Calphalon have nailed it when it comes to storing pans in small spaces. Some of their sets are therefore specifically designed for nesting inside one another.
If you're in the market for some new cookware, this top quality brand is well worth investing in. There are various options, ranging from two pieces to a pan set including five, six, 10 or even 15 items.
The latter even includes items like muffin tins and cookie sheets. A set like this is a great investment, and the non-stick coating can last up to 40% longer.
The most obvious place to store pots and pans is inside a kitchen cabinet. If you don't have many or they're small, what you need is a cabinet organizer.
With one of these, a dedicated pans cabinet can be created. Even inside a small 15 inch cupboard.
This clever organizer from Hardware Resources is a pan organizer rack that slides in and out of the cabinet for easy access.
It's designed for a 15 to 18 inch base cabinet, and the tension rods can support up to 100 pounds. Simple to install using just a screwdriver, the fixings you need are included with the package.
This item complements the previous product, and also comes from Hardware Resources. Again it's a great idea for any small kitchen, and it slides out of the cabinet in the same way.
With space for up to six, this efficient way of storing pan lids is another great way to make the most of the cabinet storage space you already have.
Even in the tiniest kitchen.
If you have a corner cabinet that's awkward to get into, a Lazy Susan organizer might be just what you need.
As it turns, it's easy to access even the items at the back.
It also has two tiers, so you can use one or both for pots and pans.
This Lazy Susan blind corner organizer can be fitted to a right or left sided cabinet, and rotates a full 360 degrees for easier access.
A stacking pot organizer is among the simplest and most affordable pans storage ideas.
If you have any heavy items, make sure you buy a heavy duty one, so the weight won't make it topple over.
This Cuisinel one is available in six colors, and the manufacturer provides a handy sizing guide to help ensure a good fit.
There is even space to store a cast iron Dutch oven on the bottom tier.
If you're not sure which way to store pots will suit your space best, you can try out three set-ups with this particular heavy duty pan organizer.
You can fix it up as a single stacking rack, or one with pot holders to both sides.
Alternatively, use it on its side like a dish drying rack.
This has some great features to recommend it, including silicone grips to hold pots in place, an anti-rust coating and eight adjustable dividers to place the shelves as you wish.
This means you can create adjustable tiers to suit the sizes of your pots.
We mention under sink storage in our piece listing small kitchen hacks, and we had to revisit this idea here.
There's no law saying that cleaning products are the only items to keep under the sink – being smaller than pans, they can easily be kept elsewhere.
The Simple Trending under sink organizer has two tiers, is adjustable, and even looks good enough to keep on the countertop if you prefer.
It can provide any small homeowner or renter with the perfect place to stash – or show off – those pots and pans.
This pull-pot pan rack can make incredibly clever use of the space inside a kitchen cabinet.
It comprises a pull-out bar that holds a number of hooks, and in turn your pots can be hung from these.
Capable of supporting an impressive 150lbs of cookware, this provides a home for even your heaviest cast iron pots.
These are great for organizing your closets too!
The highly practical StoreMore range from YouCopia includes this impressive pot and lid organizer.
This non-slip kitchen storage solution has 10 non-scratch dividers for your pans and lids.
No installation is required, and you can use this lid and pan holder on the countertop, inside a cabinet or on a shelf.
A small standard size is also available.
If you like the idea of buying an item that doesn't require even so much as a screwdriver to fit it, take a look at the Bloom pot organizer from Spectrum Diversified.
Its curvaceous design is inspired by spring flowers, so it's attractive enough to have on display.
Though it's also easy to hide inside a door.
This pan lid organizer comes in bronze or chrome finishes and is capable of storing up to four pot lids – in otherwise unused space.
Instead of using your limited floor or cabinet areas, why not make the most of some dead space by hanging your pots from the ceiling?
This single bar pot rack from Cooks Standard attracts great reviews, and features a simple yet stylish design with six swivel hooks.
This ceiling rack can also be wall mounted if you prefer.
It's easy to instal, and extra hooks can be purchased separately if required.
Make even more of the space above your head by buying this oval pot rack.
As ceiling pot racks go, this one offers great value, available in four finishes and comes complete with 10 S-hooks plus mounting hardware.
There is added space for additional kitchen items above the rack the pots hang from too.
This rack organizer can be used for storing small items, or a larger one like a stock pot.
If you have a small wall space you could use, this Cuisinart pan rack is ideal.
With a brushed stainless steel, polished copper or oiled bronze finish, it's a stylish piece that looks good and can hold six pans via the included hooks.
It comes with the necessary mounting hardware, and attracts more than its fair share of five star reviews from satisfied customers.
Another highly rated product comes in the form of this wall mounted pot rack.
As well as having 10 hanging hooks, it also has a shelf above that acts as an extra storage unit.
This is large, and has a lip round the edge to prevent items from falling off if knocked.
With a 50lbs capacity and rust-proof finish, this wall rack is a heavy duty storage solution that's built to last, and you can keep various kitchen tools on the shelf above.
If you're a fan of DIY projects and less obvious hacks, why not try mounting a towel rail to a kitchen wall – or even on the inside of your cabinet door?
We love the TocTen one, as it even comes with four S-hooks, meaning you can hang a pot as soon as it's installed.
It also comes in a choice of five sizes ranging from 12 to 30 inches, as well as five colors including chrome, brushed steel, black and gold.
Hang this below a pantry shelf like the one listed above, and you might just have more kitchen storage than you ever thought possible!
We already raved about Wall Control's pegboards in our article on creating more kitchen counter space, and they certainly deserve a mention again here.
These can be used for hanging all kinds of items – from the simple tools cluttering up your kitchen drawers to heavier items like pots and pans.
The Wall Control pegboards are available in various colors to suit your decor, and are up to 10 times stronger than the average, comparable product.
How To Organize Pots And Pans: Which Hacks Will You Try?
As you can see, there are some easy steps you can take to create more space in your kitchen for all your pots and pans.
Whether it's a pull-out shelf liner for fitting more items inside your existing cabinets, or making the most of unused wall and ceiling space, investing in the right kitchen storage solutions really can be a game changer.
If you're looking for more ideas on where to store cleaning products or spare paper towel supplies – or would like to see what type of drawer dividers we recommend – why not check out our posts on freeing up your countertop, decluttering your kitchen or creating more storage when you have no pantry?