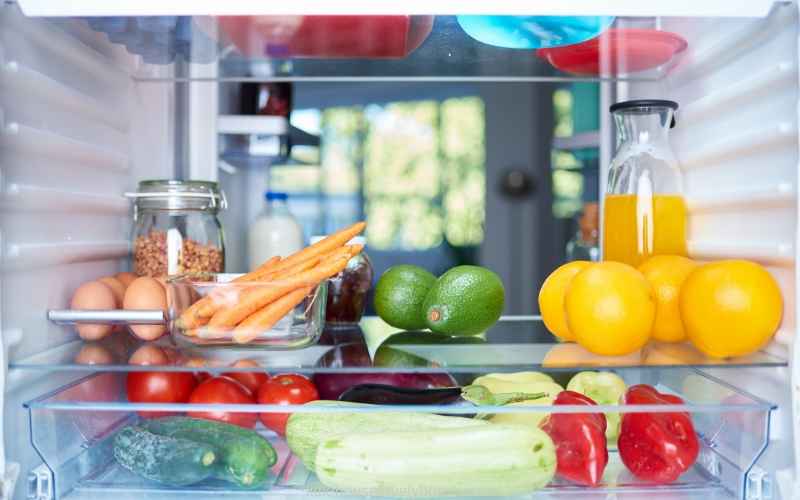 Inside: Discover doable fridge organization hacks to get your fridge back in order!
Have you ever opened the doors to your fridge and shut them right away because you have no idea what's even hiding in there?
Trust me, you're not alone.
We always stand there staring like we have nothing to eat but in all reality, it's just full of food but it's too disorganized to find anything.
If you've felt the struggle of not being able to find the cheese or butter, it's time to get organized fast.
These simple clever fridge organization hacks will have your fridge more accessible and easy to use than you ever thought possible.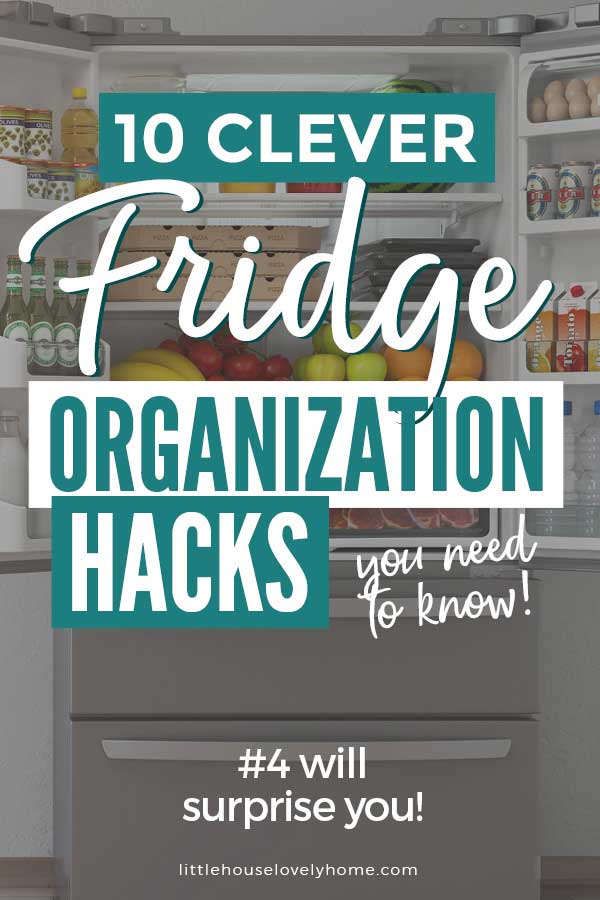 Long gone are the days of searching for anything in your fridge. All you need is a few spacing solutions to help your cheese and butter have its rightful home.
Here are some super simple fridge organization hacks that are going to make a big difference in the inside area of your fridge.
10 Clever Fridge Organization Hacks You Need to Know
Forget the thought that your fridge is only meant to hold "certain" items. The truth of the matter is, you just need to organize it a little bit better.
1. Put a lazy susan (or two) on the shelves of your fridge
Lazy susans aren't just for cabinets any longer.
Have a couple sitting in your fridge (you can get them in different sizes) and you can have your ketchup and mustards (all 17 bottles of them) easy to spin and grab in an instant.
Here are 10 Cheap No-Pantry Solutions for Kitchens With Little Storage!
2. Front Loading Beverage Can Dispenser
Drink soda or sparkling water?
Instead of having them take up a ton of unnecessary space, using this stackable beverage can dispenser to store them.
They'll even roll down to the front when you take one out which is what we all need in our lives right about now.
Check it out here
3. Create labels for your shelves
Guess what? No matter how hard you try to keep your fridge organized, it's never going to happen if other people in your household don't follow.
Create some simple labels on stickers and slap those babies on.
The next time that you ask for someone to clear that table and put the items in the fridge, they'll be able to read and know exactly where they go.
4. Add your own bins to help organize
While you might be tempted to spend a ton of money on fridge bins, you really don't have to.
If you have other plastic bins just lying around the house, pop 'em in your fridge and use them. If they fit, they'll work.
And places like the Dollar Store or other discounted avenues make them super simple and affordable to use.
Related: 24 Insanely Clever Ways to Organize Your Small Kitchen
5. Splurge on an egg holder for your fridge
We all know that eggs are fragile but letting them stay in their flimsy containers, taking up a huge area of space is overrated and a complete waste of usable area.
Grab a plastic egg holder and use that instead.
This allows your eggs to stay protected and since the container is hard, you can easily stack things on top of it as well without worry.
You might still cry over spilled milk…but never over a cracked egg again. Check them out here
6. Give each child their own dedicated snack drawer
You might not be the only one in the house digging around in the fridge.
Instead of having the kids push and move all the things around, give them each their own snack drawer that they know is theirs.
Color code or write their name on it with tape so that they can easily identify it from the start.
Then load it up with snacks and let them have fun. (just make certain that snack drawers are all "even" or there might be some sticky hands looting from other areas!)
You can find our recommendation here
Related: 10 Dry Food Storage Containers Perfect for Small Kitchens
7. Label everything
Thank goodness for whoever invented stickers.
How many times have you opened a container of "something" in your fridge and have no idea what it is? No judgment, we've been there.
This is where these labelling stickers totally help.
You can easily write down what it is and the date that you're adding it to the fridge.
This alerts everyone of their leftover options and also gives you peace of mind of knowing when it needs to be eaten by as well.
These labels are refrigerator friendly too
8. Literally spell it out so there isn't any confusion with this fridge stickers
These aren't meant to be labels but they don't leave any guessing to your family as to what they should be using first.
Because let's be real…There's always someone in every family that will open ANOTHER bottle of ranch dressing when there is clearly one already opened in the fridge.
Sticking this "Use First" sticker on certain items is a great way to keep your fridge clean and clear of a zillion repeated items.
We love these stickers.
9. Use magnets to hold up your beer bottles
Beer bottles really don't need to take up precious space in your fridge.
Plus, if you lay them down on their sides, they just roll all over the place. So annoying.
The solution?
Stick magnets on the top of the fridge roof on the inside and have your bottles hanging down, out of the way.
Not only does it look super cool but it frees up a bunch of space as well.
These ones are super strong
10. Use binder clips to clip bags of cheese to the bottom of the shelves
If you stop and think about it, there is so much unused space on the inside of your fridge.
If you have bags that are lightweight or almost empty, use simple binder clips to hang them from the wire racks on your fridge.
And if your fridge is newer and you don't have binder racks, you might be able to do this in your freezer area instead.
Regardless, it's a totally cool hack to free up some space in your fridge.
See how simple it can be to whip the inside of your fridge into shape?
These clever fridge organization hacks are ones that you can literally implement today.
Stop getting frustrated with your fridge and take charge instead!
Related: 24 Insanely Clever Ways to Organize Your Small Kitchen
Do you have any other fridge organization hacks to share?