With the air fryer taking center stage in kitchens everywhere, it's time to start thinking about what you can do to preserve both the life of your machine as well as the counter underneath.
In this article, we will talk about some of the best ways to protect your counter so you can safely and confidently use your air fryer.
5 Products That Go Under Your Air Fryer to Protect Countertop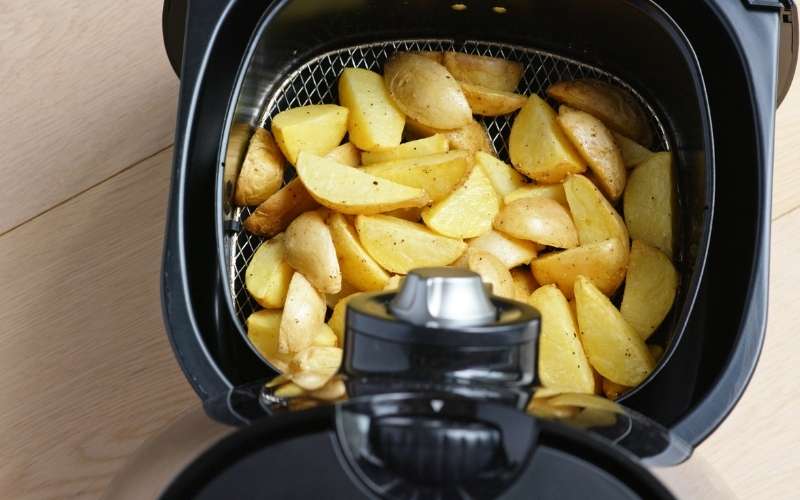 Silicone mats are an ideal solution for placing under your air fryer because they are able to handle high heat, skid-resistant, and easy to clean.
Many people also use wooden blocks, sheet pans, a stove range, and cutting boards, but these aren't the best options since they cannot handle high heat and may be slippery, which can lead to accidents.
When you're choosing a heat-resistant mat for your air fryer, you should make sure that it's heatproof to at least 450 degrees Fahrenheit.
It should be large enough to completely cover the area under your air fryer and have a thickness of at least 1.5mm.
If you make sure your silicone mat has these features, you will be able to cook all of your favorite foods with ease and without worrying about ruining the countertop underneath.
Here are some of our favorite options for protective heat-resistant mats:
This package comes with two 9″x12″ mats that are lightweight, heat resistant, and perfect for placing under your air fryer.
They come in many different colors, so it will be easy to find a shade that matches perfectly with your kitchen decor and countertop.
They are dishwasher safe and will not discolor from food stains or heat.
They are non-slip and designed with a texture that will both hold your fryer in place as well as allow a small amount of airflow that can help reduce heat transfer to your counters.
This set of silicone mats is perfect for those who need a larger surface protected from heat.
It comes with two 25″x17″ mats that can hold more than just an air fryer but also baking sheets or cutting boards.
This way, you can easily prepare all of your meals on the mats and simply wash them when you're finished, protecting your countertop the entire time.
These mats are also heat resistant to up to 466 degrees Fahrenheit, skid-resistant so your cookware won't slip around while you're cooking, and easy to clean with soap and water.
They won't absorb odors, discolor, or become brittle and break. Simply handwash them, roll them up and slip them into a drawer when you're done using them.
These are the most durable heat-resistant mats that can be found on this list.
They can withstand temperatures of up to 570 degrees Fahrenheit and are 4 mm thick, almost three times as thick as most silicone mats.
The mats are made of a durable combination of felt and silicone on each side.
One side helps to prevent slipping on the counter while the other felted side allows you to easily move your air fryer on the mat.
You can also easily cut these mats down to customize their shape and fit to the specific measurements of your air fryer, making your kitchen look cleaner and reducing visual clutter.
If you're looking to prevent scratches on your countertops that are caused by sliding your air fryer around, appliance sliders can be a perfect solution.
Many people prefer these to the more traditional appliance tray because they are attached to the bottom of your air fryer and don't take up any additional counter space.
These can be paired with a heat-resistant mat for ultimate protection and safety.
They are made of high-density foam so they won't scratch your countertops and will prevent slipping.
These can be used to move all types of appliances, not just an air fryer, making them a great investment for future kitchen projects as well.
These protective mats provide peace of mind when using your air fryer in the kitchen.
For those who are looking for more rigid support for their air fryer, this silver counter protector is a perfect choice.
The metallic top is able to withstand the heat of an air fryer and the rubber backing provides a scratch and slip-free surface for the counter.
The silver finish looks great in any kitchen and the two-pack ensures you will have enough for larger air fryers and multiple projects at once, making it a perfect gift as well.
Many people like using these protectors in small kitchens or RVs since they can be placed on a cool stovetop range to extend counter space in a stable and safe way.
This pack comes with two counter protectors that measure 17″x20″ each, so you'll have plenty of coverage for both your air fryer and your prepping area.
Does an Air Fryer Damage Countertops?
If you're using your air fryer on a regular or daily basis, then you may need to consider investing in an additional mat to protect your countertop to prevent countertop damage.
If your countertop is damaged, it will likely darken and take on a burnt look. This can't be cleaned or scrubbed off, so it can be a costly mistake that is easily avoidable.
Your countertop material will also play a large role in how much heat it can withstand. Let's take a look at the different surfaces you'll encounter in the kitchen.
Marble
This is a luxury countertop material that can be found throughout kitchens all over the world, but it's also one of the most fragile when it comes to heat damage.
It should never come into contact with an open flame or direct heat, because even low temperatures above 200 degrees Fahrenheit will cause it to crack.
Concrete
This countertop material is durable and long-lasting, but it can also crack if exposed to high heat for an extended period of time.
This is usually due to the sealant that is used to set the concrete counter into place, which can be heat-sensitive.
Granite
Unlike marble or concrete, granite is able to withstand direct heat and can even be set directly onto an open flame without any damage.
It's naturally resistant to both scratching and cracking, and can handle temperatures of up to 1200 degrees Fahrenheit.
This is an ideal material for those who want to regularly use hot appliances on their countertops.
Stainless Steel
This countertop material is one of the most durable and heat-resistant.
It can handle both hot appliances as well as pots, pans, and sheets that come directly off of the stove or out of the oven.
Soapstone
This is a luxury countertop material that has been used for centuries.
It's resistant to heat and scratching, but it can be chipped or scratched if exposed to high temperatures on a regular basis.
Tile & Laminate Countertops
These are both affordable options that offer stability as well as protection from your air fryer.
They are able to withstand high heat because they're either glazed or sealed, but the grout lines can become damaged if exposed to direct flames for too long.
Final Thoughts
Regardless of what type of countertop you have, it's always a good safety measure to protect it from your air fryer and other hot appliances.
In addition to minimizing surface burns and scratches, protective mats can also make prep and cleanup easier since they are flexible, washable, and easy to store.
If you've been wondering what to put under an air fryer, a counter protector is your best option for both convenience and durability.
Which counter protector worked best for you?
Let us know in the comments below, and happy countertop cooking!
Related guides: