It's a place where you can eat, entertain, and decorate. These small kitchen island ideas will help you decorate and design a dreamy small kitchen!
Oh, kitchens, the busiest rooms in the entire house! That blessing comes with some storage frustrations too. Kitchen islands are a serious lifesaver. When you don't have room for extra food prep or entertaining, they can open up so many possibilities.
They give you room when you are trying to organize your small kitchen – plus, they look wonderful too!
11 Dreamy Small Kitchen Island Ideas
I found some amazing ideas for you. Browse them and pick out your favorites. Don't forget to pin this post so you can come back to it when you're ready to update your own kitchen.
While you are here, if you don't have a pantry, check out some food storage ideas that will give you your countertops back!
1. Wood Pallet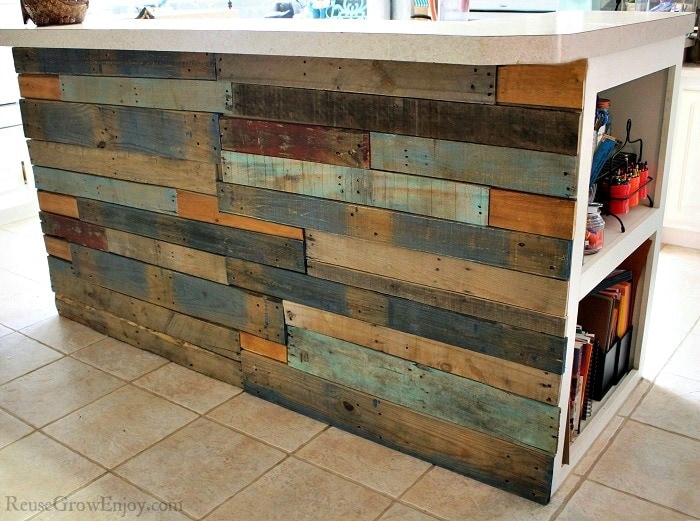 This idea is perfectly rustic and charming. Reuse Grow Enjoy has a really creative idea that adds color and texture to your kitchen.
If you have a kitchen with monochrome colors and you want to add some different shades and tones to it, this is a fantastic idea. It adds visual charm too – and it's pretty cheap!
2. Chalkboard Front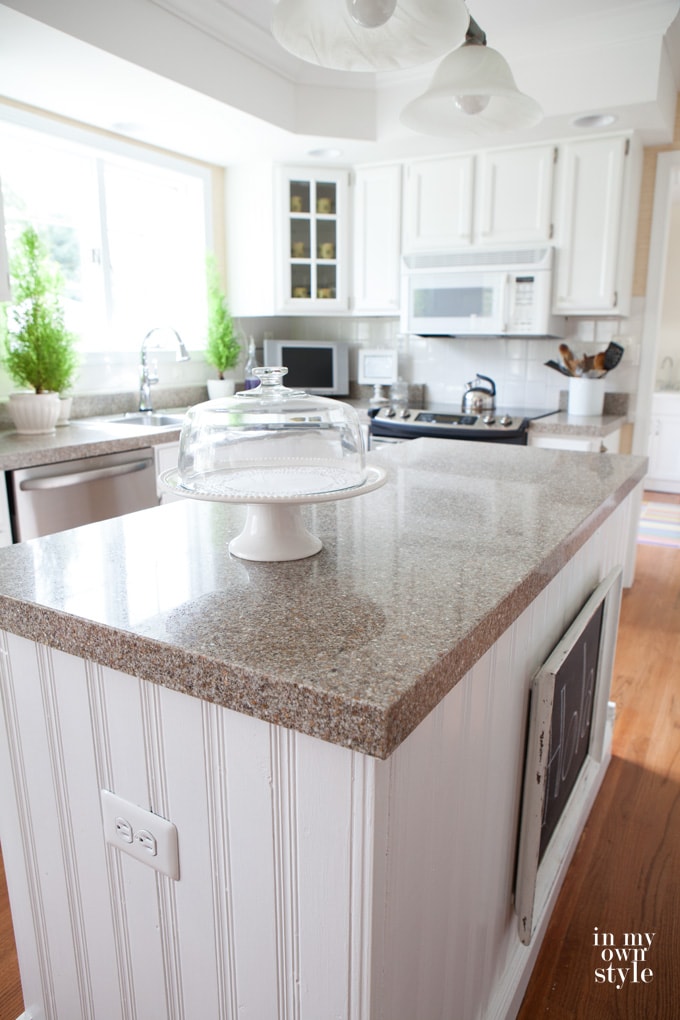 If you love earth tones and white/grey neutrals, then you will love the kitchen on In My Own Style. My favorite feature of all is the chalkboard sign that is hanging on the front.
I also really like the outlet on the side. When you update your kitchen island, remember to consider where you are going to plug things in when you need them.
3. Stainless Steel Kitchen Island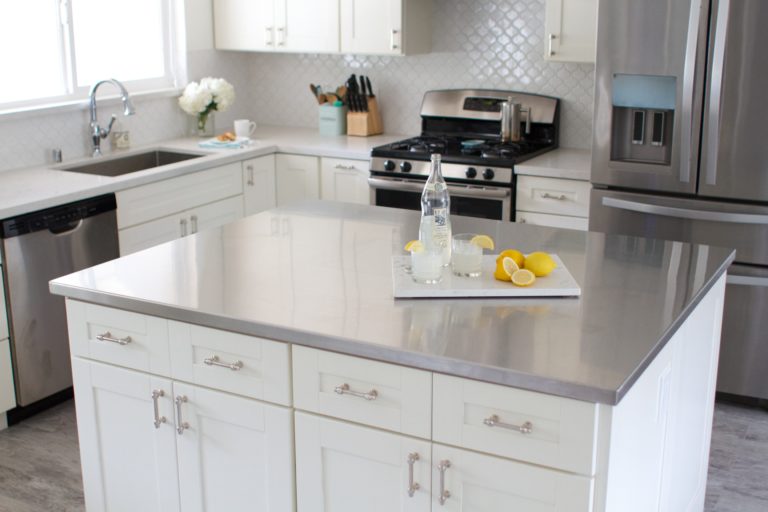 Now you can get a kitchen island that matches the rest of your kitchen appliances.
This Bliss Life introduces you to the stainless steel countertops and how to take care of them. The result is a shiny and durable countertop that will outlast you other countertops.
4. Radio Stand Upcycle Idea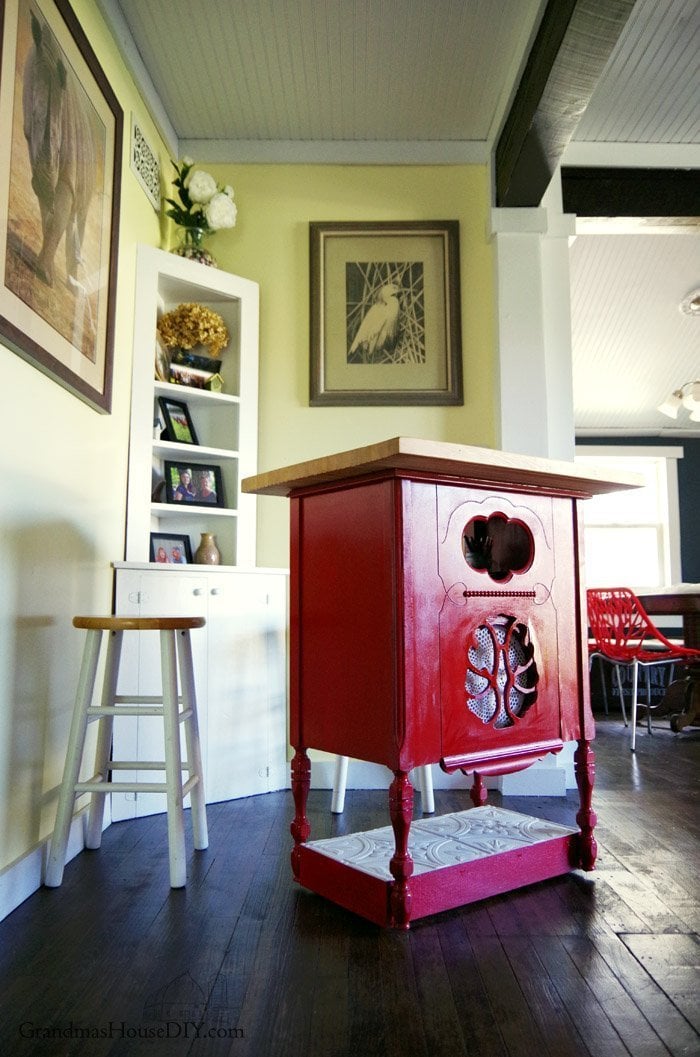 Even if you don't think you have room for a huge kitchen island, you can still enjoy the perks of extra workspace. All you need is a piece of furniture that you can upcycle.
Grandma's House DIY totally redid a cute radio stand and the result is remarkable!
5. Extra Storage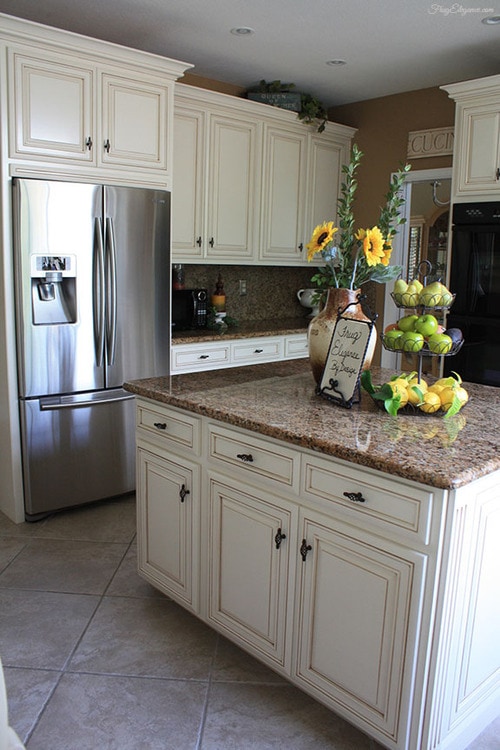 If you do have space in your kitchen to add a spacious island, make sure it comes with plenty of cabinet storage too. That's the perk of an island – like the one here from Frugal Elegance.
Now you have even more space to store what you own. Some islands come with hidden things like extendable cutting boards and pocket trash cans.
6. Hang Pots and Pans Above the Island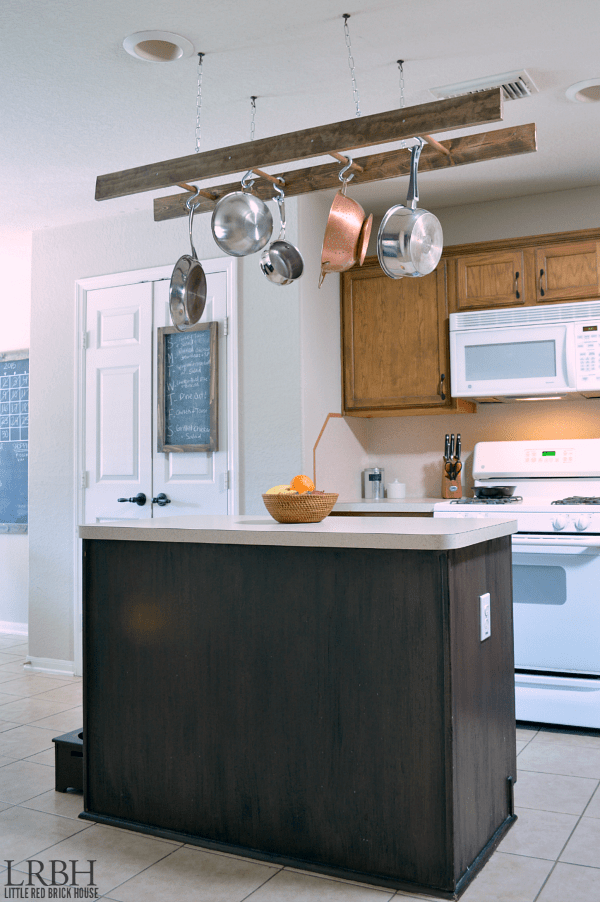 Another storage trick in smaller kitchens is to hang up your pots and pans from the ceiling.
The idea from Little Red Brick House uses a ladder and some S hooks. It is very simple and cost-effective.
This is a great idea when you have an island without a lot of extra storage.
7. Extra Counters For Bonus Seating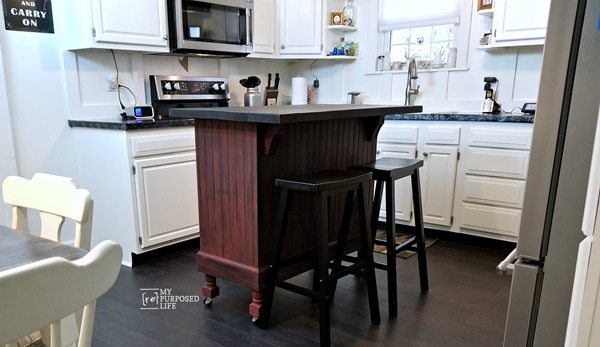 If you have a smaller space, add some wheels to your kitchen island.
My Repurposed Life did it and the results are fantastic. Now she can move it closer to her sink or even out of the kitchen if she needs more room.
8. Wood Top Island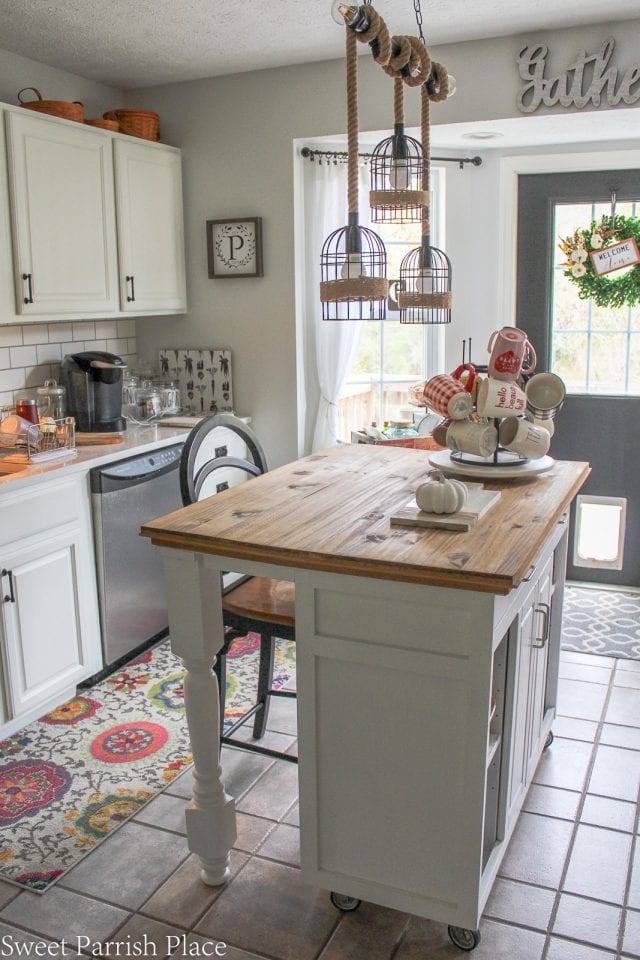 Do you love DIY projects? You can make your own kitchen island countertops out of stained wood.
Sweet Parish Place totally redid her island the results are like night and day.
If you add wheels to your island, you can turn it around and move it out of the way when you need the space.
9. Rolling Cart Island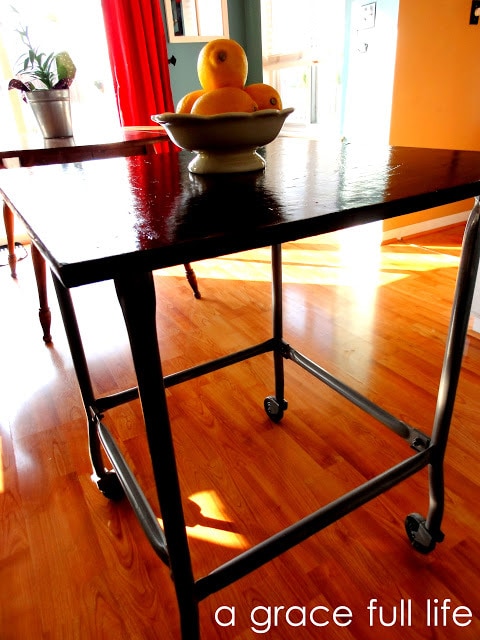 Look at thrift stores or second-hand shops for rolling carts.
These fit in the corner or you can use them as a portable kitchen island too. A Grace Full Life found one and gave it a new life.
10. Display Seasonal Decor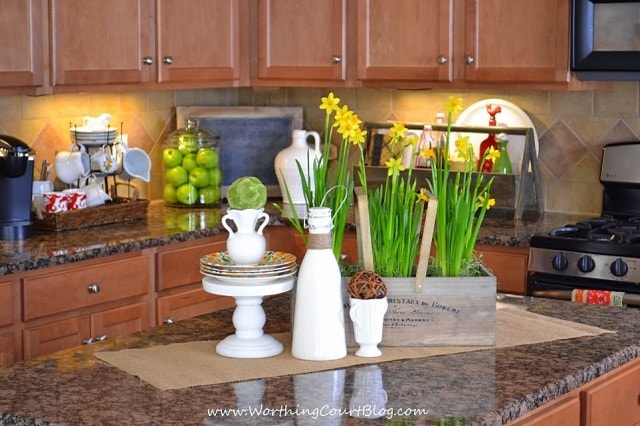 The space on your kitchen island is the perfect area to stage seasonal decor.
Have fun with it! Worthing Court changes her island décor every season.
Another side benefit of decorating your island is that you are less likely to allow clutter to build up on it when it's pretty to look at. Take pride in your kitchen and dress it up!
11. Subway Tile Kitchen Island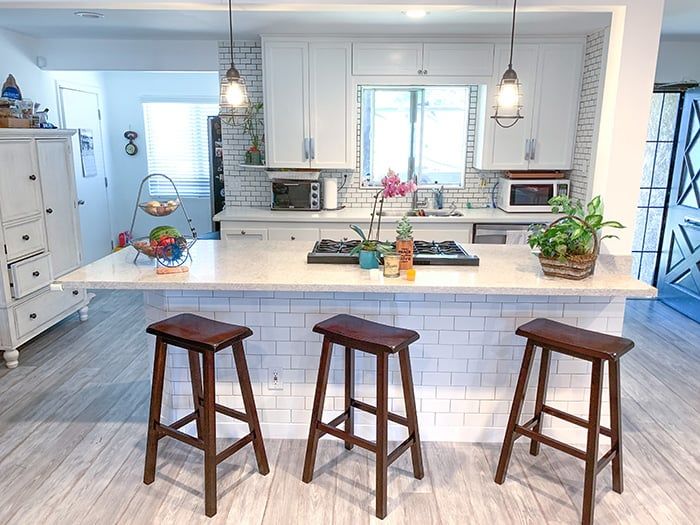 Yes I know it's not a tiny kitchen island but I wanted to share to give you an idea of how the subway tile can be used to dress up an island, no matter the size.
The subway tiles around the base are so creative and match the backsplash around the entire kitchen. Hungarican Journey has tons of photos that you'll just adore!
Most Popular Features of Kitchen Islands
When you create or update your kitchen island, there are lots of things you need to consider.
Ask yourself the following questions so you make sure you are getting the most out of it:
How much storage space do you need?
What is the main purpose of the island?
How do you want it to look?
Does it need to have seating?
The most popular things about islands are that they almost double the working kitchen space.
All of a sudden, you have more space to do food prep or set out décor and food at parties.
Plus, if you have an open concept home, the kitchen island creates a visual separation between the kitchen and the living room.
The most popular features of the kitchen island are:
Eating Space – people love setting stools up to the overhanging bar space.
Food prep – a wide, open countertop is perfect for all your food prep needs especially in a small house.
Cooking – some kitchen islands come with sinks, stoves, even ovens, and microwaves.
Storage – Lots of kitchen islands come with cabinets, drawers, and shelves.
Decoration – The extra counter space is the perfect place to display seasonal décor
Final Thoughts
The most important thing is to make your kitchen island work for you.
I hope these ideas inspire you to look at your own kitchen and dream of ways that you can create an option that is completely unique.
Answer the questions I shared above and do what works for you, not what's on trend.
Related guides: