The best 18-inch dishwashers are perfect if you live in a small apartment or have a tiny kitchen where space is at a premium.
These compact dishwashers for small spaces are ideal if a standard size dishwasher would take up too much room, yet you still want to have the convenience of a dishwasher.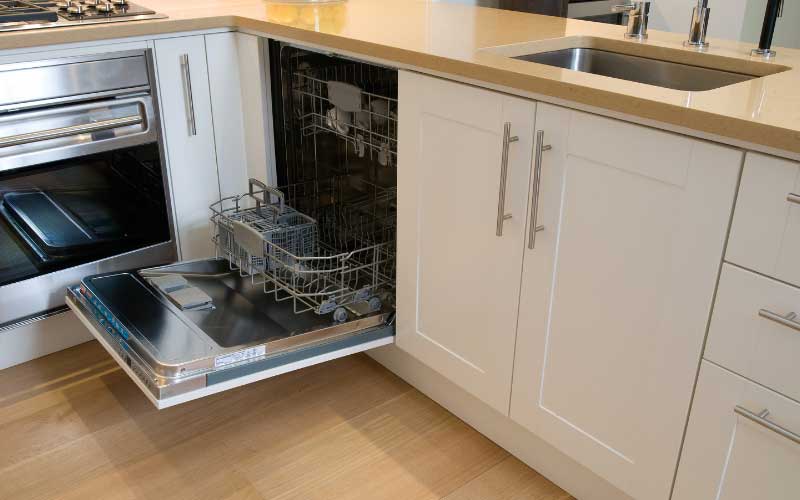 If you need help deciding which is the best 18-inch dishwasher for you, then you are in luck!
In these best 18-inch dishwasher reviews, I will tell you everything you need to know to buy the perfect 18-inch wide dishwasher.
This guide will provide tips on what to look for when purchasing the best slimline dishwasher as well as take you through some of the best rated 18-inch dishwasher options currently available.
Best 18-Inch Dishwasher Overall: Bosch 18 Inch Dishwasher
Don't have time to read my entire review? If you are looking for the best compact dishwasher, I recommend the Bosch 18-inch dishwasher.
I love this because of the fact it can fit up to 10 standard place settings, compared to the usual 8. The 3 adjustable racks are great because you can move them to fit in bigger dishes such as mixing bowls or serving plates.
The 'PrecisionWash' that can sense how dirty your dishes are is fantastic! And the choice of 6 wash cycles (including the water-saving half wash!), 5 water temperature and variable water pressure makes this dishwasher the overall winner in my books.
Click here to check the price of the Bosch 18-inch dishwasher>>
Keep reading below for more information on the Bosch 18-inch dishwasher.
Best Compact Dishwasher Options: Compare 18-Inch Dishwashers
Don't have time to read the entire top rated 18 inch dishwashers guide? Below is a table listing out the various 18 wide dishwasher options that I review below.
You can quickly see the different 18-inch dishwashers for sale and compare their features side by side.
For more information about these small compact dishwasher options keep reading my full slimline dishwasher reviews below.
Types of 18-Inch Dishwashers For Sale
There are two narrow dishwasher options available, either an 18-inch portable dishwasher or an 18-inch built in dishwasher.
18-Inch Built In Dishwasher
The most popular type of dishwasher is the built in type. A compact built in dishwasher is designed to be permanently installed under the kitchen bench for an integrated look.
Ideally you would purchase a built in 18 inch dishwasher to replace an older one, or if you are renovating your kitchen. Otherwise you would be better off with a compact portable dishwasher.
18-Inch Portable Dishwasher
If you're renting or don't have a designated space for your narrow dishwasher, a portable dishwasher really is the only option.
These types of compact dishwashers for sale are quick and easy to install, but as they are stand alone, they don't usually look as good as the built in type.
Best 18-Inch Dishwasher Reviews 2023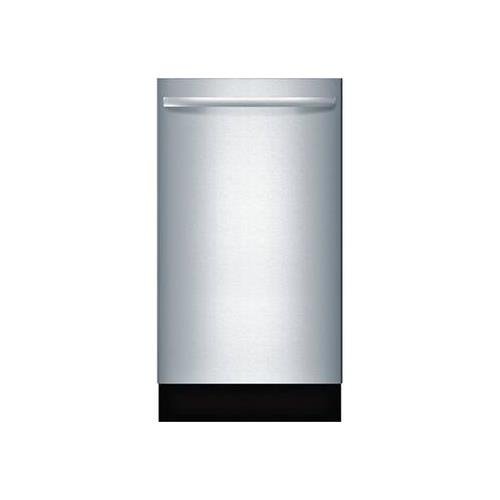 If you want the best of the best when it comes to 18-inch dishwashers, then you will want the Bosch 18-inch stainless steel dishwasher.
Unlike all the other 18-inch dishwashers in these reviews, this stainless steel Bosch compact dishwasher can accommodate up to 10 place settings, this is thanks to the 3rd rack which offers 30% more loading capacity.
This 3rd rack is perfect for smaller items such as silverware and large utensils. All of the racks can also be adjusted to three different levels, so your dishwasher can accommodate a range of different size dishes.
There are a variety cycle options including the sanitize option which increases the temperature ensuring a hygienic wash.
Another great cycle is the ½ half load which uses less water enabling you to clean the dishes despite the dishwasher not being full.
You'll also love the 'PrecisionWash' which means that it senses how dirty your dishes are and adjusts the level of water required to ensure a perfect wash every time.
Some other great features of this Bosch 18-dishwasher are the quiet operation, LED remaining time display, 6 different programs, 5 temperature options, variable spray pressure and 24 hour delay start timer.
This is a highly recommended dishwasher, which is clear from reading any of the Bosch 18-inch dishwasher reviews with customers absolutely raving about how sparkly their dishes come out of this lovely quietest 18 inch dishwasher.
The Frigidaire 18-inch dishwasher can wash up to 8 place settings easily with a touch of a button.
It features 6 cleaning cycles including Energy Saver, Light Wash and Heavy Wash – so you are sure so find a cycle that will fit your cleaning needs.
For the wine lovers out there, the China/Crystal cycle gently but thoroughly washes your delicate stemware by reducing the wash pressure by 30%. There is also the option of a high temperature wash.
The Frigidaire compact dishwasher has 2 racks which each have their own spray arms, and a silverware holder. The upper rack has a flip down rack where you can place your bigger utensils.
A low rinse aid indicator light, removable, self-cleaning filter and a premium stainless steel interior round out the features.
Customers love how quiet this Frigidaire 18-inch dishwasher is, and especially love the fact that it has a delay start option of 1 to 24 hours.
What makes this best small dishwasher really stand out is the two dry options – the 'heat' dry or the no heat 'Energy Saver dry', making this dishwasher energy star compliant.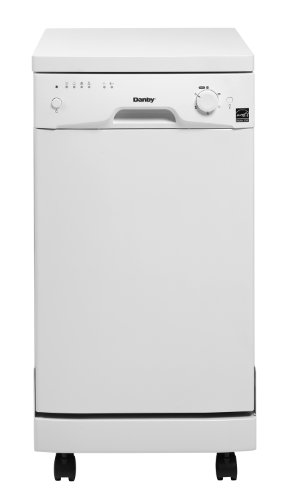 The Danby 18-inch narrow portable dishwasher is a highly efficient model that boasts a low water consumption function (only uses 3.5 gallons of water per wash!) and is Energy Star compliant and compliant on your wallet!
This white portable Danby 18-inch dishwasher is perfect for small kitchens that lack space, and the built-in castors make moving it out of the way a breeze.
The quick connect feature is compatible with most faucets, and only takes a few seconds to set up.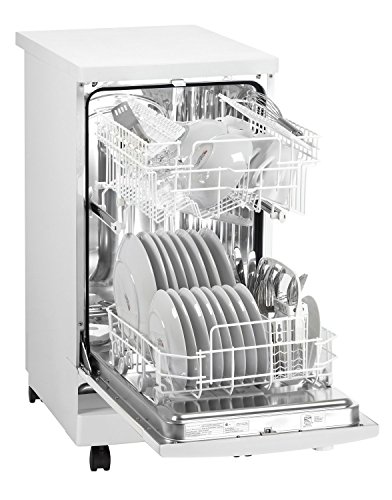 This unit has an 8 place setting capacity, silverware basket (which can be taken apart to halve the size) and 2 racks.
Each rack has its own spray arm, and you'll also find an automatic detergent dispenser and rinse-aid dispenser. The built-in water softener system is great for areas that have hard water. This dishwasher also dries!
The simple, intuitive electronic controls make programming one of 6 wash cycles (Intensive, Normal, Economy, Rapid, Glass and Soak) simple.
The 12-month warranty on parts and labor with in-home service makes this a great choice for the best 18-inch portable dishwasher.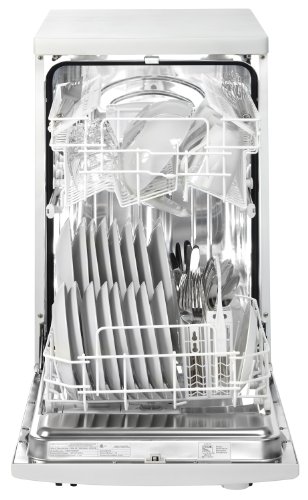 Danby 18-inch portable dishwasher reviews report that the unit is whisper quiet – a blow dryer is louder! It is highly recommended by customers.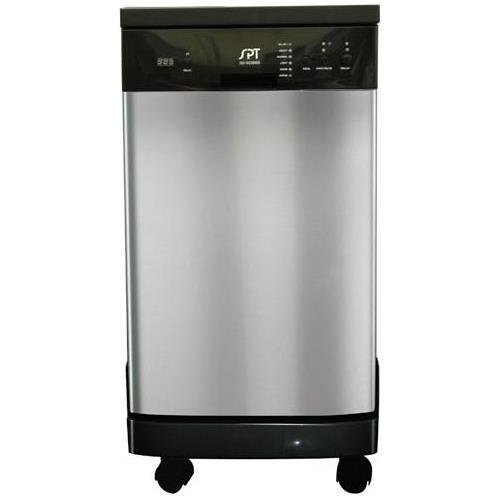 The 18-inch SPT Energy Star Portable Dishwasher is the best price 18-inch dishwasher out of the portable dishwashers on this list.
Available in black or stainless steel, it has a spacious capacity that will fit up to 8 standard place settings and has an adjustable upper rack to fit in larger plates and pots.
Washing your dishes is as quick and easy as connecting to a kitchen faucet – faucet adapter included! There is no need for permanent installation or direct plumbing.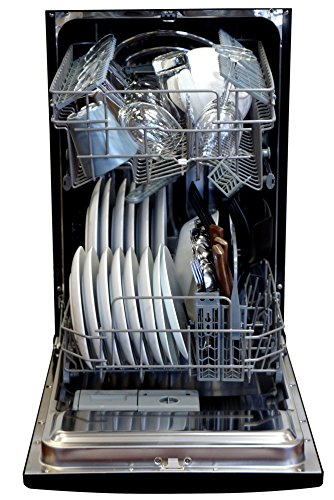 It has six different wash cycles (All-in-1, Heavy, Normal, Light, Rinse and Speed) in addition to an automatic detergent dispenser and a rinse aid dispenser (with refill warning indicator) for your convenience.
Each rack has its own spray arm. The drying system uses residual heat drying, which is one of the best hygienic ways to dry dishes, as it avoids the use of air from outside the dishwasher.
The SPT 18-inch portable dishwasher stainless steel interior and exterior is durable, allowing it to be fully transportable and resistant to damage.
Additional features and functions include easy controls, the time delay feature of 1 to 24 hours, an error alarm that displays fault codes and a water temperature up to 154°F.
The hose and cord are retractable and fit inside of the dishwasher when not in use.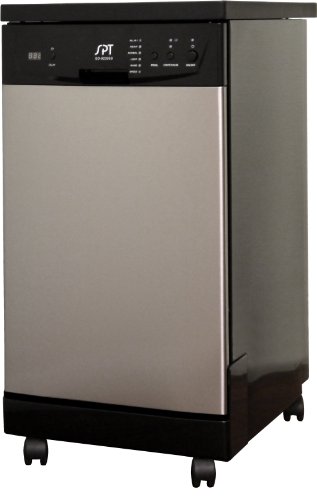 18-inch portable dishwasher reviews all highly recommend this dishwasher – they say it has all of the features of a built in, is very quiet, and leaves the dishes spotless – even the ones covered in dried mac and cheese!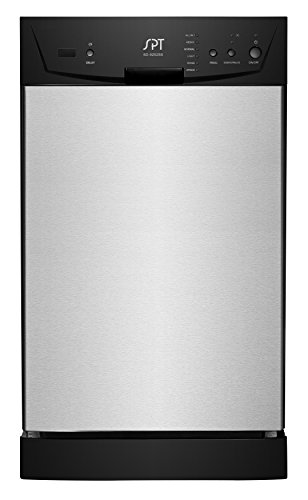 When it comes to an 18-dishwasher, lowest price options aren't always the best option, except for this SPT Energy Star rated built-in dishwasher.
This is the lowest priced dishwasher in these reviews and the Amazon #1 best seller!
With the compacity to fit up to 8 place settings, 6 wash programs to choose from (All-in-1, Heavy, Normal, Light, Rinse and Speed) and quiet operation, this dishwasher is perfect for any small dwelling.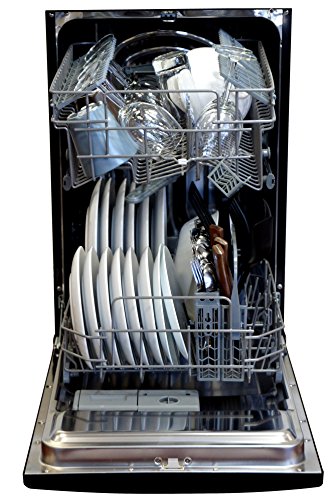 With similar features and functions to the portable version, it features 2 dish racks, with the upper rack able to accommodate larger plates or pots.
Each rack has its own spray arm for complete cleaning coverage inside the stainless steel interior.
A silverware basket holds utensils for easy cleaning, and the upper rack has fold down shelves for the large cooking utensils.
The refill reminder on the rinse aid is super handy, as is the time delay option that allows you to program a wash cycle for later (1 to 24 hours). Any faults with the unit are displayed by the error alarm.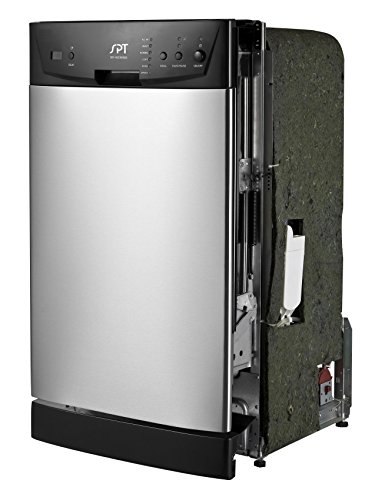 The unit uses residual heat dry the dishes – or you open the door to allow them to air dry.
The unit is designed for top-mount installation and includes top-mount brackets. If you want to side-mount it, you will need to buy the brackets separately.
Buying Guide – Best Rated 18-Inch Dishwasher
If you want to purchase a top rated 18 dishwasher that meets your individual circumstances, consider the following features:
1. Size
As you can see from the table able, not all 18 inch compact dishwasher options have the same dimensions.
Before purchasing a dishwasher, make sure that the space you have allocated for your dishwasher is adequate for the height and depth of the dishwasher.
2. Capacity
How many dishes do you want your dishwasher to be able to hold? As you can see from the table above, most 18 inch dishwashers can accommodate place settings of 8, but there is the exception with the Bosch dishwasher having the ability to take up to 10 place settings.
What are you likely to be putting in the dishwasher? Pots and pans or just plates and glasses?
Pots and pans of course will take up more room, not just long ways but also in height. Some dishwashers have racks that move up and down so you can make room as required for bigger pots and pans.
I'd recommend reading compact dishwasher reviews and see what other customers say their 18 inch dishwasher can comfortably accommodate.
3. Price
There is quite a large variance in terms of 18-inch dishwasher prices. A cheap 18 inch dishwasher will cost around a few hundred dollars, right up to the top of the line dishwashers that can be over one thousand dollars.
The more expensive dishwasher is not always the necessarily best, however the best 18 inch dishwasher is usually one from a well-known reputable brand, as it is likely to last many years as opposed to a budget model.
4. Cycle Settings
Most dishwashers have multiple cycle settings, so you can choose the most appropriate setting depending upon what you are cleaning.
For super dirty pots and pans a heavy cycle is usually best, whilst for everyday dishes a water saving cycle usually will suffice.
5. Energy Efficiency
In order to save costs on electricity, its important to purchase appliances which use less energy, and dishwashers are no different.
6. Noise
Living in a small space, the noise level of your dishwasher is pretty important. You don't want your dishwasher so loud that you can't hear the television.
I'd recommend looking out for any complaints in various customer reviews rather than relying on claims from manufacturers that their dishwasher is super quiet.
7. Look
Dishwashers come in a few different color and finish options, with white, silver, black and stainless steel being the most standard.
If you have your heart set on a certain finish or want your dishwasher to match in with existing kitchen appliances, be sure your dishwasher of choice comes in the finish you want.
18-inch Dishwashers – Frequently Asked Questions
Why are 18-inch dishwashers more expensive?
You might expect to pay less for a smaller dishwasher but unfortunately that is not the case. There are a couple of reasons 18-inch dishwashers are more expensive than their standard sized counterparts.
The first reason is features – 18 inch dishwashers have almost identical features to larger machines. You really are getting a fully functioning dishwasher – it's just not as wide.
The second reason is the smaller range available. 18 inch dishwashers are not yet mainstream so fewer brands produce them. As demand for narrow dishwashers increases, there will be more producers entering the market and prices will reflect the increase in supply.
As pointed out by Dirk Sappok, director of product development at Miele, when talking to Consumer Reports "You don't buy an 18-inch dishwasher to save money or efficiency. You buy it to save space.".