Hanging curtains on a rod is the most common way to hang them, but it's not always necessary. There are many different ways to hang curtains without rods.
This can be helpful for those who don't want to drill holes in their walls, want a unique look in their home, or have an odd space that can't accommodate a standard curtain rod.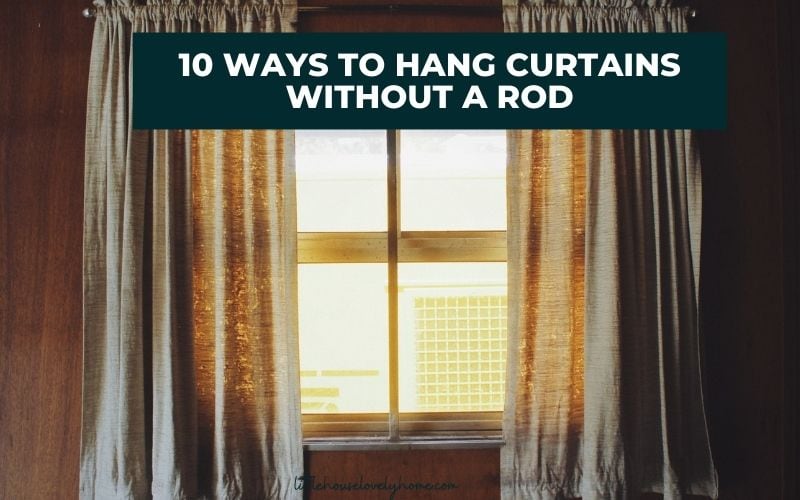 Hang Curtains Without a Rod: 10 Ways
Here are 10 great hanging curtains without a rod ideas that are ideal for those who need an easy, affordable, and aesthetically pleasing alternative.
1. Tension Rods
If you want something that looks similar to a traditional curtain rod without any of the installation issues, a tension rod is a perfect solution.
They are great for hanging lightweight curtains and make it very easy to open and close the panels without resistance.
They work by slipping the rod between two walls and using a tightening mechanism to hold it in place. Some are spring-loaded and use tension to stay in place, while others can be locked into position with a screw.
Tension rods come in different sizes, so make sure you get one that is slightly larger than your window for the best results.
They usually come in a range of lengths so you don't have to worry about getting an exact fit.
Be careful and don't pull too hard when opening and closing the curtains, as they can slip out from time to time if not properly installed.
Tension rods are typically very inexpensive and come in many different styles and finishes, making them a good option if you want an expensive-looking rod without paying for the traditional wall-anchored version.
2. Self-Adhesive Curtain Hooks
Self-adhesive hooks are a great non-rod solution for those who want to avoid drilling holes in their walls.
You can use them on almost any surface, and they work best if you attach them to the wall behind your curtain panel where it will be less noticeable.
The adhesive is very strong, so these hooks should have no problem supporting the weight of the curtain fabric.
Self-adhesive curtain hooks are also very inexpensive, so you can decorate your window area stylishly and affordably.
They can be removed without damaging most surfaces by using a screwdriver or butter knife to push the little plastic tabs on the back of them.
Many brands promise that they won't peel off paint, chip the walls, or leave any residue after removal.
These hooks come in a variety of colors, so you can choose one that will match your décor or go with something bolder to add some color to a space.
3. Use a Rope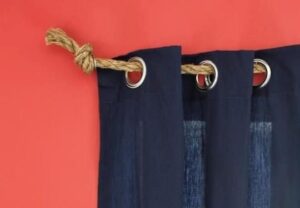 Rope can be a great alternative to using a traditional rod in your room. You can use a natural jute rope, a classic white rope, or purchase them in a variety of colors to match your room and decor.
You'll need a sturdy piece of rope that is large enough to support the weight of your curtain panel, and you may also want adjustable hooks or another method for holding up one end of the rope while you attach it to the other end to a wall. You can potentially tie the rope if you have something sturdy to attach it around, but for best results you should use hooks or a curtain rod holder.
These are great if you want the look of curtains without rods and don't mind hanging them in your window area. You can also take advantage of this method by using different lengths of rope so that each side is not an even length all the
This can be ideal for those who live in an old home or other structure that has thick walls because drilling holes won't work and you'll need something very sturdy to support the weight of your curtains.
If using adjustable hooks, make sure they are strong enough to hold up both ends of the curtain fabric as well as the weight of the fabric.
4. Use a Large Tree Branch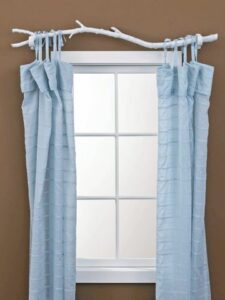 This is a unique and very creative way to hang curtains in your home. You'll need a strong branch that can hold the weight of your curtain panel, which you'll attach directly to the wall behind it.
Using a strong branch will allow you to hang your curtains without having to drill into the wall or use any other special hardware. You can wrap each end of the branch with string and hang it from hooks or nails installed on your wall.
You can find large, sturdy branches at nature centers and parks as well as in your backyard. Just be sure they aren't sprayed with chemicals, overly wet or moldy, or weak in certain areas where a break could occur over time. You can also consider coating the branch with a sealant to help protect it from the elements.
You can attach your curtain fabric by tying them to one end of the branch with string or rope and then hanging that over another installed hook on the wall where you want it to be displayed.
This process will take a little more time than some of the other options because you'll need to find and cut down your branch. However, if done properly, it can be an inexpensive way for those who love nature to hang their curtains without damaging the walls or having any installation issues.
5. Tension Cables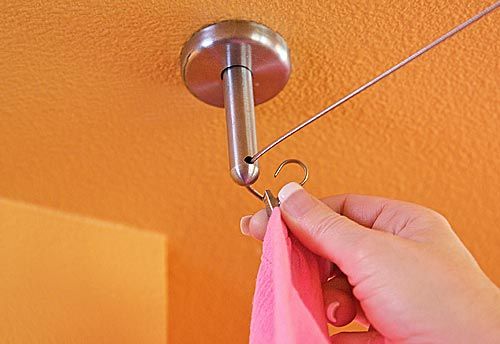 Tension cables are another great way to hang your curtain panel without actually adding a rod. They have a clean minimal look and are ideal for a secure installation.
You can find tension cable kits at most hardware stores, home improvement centers, or online retailers that sell curtain hooks and hardware. These come with everything you need to hang your curtains without having any issues.
Your tension cable kit will include a wire cable, 2 wall hooks, 2 turnbuckles, and 2 wire clamps. You'll also need anchors and screws to help secure the wall hooks.
Tension cables work with many types of curtains including tab top, ring clipped, rod picket, and grommeted varieties.
6. Staples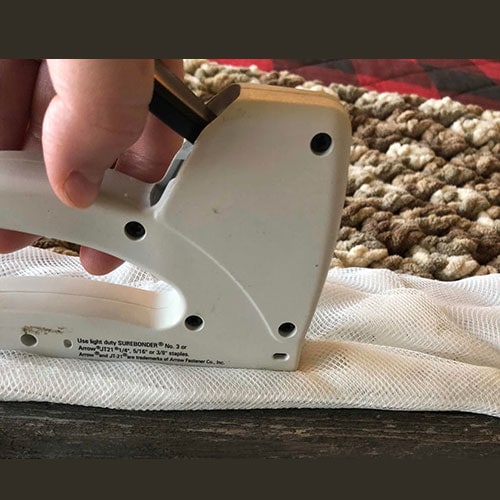 Staples can be used in combination with plywood strips as a way to securely hang your curtains without having to drill into the wall or use other hardware.
You'll need at least two strips, which you can cut from plywood. You will then staple the curtains to the plywood strips so that they are held securely in place. You can use an additional piece of fabric over the staples if you prefer a cleaner look with the staples hidden.
You can attach the plywood board to your wall just above the window with nails, screws, adhesive strips, or Velcro strips.
See the full tutorial from Ordinary Royalty here – it looks amazing!
7. Upholstery Tacks
If you don't want to deal with screws, nails, or drilling holes in your wall for this project, then upholstery tacks may be the best choice.
These are short metal pins that have a very blunt point on one end and threads at the top so they can be screwed into the fabric. They come in various sizes, which means you'll need to find the right one for your curtain panel.
These tacks are installed on a strip of wood or another surface which is then attached directly to the wall behind it.
You'll want to make sure this piece of hardware can hold up both ends of your fabric as well as the weight, so plan accordingly and use a sturdy wood strip.
8. Pipes with Brackets
Using pipes with brackets is another do-it-yourself method that doesn't require drilling into the wall.
These products come in different sizes and can be used to hold up a single curtain panel or multiple panels at once, depending on what you need for your space. Pay attention to the diameter of your pipe so that you can find the correct brackets to go with it.
You'll just want to make sure these fixtures are strong enough for your specific curtain panel and can hold up both ends as well as the weight of your fabric.
10. Nails
Nails are an easy, affordable, and quick option to hang your curtain panels without a rod.
Nails come in a variety of lengths, thicknesses, and weights, so you'll need to select the best option for your curtains based on how heavy they are or if you plan on layering multiple curtains together.
Nail holes are easy to patch and paint over for those who are renting their homes.
How Can I Hang Curtains Without Putting Holes in the Wall?
Of all of the options on the above list, using adhesive hooks or a tension rod is the best way to hang your curtains without putting holes in the wall. They are also the easiest options for renters who are unable to install more permanent fixtures.
These hooks come in a variety of shapes and sizes, so you'll want to determine the best option for your curtain panel based on its weight or thickness. They can also be used with many types of fabrics, including cotton, polyester, silk, satin, velvet, nylon, and linen.
Adhesive hooks are a great way to hang lighter curtains, especially layered or sheer ones where you don't want the fabric of one layer touching another behind it.
Tension rods are great for giving your window or glass door a streamlined appearance without the hassle of drilling into the wall. They come in different sizes, so make sure to look at what will work best with your space before you buy it.
A tension rod is also easy to install on most surfaces, including doors, walls, glass panels, cabinets, closets, and windows.
Final Thoughts
While curtains are traditionally paired with a rod, there are many other options you can consider if you need an alternative for your space. Whatever method you choose, make sure that it is secure and can hold up the weight of your fabric. Happy curtain hanging!
Related: