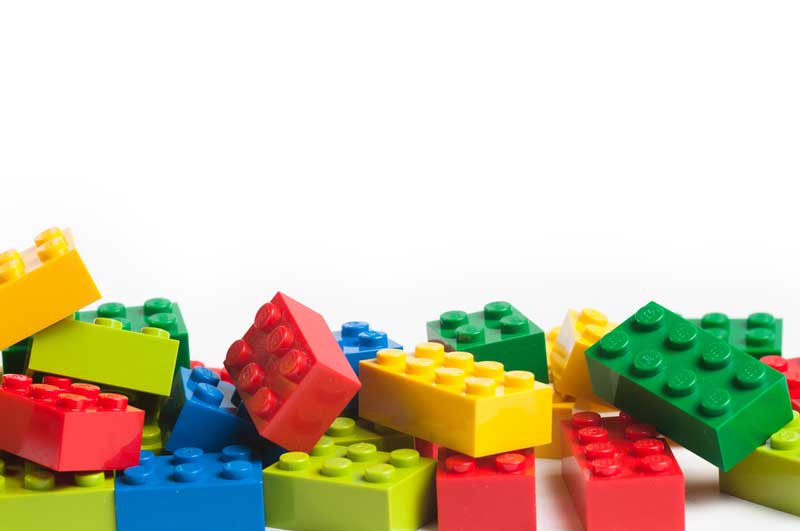 Discover some genius hacks and tips to organize all those bricks! These LEGO storage and organization ideas are a lifesaver!
So many parents might cringe at the idea of getting their kids into LEGOS. It's such an educational hobby – it encourages problem-solving skills and is the literal foundation for early engineering skills.
The only problem is the clean-up and storage. You know the literal pain the foot that those LEGO bricks can be!
Let's look at some clever ways to finally organize and store all those LEGO bricks! These are easy enough for kids to maintain and will give you the peace of mind that you won't step on another brick.
How To Sort LEGO Bricks
Before we get into the exact storage ideas, it's important to know how you are going to sort them. Decide this first, because it will help you find the perfect solution to match your needs.
There are actually four different ways to store LEGOs and none of them are better than the other.
By Color
The most common way that people sort LEGOs is by color. This is quick and easy. Some people do it as basic as all shades of red bricks go into the same container.
Others take it even further and keep all bright yellows together and all yellow-oranges in another area. How you sort them is entirely up to you and how you use the LEGOs.
By Shape/Type
Another way to sort and store LEGO bricks is by shape and type. This means you keep all 2×4 bricks in one place and all technic bricks in another.
This type of sorting is for anyone that loves creating their own projects beyond just the instructions that come in the box.
If you sort by brick classification, you'll need to label the outside of the drawer or container so you know where to look for the exact brick or piece you need.
By Project
Some people prefer to buy LEGO kits, follow the instructions in the kit, and then buy another one and do the same thing. If this is how you or your child plays with LEGOs, then it is important to keep the pieces of the project with the instructions.
Find a storage solution that gives you a place to keep the instructions booklet.
Related: 10 Genius Toy Storage Hacks For Small Homes
All Together
This is the least effective idea if you ever hope to find a specific piece since all the pieces are together in one place. However, if you have a child that is too young to follow an instruction book, this might be a useful idea, especially for LEGO Duplo sets.
Should You Store LEGO Bricks By Project Type
This is a highly-debated question among LEGO enthusiasts and the answer depends on your child's age and how they use their LEGO bricks.
People that strive to become LEGO master builders and enjoy making unique creations won't want to store pieces with boxed instructions. In their case, they will want to be able to find the exact size, color, and shape of pieces to suit their needs.
When children are just starting out, they need the instructions. In their case, storing pieces by project type is very smart. This way, they can start a project, put the pieces away, and come back to it when they have time.
LEGO Storage By Age and Ability
Before you buy tubs and shelves, you need to understand who is going to be using the LEGOs and how they will use them. The age and ability of the LEGO builder are very important when you are creating the storage system.
As your child grows, the organization of the bricks should grow with them.
Here are just a few ways that age and ability affect how you store the pieces and how it will help you find the solutions you need.
Toddler and Preschool Kids
For children this age, the joy is all in just building towers and knocking them down. This is a fun way to teach them shapes and colors, but when it comes to storing the pieces, all you really need is one large tub.
Preschoolers can act like little hurricanes, so you need a way to store the toys that are really fast, too!
Older Kids
As your children get older, their LEGO collections will grow. For these kids, it's better to organize the pieces into broad categories or even by project.
When you separate the pieces by type (such as bricks, plates, and slopes) it makes it easier to find the exact thing they need.
Expert Builder
As your child's interest in LEGO building grows, so will their desire to keep their pieces sorted into even more specific categories. That means sorting the types of bricks and the colors.
For example, all 2×4 black bricks in one place and all yellow technic pieces in another.
The older kids can also take ownership of their collections and create their own storage solutions as well.
13 Clever Lego Storage and Organization Ideas
Need some LEGO storage and organization ideas? Here you go! These ideas span the spectrum from the very general (and best for really young children) to the really specific (and made for older kids and expert builders).
Browse this list and pick out the ideas that match your individual needs.
Don't forget to pin this post so you can find it later! There is so much information here, you don't want to lose this page!
1. Set Up A LEGO Table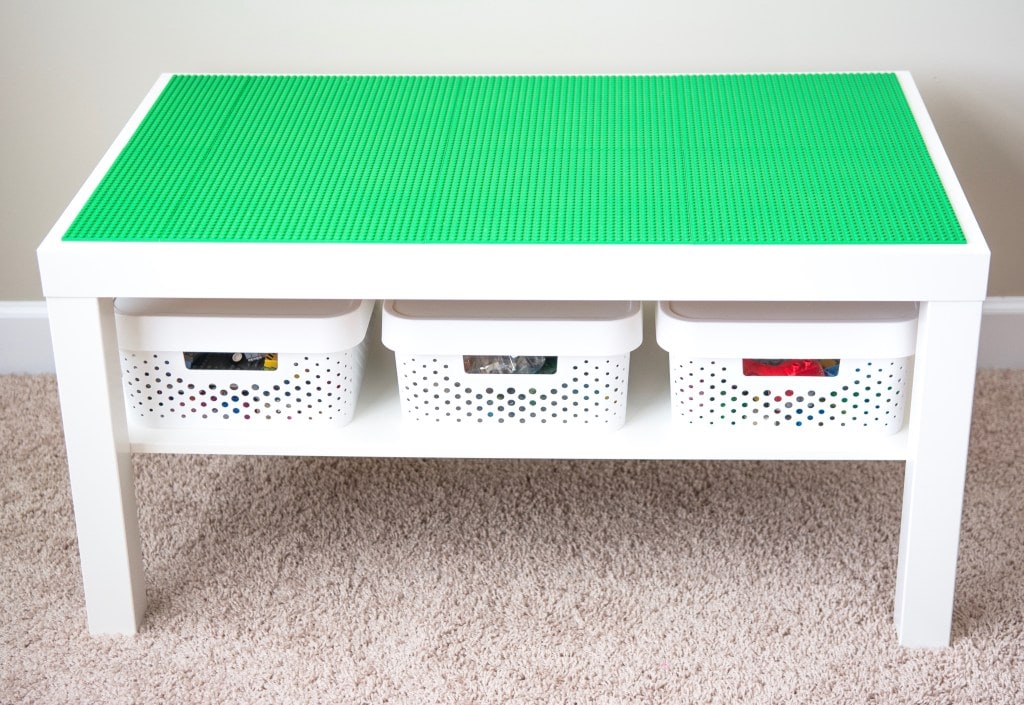 This is the perfect way to store works in progress. This LEGO table is an excellent way to also keep sorted bags underneath it so they are easy to reach.
This idea fits nicely in a toy room or a child's bedroom. It's best suited for younger children who prefer shorter bouts of playing with LEGOs.
These are our top recommendations for Lego tables with storage included if you want to buy a lego table.
2. Use Clear Drawers
Purchase a storage system with clear drawers so that you can see the colors of the bricks and find the exact piece you need. This one has 24 drawers of various sizes which keeps them all sorted.
The most important thing to remember when you are organizing LEGO bricks is to allow your storage system to grow with and match your needs. Don't try to cram LEGOS into a small space.
If you still have too many bricks and not enough places to keep them all, upgrade to something like this 64-drawer cabinet. It has enough room for you to sort everything not only by color but by shape and size, too.
3. Create A Minifigure Display Shelf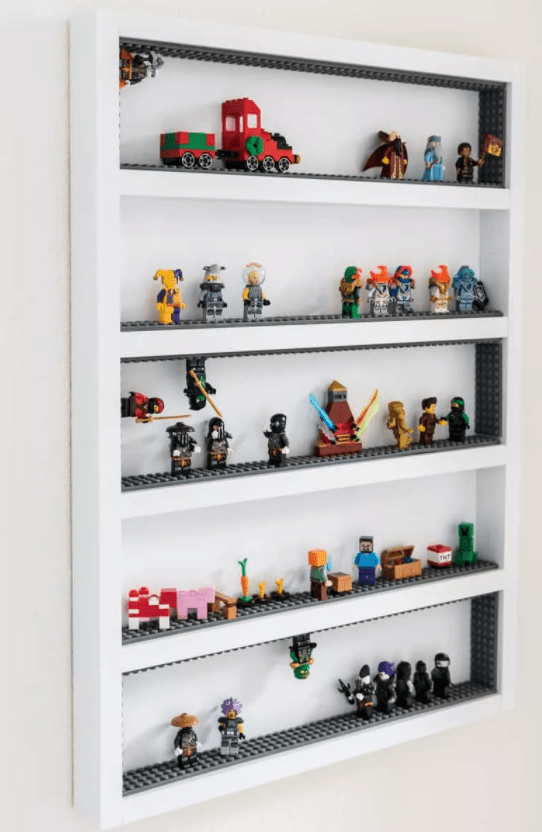 How do you sort and store your LEGO mini figures? This tutorial shows you how to create a shelf that you hang on the wall.
Not only does it keep your minifigures where you can find them, but it looks really cool on the wall at the same time. The best part about this shelf is that they used plates around the edges so the Minifigures can hang upside down and on the side, too.
Kids will actually enjoy putting them away!
4. LEGO Brand Storage System
LEGO themselves made a really cute collection of storage boxes. They add a fun playfulness to your room's decor.
They have both a storage head and various LEGO bricks of different colors and shapes that stack together and have drawers inside of them.
5. Label Plastic Bins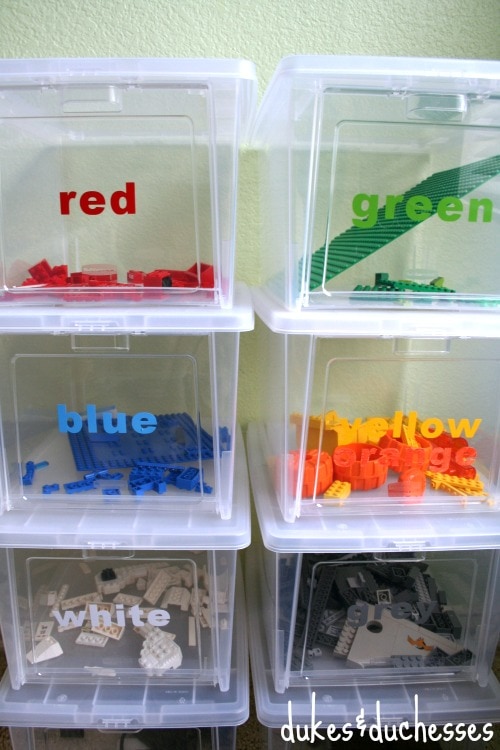 Shoebox-sized clear plastic totes are available at Walmart, Target, and even Amazon. These are the perfect size for stacking and you (or your child) can carry the colors you need to your workstation and put them back when you are done.
This tutorial shows you how to label them so you can keep them sorted.
If you don't want to store things by color and want to use this idea to store things by project type, just cut out the picture from the cardboard box it came in and tape it to the tub. Now you have a place to store each project and the instructions.
6. Portable Case With Handle
This idea is perfect if your child carries LEGOs around the house or takes it with them when they visit people. Use a portable case with a handle.
Clean up and storage is so simple when it's easy to move the entire organizer with you from room to room.
7. Attach Sorting Tubs To The Table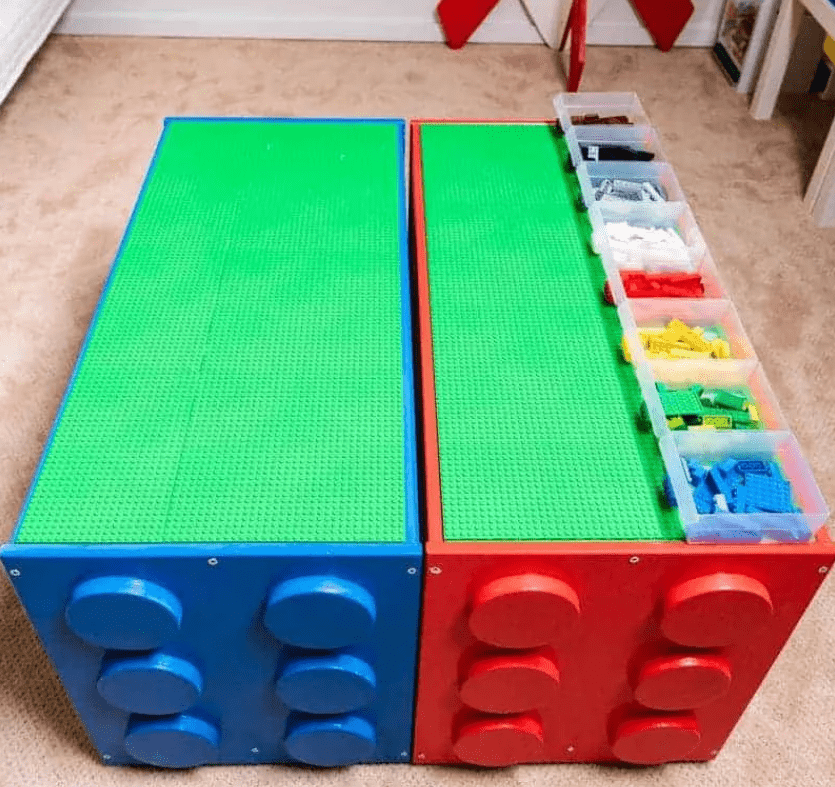 This IKEA hack is genius! Turn a boring storage table into a huge LEGO brick!
I love how they also attached the clear sorted bins on top of the tables to the green LEGO mats. Now those tubs won't go anywhere.
This table also has wheels. Kids can move the table around the room. They can use it as one large table or separate them and place them in different areas.
8. Quick Clean-Up Canvas Basket
This is a really great idea if you just don't have time to keep the pieces sorted and you want to stop stepping on those pieces (ouch!). This collapsible basket keeps all the LEGO pieces inside of it and turns it into a play mat.
Then, when it is time to clean up, everything goes back in the basket in a matter of minutes. It's a huge time-saver.
This is best for toddlers and young children that prefer playing with larger things like Duplos and large bricks. You can even tell them to keep all the pieces on the mat.
9. Portable Storage Bin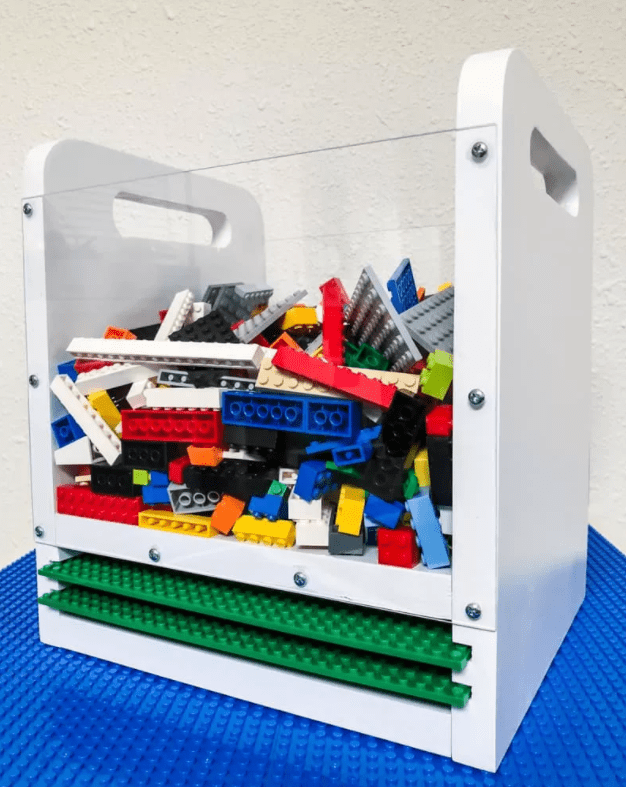 If you prefer to store LEGO bricks by project, then making your own portable container like this is a really fantastic idea.
It gives you a place to store the baseplates and the clear sides let you see what you are reaching for.
Even though it isn't sorted in the photo above, you could create separate containers for each color of LEGO piece and store them in their own areas.
10. Container With Adjustable Compartments
One thing for sure about LEGO collections is that they grow! Your storage system should be able to grow along with it.
These stackable containers have adjustable compartments on this inside. You can make them as large or as small as you need.
This will help your pieces stay sorted since some pieces are much larger than others and take up more space.
11. Store Minifigures In Cases
This display case has 16 different compartments so you can sort your mini-figures by genre, type, or even character. It's clear so you don't have to label add labels on the outside unless you really want to.
This is made specifically for mini-figures – you can even store accessories in their own compartment.
This is a wonderful idea for anyone that really enjoys collecting mini figures and accessories.
12. Use LEGO Bricks As Labels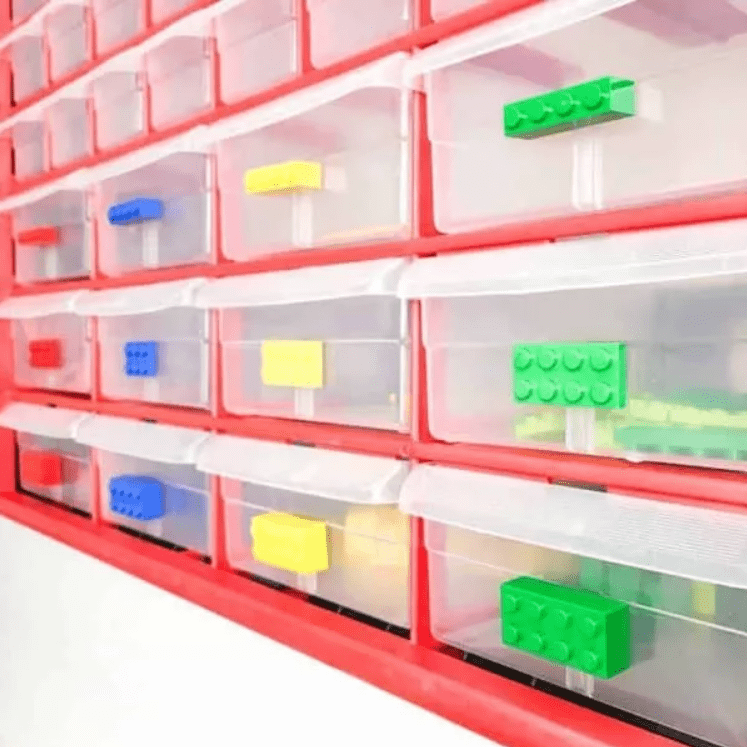 As you go through and sort your LEGOs, use double-sided tape to attach the color and size of the bricks that are in each drawer. This tutorial is pure genius and even includes the instructions to make your own LEGO table, too.
This idea is best for older kids and anyone that wants to sort their pieces by type. This is best for experienced LEGO builders that want to sort their collections in a way that is easy to find.
13. Use Puzzle Sorting Trays
These puzzle sorting trays stack and nestle for easy cleanup. You can easily repurpose them to store and sort LEGO bricks when you are putting together different projects, too.
The only downside to these sorting trays is that you can't label them. They are wonderful because they stack perfectly and are easy to put away, but when you need a specific piece you'll have to take the trays apart and find the color and shape you need.
It might take a bit longer. This is really best for anyone that sorts and build things in a kit.
Final Thoughts
LEGOs are an amazing hobby that can lead to engineering and other STEAM-focused careers. This is a perfect way to encourage creative play, fine motor skills, and problem-solving.
When you are trying to create a storage solution for your LEGOs, keep the skill level and age of your children in mind. Make something that will be easy for them to maintain and will help them use as they build.