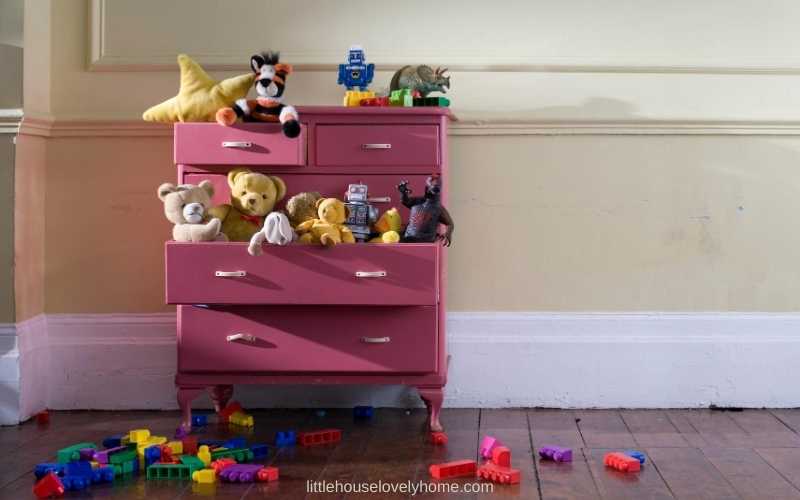 Are toys taking over your house? You need these genius toy storage hacks in your life! They are so smart and don't cost tons of money.
When you discover cute and fun ways to store toys, your kids actually enjoy helping you pick up. Ok, not all the time, (I can dream, right?) but often enough to make it worth your time.
The best thing about these toy organization hacks is that they actually make your home look cute too!
10 Genius Toy Storage Hacks for Small Spaces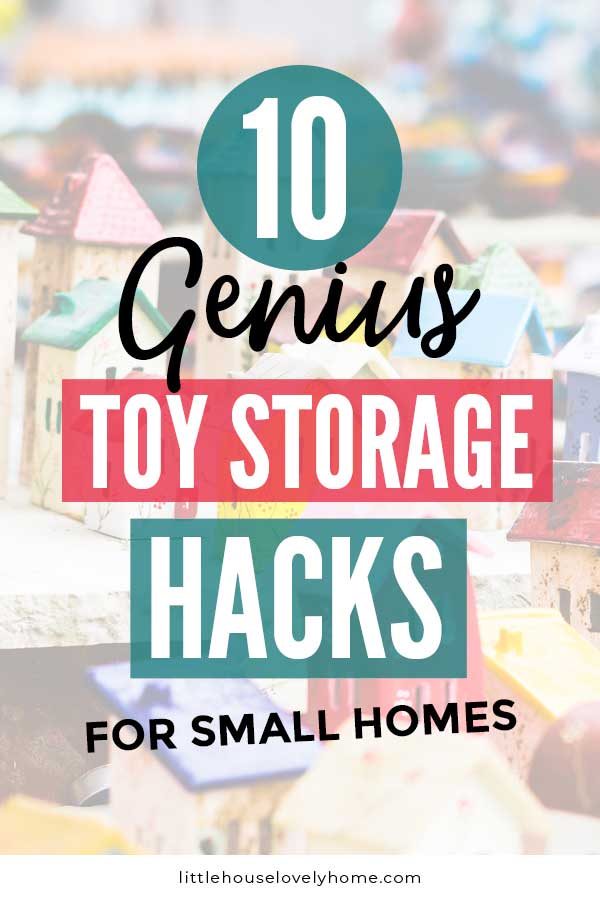 These toy storage ideas are going to elevate your cleaning-up game. Instead of just throwing all the toys into a massive toy box, you can keep them sorted.
Now your kids know where things go! And with proper toy storage, the toys will last longer too.
1. Painted Crates With Wheels
The best way to encourage your kiddos to help you pick up after themselves is to make the toy storage easy for them to reach.
These painted crates are so clever. Ask your kids to help you paint them. Adding the wheels makes them easy to move from room to room so you can pick up as you go.
2. Use An Art Caddy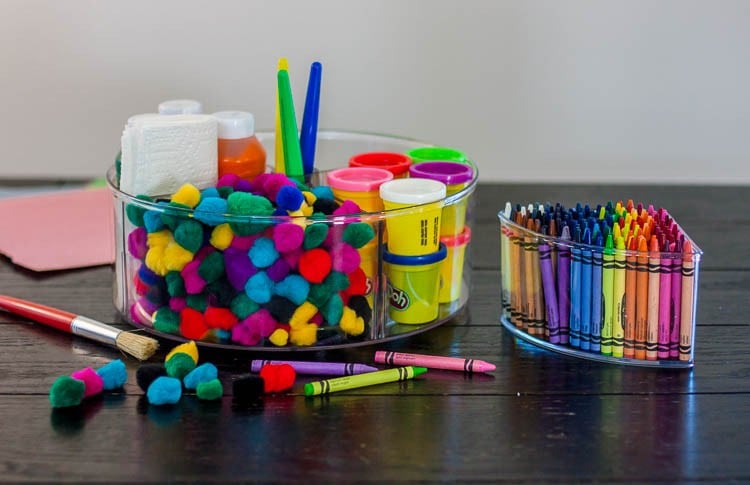 This is a smart way to keep all of your art supplies organized in one place.
When you create an art caddy, you can remove the exact section you need and then return it when you're done. Everything has a home, it's so pretty!
3. Make Fabric Storage Cubes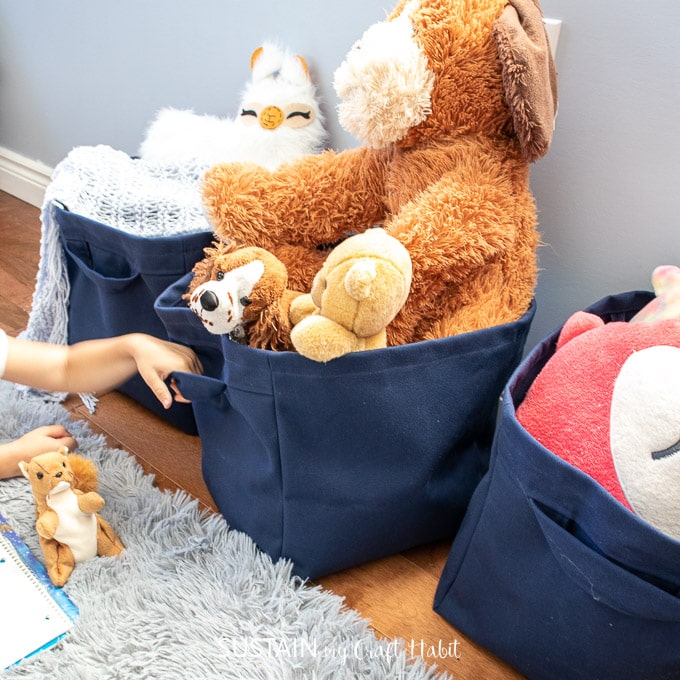 Plushes and stuffed animals are some of the things that get all over the house.
Instead of buying expensive totes and bins, make your own fabric totes.
This tutorial shows you exactly how to do it. Even beginning sewers can make them, it's pretty simple.
4. Make A Hanging Organizer For Small Things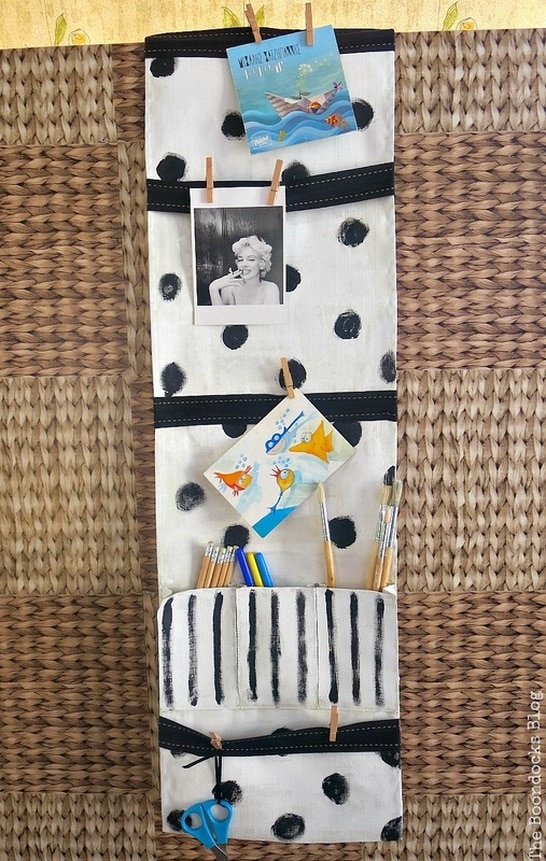 If your little one is constantly getting out pens, pencils, and other art supplies, make them a really simple hanging organizer.
The best thing about this idea is that it grows with your child. It's versatile enough to display and store art supplies and even calendars and pictures as they get older.
5. Upcycle Coffee Cans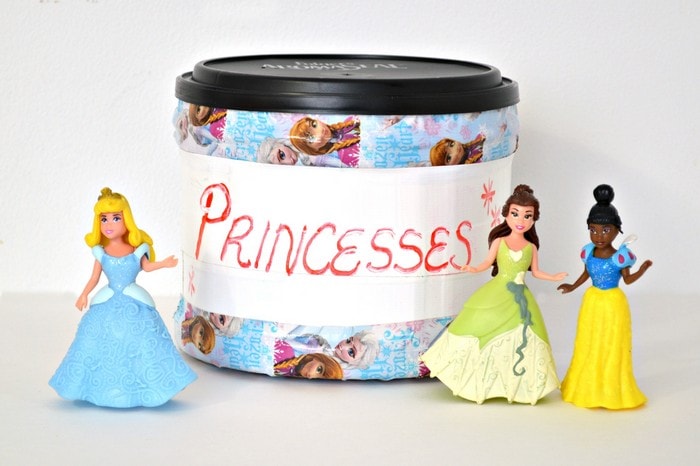 Keep those extra coffee cans and reuse them to store small toys.
This tutorial is so smart! There are so many ways to easily (and cheaply) decorate the coffee cans.
Then, label them and keep all the tiny toys inside.
6. Books In Baskets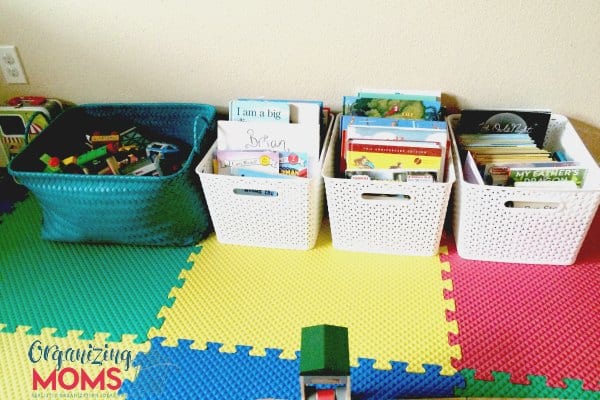 If you don't have tons of bookshelf space for your children's books, store them inside baskets.
Another tip – give each child their own book basket.
Then, they will be responsible for keeping those books picked up and they can keep their books separated.
7. Label Toy Boxes With Pictures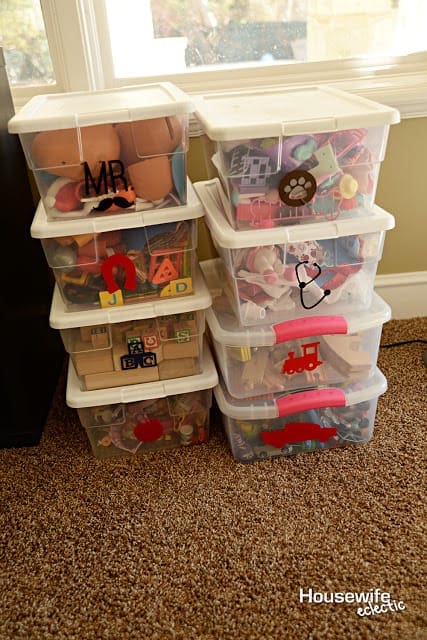 Even small children that can't read yet can understand pictures.
Label your totes and bins with pictures so your children know where things belong when they are done playing with them.
This tutorial even shows you how to make your own labels.
8. Hang Up Buckets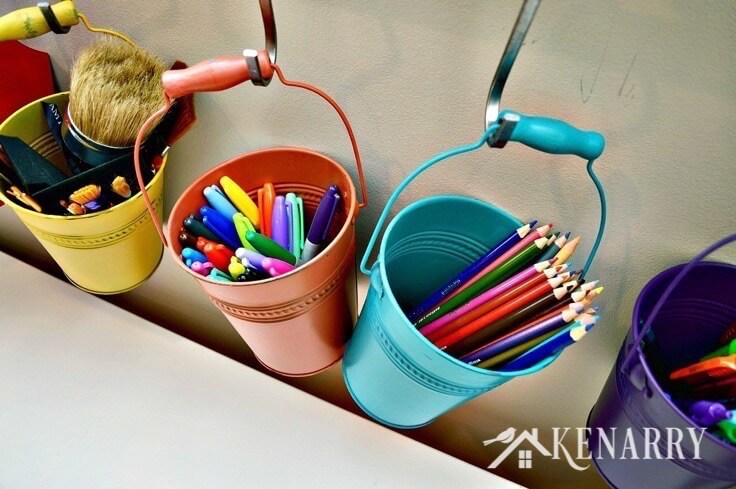 This is one of my favorite hacks on the list! Sort and store art supplies in buckets.
Then, install a towel rod on your wall and hang the buckets from hooks.
Now kids can grab the bucket they need and hang them back up when they are done.
9. Upcycle Mason Jars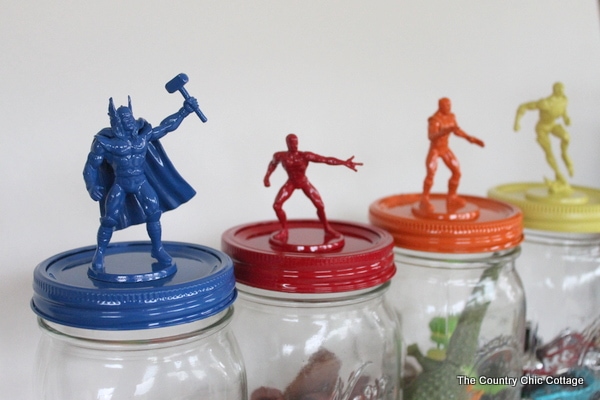 Mason jars are the perfect size for holding all sorts of small toys.
You can organize lego, cars, small plastic animals – the list goes on and on.
This tutorial shows you how to change regular mason jars into toy-storing work horses.
10. Make A LEGO Table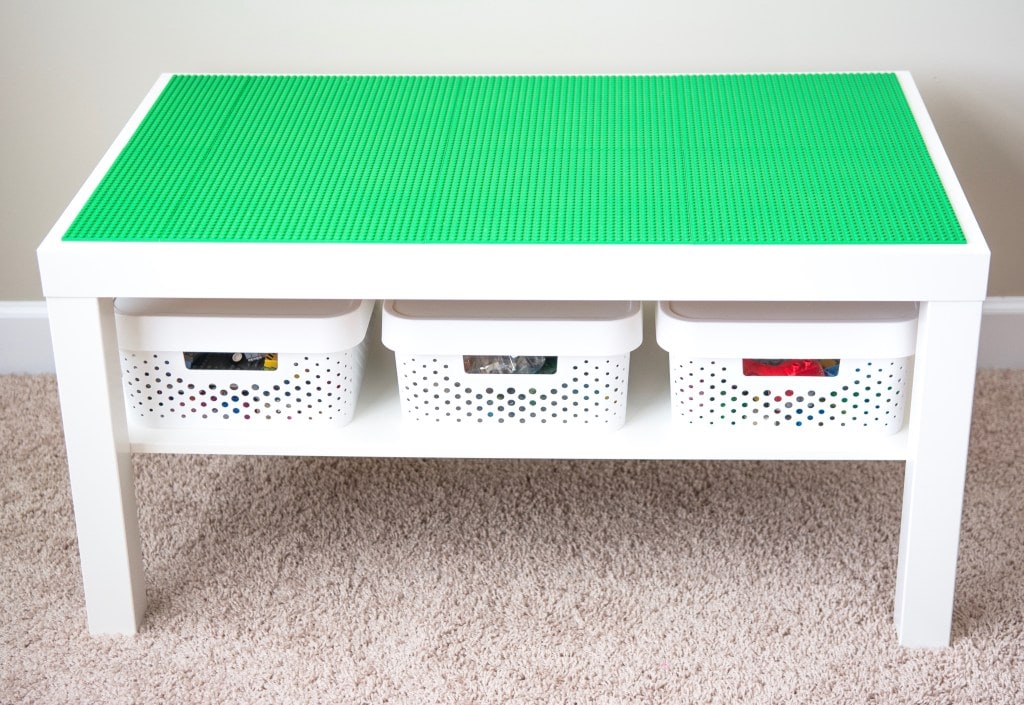 One more thing that is tough to store is a LEGO set. What do you do with projects they are still working on but haven't finished yet? Make your own LEGO table.
It's actually pretty simple! This way, your children can build to their heart's content, leave it attached to the table, and come back to it later.
The storage under the table is plenty of room to store bricks they need for their builds.
If you'd rather buy a lego storage table, these are our top picks for lego tables with storage.
Final Thoughts
I hope these toy storage hacks gave you some ideas that you can use in your house.
When you are creating your own ideas, remember to use containers that match the size of the toys you are storing.
If it is getting too full, it's either time to declutter the toys or time to invest in a larger box.
Toy storage doesn't have to be a headache, it can be lots of fun. Just make sure you create a system that you can maintain, with the help of your kiddos.
More Home Organization Tips
As you keep organizing your home, here are some more tips that will help you out!