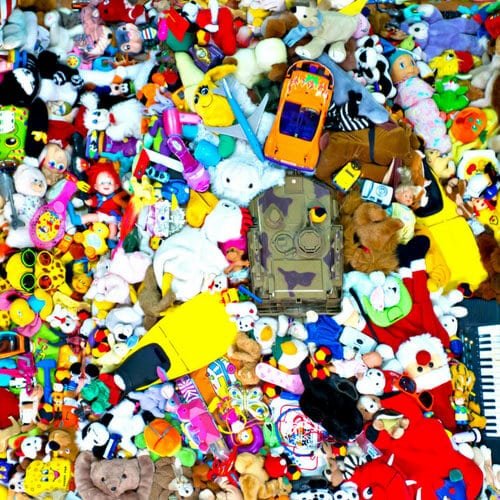 Do you struggle with toy clutter? Oh my, so do I. I adore my kids and want them to have everything, but not at the expense of my mental health.
When you have one shared space for living, playing and relaxing, toy clutter can quickly get the best of you.
Fear not, dear reader. This post is here to help. Firstly we will discuss some toy management tips to help you reduce and rotate your toys, then I'll share some cool toy storage ideas for keeping the toys (somewhat) organized.
9 Toy Management Tips I Use In My Home
1. Take note of what gets played with
What do your kids actually play with? My boys pretty much stick with the plastic dinosaurs, hot wheels and fire engines etc.
I have zero interest in inciting World War 3, so I will steer clear of the beloved toys. One thing I have noticed when tackling toy clutter is that less is definitely more.
I find the fewer toys in the toy box, the more they get played with. Keep your kids' favorites around for them to play with and they will hardly notice the excess disappearing.
2. Clear out the non-age appropriate toys
Are you hanging on to baby toys or toddler toys, even though your kids don't play with them? If so, you're not alone.
Of all the toys, getting rid of the baby toys were the toughest for me.
Giving them away meant I was done having babies, and I really struggled.
In fact, almost immediately after posting them on my local online message board I had 'buyers remorse' and told my husband I would remove the posting.
He talked me down from the ledge, and shortly after I received a message from a new mama who was going through hard times.
She later sent a photo of her baby playing with the toys and I felt a flood of gratitude. At being able to help another mother, and also that I hadn't removed my posting. This was a month ago and my kids have not even noticed.
3. Eliminate the small plastic crap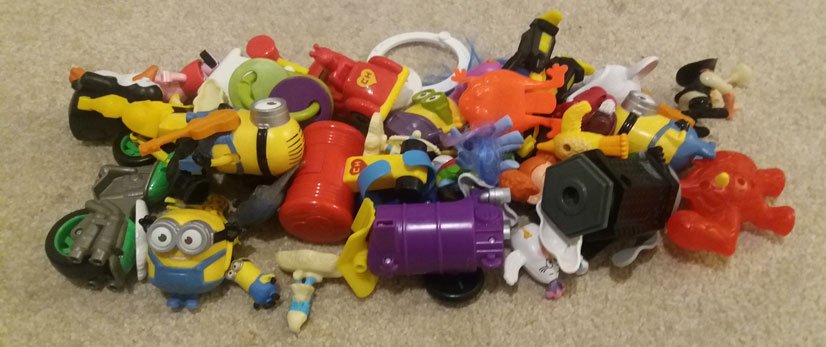 I'm looking at you kinder surprise/happy meal and co. You are the toys I despise the most. You get in the strangest places and hurt my feet when I step on you. I'm taking the power back and saying no more.
So yesterday I was able to remove a full plastic bag of happy meal type toys from the toy box without the kids even seeing me. I'm donating these to my local charity store, who resell them by the bag-full.
4. Stop buying happy meals/kinder surprise etc
Often the culprit of those nasty little toys are fast food joints or birthday party swag bags.
The simplest way to avoid these sneaky little beggars is to not allow them in at all.
That means no more happy meals for us. It's cheaper to just get a plain burger and fries anyway, BYO water.
5. Talk to kids about giving/donating
Giving or donating to other kids in need is a great way to clear toy clutter. BUT, how you approach this strategy with your kids depends on their age.
Mr 5 is starting to understand how privileged he is, and is showing a genuine interest in helping others. Yet, just 12 months ago he wouldn't even pass a toy to his baby brother without a tantrum.
If your kids are older, talk to them about passing on the toys they don't use to other children.
6. Allocate a play area
No playroom? No problem. It doesn't have to be an entire room but toys need somewhere to live. For us, it's a corner of our living room.
That's not to say the toys stay in the corner. Nope, the toys go everywhere (I swear there's a conspiracy), but at the end of the day when we have tidy up time (thank you preschool for instilling that wee nugget), the toys go in the same place.
It means that hubby and I can enjoy the evening in our living room being stressed out from toy clutter.
7. Invest in the right storage
Quite often, clutter is caused by simply not having enough storage.
In my small house, I need to have items that serve at least two purposes, which is why our toy box doubles as a bench. It has a hardtop that can be placed over the box when visitors are coming and used as extra seating.
We also have the best Lego storage/toy organizer – a play mat which folds out for play and then becomes a storage bag when it's time to go away. It's genius! When the kids are older we'll invest in a nifty lego table with storage.
For things that we barely use, we put them in a drawer in our storage bed.
8. Gently coach grandparents about gifts
I know my parents and in-laws get great joy from my children and love to spoil them. I don't want to take that joy away from them, however, my house can't fit any more stuff.
Both sets of parents now know that we live in a very small space and we don't need any more toys (implementing a gift policy like the 4 gift rule is something I'd recommend).
Any toys they purchase must be kept in their own houses, for the kids to play with when they visit. The only exception to this rule is Lego. They now try to give minimalist gifts like an experience (zoo tickets, movies) or cash.
9. Join a Toy Library
What is a toy library, I hear you ask? A library for toys.
It's the ultimate tool in a minimalist parent's toolbox. In my area, you pay a small annual membership fee and can borrow items for three weeks at a time.
Toy libraries are so great for keeping toy clutter at bay as they are usually high-quality toys and they still have the 'new' factor so kids play with them a lot.
Sometimes returning a new favorite toy back to the toy library is a struggle for children, so we try to make a big deal of choosing a new item to play with and spend a good bit of time at the toy library deciding which toy we'll take next.
To find a toy library near you check out the USA Toy Library Association website

Tip: Some toy libraries offer discounted membership if you volunteer to help out, and you can usually bring your kids along. It's a great budget buster.
I truly believe that kids are overwhelmed by too much stuff, including toys. And by having too many toys available we are teaching them to value less, which is not how I want my boys to grow up.
10 Genius Toy Storage Hacks for Small Spaces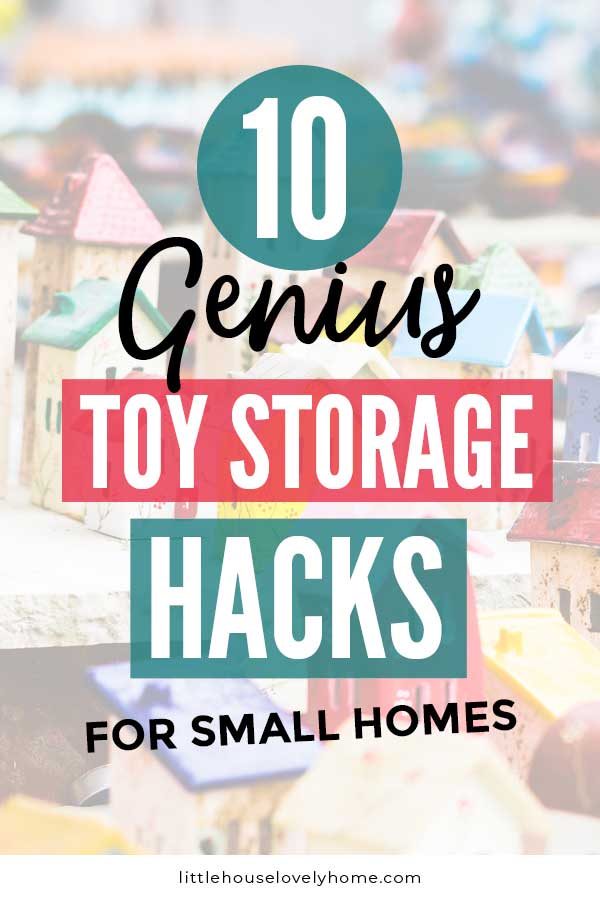 These toy storage ideas are going to elevate your cleaning-up game.
Now your kids know where things go! And with proper toy storage, the toys will last longer too.
1. Painted Crates With Wheels
The best way to encourage your kiddos to help you pick up after themselves is to make the toy storage easy for them to reach.
These painted crates are so clever. Ask your kids to help you paint them. Adding the wheels makes them easy to move from room to room so you can pick up as you go.
2. Use An Art Caddy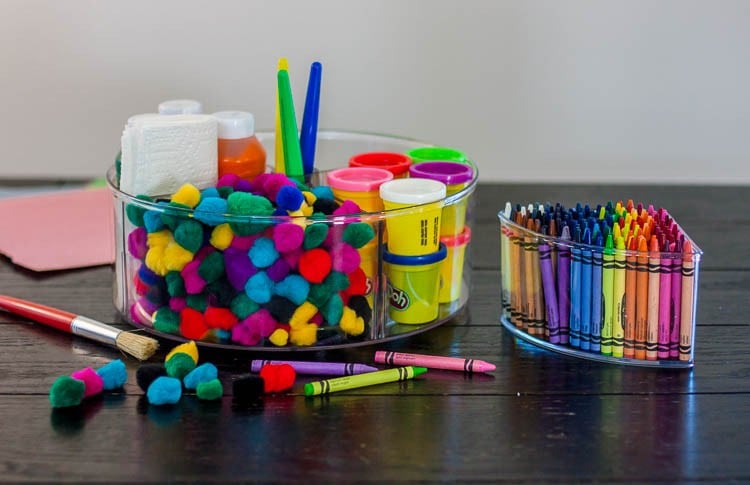 This is a smart way to keep all of your art supplies organized in one place.
When you create an art caddy, you can remove the exact section you need and then return it when you're done. Everything has a home, it's so pretty!
3. Make Fabric Storage Cubes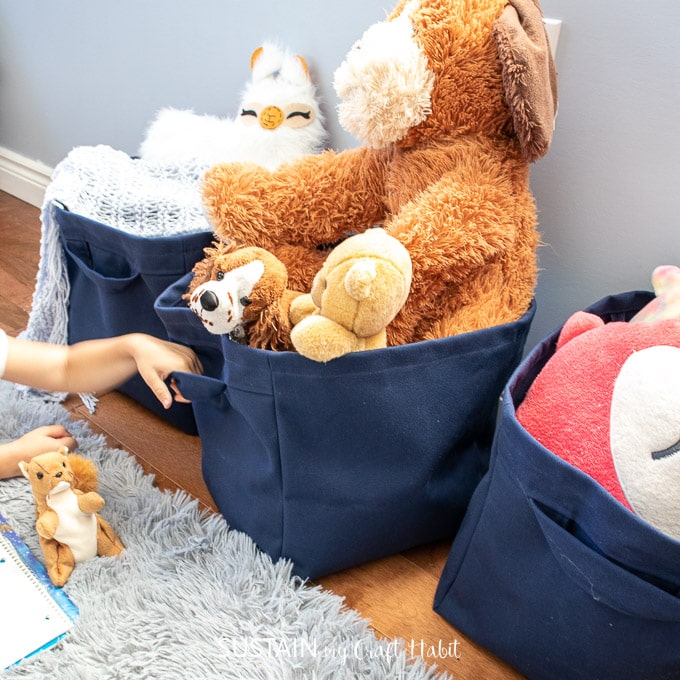 Plushes and stuffed animals are some of the things that get all over the house.
Instead of buying expensive totes and bins, make your own fabric totes.
This tutorial shows you exactly how to do it. Even beginning sewers can make them, it's pretty simple.
4. Make A Hanging Organizer For Small Things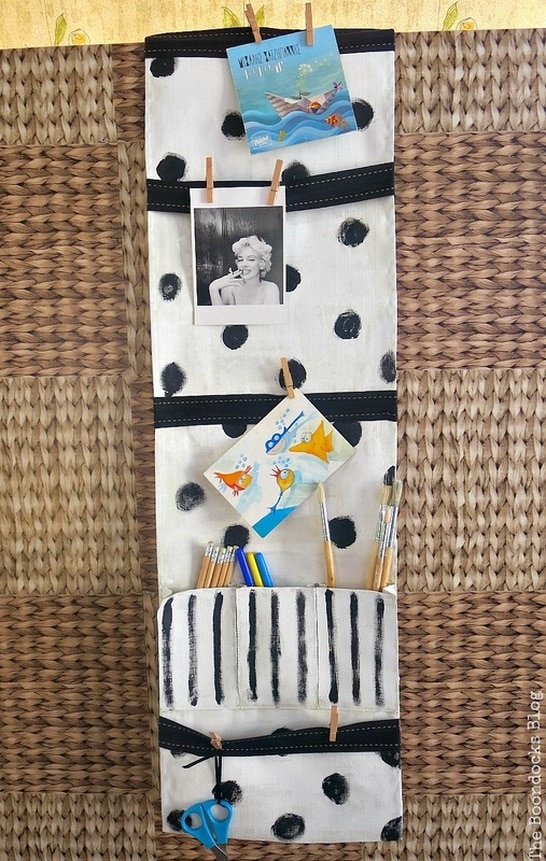 If your little one is constantly getting out pens, pencils, and other art supplies, make them a really simple hanging organizer.
The best thing about this idea is that it grows with your child. It's versatile enough to display and store art supplies and even calendars and pictures as they get older.
5. Upcycle Coffee Cans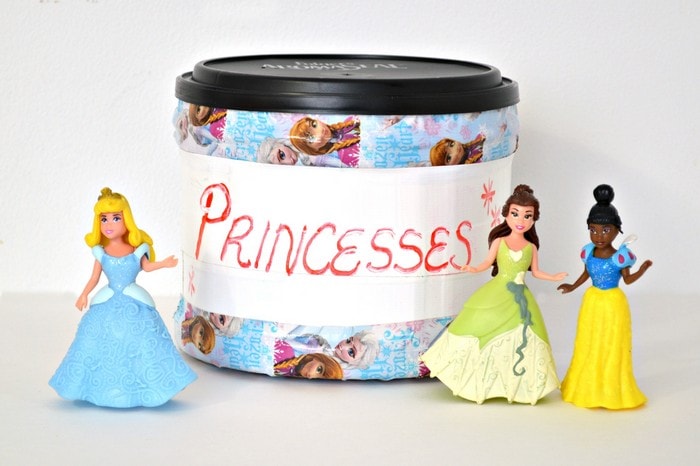 Keep those extra coffee cans and reuse them to store small toys.
This tutorial is so smart! There are so many ways to easily (and cheaply) decorate the coffee cans.
Then, label them and keep all the tiny toys inside.
6. Books In Baskets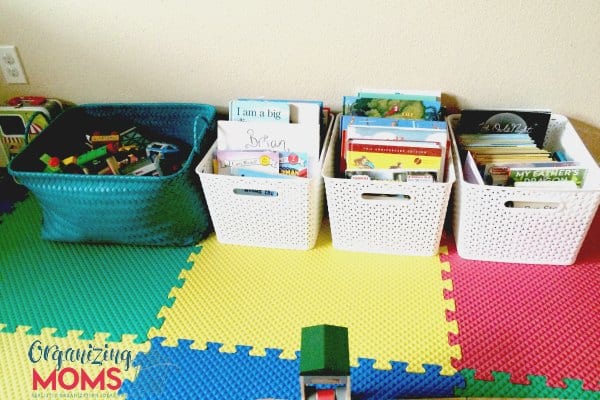 If you don't have tons of bookshelf space for your children's books, store them inside baskets.
Another tip – give each child their own book basket.
Then, they will be responsible for keeping those books picked up and they can keep their books separated.
7. Label Toy Boxes With Pictures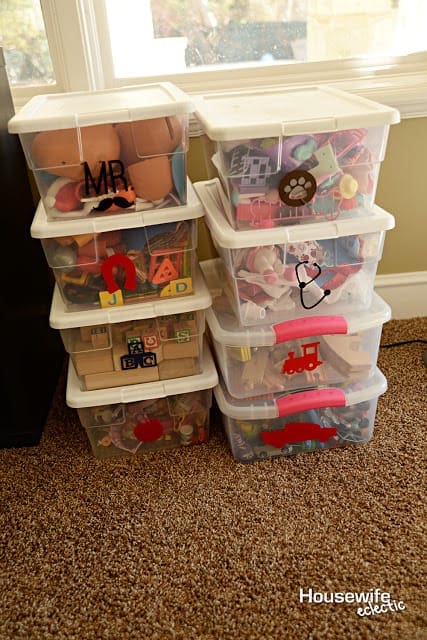 Even small children that can't read yet can understand pictures.
Label your totes and bins with pictures so your children know where things belong when they are done playing with them.
This tutorial even shows you how to make your own labels.
8. Hang Up Buckets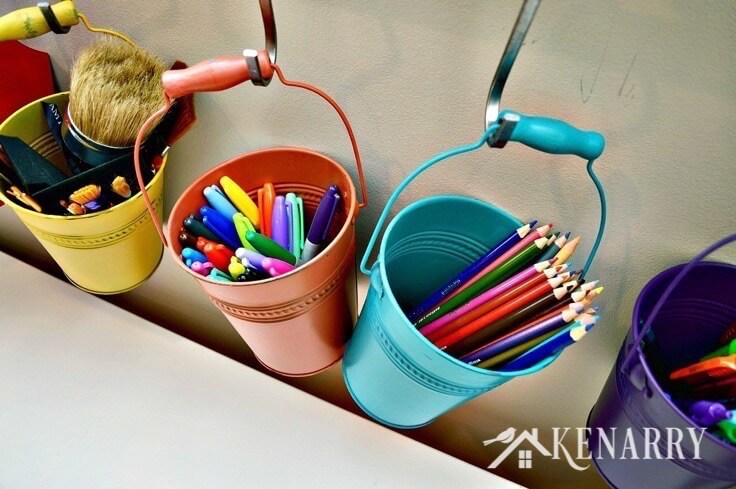 This is one of my favorite hacks on the list! Sort and store art supplies in buckets.
Then, install a towel rod on your wall and hang the buckets from hooks.
Now kids can grab the bucket they need and hang them back up when they are done.
9. Upcycle Mason Jars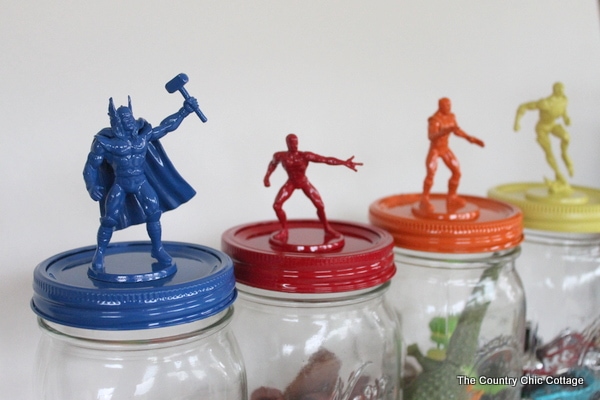 Mason jars are the perfect size for holding all sorts of small toys.
You can organize lego, cars, small plastic animals – the list goes on and on.
This tutorial shows you how to change regular mason jars into toy-storing work horses.
10. Make A LEGO Table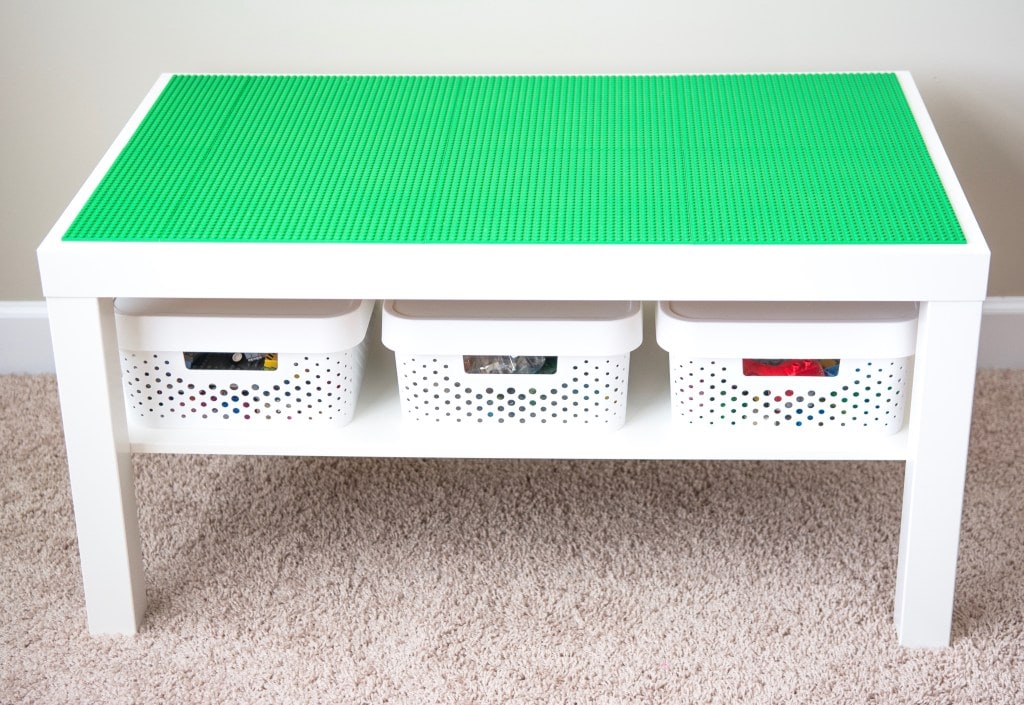 One more thing that is tough to store is a LEGO set. What do you do with projects they are still working on but haven't finished yet? Make your own LEGO table.
It's actually pretty simple! This way, your children can build to their heart's content, leave it attached to the table, and come back to it later.
The storage under the table is plenty of room to store bricks they need for their builds.
If you'd rather buy a lego storage table, these are our top picks for lego tables with storage.
Final Thoughts
Moms you can beat toy clutter. By utilizing these strategies you can keep your home calm (especially if you're in a small home like me), your kids happy and your sanity intact.