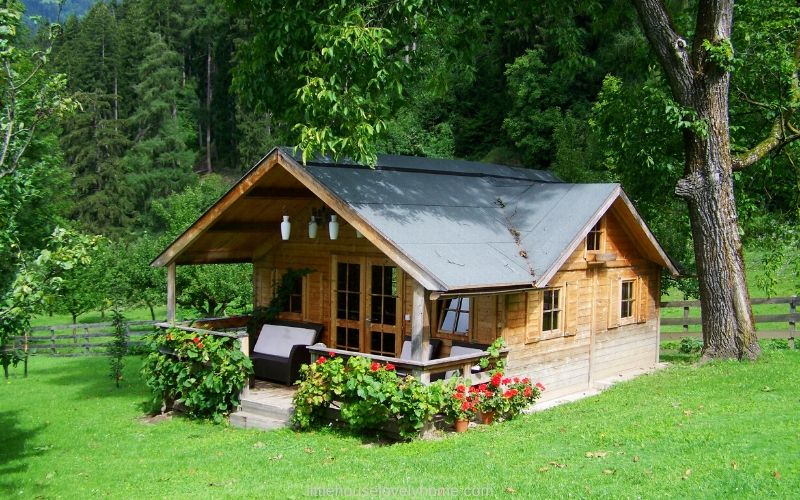 Inside: Discover these tiny house hacks you can easily accomplish in any home.
Living in a tiny home doesn't have to feel like you're stuck in a box.
As a matter of fact, there are plenty of tiny house hacks that can have you loving all the extra space that you didn't even think was possible.
When you stop and think about the purpose of living in a tiny home, it's ultimately to live a better life with less, right?
Less space also means less "things", less stress, less overhead, and fewer items to have to keep track of and own.
One of the hardest parts about downsizing to a tiny house is that you really do have to take a step back and understand that there are going to have to be some major changes in your current way of living.
This doesn't mean that everything has to be thrown to the curb but you will have to adjust to more needs versus wants and understand that "extra" space is no longer such a simple luxury.
However, even in saying that, there are ways to find and make space in a tiny home.
19 Tiny House Hacks You Can Use in Any Home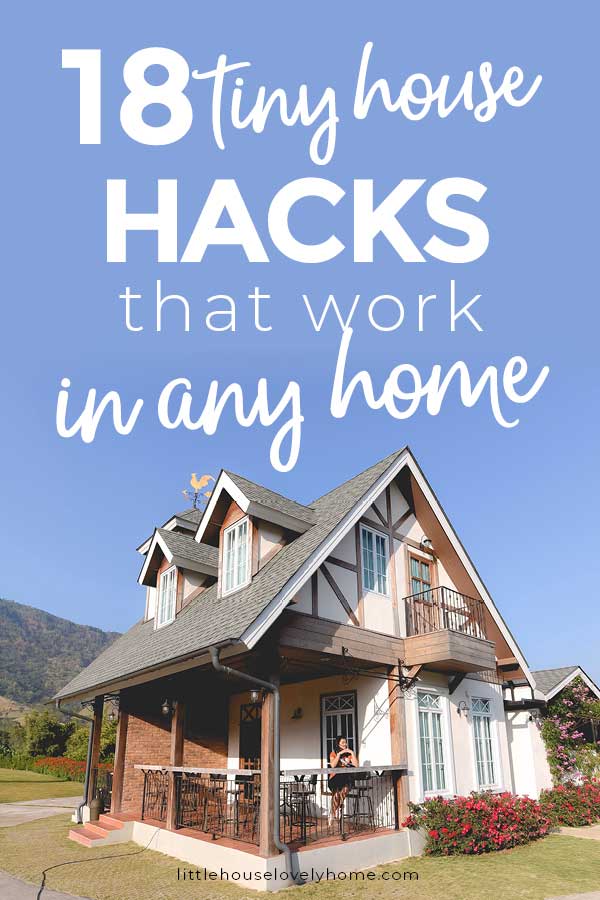 People tend to look at options that are eye-level and feel like the walls are slowly closing in.
But once you open your eyes and look all around, you'll see that there are plenty of opportunities to be able to tackle the "lack" of space that you have in your tiny home easily.
And who knows, you just might find that your new "tiny" home suddenly feels a whole lot bigger and more organized than your other home ever did.
No matter what you're thinking this very moment, I promise you it's not impossible to create extra space in your tiny home and I've got just the tiny house hacks to prove it.

These tiny house hacks will work in any size of home but really provide the biggest change in small and compact houses.
1. Use Storage Beds
Dressers are so last year. Plus, they take up a ton of space.
A storage bed offers you the comfort to sleep with the storage options conveniently located underneath.
This also means that you aren't giving up any extra space but rather using the storage that is just waiting under the mattress. Genius, right?
These are our top picks for storage beds.
2. Hang your dryer upside down
Wait, what?! I know what you're thinking but trust me on this one, it works.
Why take up that extra square space in your already small laundry room when you can easily hang your dryer upside down right above your washing machine?
It's a simple solution that saves you space and also the need to go buy a stackable washer and dryer combination as well.
3. Buy a conversion bed/mini crib
If you have kids, you're going to be over the moon for this.
There are actually mini cribs out there that then convert into an actual bed.
Not only is it convenient and a great way to save space but it's also a great way to save some extra money as well.
You buy a bed once and you get to have your child use it for many, many years to come.
4. Behind the door storage cupboards
If you really stop and think about the space in your tiny home, there's a lot of areas that are more than likely underutilized.
Walk over and take a look behind your doors…anything there? If not, that's the perfect place to have storage cupboards!
Not only could this idea work in your tiny kitchen area but it could also be great for a bathroom or bedroom as well.
You're just needing something to offer storage that is out of the way and off the floor so this Cabidor storage cupboard is a perfect and simple storage solution.
5. Indoor Bike Racks
Everyone loves having bicycles but then comes the issue of figuring out where and how to store them.
Living in a tiny home probably means that you don't have a big storage shed or garage area to put them so that leaves the space inside your home instead.
The good news? There is actually a simple way to have your bikes safely secured and easily accessible.
All you need to do is have some of these indoor bike racks that give you plenty of options to store your bikes out of the way of your daily lives.
Check out this list of indoor bike storage ideas for more inspo.
6. Outdoor Bike Storage Shed
If you're really dead set against having your bikes in your home, it's time to figure out another solution that can easily work as well.
Even if you don't have space for a larger outdoor storage shed, you'll find that there are plenty of great options for smaller outdoor bike storage sheds as well.
These sheds work great in keeping your bikes safe and out of the elements of Mother Nature without hardly taking up any extra outdoor space.
Check out our recommendations for the best bike storage sheds available here
7. Install a murphy bed
Murphy beds are awesome because they stay up flat against the wall during the day and then convert to a simple pull-down bed at night.
This means that you don't have to take up space in your home for a "bedroom" technically if you don't want to. And most times, nobody knows the difference.
Murphy beds can be made to look like storage units or cabinets and some even offer a bit of storage as well.
Best of all you can DIY them, check out these plans to get started.
8. Wall Mounted Desk
Another great way to clear up space in your tiny home is to not have to worry about having a dedicated office.
Besides, why take up one room for a place that you're in just a few hours out of the day?
Instead, this wall mounted desk is a great option.
When it's not in use, it's flat against the wall and folds down in a matter of seconds when it's time to do work or even homework for the kids.
9. Over-the-toilet Bathroom Rack
One of the smaller spaces in your tiny home is more than likely the bathroom.
If that's the case, you need this over-the-toilet bathroom rack.
It's "flush" against the wall but offers several storage options that keep everything close at hand as needed.
And since it comes out the same distance as the back of a regular toilet, it really doesn't take up any more room at all. It's a game changer for those of us stuck on where to fit a toilet paper holder in a small bathroom.
10. Hanging Side Storage Rack
While the most obvious place to hang this side storage rack would be on the side of the fridge, think bigger in terms of location.
This type of storage solution could be great for bathrooms, hall closets, clothes closets, and more.
As long as there is a ledge for it to sit on, it's golden to hang and store whatever items you need.
11. Space Saver Kitchen Table
If you lived in a "regular" sized house before, how often did you really utilize your kitchen table outside of the regular daily meals?
More than likely, probably not that often – unless you were also using it as a catch-all for junk mail and anything else.
The great part about having this space saver kitchen table as your next tiny house hack is that it folds up and stores very well when not in use.
Why take up an entire living area with a table that just sits there when you could easily use it for times of eating, as it's meant to be. More dining tables for small spaces here
12. Bed Risers
Having regular beds in your tiny home is fine but don't forget about all the storage space just waiting to be used underneath!
In fact, you just might be able to fit all your clothes and shoes underneath there without issue.
But to really be able to maximize the space, consider adding some bed risers like these to the base of your bed.
This can give you an extra 5-inches of storage space which can come in very handy in tiny home living!
13. Magnetic Spice Jars
These magnetic spice jars
are the best!
All you need is a metal surface (or a place where you can apply magnetic paint) and you've now created an area where you can store jars and other magnetic items easily.
Why leave the side of the fridge or the inside of your cabinet doors empty?
Those are the perfect places to store as many items as you can as well as being a brilliant space-saver, especially if you don't have a lot of pantry space.
14. Use Magnetic Paint
Speaking of magnetic paint, it's the bomb.
It works on a wide variety of surfaces and is a great opportunity to use wall space that you might not normally use.
Just be certain to be safe and don't use it as a way to store knives or anything else sharp.
It's strong but I don't know if I'd want to test its strength that way.
Think magnetic storage hooks, games or toys for the kids. It's a great way to keep them off the floor.
15. Replace the interior doors
Who says doors have to open outwardly?
Instead, change out the doors to be barn doors or pocket doors that slide side to side so that they don't crowd the space or room that you're in when you're opening and closing them.
This creates more usable space but can come at a high cost so do your sums.
16. Think high as the sky
Don't limit yourself to storage that is eye level.
While you might need to use a step ladder to reach some of your newly added storage areas, you do have the entire length and height of the walls to make it work.
This means that you can easily add bookshelves, storage shelves, and other options all the way up and down the walls.
The main thing to keep in mind when adding storage shelves is that you also don't want them to look overly messy or cluttered.
Keep that in mind as you're using them so it keeps your tiny home feeling clean and neat as well.
17. Carve out storage under the stairs
If your house was built with stairs, "there's gold in them there hills!"
And basically, what that craziness means is that you have a TON of wasted space that isn't being used right underneath that flight of stairs.
Some people spend a good amount of money investing in hardware and pull-out drawers but in all reality, all you need to do is figure out a way to have an opening under the stairs or an access point on the side of the staircase to store some of your things.
This would be a great place for items that you don't use every day.
Extra blankets, out of season shoes, seasonal items…things like that.
That way, you have them in your house and have a place for them but don't have to get into that space daily to get what you need.
18. Wall-Mounted TV
This might seem like an obvious choice or space-saving solution, but having a wall-mounted TV in a tiny home is key.
You just don't have the extra space or room for a TV entertainment center and those are outdated and need to go away, anyways.
Being able to mount your TV to your wall means that it's up and out of the way and literally taking up zero of your much-needed floor space.
You can even hang a tiny hanging shelf right underneath of it to have your remotes, DVD player, etc.
That way it's all right there together just waiting to be used (and just think about how much time you'll save by not looking everywhere for the remote!)
As you can see, there are plenty of tiny home hacks that you can easily do in any-sized home to minimize the clutter and maximize the space.
All you need are a few great products and the desire to make it happen, and it will.
Have fun creating the perfect space in your small home!
19. Invest in a bakers rack
A bakers rack is a stylish way to create storage in a tiny kitchen, plus it looks good enough that you could use it elsewhere in the house.
Ideal for when you have to fit a microwave in a small kitchen, it also has room underneath for pots and pans, towels, crockery, small appliances or anything else you might need to store.
Related: