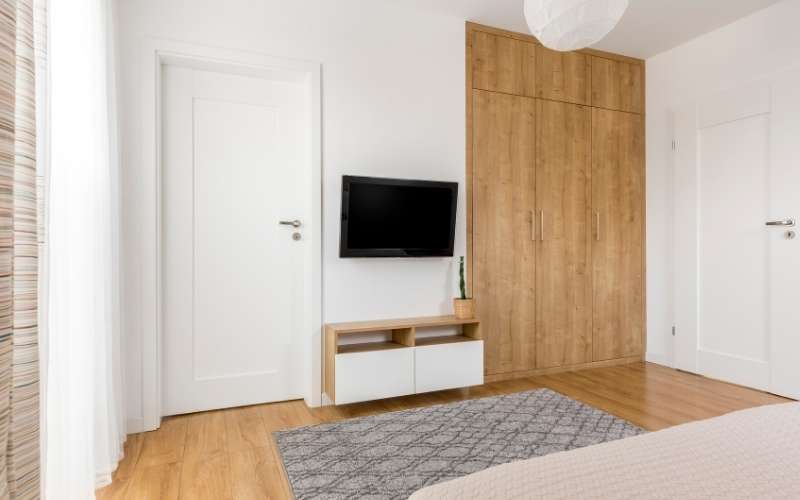 Mounting a TV in a bedroom can be tricky. There are so many factors to consider, from the size of the room and furniture layout to how high you want your TV mounted.
In this blog post, we will walk through some simple tips and tricks for mounting your TV in a way that is both aesthetically pleasing and functional!
How High to Mount TV in Bedroom
In a bedroom, it's best to have the TV mounted between 66 and 77 inches from the floor. This is assuming that you will be viewing your TV while lying in bed – if not, then lower or raise your screen accordingly.
A television should be mounted at a height where it is easy to view from the most common viewing location. In general, this means that your screen should be mounted at a minimum of 42 inches, which is approximately at eye level.
It's best to have your television at eye level or slightly higher because it has the most comfortable viewing angle, and it helps take the strain off your neck. It also helps to reduce glare from light sources.
Some people prefer to have a TV slightly above eye level in their bedroom because it's easier on the neck to look up while laying down.
How Far Should I Sit Back From My TV?
It's important to place your television at the right viewing distance because this can help to reduce eye strain and even headaches.
There are two things to take into consideration: your screen resolution and your screen size.
With screen size, you should be distanced about twice the screen size, which is measured diagonally. For example, if you have a 55″ TV, you should view it from about 110″ away.
4k TV screens are easier on the eyes and allow you to view them a bit closer than older models, so you can go ahead and bring the TV a bit closer if you have one of these.
Try to purchase a screen that has 1080p as the minimum resolution to avoid blurry images and to ensure you will be able to sit closer.
How Big Should a TV Be in Your Bedroom?
There is no "right" size television for your bedroom. It's really a matter of personal preference and how much space you have to work with in the room.
You can take into account the above metrics of screen height and distance from the viewer to make sure that the TV is appropriate for viewing in your bedroom.
For those who are looking to purchase a new TV, here are some good guidelines:
Small Space: If you're working with limited space (i.e., smaller rooms), then you'll want to go with the 43″ model. It's a good size for most people, though if you are planning on watching sports or playing video games it can be too small.
Medium Space: If you have enough room and plenty of space but don't want an enormous screen taking up all your wall space, then 55″ is a great option – it's not too big, but it isn't too small either.
Large Space: If you are looking for a larger screen or are planning on watching movies in your room, then go ahead and purchase the 65″ model. It's large enough to be immersive yet is still comfortable to view from any seating position.
How High Is Too High to Mount a TV?
It is generally not advised to mount a TV higher than 77 inches off the floor because it can make viewing uncomfortable.
However, some people even mount their TVs on the ceiling, which can be beneficial if you want to save floor space.
A TV ceiling mount can allow you to maintain a clean, uncluttered look throughout the room. It's adjustable, so you can watch from a variety of angles and seating areas.
The proper height for wall mounted TV in bedroom will be a bit higher than it is in other rooms due to the fact that it may be hard for one or more people to watch the screen at eye level.
For example, if two people are lying down and one is in front of the other, it may be challenging for the person behind to see. If the television is higher, anyone can watch it from any position on the bed.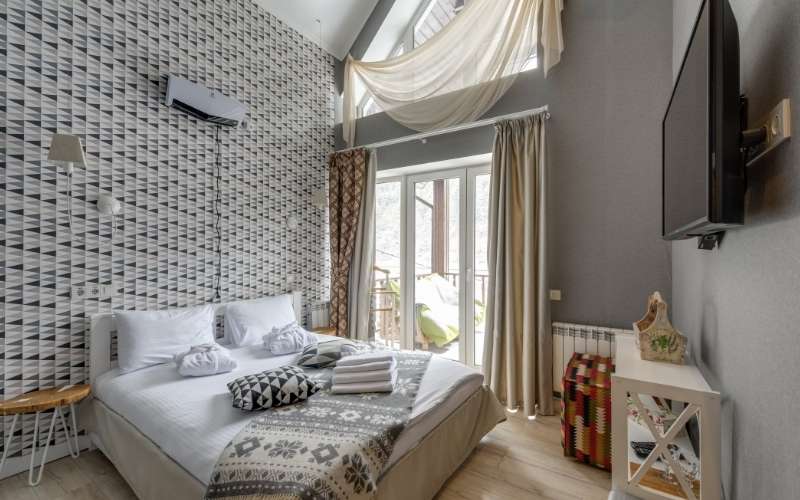 Where Should I Put My TV in My Bedroom?
Putting a TV in your bedroom can drastically change its ambiance, so you want to make sure you place it in the best area possible.
Focus on finding a space that is easy to view from your bed as well as any other seating areas in the room.
Pay attention to where the windows are located in the room and make sure you're not hanging your television in a spot with a lot of glare.
Corner Mounted TV
Corner placement is great for maximizing space and allowing you to hang larger pieces of decor and art on the walls.
Make sure that your corner area isn't near a door that could possibly be opened to avoid having the door hit your screen.
Wall Centered TV Mount
Many people prefer to center their television on the wall in order to create a balanced look. You can place matching wall décor or lamps on either side of the TV to further enhance the feeling of balance.
Or, leave the space open to create a clean, minimal look. This placement also tends to make your wall look the biggest, which is great for those with smaller rooms.
Bed Centered TV Mount
You may prefer to center the TV to your bed so that you are viewing it directly from where you will be laying down.
This TV height in bedroom is best for those who prefer to lie in bed and won't be sitting elsewhere in the room to watch their shows and movies.
Since this will likely create an asymmetrical effect on the wall, you'll want to balance it out by adding larger pieces of décor and art on the other side.
How Do You Mount a TV in a Bedroom?
Mounting a television in your bedroom is a fairly straightforward process.
However, before you begin, make sure to take a look at your furniture layout and think about how you want to use the TV in your bedroom – do you only watch it while lying down? Do you wish to view it from multiple seating locations or angles?
When you've made your decision about where you will install your mount, you'll need to gather a few materials. You will need the following tools:
Measuring tape
Screwdriver or drill
Wall Anchors
Screws
Stud Finder
Cable Management System
Two people make this process much easier – one person can hold up the television while another attaches it to the wall using screws and anchors (if needed).
If you don't have cables installed behind the wall, now is a good time to do that as well. Using a stud finder, tape measurer and drill, simply mark where your screws will go and attach the television using anchors if necessary.
Keep in mind that there are multiple types of mounts available, and you can choose the one that best suits your needs. Many will come as a kit and will include many of the hardware pieces needed.
Final Thoughts
The best height for a mounted TV in your bedroom is one that allows everyone to comfortably watch it from wherever they will be sitting or lying down in the room.
Remember that even if you don't plan on watching television when lying down, there may come a time where someone else wants to watch something in that position.
It's easier to prepare for all viewing situations than having to uninstall and reinstall your mount.
Once you get the perfect angle, distance, and height of your mount situated, it's time to sit back and enjoy the view!
Related: