If you have a small bathroom with limited storage space, it can be tough to find the perfect place to store your makeup.
You don't want to clutter up your countertops or vanity area with beauty products that need a home. In this post, we will give you 15 makeup organizer ideas for a small bathroom.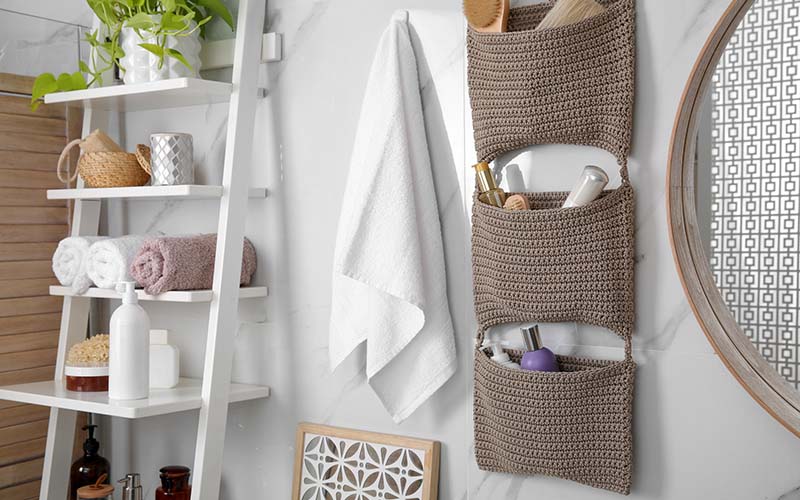 15 Ways to Organize Makeup in Small Bathroom Spaces
It's easy for makeup to end up on every surface in your bathroom, especially if it's a smaller space.
These containers aren't uniform, so it often looks very cluttered to leave even a few pieces of makeup out. Not to mention, it can make it challenging to clean up or find toiletries easily.
Your makeup can be organized successfully with a little creativity and some good tools. Have fun with your storage and get ready to think outside of the box!
1. Get a Shoe Organizer
If you have a long, narrow space to work with, a shoe organizer is an excellent option for organizing your makeup. Hang the organizer on the back of your bathroom door or in a closet near where you do your makeup each day.
These come in different sizes, so you can find ways to fit as many or as few makeup products into it as you like.
They're often made of mesh and plastic, so your items won't get lost and they'll dry easily if anything spills inside the organizer.
You could also use a shoe organizer for storing hair styling tools, towels, toilet paper, and other bathroom necessities that need easy access. You can even make a place for your toothbrush and toothpaste with some strategic folding!
2. Make a Magnetic Makeup Board
This is a great option if you have wall space. You can create your own magnetic makeup board out of just about anything, even plywood or foam core that's covered in fabric or wallpaper.
There are many great DIY makeup storage tutorials available that can help you customize the size of your board and create holders for foundation bottles, lipsticks, or other items.
You can even use a magnetic board to store jewelry, hair ties, or other small items that you want to be displayed around your bathroom. The sky is the limit! This is also an easy option for renters who may not be able to drill holes in their walls.
3. Get a Bathroom Cart
Bathroom carts are perfect for holding all of your beauty essentials. They're often on wheels, so you can push them out to use them and then put them away when you are finished.
They come in different sizes (we really like this one) depending on how much room you have available, but they typically allow storage options for items like towels, toiletries, and makeup.
You may even want two carts, one that stays open on the countertop while you're using it and another that is hidden away behind a closed door or drawer where other members of your household won't see your products.
4. Use Glass Jars
Glass jars or mason jars are another great option for storing your makeup because you can easily see what's inside.
They're often clear so they will look attractive on a countertop, and the wide mouth makes it easy to access everything without spilling or dropping items into other containers.
You can use these in place of traditional makeup organizers that have slots for each item. Simply put your brushes, eyeliners, and lipstick into the jar with their lids off. This way, they are easy to grab but also contained until you need them next.
Using chalkboard labels on each jar can help you keep track of what's inside. Just write the contents and date right onto the jars with chalk.
5. Add a Drawer Organizer to Your Drawers
It's possible to add drawer organizers to maximize the space you currently have available.
This is a great way to make the most out of every cubic inch, especially if you have very deep cabinets that are otherwise difficult to fill completely with toiletries and other items.
These can be customized so they fit perfectly into an existing space where there isn't a drawer or shelf. You can add dividers, compartments, and even smaller drawers that are the perfect size for makeup brushes, eyeliners, and other small items.
If you do this in your bathroom vanity, it may be possible to create another cabinet on top of the existing one so there is more storage space available without taking up any additional
6. Use a Tray
Using a tray like this one for organizing makeup is another option for making your beauty products more accessible.
There are many custom trays available online that have individual compartments and even little drawers.
This allows you to store brushes and other small items within easy reach without having them roll around or get lost in the bottom of a drawer somewhere.
This is best if you like your makeup laid out on a surface but want the option to pick it all up at once and store it in another room or area in your bathroom.
7. Get a Makeup Case
A well-compartmentalized makeup case is an easy way to store your beauty products.
This is an especially good option if you like to travel with your makeup since it's already in a travel-ready container.
You can choose from different sizes, hard or soft cases, and even different styles, like a train case or something more modern and sleek.
Some like to have a small makeup case that contains daily essentials. They can then use their larger makeup case for the storage of less often used products.
8. Use a Small Lined Basket
Baskets are great for makeup storage and also look nice on your vanity, bathroom countertops, or even next to the shower.
It's easy to find styles that will fit nicely into a space without taking up too much room but still hold everything you need for daily use.
You may want more than one basket, so you can separate out products by categories like face makeup, eye makeup, and lipsticks. You can also purchase baskets with lids to create a clean, clutter-free look.
The lids will also make it easier for you to stack them if your bathroom doesn't have enough space for all of them to be out at once.
9. Find a Rotating Makeup Organizer
If you have some extra space on your countertop, a rotating organizer can be perfect for storing makeup.
This is also great when it comes to keeping track of what's inside since everything rotates around and you can see every item at once.
These are usually pretty affordable and come with several different compartments that stack on top of each other or fit into one another for compact storage options.
If you have a lot of makeup, you can purchase one that you keep out at all times for daily use and get some backups to place under the sink for more occasional use.
10. Install Floating or Corner Shelves
If you have vertical wall space to work with, you can use floating or corner shelves to store your makeup.
There are many different styles and designs that will fit in with the décor of your bathroom.
These are a good option for keeping everything nice and tidy without having to make any changes or additions to the storage space you already have available.
Make sure that your makeup shelf has a lip on the edge or that you add your own organizing containers to the shelf to prevent your makeup from rolling off or being easily knocked off.
You'll also want to be mindful about where you install these shelves. Make sure that you can easily reach them, see what items are on them, and that they aren't in a high traffic area where you're likely to bump into them.
11. Hang a Beauty Armoire
A beauty armoire is a cabinet made of wood or metal that's designed to hold your makeup, hair care items, and other personal items.
It's perfect for small bathrooms since it provides storage space for everything in one place without taking up too much room.
Beauty armoires are often compact in size so they can fit in spaces that are limited on floor space. These may have compartments that are adjustable to accommodate different height items.
This also ensures that the contents won't shift around when the cabinet door is opened.
These can be hung over your bathroom door, drilled into a wall, and also come in stand-alone styles. They often come with a large mirror on the door which can also make your bathroom look bigger and brighter.
We recommend this armoire for those who want a unit that stands on the floor, can hold all your jewelry and makeup, and can easily be moved around your bathroom and home.
12. Use a Spice Rack
A spice rack can be turned into a great makeup organizer with just a few simple steps.
These are normally installed on the inside of pantry or kitchen cabinets but you mount it to the wall in your bathroom for optimal storage space.
There are many varieties of racks that you can use. Some will stand on your vanity and spin similarly to the rotating makeup organizer mentioned above. Others will be fixed to the wall and hold items that hang from them.
There is a lot of flexibility here, so take time to research what's out there and pay attention to the measurements so you can be sure that your rack will hold all of your makeup without it falling off the sides.
13. Put your Makeup in a Nail Polish Organizer
If you're looking for a quick fix at a great price, this is the perfect option.
A nail polish organizer can hold makeup of all shapes and sizes in a very small space without taking up too much room or making your bathroom look more cramped than it already is.
They are also clear and minimal looking which means that they won't add visual clutter to your smaller bathroom.
These organizers come with several different compartments ranging from large to small. You can also find tabletop models as well as vertical holders that are directly mounted to the wall.
You can also easily stack multiple units to create a larger storage space for your makeup.
14. Use Tupperware
If you're looking for a solution that you may already have in your home, consider using Tupperware for your makeup.
Tupperware bins come in a variety of sizes and shapes so you can find ones that fit your needs perfectly. They also stack on top of each other for easy vertical storage as well as store easily under the sink or vanity, inside cabinets or drawers, and even slide onto shelves without taking up too much room space-wise.
They're easy to clean and disinfect so you don't have to worry about them getting dirty or molding. You can purchase glass, plastic, or acrylic containers depending on your preference.
Since this won't be the best solution quickly pulling out a piece of makeup, you'll want to take time to label your Tupperware so you know where everything is without having to remove the lid.
15. Get a Pallet Organizer
Makeup pallets are infamous for easily breaking, leaving you with a bunch of little pieces that look like an explosion went off in your makeup bag.
The pallet organizer is a perfect solution for this tragic problem.
These organizers hold all of your makeup pallets together in one place so they are protected, organized, and easy to grab as needed. These tend to be smaller in size, so they don't take up much counter space and can even be placed in cabinets or on top of small shelves.
They may be ideal for those who only have a few pieces of makeup that they want to store together. However, since pallets are often larger than other makeup items, you may find that having a few of these can help keep your counter from turning into a full-on disaster zone.
Final Thoughts:
We hope that these 15 makeup organization ideas and tips help you to get your bathroom back in order. It may take a bit of trial and error, but with experimentation, you'll be able to find the best solution for your space.
So, what do you think? How would you organize makeup in a small bathroom? Please leave us some comments below telling us which idea was your favorite.
Related: