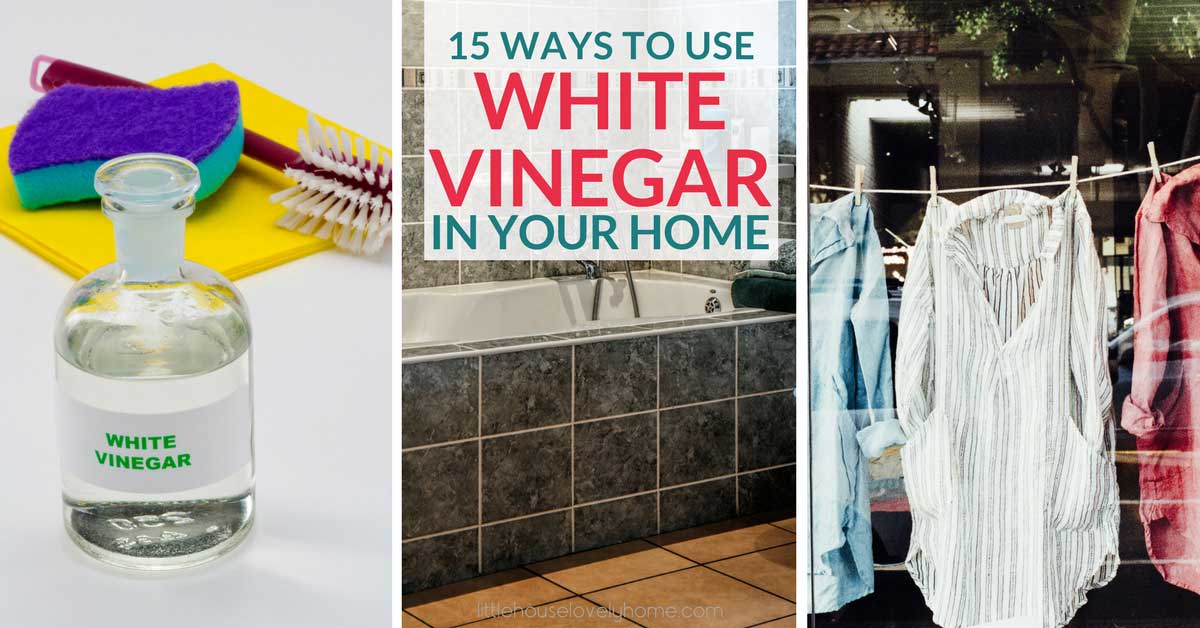 I have a confession to make. I had no idea how to use white vinegar for cleaning until a year ago.  It wasn't really until my youngest started to become more mobile that I started to look into reducing the chemicals in my home. I started to research uses for vinegar in the home and discovered there are so many ways to use white vinegar — especially when it comes to cleaning.
Instead of buying expensive cleaning products, I've been able to replace almost every cleaner in my home with white vinegar. Next time you're at the grocery store, pick up a bottle of white vinegar and check out all of the uses it has.
Uses for White Vinegar
1. Soften cuticles. Soak nails in undiluted white vinegar for five minutes.
2. Whiten grout. Dip a toothbrush in white vinegar and scrub the grout lines.
3. Clean shower doors. Mix ½ cup white vinegar, 1 cup ammonia, ¼ cup baking soda, and one gallon of warm water. Spray on doors and then wipe with a microfiber cloth.
4. Disinfect toilet bowls. Pour two cups of white vinegar into the toilet bowl and let it soak overnight before flushing.
5. Clean the microwave. Wipe the inside of the microwave with a warmed up mixture of white vinegar and lemon juice.
6. Sanitize a humidifier. Soak pieces of a humidifier in a vinegar solution to sanitize it. If your humidifier is the kind with the globe just pour in some vinegar, swish it around, and rinse.
7. Clean the showerhead. Mix a solution of baking soda, vinegar, and dish soap. Pour the solution into a plastic bag and attach to the showerhead so it is soaking in the solution. Remove the solution and scrub with a toothbrush.
8. De-stink the garbage disposal. Mix a cup of baking soda, a cup of vinegar, and hot water. Pour it down the disposal.
9. Clean your coffee machine. Run a full pot of white vinegar through the coffee machine. Once it's clean, run at least two cycles with plain water.
10. Soothe the sunburn. Using a washcloth or a cotton ball, dab undistilled vinegar directly on the burn to take the sting out.
11. Brighten laundry. Add ½ cups white vinegar to the washing machine along with the regular detergent.
12. Stop reds from running. Soak clothes in a few cups of undiluted white vinegar for 10 to 15 minutes before their first washing.
13. Whiten socks. Add 1 cup of vinegar to 1 ½ quarts water in a large pot. Bring the solution to a boil, pour it in a bucket, and allow the socks to soak overnight.
14. Get yellow out of clothes. Soak the clothes overnight in a solution of 12 parts warm water to 1 part vinegar. Then, wash the clothes as usual.
15. Deodorize pet accidents. Blot up any excess moisture from the carpet. Sprinkle baking soda on the area, then spray with vinegar. Scrub the mixture with a scrub brush. Allow it to dry and vacuum up the residue.
As you can see there are so many ways to use vinegar in your home. I'm sure I'm missing some. Feel free to share your tips for using vinegar in the comments. Want more cleaning hacks? Check out these genius cleaning hacks to save time cleaning.
Like it? Pin it for later.