It's more common than ever for people to have a washer and dryer on-site at their homes.
With so many types of laundry rooms in different types of homes, you may be wondering, do laundry rooms need vented doors?
A door in your laundry room will help to reduce the loud noises coming from a washing and drying machine. It also helps to contain the smell of laundry, detergent, and other items you're storing in the area.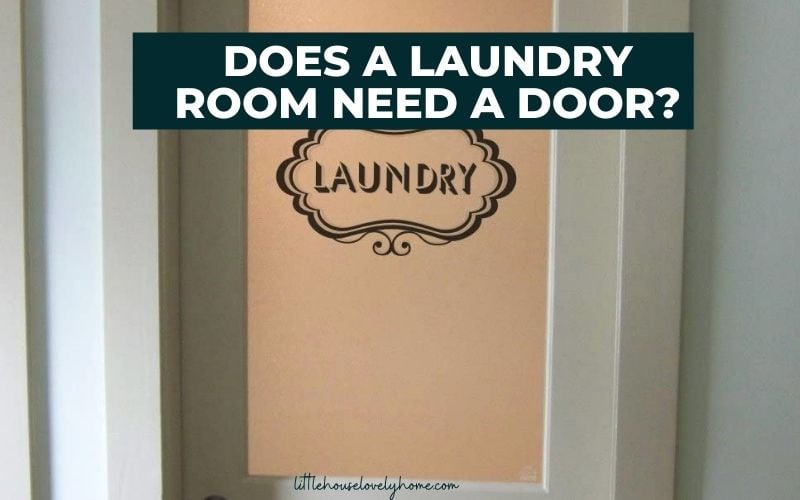 Let's discuss the many considerations you'll have to make when choosing a new door for your laundry room.
Does a Laundry Room Need a Door?
A laundry room door is a great way to create privacy, reduce noise, and contain smells. It can also make your home look more visually appealing since it reduces visual clutter.
It's important that there is a proper ventilation system in place in your laundry room if it will be a closed space, especially if it is a smaller room.
This will help to prevent mildew and mold, caused by excessive humidity.
A vented door can help to provide airflow and is best paired with a vent pipe, exhaust fan, ceiling fan, or vented window.
Let's discuss the many considerations you'll have to make when choosing a new door for your laundry room:
The Size of Your Laundry Room
The first thing to consider is the size of your laundry room door. To make sure you buy the right-sized door, measure both the width and the height of your existing door.
You will also want to measure the swing of the door (how far it swings open), which is typically 90 degrees. This way you won't get a door and discover it won't open all the way.
Your Budget
You'll need to consider your budget when it comes time to buy a door. You can choose from several different types of doors, including solid wood, fiberglass, or steel doors.
Most people will opt for a solid wood door because it is aesthetically pleasing and is often more affordable than steel or fiberglass.
If you're looking for a more affordable door, you can purchase one for as little as $50. From that price point, doors go up to $2000 to $3000 for luxury options.
You can expect to pay, on average, $150 to $400 for a solid wood door.
The Style of Your Home
When it comes to the style of your home, you'll want to consider what type of door will match best with other items in your laundry room. Some common features of laundry room doors include windows, vents, or glass.
You can choose a white door that will match seamlessly with your walls and lighten up your space. A bare or stained wooden door will work well for a home with a rustic or natural look.
Of course, the sky is the limit when choosing an accent color for your laundry room door.
What Kind of Door Do You Use in a Laundry Room?
There are many different types of doors that can be used in a laundry room. Choosing the right one will depend on your laundry room and personal preferences.
Do you need to install one door, two separate doors, or something else entirely?
Consider all the pros and cons before making your final decision on what kind of door is appropriate for your home.
Here are the most common types of doors used for laundry rooms:
Bi-Fold Doors
Bi-fold doors are a popular type of door used in laundry rooms. They consist of two panels that fold into each other and are usually hung on a track.
The space-saving design of bi-fold doors makes them ideal for laundry rooms where you want to save as much floor area as possible.
Bi-folds can be opened completely or partially, depending on what your needs may be at the time (i.e. folding clothes, changing loads in the washer and dryer).
They are an attractive option that can be painted or stained to match the rest of your décor.
Multifold Doors
Multifold doors are similar to bi-fold doors except they are typically made up of three or more panels. They are good options for smaller spaces. However, they may not have the ease of opening that other doors do.
The panels of a multifold door are usually hung on tracks, but some designs have hinged edges instead. The hinges allow for easy folding and give the door a clean, uncluttered look.
By-Pass Sliding Doors
This type of door is made up of two panels that slide past each other in a single plane. This style of sliding doors offers great space-saving benefits, as they only take up the width of one panel.
There are different kinds of by-pass sliding doors that can be used in a laundry room. Some have two tracks and panels that slide by themselves, while others require the user to pull one panel at a time, forward or backward.
Pocket Doors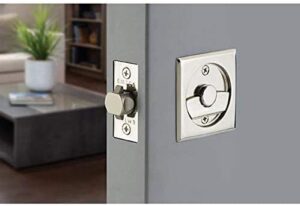 Another type of door that is gaining popularity in laundry rooms is the pocket door. In a laundry room, this style of door is usually made up of one panel that tucks into an opening in the wall.
This type of door is a great option for small spaces because you can use it to conserve space when washing and drying. It also has a clean appearance since the door virtually disappears when it's opened.
Swinging Doors
Swinging doors are the most common type of door used in laundry rooms. They consist of one door that swings on a hinge.
Swinging doors open fully in one direction and sometimes can take up a lot of space in a small room. However, they are very easy to open and close, even if your hands are full of laundry.
Do Laundry Rooms Need Vented Doors?
A vented door is a great choice for a laundry room because it allows for the air to circulate, which can help reduce humidity and reduce the growth of mold or mildew in your laundry room in the long term.
It also helps to create privacy in your utility room as well as reduce the sound coming from the machines.
You can choose from vented or solid doors for your laundry room, depending on the style you're going for, the size of your laundry room, and how much sound you want to block out.
Pros of a Vented Laundry Door
Provides ventilation to help reduce humidity in the laundry room.
Helps regulate temperature and airflow in a small space, which can help reduce the growth of mold and mildew.
It allows for privacy, as it can help block out sound from machines in use.
Cons of a Vented Laundry Door
It can take up a lot of space in a small room if there's a swinging door.
It may require more maintenance and cleaning over time.
Does a Utility Room Need an External Door?
While a door isn't necessary for a utility room, it is an added convenience.
You can easily access your washer and dryer from the outside of your home without having to walk through the house or move items around in order to get through a doorless entryway.
This is ideal if you're using your utility room for heavily soiled clothing that you're bringing straight in from outside.
This could be your garden clothing or clothes you used for washing your dog.
Final Thoughts
Laundry rooms can be a challenging space to decorate and arrange, but adding a door can help alleviate some of the challenges.
By choosing a door that matches your laundry room décor and doesn't take up too much space in the room, you can add a new touch to your space while making it more functional and easier to clean.
When deciding on the best doors for laundry closet, consider what your needs are and how much space you have to work with.
With a little knowledge and research, you can choose the perfect door for your laundry room to make it a space that functions well and looks great.
Related: