Do you need a temporary door for your home?
We have some great ideas to help you find the perfect one.
There are many solutions for all types of budgets, styles, and doorframe sizes.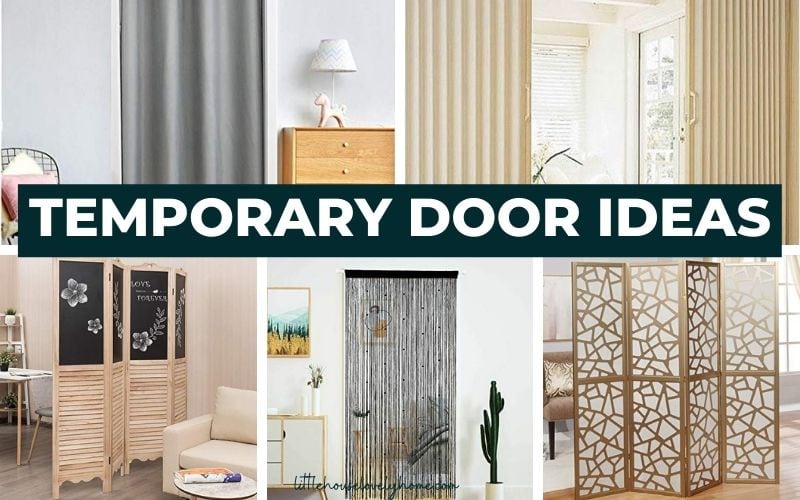 Temporary doors are usually lower cost, more flexible, and can often be much more creative than a traditional door.
Make shift doors are also great for those who are renting and want to change out their current door without permanently installing anything in the unit.
Check out our list of temporary door ideas to find the perfect fit for your home!
25 Temporary Door Ideas
A thermal insulated curtain is a great choice if you need a practical solution that can keep wind, rain, heat, and cold outside of your home.
If you're temporarily replacing a door that connects your home to the outside, this is one of the best ways to do it.
You can easily open and close the curtains when you need access to your home and they will conveniently close behind you.
This is also a relatively hands-free option, as you don't have to hold onto anything when accessing your home.
These curtains adhere to the doorframe with magnetic strips so that there are no gaps and no potential for insects or animals to get in.
They're also easily removable and reusable, so you can change your door décor with the season or new designs as often as you like!
If you're looking for a light and breezy option, magnetic screen doors are a great choice.
These are available for both regular-sized doors and also French-style doors, so you can have them on almost any door frame in your home.
These are typically installed without needing tools or hardware.
Instead of using screws to attach the door frame magnets, small patches adhere on top of each other to keep everything tight against the wall.
You can reinforce them with a strip of outdoor double-sided tape or nails to make sure they hold up long-term.
You can use traditional wall curtains to create the same look as a window-style door.
These are available in various fabrics, weights, colors, and designs, so you can customize them with your home decor.
The simplest way to install these curtains is by using a tension rod.
Simply set the rod up in your doorway with a tension mount and then hang the curtains on either side of it.
You can also choose to use temporary adhesive hooks or picture ledges for more permanent installation, but this will likely require tools and hardware that you may not have available if you're using them temporarily.
They typically come with two panels that attach together on one side of the doorway using magnets or ties.
You can also use two layers to create the look of double curtains.
This allows for a translucent layer that is more open as well as a thicker layer that will block light, wind, and provide extra privacy.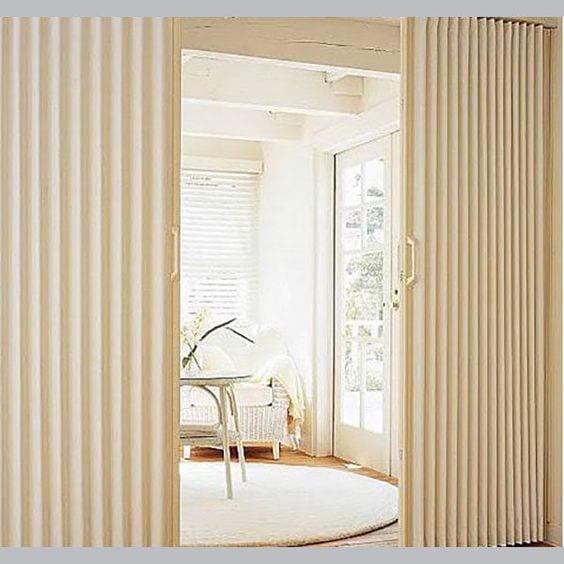 Accordion folding doors are a great option if you need something lightweight and easy to store while not in use.
These typically come with hardware installed, so all you have to do is attach the door and it's ready for temporary installation.
A temporary accordion door can be especially good for renters who want more privacy or insulation on their bedroom doors without using heavy curtains or blinds.
They're made from various materials, including wood and vinyl, so you can choose what will work best for your decor and purpose.
The best temporary accordion door will be lightweight, durable, and easy to install.
Make sure you have the necessary hardware included in your purchase to fit well with any existing doorframe where you plan to use it.
Roman shades are usually used for windows, but also make for a great non-permanent door.
Roman shades are usually made of wood, vinyl, or polyester.
They work by lifting up and down, which can be done electronically by using a cord or string.
They're typically installed with either adhesive strips for temporary use or hardware screws that allow you to remove it when needed.
Roman shades come in many colors, patterns, designs, and styles, so they work well in a variety of spaces.
If you're looking for privacy, consider choosing a thicker fabric or one with more layers.
They won't completely block out sound but will block out light and provide a visual separation.
The fabric is usually heavy-duty enough that it won't rip easily when opening and closing, even when using them frequently.
Beaded curtains were popular in the 1970s and 80s, and are a fun and retro option for today.
They work well as temporary door options because you can easily remove them when not in use or even if they need to be washed.
Beaded curtains are usually lightweight, making them ideal for temporary installation with adhesives or small screws that won't leave holes in the doorframe.
They come in many colors and styles, so you can customize your décor.
Beaded curtains typically come with hardware attached so that installation is quick and easy, although it may require tools depending on which type you purchase.
These are made from wood, fabric, plastic, or vinyl so you can choose the perfect material for your decor and purpose.
The beads allow light to pass through while giving a bit of privacy as well.
They also tend to bounce back into place and don't need hands to open, so they're easy to use.
Macramé doors are a unique and eco-friendly option that can be used as temporary door ideas.
They are similar to beaded curtains but are made of different woven materials.
They're made from cotton or nylon cord wrapped around a central wooden dowel attached to two side panels using hardware.
The best macramé doors will be lightweight, durable, easy to open and close with one hand, and made from an easily washable material that is colorfast.
Macramé doors are an excellent choice for renters who want something more visually interesting on their bedroom door without making permanent changes or spending much money.
Screened room dividers come in different sizes and can be repositioned, making them perfect for irregular spaces.
Some are so long that you can even use them to create entire walls in your home!
The best screen room dividers will have a sturdy frame that won't bend or break easily and will be easy to open and close.
You'll also want to make sure it isn't too heavy if you plan on entering and exiting the space often or having children use it.
They're typically made of plastic, plexiglass, wood, vinyl, bamboo, or metal mesh that is screen-printed with designs.
They come in a variety of colors and styles, so you can choose the perfect fit for your space.
Screened room dividers are typically stand-alone that don't attach to the doorframe, so it's the perfect temporary door without drilling.
Sliding barn doors are a more permanent option, so they work best as actual replacement options.
However, they can be installed in minimal ways that do very little damage to the walls and are even repairable for those who are renting a unit.
A temporary barn door is great for smaller spaces since the door remains flush with the wall and never swings open.
You'll never have to worry about them knocking over furniture or getting in the way when you're entering and exiting.
Sliding barn doors are typically made from metal, wood, plastic, or vinyl for easy cleaning and durability, depending on which material you choose.
They come in many styles and colors with decals you can choose from if you want to add visual interest without sacrificing privacy.
They're made of wood but typically have rust-resistant metal hardware that is durable for everyday use.
If you can afford this option or are crafty enough to create a DIY temporary door, the sliding barn door is an elegant choice.
Tapestries and prints can be used as a temporary interior door or add visual interest to any room.
They're great for renters because they don't do any damage when you remove them.
One downside is that they are often much thinner than curtains, so they won't last as long.
You will also have less privacy with this option.
Choose darker colors and heavier fabrics if you want a stronger separation in the door frame.
Tapestries come in different sizes and can be hung on any wall you choose, even one without a door frame!
They're typically made of cotton or silk that comes from India, China, South America, or Africa, depending on which style you purchase.
They often feature beautiful artwork from many different cultures, making them an excellent choice for adding global art to your home.
For a more exotic and earthy look, consider using an artificial vine garland as a temporary door.
Ivy works best for this as it is thick, lush looking, and easy to find for purchase.
You may need to approach this as a DIY temporary door and take some time to cut them to size and attach a sturdy support beam that can be mounted on your door frame.
You can control how many vines you use and create a very dense private makeshift door or a spacious and sparse look that still provides privacy and separation.
Old quilts are not just for decoration.
You can use them as a temporary door or even hang them on the wall!
They're typically made of cotton, or wool and sometimes have small embellishments such as lace or beading.
A quilt has a heavy, thick material that is perfect for insulating heat and can even block out a certain amount of sound.
However, it may be too heavy to hang from the top of your door, so you may need a sturdy nail or hook.
For renters looking for temporary doors that have low upkeep and are easy to remove without damaging your walls, quilts can be an excellent option.
Take the time to hang them properly and accentuate the art or patterns with a paint color or wallpaper to match your temporary door.
13. Sheets
If you need to use something that's just lying around the house as a temporary privacy door, you can always grab a sheet.
Choose one that is a white or natural color to help keep your room cool and prevent it from looking too busy.
They're not ideal for blocking light, so you'll want to choose something with thicker fabric or a darker color if this is an issue in your space.
One downside of using sheets as temporary doors is that they are thin and flimsy.
They may not last very long depending on how often you use them, so it's best to view this as a quick fix.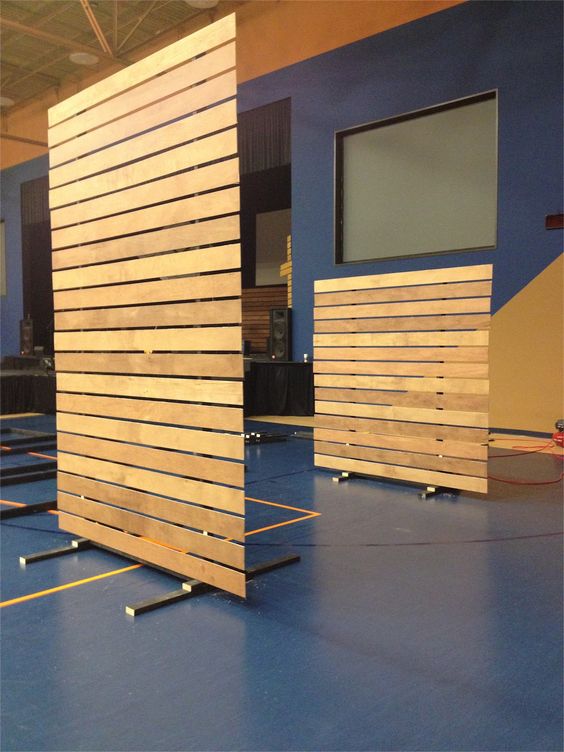 Using 2 by 4 boards, you can build a wood slat door to use as a temporary or even permanent interior or exterior door.
You can purchase pre-cut wood boards at your local hardware store and build a base for them so they can stand freely.
This is a DIY version of a standing wall and can be customized to fit your space and desired look.
They can be painted or stained to match the rest of your interior design, making it a great option for renters who want something they can bring to their next home when they move.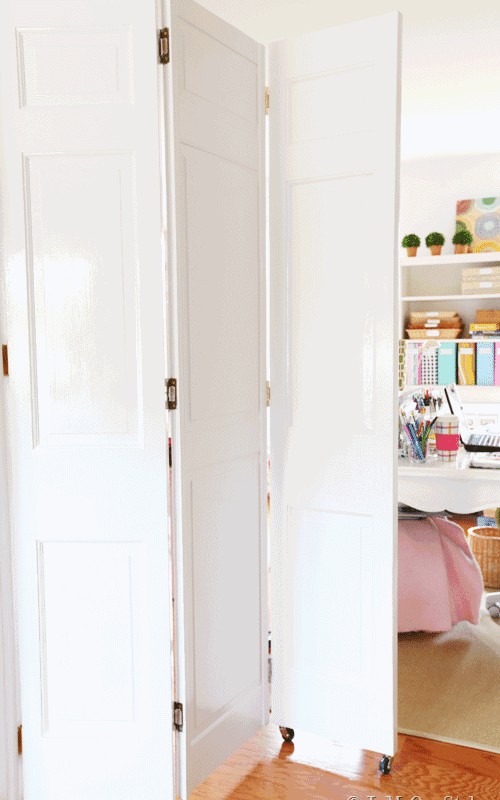 You can build a rolling door as a temporary interior door in your home.
These are great because they are easily movable on their wheels.
You won't have to worry about scratched floors or need to push and pull the door around, and they're easy to open.
Roller doors are made by putting two or four wheels in the bottom of the frame that will hold your sheet material (you may need more than one if you want it to be extra sturdy).
The top can be constructed with wood slat boards like a traditional temporary wall door would use.
This option is best for high-traffic areas in a home where the door will be used frequently.
It's also ideal for those who want to use a temporary door in many different areas of the house.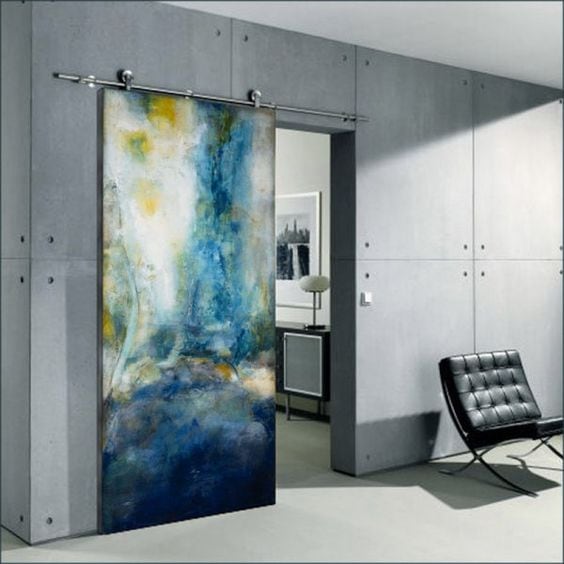 Instead of making a sliding barn door with wood or metal, why not make one out of art?
This is a great way to use something that you already have on the wall as temporary doors.
These are more of an art installation than a private door, but they can still accomplish their job if needed.
The critical thing to consider here is how high your ceilings are and what kind of material you'll be using for this project because different sizes will need to accommodate your space.
This company shows how this idea can be used as a high-end application for both a temporary or permanent door.
The sky is the limit!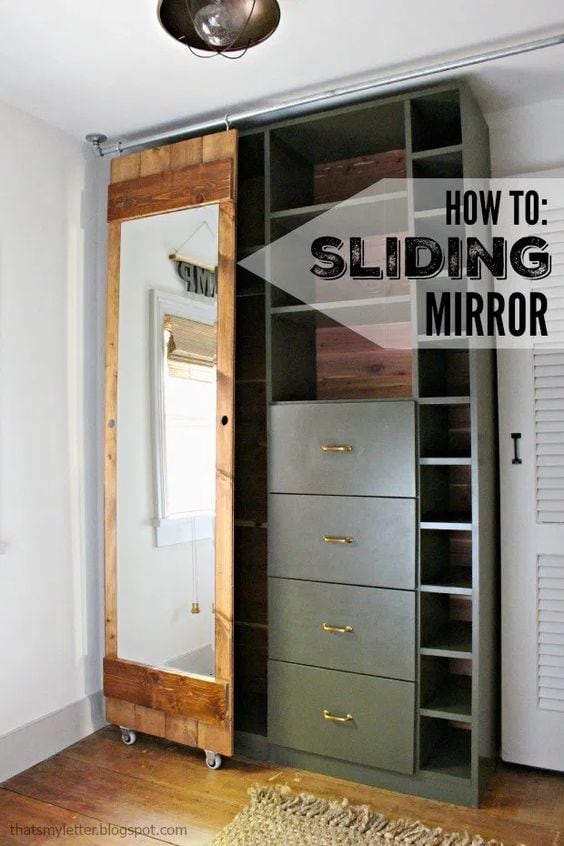 Using mirrors for temporary doors is an excellent option if you want to make your space look more open and bright.
You can install mirrors onto sliding doors. Since these types of doors don't slam shut, this is a safe option to use in homes with children.
You can also add mirrors to room dividers to give them a bit of sparkle and elegance. Just be sure to be extra careful when moving these ones around.
18. Shower Curtains
Shower curtains can be used as temporary doors to cover unoccupied rooms or spaces that you would rather not use, such as a furnace room.
Use fabric and grommets to make the curtain fit your space better and attach rings on the top of the door so it stays closed properly.
You can also use a tension rod and shower rings to create a makeshift temporary door.
This can be a great option for homes with renters because it's easy for them to pack up and take with them when they move out.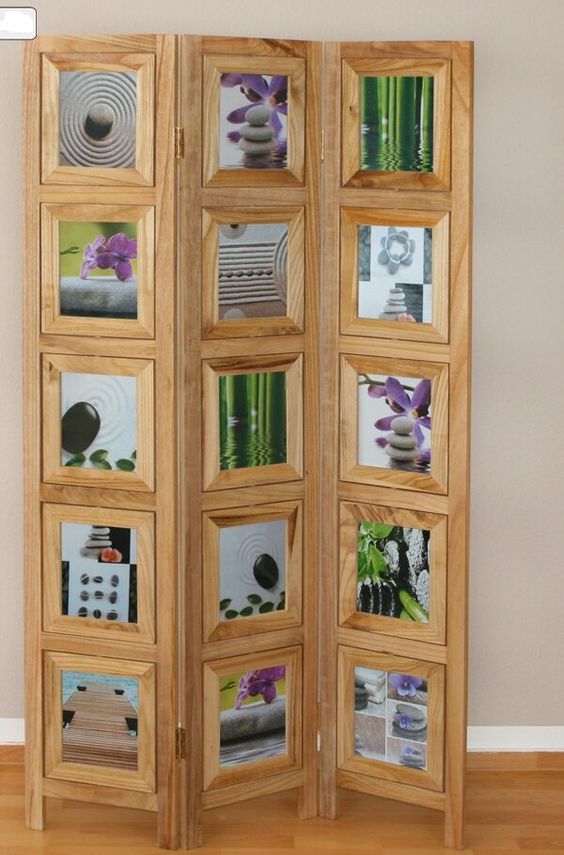 If you want to customize your temporary door to your lifestyle, consider purchasing or building a picture frame divider.
You can get creative with the design and choose a theme for your photos, such as all black and white photos, all nature images, or a variety of family shots.
Not only can these be used as a makeshift door, but you can also decorate a room with them without needing to make holes in the wall to hang your photos or art.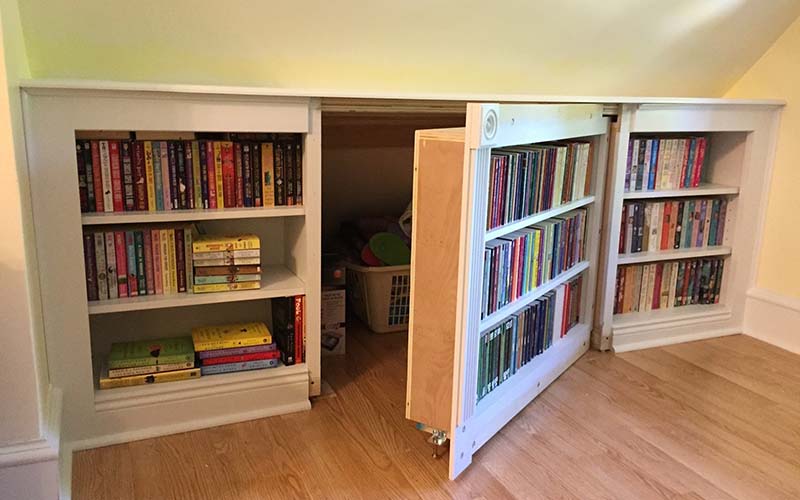 Using bookshelves to act as temporary doors is an excellent way for you to save space and create more room in your home.
This version is made by attaching the top of a bookcase directly onto the wall so it looks like two separate pieces, but they are actually connected with hinges on one side.
You can use any shelf you want, and you can add more shelves if they're needed.
This is one of the most private temporary doors you can make since your guests won't even know there is another room behind it!
It's also a great way to maximize storage space in your home. Just make sure that the objects you place on the shelf are held securely.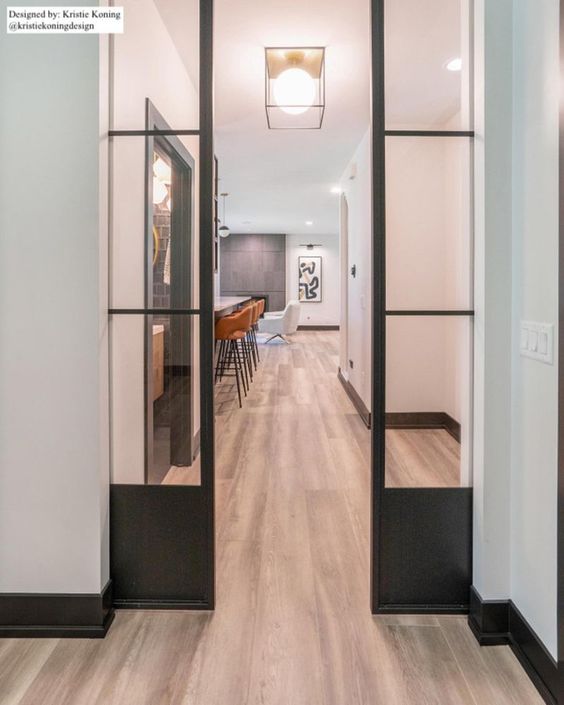 Pocket doors aren't often considered temporary door solutions because the installation process can be rather involved.
However, they are a very efficient option for saving space and make a great alternative to traditionally hinged doors.
Pocket doors slide into a pocket that is attached to the wall, so they won't take up any additional floor or wall space in your home.
This can be an excellent solution for smaller spaces such as lofts and studios where every inch counts!
Decorate your temporary door using chalkboard paint.
This is an excellent way to get creative with the design and make it match your mood or personality.
You can also use this for kids' rooms so they can draw on their door when needed without drawing all over the walls of their room.
You can make a chalkboard door out of any temporary one with a rigid surface.
Folding walls and sliding barn doors work best for this.
You can purchase commercial-grade chalkboard paint from a hardware store and follow the instructions on the label to get started.
Try placing colorful knobs or pulls that will add an extra touch of style!
If you're short on time, you can purchase pre-made chalkboard doors and simply add the finishing touches.
Saloon-style doors are another great way to get creative with your temporary door.
These types of doors can be purchased online or at a speciality hardware store, as well as in thrift and antique shops.
You can also build them on your own or commission them.
You can hinge them to your current doorframe or create a stand-alone door that can simply lean against the wall.
This is a great option for those who want an older door style.
Tinsel curtains are usually used for celebrations and holidays and can also make great temporary doors.
You can make them out of cardboard or wooden frames and colorful tinsel garland to match your theme, depending on what you want for the holidays.
You can also attach these temporary doors directly onto your current doorframe with tape or small tacks.
You can choose to leave them as is or add a bit of decoration such as ribbon, bows, and other pieces for an extra special touch.
String lights also make excellent temporary doors! They are lightweight and easily attach to a door frame with hooks, tacks, or tape.
They won't provide much privacy and are more of a decorative solution that can add a pop of sparkle and light into your home.
This is a great way to separate an area off during a party or celebration.
Final Thoughts
Temporary door ideas are often easier to use than you might think, as they can be just as durable and long-lasting as regular doors if installed properly.
With the right hardware and accessories, your temporary doorway should upgrade the appearance and functionality of your home.
Related: