What is the best size for a shower curtain? It's important to know what size to get and this article will give you all of the information that you need to find out which one is right for you.
We also have some helpful tips on how long they last and how often you should replace them.
So if it's time to buy a new shower curtain or update an old one, make sure to read on and learn more!
What Lengths Do Shower Curtains Come In?
The standard size for a shower curtain is 72 inches by 72 inches. This fits perfectly in most standard showers and tubs.
This is the size that we will be using as a reference throughout this article, but you should measure yours to make sure that it will fit with your curtain too!
Standard Shower Curtain Sizes
There are three main shower curtain sizes meant to accommodate a standard tub:
72 by 72 inches
70 by 72 inches
70 by 70 inches
Some specialty sizes are available for extra-large showers and tubs, and include the following sizes:
70 by 84 inches
72 by 84 inches
144 by 72 inches
54 x 78 inches
A walk in shower curtain size will need a longer curtain, and their measurements are usually about 78 inches for standard shower curtain lengths.
You can often find a shower curtain size chart on the packaging of your curtain in order to know exactly how it will fit in your home.
How To Measure For A Shower Curtain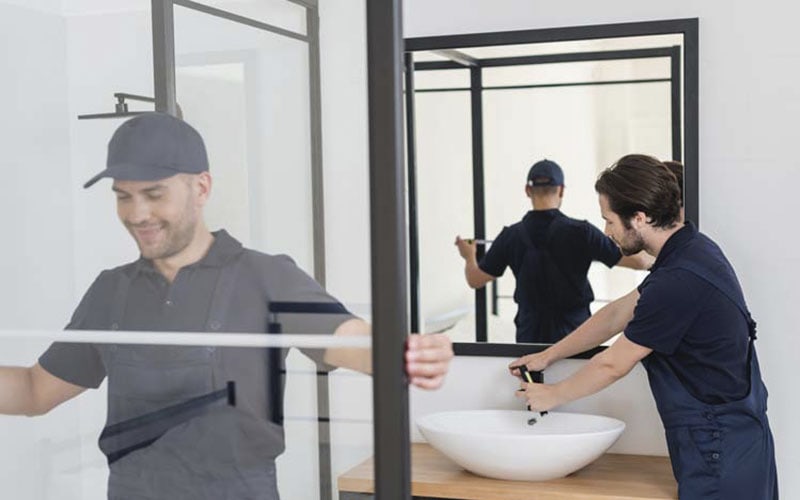 The length of shower curtain fabric doesn't need to perfectly match your tub because you can sew a hem to make it fit.
However, it will be important that it isn't too short because this will allow water to spill over the edge of your tub.
Here are some ideas for taking shower curtain measurements:
Take a tape measure and measure the width of your shower, wall to wall. Make sure to add an additional foot of length so that your curtain won't be pulled too tightly from the curtain rod.
Measure the length of your shower by starting at the floor and measuring up to the curtain rod. Now you'll want to subtract 8 inches from your total number.
Use these two numbers to find the perfect shower curtain for you. The measurements may not line up perfectly with the standardized sizes available, but you have already made adjustments to your numbers so that an approximate fit will be enough to cover all of the important areas of your tub.
What Are the Different Shower Curtain Materials?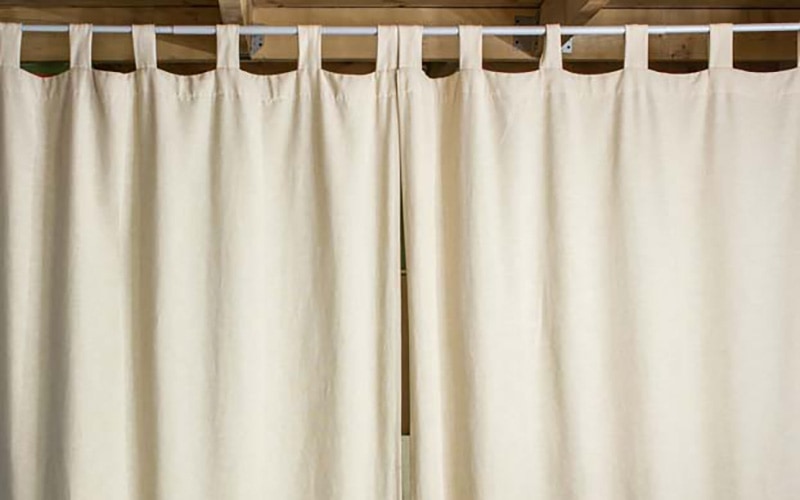 The most common materials for shower curtains are polyester, cotton, and vinyl.
Each material has its own advantages and disadvantages, so it's important to think about what you prioritize in a shower curtain when making your purchase.
Vinyl is very easy to clean because it does not absorb water or mildew. However, this makes them very slippery, so you should always be cautious when entering and exiting your shower. Vinyl can be found in crystal clear or opaque colors, so they have a good range of options.
Cotton is easy to clean, but it absorbs water and mildew easily, so you will need to be more vigilant about keeping it clean. They are also more likely to rip or tear than other options, so this should be considered when making your purchase. Cotton shower curtains come in a wide range of colors and prints.
Polyester is a great option for those who live in humid climates because it's resistant to mold, mildew, and water.
You will want to be careful of the color fading over time though because this material is not as durable as cotton or vinyl.
Type of Shower Hooks
Classic Shower Rings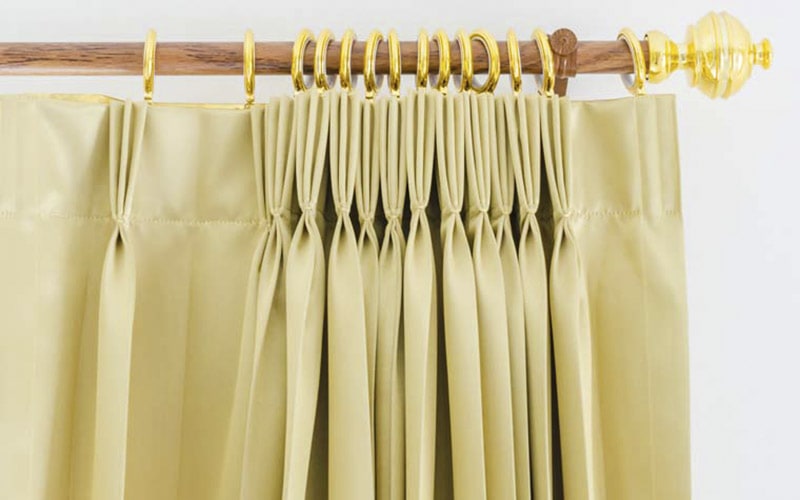 These are the most common types of shower hooks and have a simple, minimal look that works great in most bathrooms.
They usually come in plastic or metal and have a closure or clasp that can be opened to thread the curtain through.
This makes for a very secure fit, but you may experience some issues with a smooth glide when pulling back your curtain due to the friction against the shower rod.
Shower Curtain Hooks With Clips
Shower hooks are s-shaped and hang on top of the curtain rod without fully closing into a loop. You can thread them through your shower curtain and hang them quickly and easily.
They don't hold up very well if there is a lot of force pulling down on them, since they aren't fully closed like a shower ring.
Rings and Hooks With Roller Glides
Roller glides are what make your curtain easy to open and close as you enter or exit the shower without experiencing any drags or snags.
The roller glide will attach directly to the shower curtain rod and allow you to move effortlessly about your bathroom without a lot of resistance.
These are especially great for those who have a lot of tension on their shower curtains because they don't require as much force to open and close.
This can help prevent issues that might arise from using too much force when trying to open or close your curtains, such as tears and rips.
Hookless Curtains
Hookless shower curtains don't require hooks or rings at all! They have built-in loops with small openings that can be directly attached to your curtain rod. This makes them very easy to put up and take down.
What Is the Standard Shower Curtain Rod Size?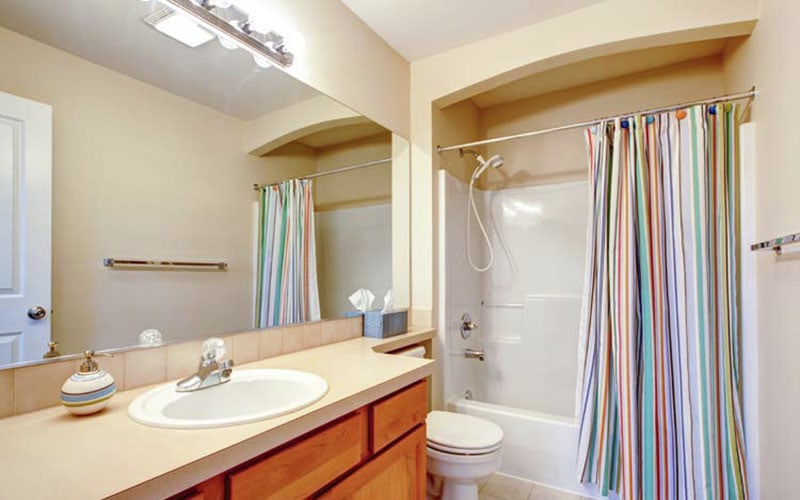 The shower curtain rod size can vary depending on what your needs are for the space. The standard dimensions will be between 60 inches and 72 inches in length and have a diameter of either one inch or two inches.
Curtain rods come in a variety of materials, finishes, and colors. It's important to think about the finish that will work best with your bathroom décor so you can create a cohesive look throughout your space.
How Long Does A Shower Curtain Last?
The length of time that your shower curtain will remain in good condition is largely dependent on the material. Vinyl, vinyl-coated polyester, and polyester are the longest-lasting materials.
You should replace your shower curtain every two to three years if you have many roommates or family members that use the shower frequently.
If there are no special circumstances, then a shower curtain should last between five and seven years.
Shower Curtain Care & Maintenance Tips
Before you put up your new shower curtain, it's important to do a quick check to make sure that there aren't any rips, tears, or other issues with the material.
Always follow the cleaning instructions that are listed on your shower curtain. Sometimes a gentle cycle in the washing machine is all that's needed, while other curtains may require hand-washing.
You can use sprays that are meant to reduce mold buildup, mildew, and soap scum. If you use these sprays on a daily or weekly basis, shower curtain cleanup will be a breeze.
Final Thoughts
Luckily, most shower curtains, as well as bathtubs, are designed with standard measurements that make it easy to find the perfect fit.
However, if you have an irregularly sized tub or special needs in your bathroom, it's important to know how to measure and pick out your shower curtain with confidence.
Curtains are an important part of bathroom décor and have a large design impact on the space, so make sure that you're happy with your choice.
With the proper maintenance and care, you can have a shower curtain that lasts years in your bathroom.
Related: