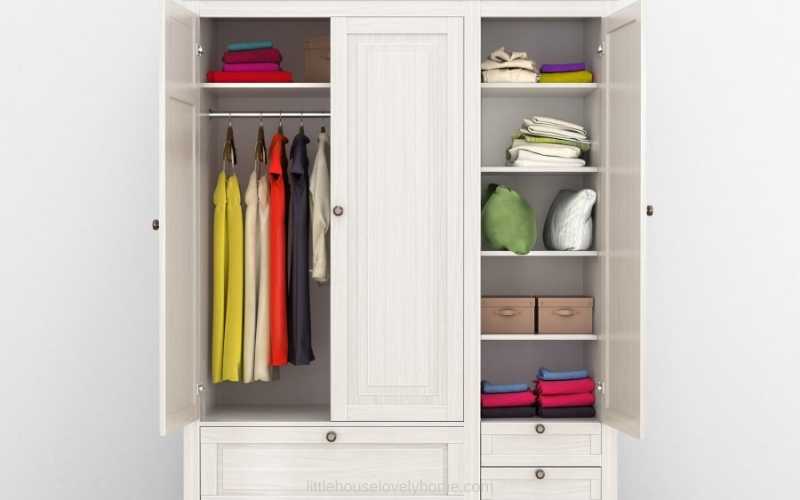 Sort, store, and completely transform all of the closets in your home. Follow these tips and you'll figure out how to organize a closet in a flash!
If your closet is a total eye-sore that you'd rather forget about, then keep reading. It's way too easy to just stuff things in there and ignore them.
Conquering your closet's chaos will feel amazing – and you can do it in as little as a weekend!
With these tips (and photos for inspiration) you'll finally have the knowledge to organize your closets like a pro.
How To Organize A Closet
There are three basic steps to organizing any room and any area in your house – clean, purge, and store. Anyone that is is a beginner organizer should always start somewhere small.
Organizing a closet will give you that quick "win" feeling that will motivate you to keep organizing other areas in your house.
Before you get started, pick just one closet to organize at a time. After you feel that surge of pride (and take some fantastic "after" pictures) move on to another closet.
1. Clean
Go through and pull everything out of your closet.
Then, with everything out of your closet, clean it from top to bottom.
Wipe down the walls and dust off the shelves.
Vacuum or mop the floors.
Throw away any broken hangers and boxes.
When it comes time to put everything back in your closet, you want to have a nice clean place to put them.
2. Purge
Next, sort through everything that you took out of your closet.
Sort things by "trash, donate, and keep."
Throw away anything that is broken, torn, or unusable.
Then, donate anything that you haven't worn in a significant amount of time.
If you haven't worn it even once this season, you probably won't wear it next season either.
If you find something that you could sell, put that aside and schedule a date to list it.
Try to downsize as much as possible.
You should only keep things that you love enough to wear (or that has emotional significance to you).
3. Store
Now you are ready for the fun part!
After you removed all the "throw-away" and "donate" piles, you are left with everything that you need to put back in your closet.
Here is where you start really separating like things into piles so you can get a good idea for how much room you need.
Write down your biggest struggles – do you need more room for your shoes? What about your jewelry?
Make a note of the closet systems that you need and go shopping.
Create storage solutions for your clothes and accessories. Make it simple enough that you can maintain it easily.
Need some ideas? I have them next!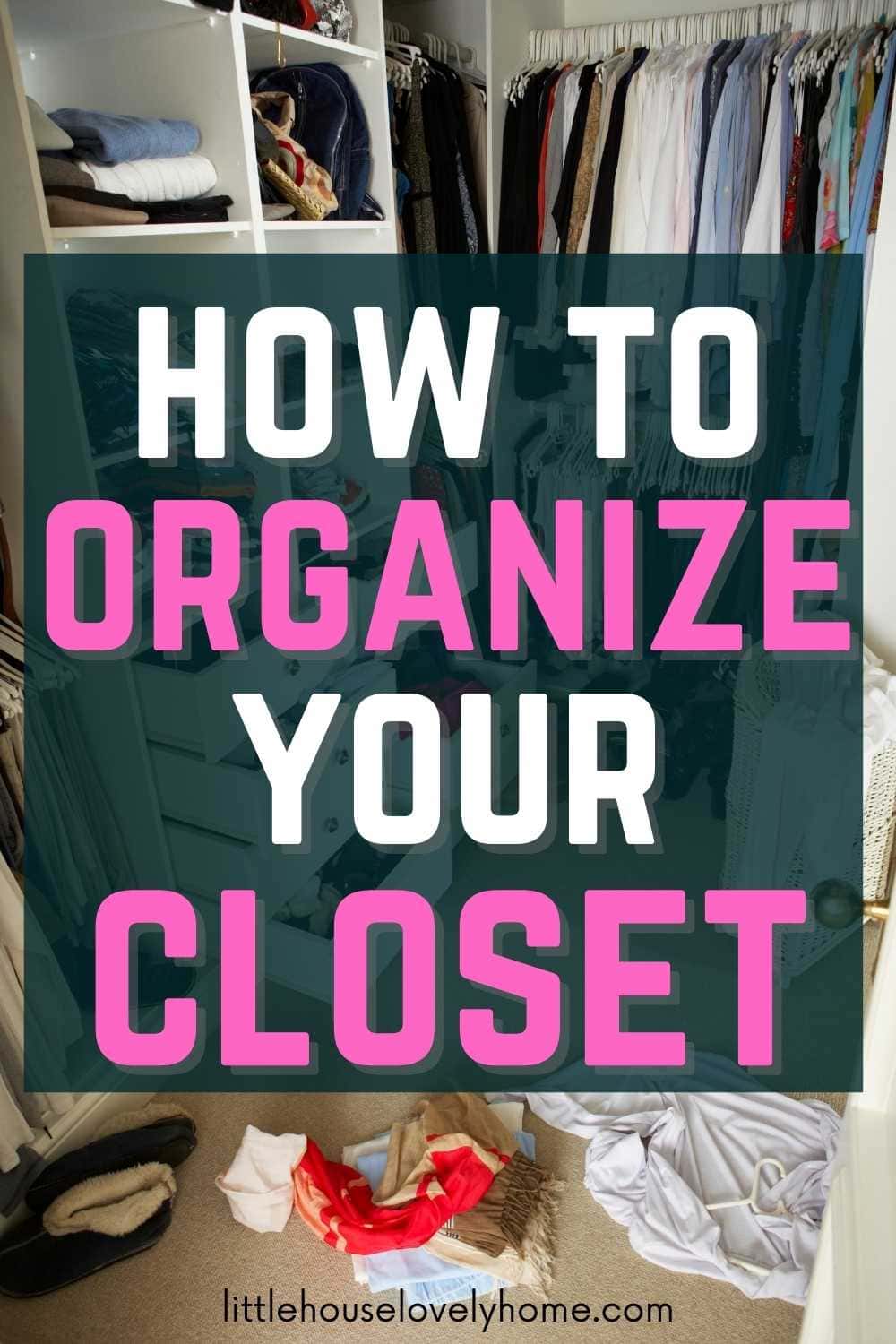 How To Organize A Closet: Inspiration
Those are the three cardinal steps to an organizing project.
I have some real photos to share with you now, along with some closet organizing ideas that will help you solve whatever storage problems you are facing.
Store Pants On A Tiered Hanger
If you are struggling to store all your pants, then this idea from The Crazy Organized Blog is genius!
Use a tiered hanger to hold up to 5 pairs of pants.
Not only will this give you a lot more room on your clothes rod, but it will keep your pants from wrinkling too.
Use Matching Hangers
This one hack will make your entire closet look way more put-together.
Invest in matching hangers and hang everything facing the same way.
I also love how the top shelf is mess-free and just holds shoes.
Give that space a purpose and refrain from just stuffing random things on top.
Install A New Closet System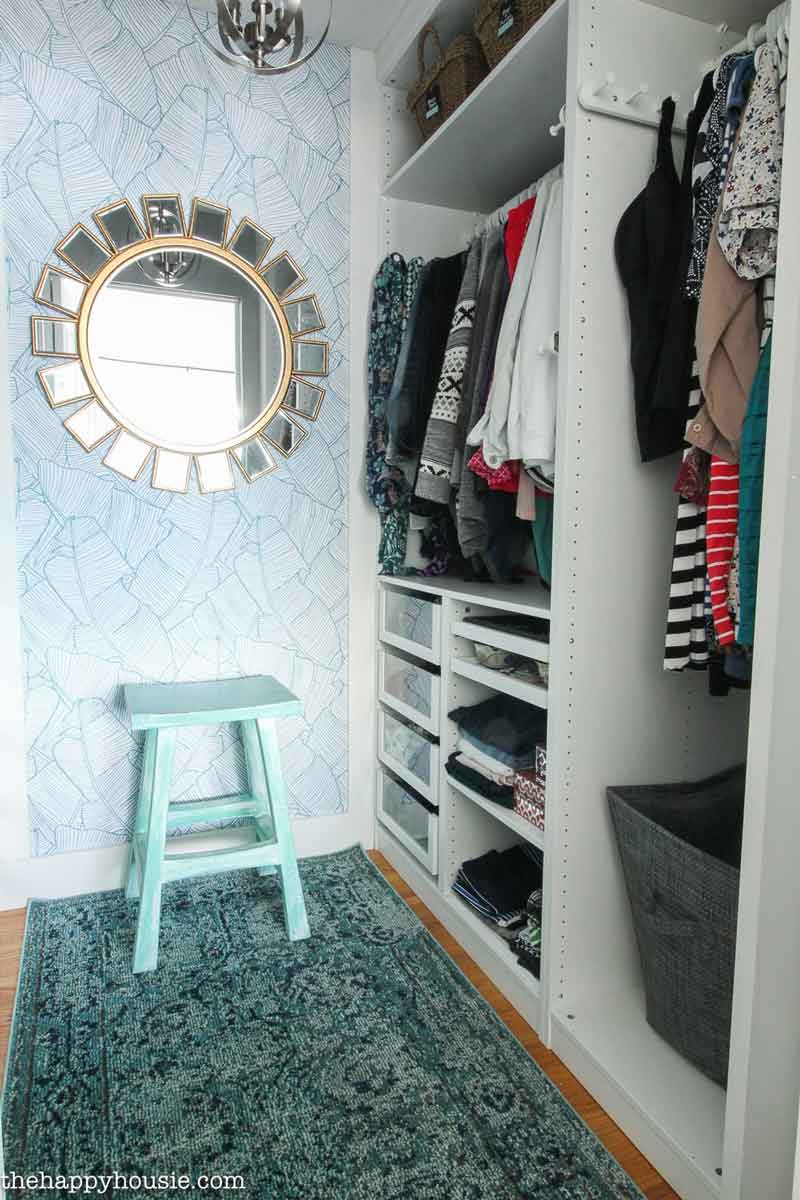 A new closet system is worth the investment.
Install something like the beautiful closet from The Happy Housie.
Drawers hold all your smaller accessories like scarves and socks – pull-out shelves for shoes, and plenty of hanging space for other clothes.
Hang Accessories On Hooks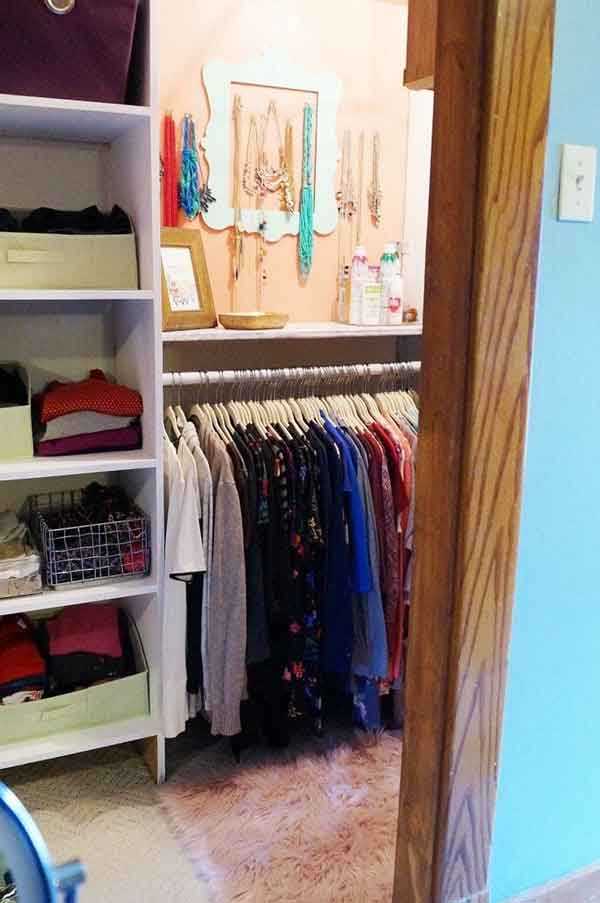 Isn't this closet super cute?
I love the idea of hanging jewelry on the wall – especially inside a decorative frame.
Even though jewelry boxes are beautiful and easy ways to store things, they take up a lot of room.
Hanging up your accessories also clears the shelf so it shows off empty space.
Empty space is the key to making a small area feel roomy!
Use Matching Fabric Totes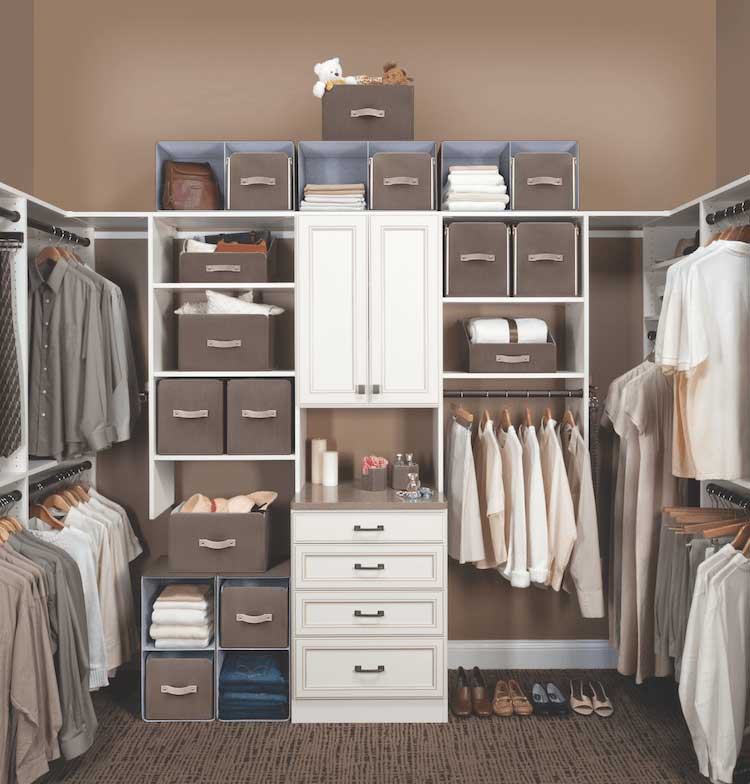 Finally, when you use fabric totes, buy matching colors.
This will make your entire closet look cohesive and unified.
If you want to make it look like this closet above, you can even choose storage totes that match the wall colors in your closet too.
Maintain Your Closet
I found this tip from Clutter Keeper to be extremely helpful: go through your closet once a season and get rid of anything that you didn't use.
When you put "closet maintenance" on your cleaning schedule, you won't have to do any major overhauls ever again.
In fact, maintaining your organization systems – whether it's your pantry or your bedroom – will help you keep them organized for the long term.
Final Thoughts
It's amazing how freeing it feels to finally organize your closet! Every penny you spend on your closet is worth it.
You'll gain confidence, and save a bunch of time searching for certain outfits or shoes.
After you completely organize this closet, take that empowerment with you to another part of the house next!
More Home Organizing Tips
As you move to other rooms in your house, I have even more tips that will help you get more organized.