Mini crib vs crib – we dive into the crib versus mini crib debate to help you decide which is the best option for your baby and home.
When it comes to choosing a crib for your baby, you have two major choices: the mini crib and the standard crib. The question is which one will be best for your child?
The primary difference between a regular crib and a mini crib is its size. A standard crib is 28″ wide by 52.38″ long. A mini crib can come in a variety of sizes but is smaller than its standard counterpart.
In this blog post, we'll explore the benefits of both so that you can make an informed decision on purchasing the standard crib vs mini crib.
What Is the Difference Between a Mini Crib and a Regular Crib?
A mini crib and a standard-sized crib may look similar from the outside, but there are a few differences. The most obvious difference is that one of them is larger than the other.
In addition to size, there are several key differences between a regular-sized crib and a mini version:
A full-size baby bed typically comes with a mattress that is 52.38″ x 28″.
A mini crib typically comes with an infant pad or padded rail that is less than half the size of standard models, usually around 29″ wide and 24 inches long.
Standard-sized baby beds are often designed to hold children up to 30 pounds (13 kilos). Some even hold up to 50 pounds (22 kilos).
Mini cribs are built for babies weighing between 15 and 30 pounds or even less. Some models can hold children as light as 15 lbs, but this is not recommended by pediatricians unless the child has special needs.
Standard baby beds typically come with a fixed mattress height of around 26 inches.
Mini cribs are usually lower to the ground, typically ranging from 12 inches to 17 inches high.
Benefits of a Mini Crib
The main benefit of a mini crib is that it's smaller and can be put in places where a standard-sized model wouldn't fit.
This allows you to keep your baby close while also freeing up space for other things, such as furniture or toys. Mini cribs are better for small rooms because they don't take up as much space as the larger version.
The smaller size of a mini crib also makes it ideal for travel or visiting relatives. It is easier to fit in the trunk of your car and can be used anywhere where you have an outlet, such as at home or in a hotel room.
In addition, they are easy to assemble and disassemble so that you can take them with you when visiting family or friends.
Mini cribs are ideal for children who are 2 years or younger and are a popular choice for newborn babies.
Cons of a Mini Crib
The weight limit on most mini cribs is around 30 pounds or 13 kilos. In contrast, standard baby beds usually have a weight limit between 30 and 50 pounds (13 – 22 kg). This means that your baby will hit the weight limit much sooner than it would in a larger crib.
Most standard baby beds come with a fixed height that is considered safe by the American Academy of Pediatrics (AAP), but this isn't always true for mini versions. This means that it can be a bit tricky to find a mini crib that meets AAP safety standards.
Benefits of a Standard Crib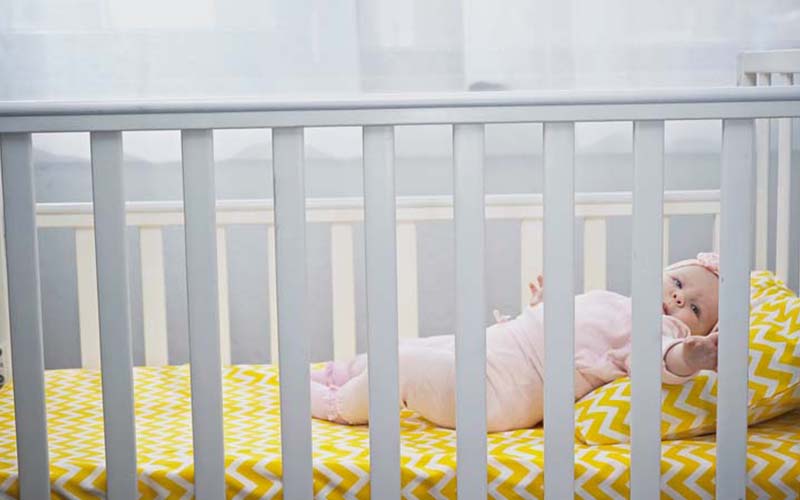 The primary benefit of standard baby beds over their smaller counterparts is the fact they come with larger mattresses and allow kids up to 50 pounds to use them.
The larger size of standard baby beds makes them perfect if you have a large nursery. In addition, the larger size allows kids to use them for much longer than mini beds do.
The AAP recommends that babies don't move into their own bedrooms until they are around two years old. Standard baby beds can be used well beyond this age and serve as your child's primary bed in most cases.
Cons of a Standard Crib
The primary drawback of a standard baby bed is the fact that it takes up so much space. In addition, they can be cumbersome to move from one room to another or travel with because they are larger and heavier than mini cribs.
Is a Mini Crib Better?
The standard crib has been a popular choice for years because it is regulated and has been seen as a sign of safety for parents who want the most secure option available.
However, mini cribs offer many of these same safety features, storage options, conversion capabilities, and travel-friendliness at a fraction of the size, weight, and price.
Mini cribs can be used much longer than standard models if they are convertible into a toddler or twin bed, which provides parents with more value for their money in the long term, because they don't have to purchase multiple baby beds as their child gets older.
A mini crib is the best for you if you have a small space or are looking for something that is easy to travel with.
How Long Can a Baby Stay In a Mini Crib?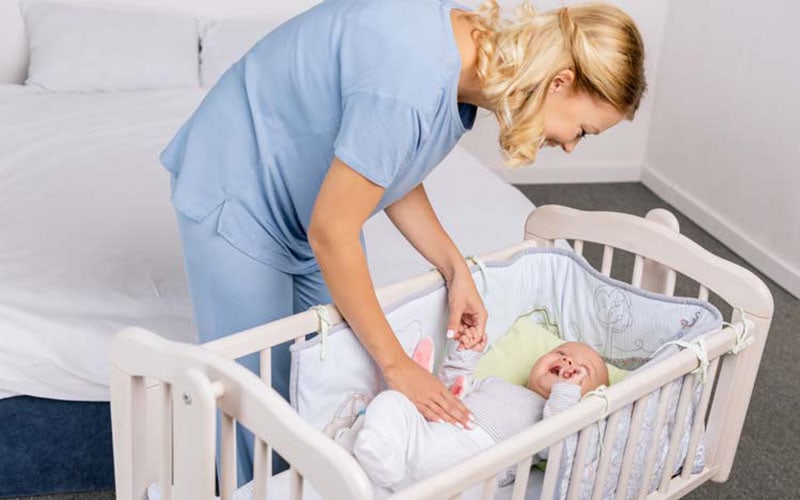 A baby can stay in a mini crib until it has reached the weight limit of 30 pounds or 13 kilos. This equates to approximately 1.5 to 2 years old. They will also need to transition when they begin to start climbing the crib rails.
Convertible options work by allowing you to adjust your mini crib as your child gets older. This means that they can use it for a longer time, which is why parents should consider purchasing convertible models if their goal is to keep their little ones in a small bed until they are old enough to move into their own room.
Do Mini Cribs Turn Into Toddler Beds?
Many do! Most mini cribs come with conversion kits that allow you to turn them into a toddler's bed or twin beds. This means it can be used for longer, which is why parents should consider convertible models when looking at the best options available.
A convertible bed usually comes with a conversion kit that increases the size of the bed, removes the rails, and can add a headboard and/or footboard.
Make sure that you purchase the conversion kit at the same time that you purchase the mini crib, in case the same model isn't available in a few years when you're ready to make the transition.
Is a Mini Crib the Same Size as a Pack and Play?
A pack and play, also known as a pack n' play crib, is an umbrella term for any portable crib made of plastic or heavy-duty fabric.
The typical pack and play comes with two large sheets that are attached to the sides of the canopy, which creates walls to hold them in place.
Pack and Plays measure about 40″ x 28″ on average and are slightly smaller than standard cribs, but larger than most mini cribs.
The main difference between a Pack and Play and a mini crib is that a Pack and Play is made of plastic, mesh, and aluminum.
The two beds are similar in that they are both very portable items due to their decreased size. A mini crib will have a more comfortable and firm mattress that is thick and durable.
Mini cribs are a bit more expensive than Pack and Plays, but the difference is in quality and comfort.
Can I Use Regular Crib Sheets on a Mini Crib?
Yes! You can use crib sheets in a mini crib, but you'll need to make sure that they fit snugly so your child doesn't have any issues with loose sheets.
This is helpful because it can be a headache to find bedding for a mini crib vs crib because its size isn't standardized like a traditional crib.
In order to use a regular crib sheet on a mini crib, start by centering the fitted sheet on top of the mini crib mattress (with the mattress already placed in the crib).
Now you can fold each side of the sheet mattress and tuck it underneath.
The fitted sheet should now be securely in place without any loose fabric or gaps that your child could become tangled up in, which helps to ensure their safety when using a regular sheet on a smaller bed.
Go ahead and tug the fitted sheet when you're done to make sure that it's snuggly in place. You can use tools such as fabric tape to help keep the sheet stable. Apply it to the bottom of the sheet or mattress to keep it in place.
Are Mini Cribs Safe?
Mini cribs meet many of the same safety standards as standard cribs, so they are trusted as a safe choice for your child.
Just like standard cribs, they are required to meet all of the safety standards that have been set by the Consumer Safety Product Commission (CPSC), which means they will be sturdy and safe when assembled correctly. If you purchase a mini crib that was manufactured after 2011, it will have passed these standards.
Before you use or purchase a mini crib, make sure that it's in good condition with no cracks or breaks on any of its parts (mattress and frame).
Make sure that you purchase a mini crib from a trusted retailer to ensure the highest level of safety. You can also contact the manufacturer directly if there is any doubt about its condition or use.
As long as it meets all of these criteria, your child should be safe when using a mini crib until they are ready to transition into a full-sized bed.
How Much Do Mini Crib vs Cribs Cost?
Mini cribs cost less than a standard full-sized crib but can vary in price greatly depending on features, materials, and size.
Mini cribs typically cost anywhere from $50 to $400 and can be purchased at most major retailers. Many online retailers even offer free shipping depending on the brand or retailer that you purchase your mini crib from.
A standard crib costs about $100 to $500 depending on the size, wood type, and retailer. Mini cribs are often made of more affordable materials, which makes them less expensive than traditional cribs.
Features of a Mini Crib
Mini cribs come in many different sizes, styles, colors, and with different functionality, meaning that there is a mini crib that is perfect for you and your baby. We have a list of the best mini cribs to select from once you've decided which features will work best.
Here are the top considerations you'll be making when purchasing a new mini crib:
Size
Mini cribs come in a variety of sizes, ranging from mini to midi. Mini cribs are typically used for infants and young babies who haven't yet outgrown their space, so they won't be as large as their standard counterparts.
Mid-sized mini cribs can be used as the baby gets older because it is big enough that they won't feel cramped or uncomfortable while sleeping, but small enough that it can still fit in a small space or bedroom.
Storage
Storage is a helpful feature found in many mini cribs. This is particularly helpful for parents in small spaces who are looking to maximize their storage.
Many mini cribs have underneath storage units that can be used for diapers, blankets, sheets, or anything else you need quick access to during the night.
Materials
Mini cribs are made of many different materials, including wood or metal. Metal is more durable and can be less expensive than wooden models, but they don't have the same design flexibility that traditional mini cribs offer in terms of style and color options.
Wooden mini cribs typically cost more, but are more flexible in terms of design options and can even be customized. They are often prized and used for several babies in the family if well-maintained.
Color & Design
Mini cribs come in many different styles, such as vintage and modern to match your existing decor. They also come in a wide variety of colors and patterns to coordinate with your existing nursery.
Wheels
Some mini cribs also come with wheels for easy transporting from one location to another. If you plan on moving your baby around a lot during naps, this is an important feature to consider when purchasing a new mini crib.
Final Thoughts
Mini cribs are a great choice for parents who need additional space or want to maximize their storage options.
Mini cribs can often be found at affordable prices, and are more flexible than standard cribs, so many parents prefer this option.
However, you can rest assured that both choices are safe and reliable options for your baby and family.
What crib is best for your newborn? Now that you know the basics and what to look for, you can make an informed decision on which style is best suited to your family.
Related: