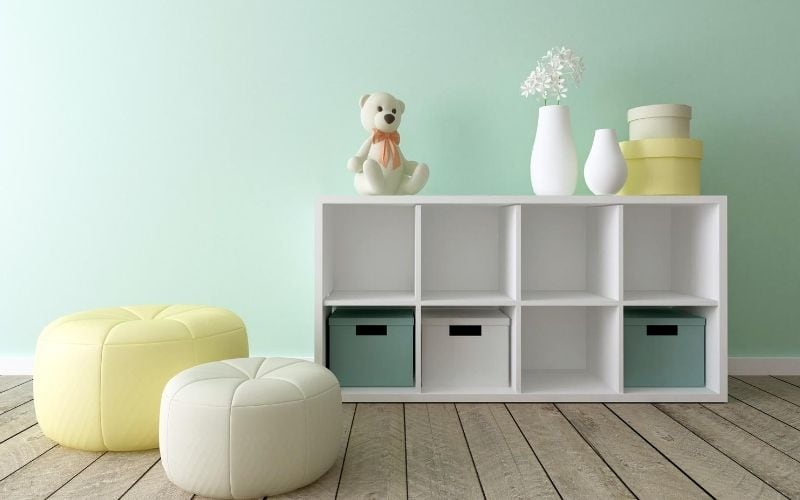 Even if you are short on space, you can create a lovely nursery for your baby with storage! These tiny nursery ideas are what you need.
Have you ever browsed Pinterest or Instagram and just dreamed of having a large nursery for your baby with little areas for everything?
A changing area, a nursing area, a corner for toys, and plenty of room for decorations.
You can still have all of that, even if you feel like you are trying to cram it all into a small room.
I have some amazing tips and tricks that work no matter what size room you have.
(And if you don't have a room and will be sharing a room with your baby, I have ideas for that too here).
13 Genius Tiny Nursery Ideas
Whether you have to share a room with your baby or your baby get's their own little nursery, these tips are perfect for everyone.
1. Organize Clothes With Closet Dividers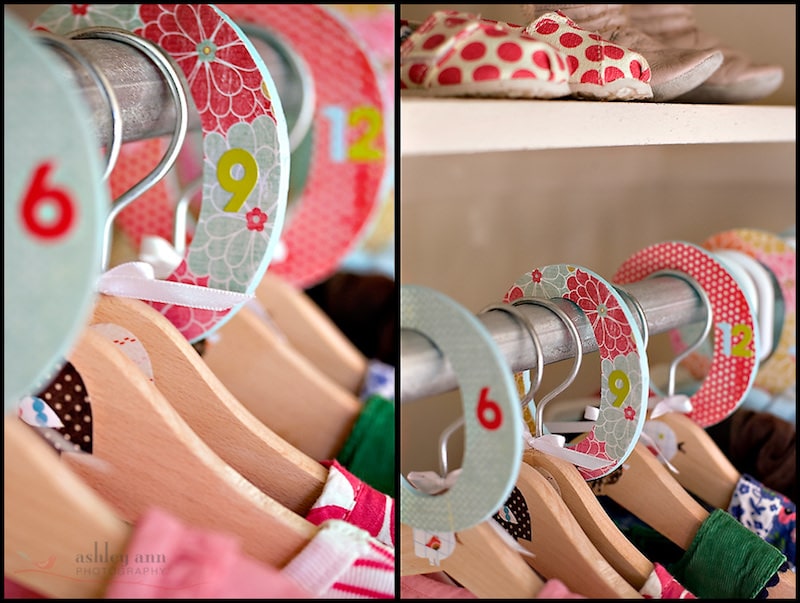 Here's how to make your own closet dividers. Not only do they look absolutely adorable, but they help to keep baby's closet organized too. Sort clothes by size, it's amazing how fast they go through them.
2. Hang Up Books In A Spice Rack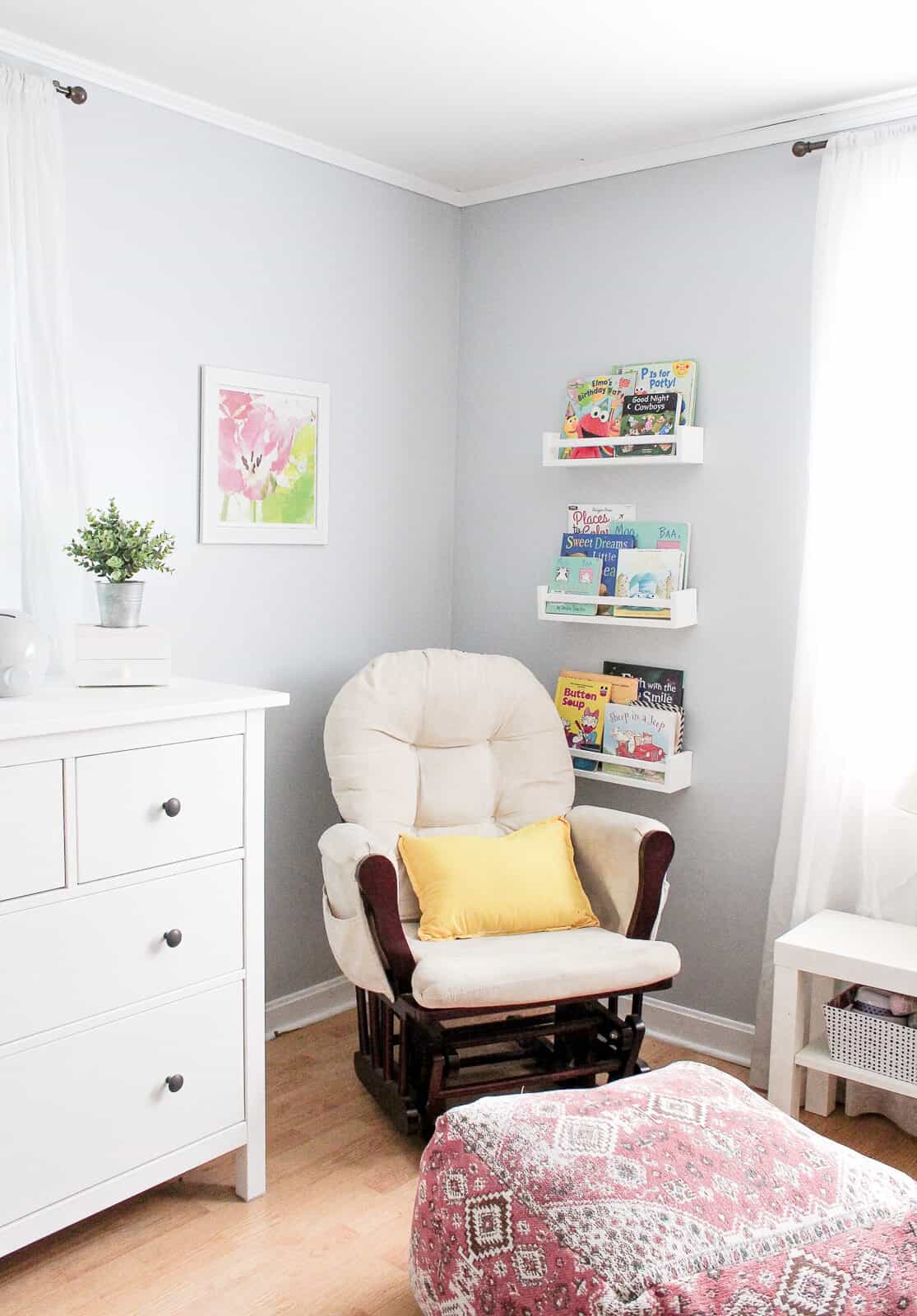 Store books on the wall in a spice rack, like this idea. This is especially helpful if you have a shared nursery with a baby and a toddler. Set the books near the rocking chair to make bedtime stories easier.
3. Personalize The Wall Behind Their Crib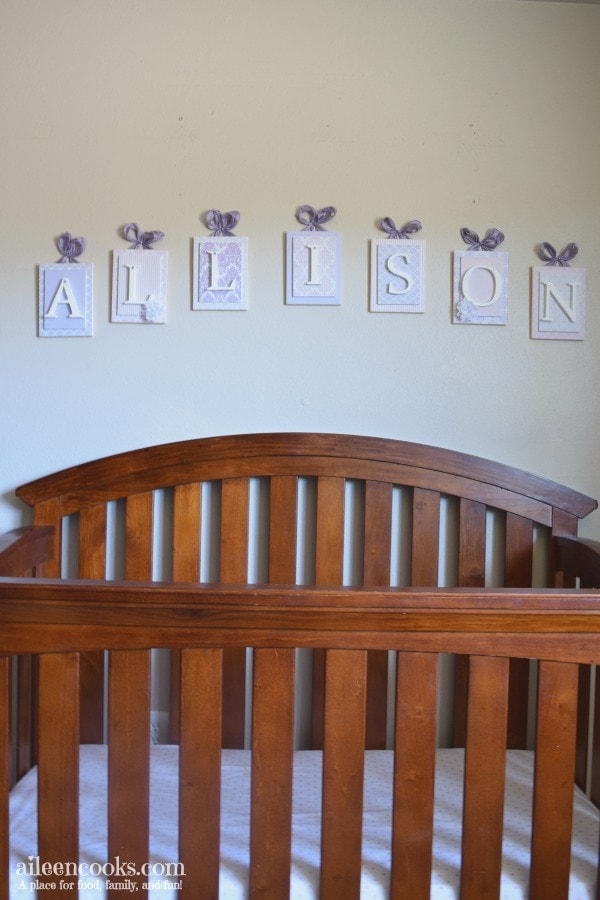 When you are decorating a tiny nursery, every inch of space counts. Use the space behind the crib for decoration since you can't really reach it for storage. I love the idea of displaying the baby's name – it's so cute!
4. Use A Dresser As A Changing Table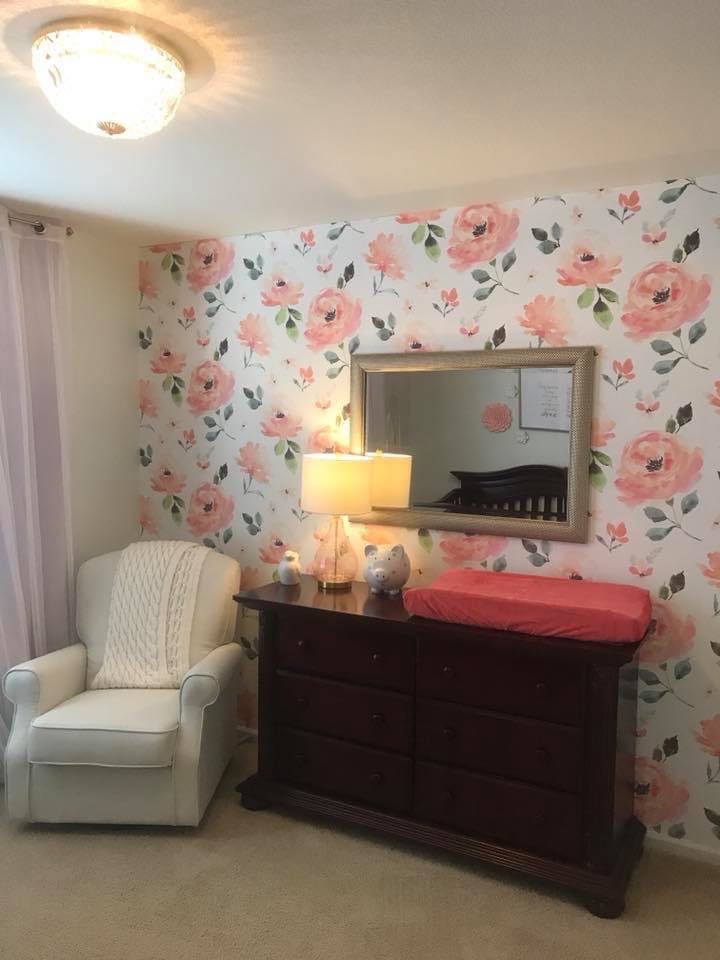 A flat dresser provides lots of storage space and can double as a changing table for the baby.
In this baby girl's nursery, there drawers in the dresser store clothes and changing supplies.
5. Set Up A Quick-Change Nightstand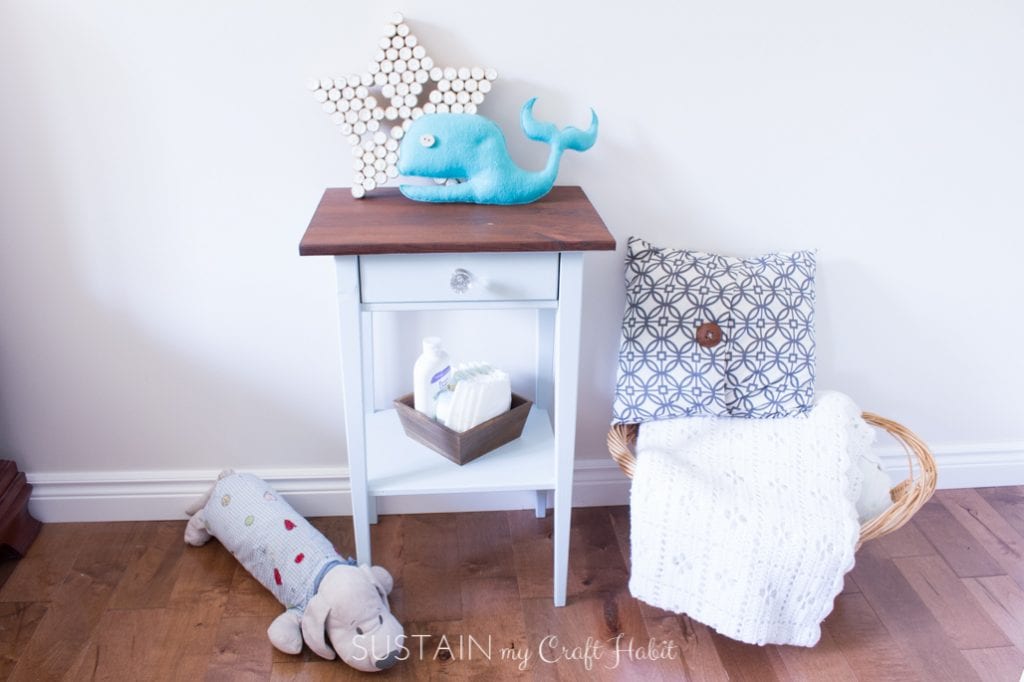 When you don't have a lot of room, use even a tiny nightstand to store things like diapers and baby wipes. This IKEA hack is genius!
This is a wonderful way to add more storage to a corner of the room.
6. Roll Clothes To Keep Drawers Organized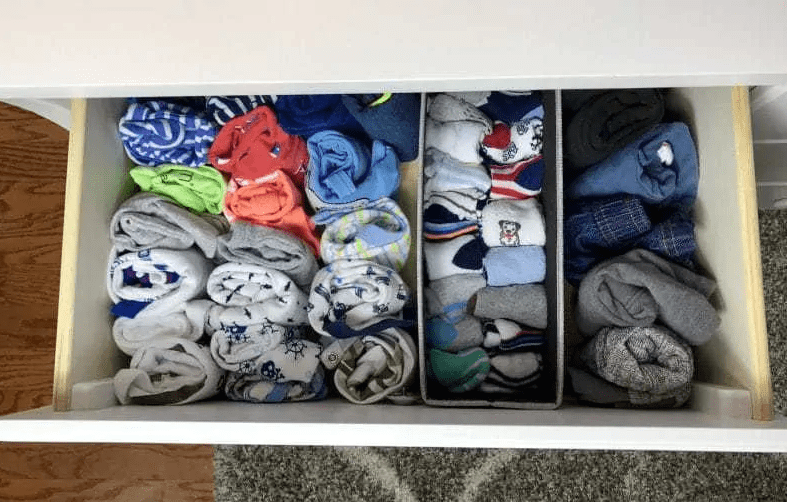 Don't these drawers look amazing? Rolling clothes is a much faster way to fold.
Plus, you can fit so many more clothes in the drawer without over stuffing them.
7. Take The Doors Off the Closet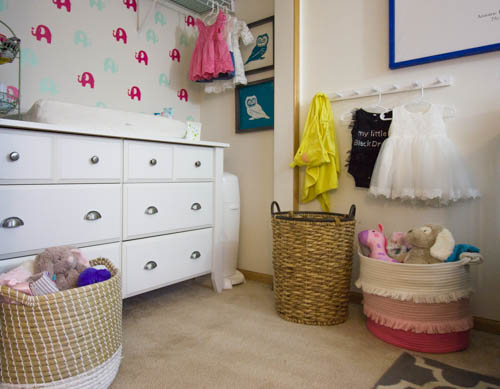 When you are really tight on space, put the dresser/changing table in the closet.
Take the doors off the closet – this expands the room and makes it feel so much larger.
I also really like the idea of putting a coat rack next to the closet for extra hanging space too.
8. Hang Decor From the Ceiling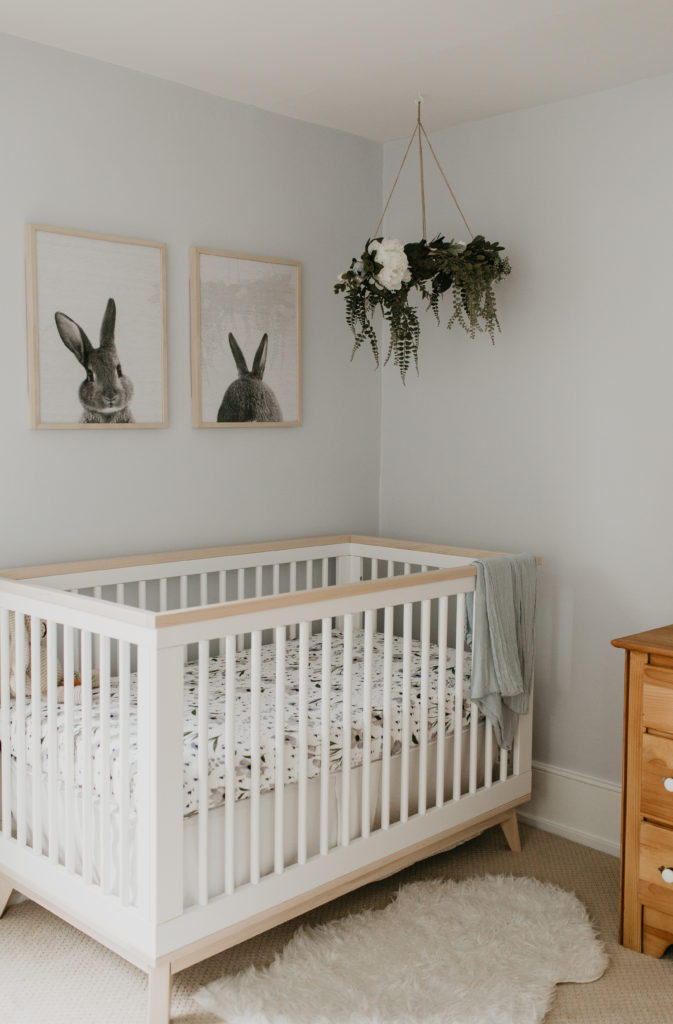 A functional way to decorate a small nursery is by hanging decor from the ceiling.
Greenery, mobiles, even little lamps are all cute ideas that you can hang from the ceiling.
Another benefit of doing this – it draws people's eyes up which makes the entire room feel larger.
9. Use A Ladder For Blankets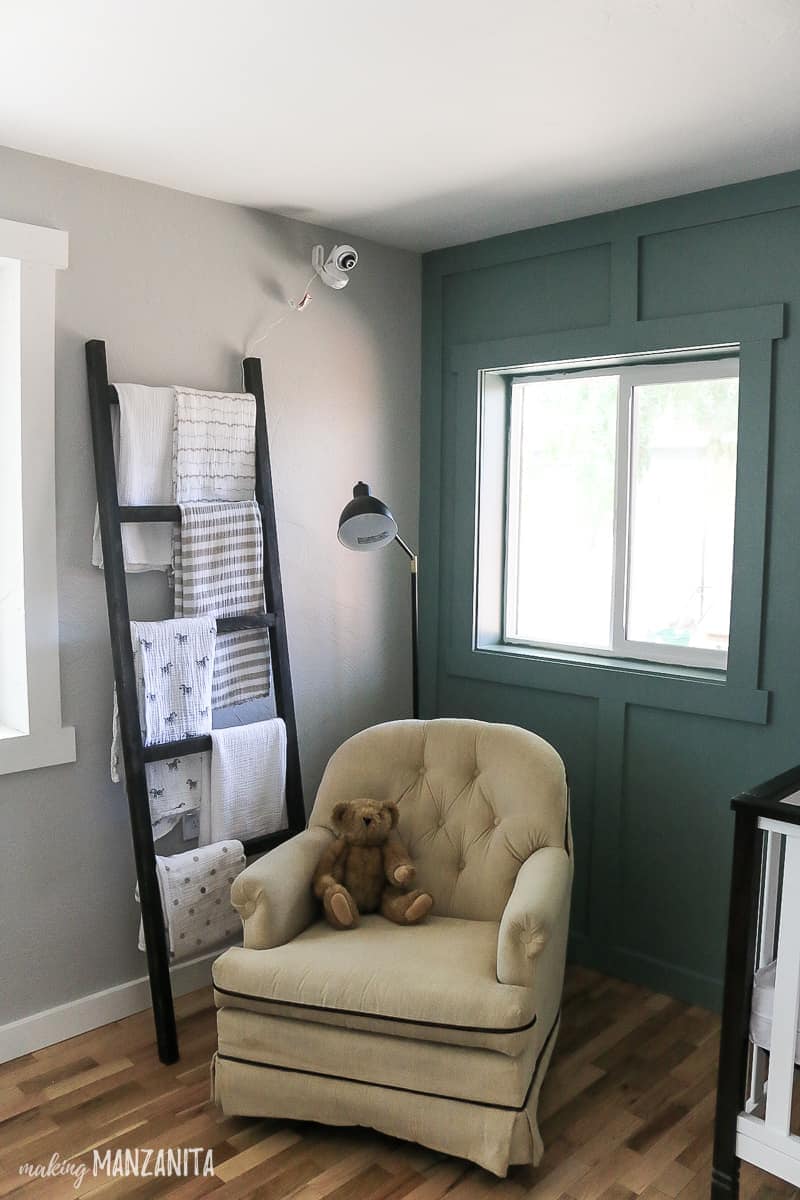 Another hack for storing blankets that don't use a lot of room is by putting them on a ladder in the corner.
This space-saving hack keeps sheets and extra blankets within arm's reach.
10. Create Storage Under The Window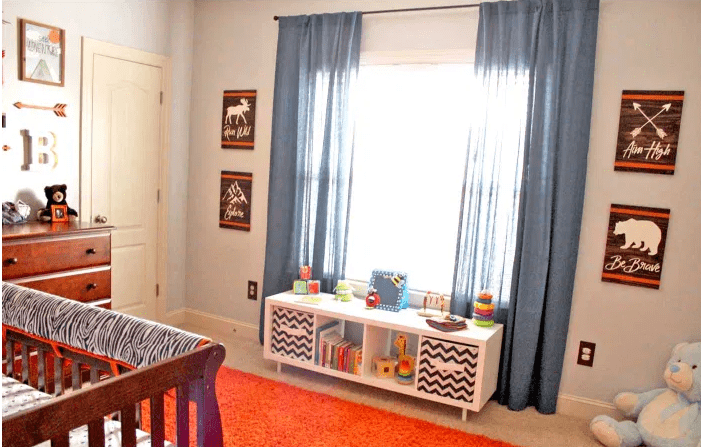 When every inch of storage counts, find a short and long table – like the one from this nursery – and use it to store toys and books.
Plus, it makes clean-up time easier because you can involve your toddler.
11. Store Pillows and Blankets Under the Crib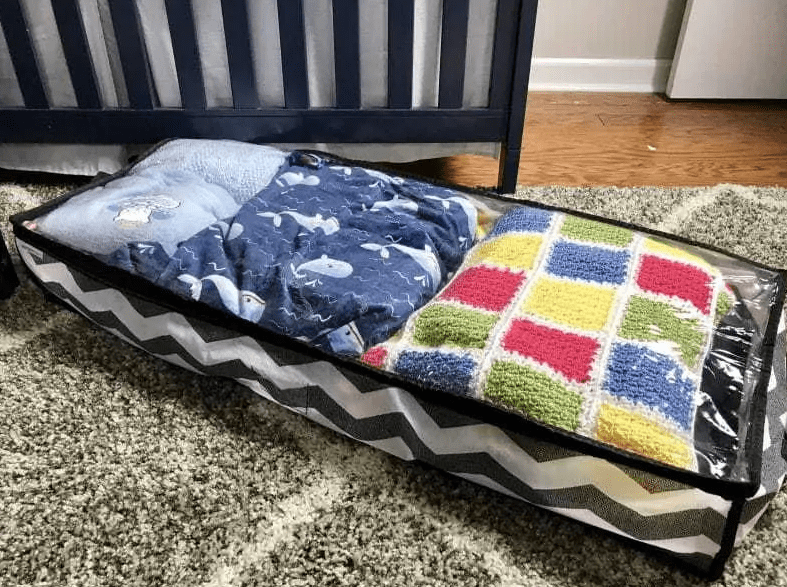 That space under your crib is extra valuable in a small nursery.
Buy some storage bags and keep extra blankets, diapers, even the next size up in clothes – all under the crib.
12. Keep Pacifiers and Teething Toys Clean In A Jar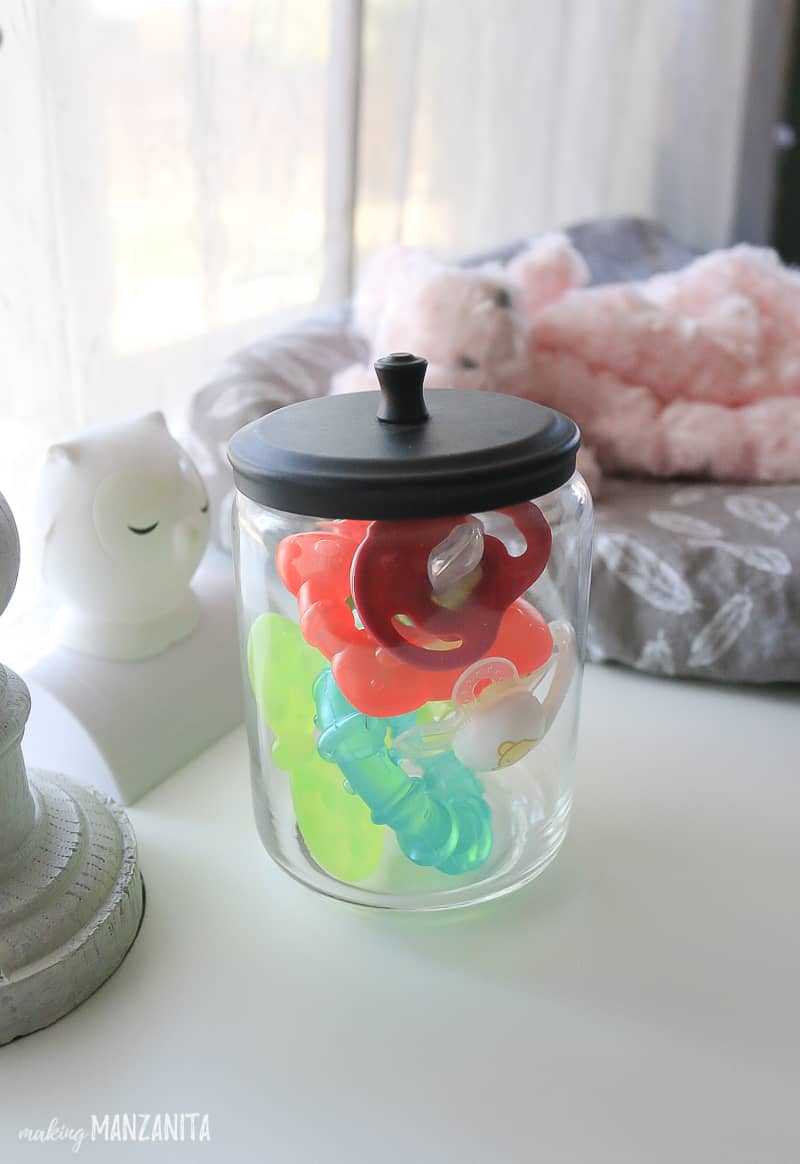 This last tip is so valuable! All those things that baby puts in their mouth – keep them germ-free by storing them in a glass jar with a lid.
I love the idea of putting them in a clear jar, instead of a dark-colored one. Now even the most sleep-deprived parent can find the pacifier without even opening the jar.
13. Use a Mini Crib
If your nursery room is teeny tiny, a mini-crib can be a lifesaver. They often come in convertible models which can eventually be switched out to a twin bed, saving you money in the long run.
We share our best picks for mini cribs in this buying guide, or to help you decide if a mini crib is right for you, check out our article comparing mini cribs to regular cribs.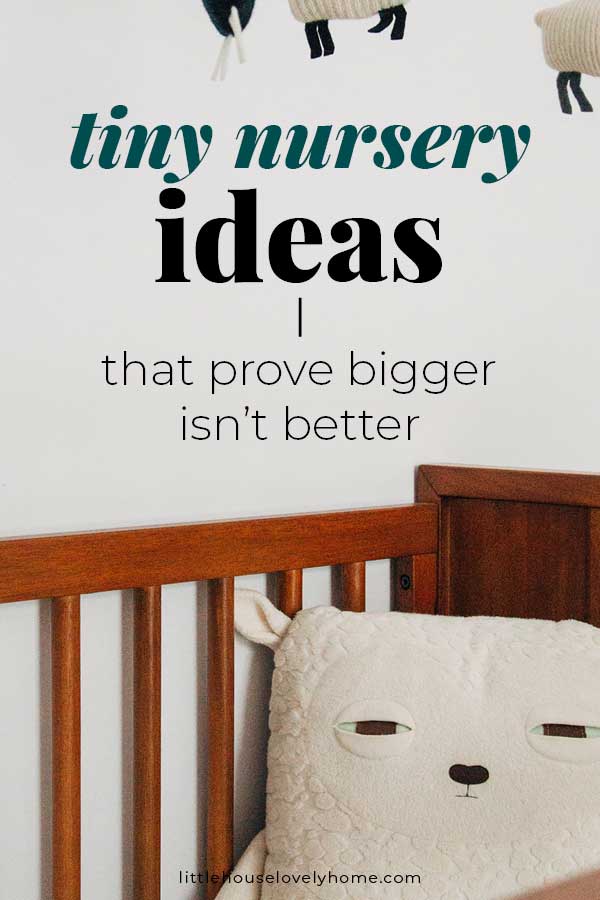 Tiny Nursery: Final Thoughts
There are so many wonderful ways to organize even a tiny nursery.
You don't have to give up on having a beautifully decorated room for your little one just because you are tight on space. It just means you have to get creative.
Take the doors off the closet and make the furniture have multiple uses. Create your own little piece of Heaven in your sweet baby's nursery.
More Nursery and Kids Room Tips