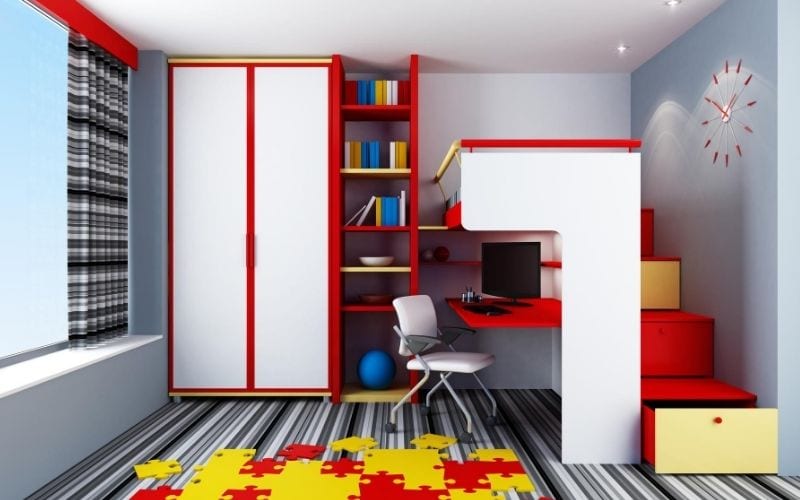 Inside: Discover some simple solutions for creating a shared space!
Are you looking for some super simple solutions for creating the perfect shared bedroom? The good news is that it's entirely possible to do.
Rest easy knowing that you don't have to put your house up for sale to be able to create a shared kids room in your home that is totally drool-worthy.
In fact, you're going to be surprised at how simple and easy it can be to make a small space seem a whole lot bigger than it actually is.
Check out some of these fun and unique solutions for creating the perfect shared bedroom for a small home.
10 Tips For Creating the Perfect Shared Kids Room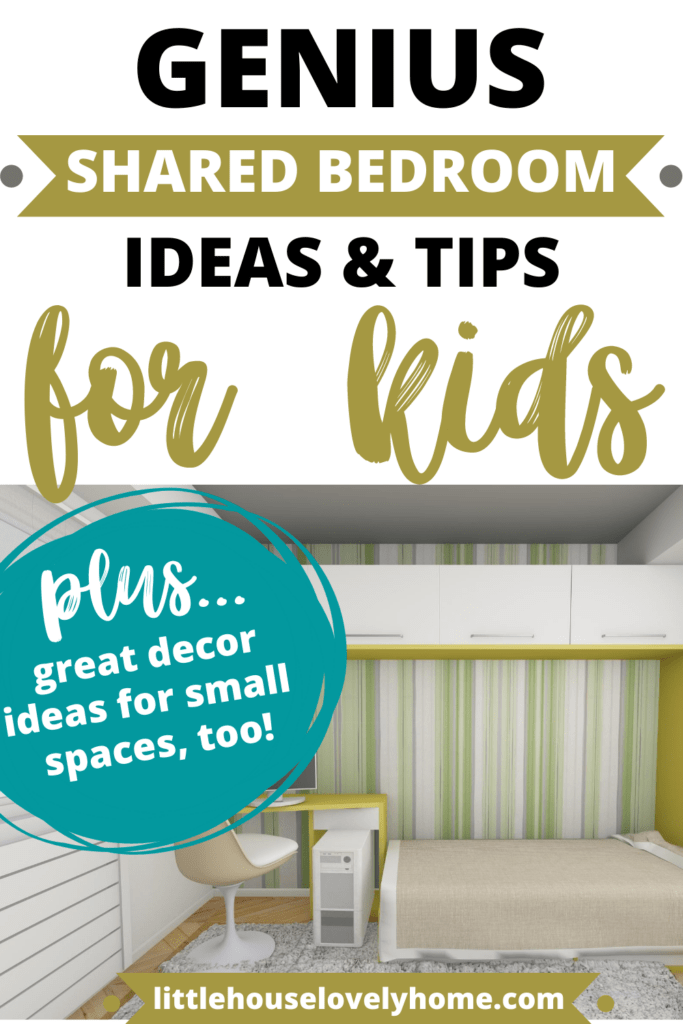 Before you start stressing out and thinking about tearing down walls or putting up new ones, take a deep breath and check out what I've found. Creating a shared bedroom is super simple with these fun ideas.
It's important to utilize the space in the bedroom as effectively as possible and these simple tips make certain to do just that.
The following shared bedroom ideas are funky, fun, clever, economical, and show you that being organized is a huge piece of the puzzle.
1. Room Divider
If you've ever wondered how to divide a kids bedroom, the easiest way to split up a room is to get a room divider to do all the hard work for you.
The great part about having a room divider is that it can be set up and ready to go in a matter of moments.
Plus, you can choose your own color so it goes along with the bedroom color scheme.
While it might not be soundproof, it will at least stop people from staring at each other in the room.
Related: Best Soundproof Curtains: Reduce Noise and Get More Sleep
2. Folding Privacy Screen
If you're creating a shared room that's temporary, then you need a temporary solution.
A folding privacy screen can give you that separation for a short amount of time but then allow you to make the room one big space again as needed.
Find ones with funky prints to add an element of quirkiness to the room as well.
3. Use Bunk Beds
If the room is small, there's literally no space for two beds to fit unless you utilize and incorporate bunk beds!
Bunk beds
are actually a ton of fun and will give the kids something to look forward to every night.
And if they happen to fight over who gets the top bunk versus the bottom, just make a plan for them to alternate every single night. It's literally as simple as that.
4. Invest in a trundle bed
If a bunk bed isn't an option for whatever reason (like a child is too young or you have a child who might fall off the top bunk), then choose a trundle bed instead.
It's a pretty cool concept that a lot of people don't utilize.
The great part about a trundle bed is that you can hide one bed under the other during the day to have space and then pull it out at night when it's time to go to sleep.
Talk about a great space saver that's also low to the floor!
5. Combine sleep and organization
It's no surprise that smaller bedrooms mean that there's less space. When this happens, you have to get creative. The easiest way is to find a way to minimize but still be usable.
A super simple solution can be to have a loft bed with storage underneath.
You can utilize this for a couple of kids in the same room easily and that way, all their things are in one nice, neat little place and staying organized as well.
6. Build a half wall
Who says that you have to commit to building a full wall?
You can easily construct a half wall that gives them the privacy that they need without putting a wall all the way from the floor to the ceiling.
Then, each person on each side of the wall can decorate their side as they see fit!
7. Make a bookworm bed
Do you have someone in your house that likes to be cozy? If so, that means that they really don't need a ton of space for their sleeping conditions.
If you have a small closet or other areas in the room, it's probably more than likely big enough for them to have their own bed.
Think of it as a little nook for a little kid. It's actually quite adorable and an awesome temporary solution for sharing the bedroom space.
8. Decorate each half of the room to be completely unique
Who says that you even need a "divider" to showcase a shared bedroom? Why not paint each half of the bedroom differently so it showcases the different personalities?
If you have a room that you're sharing with a boy and a girl, check out some of these great options.
You can easily have an awesome shared bedroom with just some bright and funky colors and fun!
Related Post: My Kids Are Going to Share a Room and They Better Like It
9. Use a closet to split the room
More than likely you're already short on storage space as is, so this idea just makes sense. If you can buy a couple of these moveable closets then you can use these as a way to separate the room and have a place to store all their clothes. That's a total parenting win in my book.
Not too mention, you're using the space in the most efficient way possible.
10. Install a sliding panel door
If your kids are anything like mine, sometimes they want to be together and sometimes they don't. This is true for literally all hours of the day.
What this means is that some nights they'll want to sleep in the same area and other times, they want privacy.
And once you take the time to install a simple sliding panel door, you can make all those indecisive decisions come true.
As you can tell, it's not really all that hard to find ways to make a shared bedroom work. Be creative, be cheap, be organized, and be productive with all of these simple ideas.
These are all super simple and easy to implement and will give the children all the space and privacy that they need.
Related Post: How to Make a Nursery in Your Bedroom
Do you have any simple shared bedroom ideas to share?