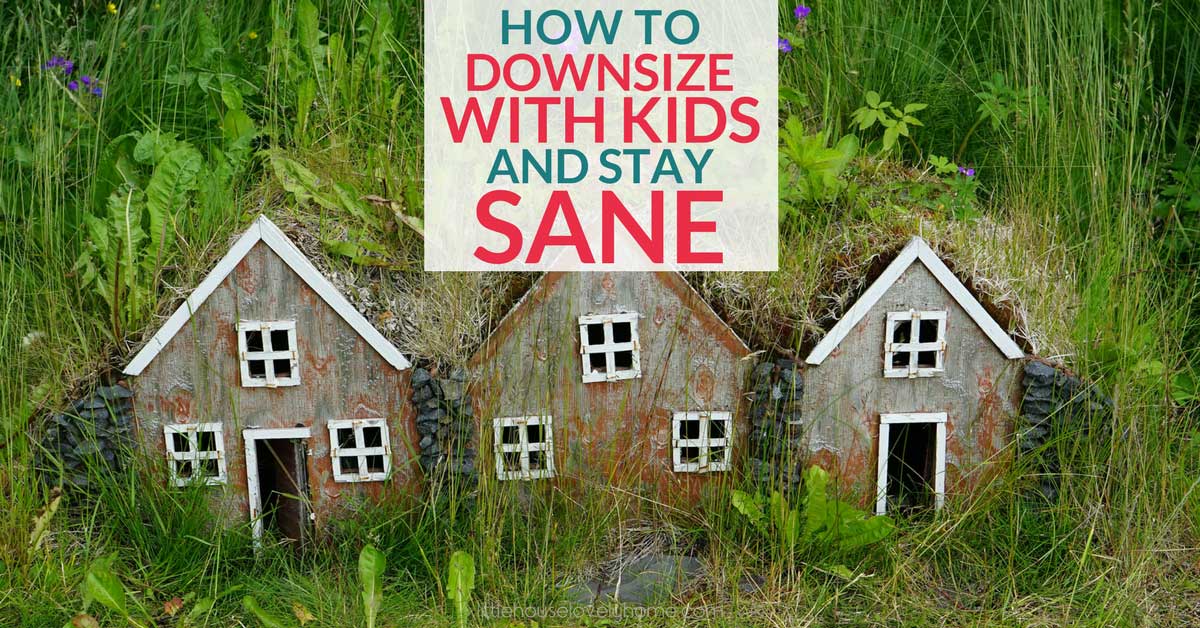 Have you ever considered small space living with kids? Scared it might drive you insane? Well, this one's for you.
If you're new, here's a bit of background: after traveling the world with my husband and child for 15 months, we downsized into an 860 square foot, 2 bed, 1 bath duplex (called a 'flat' here in New Zealand) from our 1280 square foot, 3 bed, 2 bath bungalow with a separate garage.
The reasons were: more money for future travel + we'd lived for over a year in small spaces and been deliriously happy.
We've since had another child (check out my minimalist baby list here) and have been living in our small home for over two years with no plans to upsize.
The end goal of optimal living is still a long way off, but I've managed a few tweaks to get us closer to maximising the use of our small space, and I wanted to share those with you now.
How to survive small space living with kids
Living in a small home with children requires a lot of creative thinking and an increased level of tolerance for noise and mess.
I won't even pretend my house is tidy during daylight hours, but I have been able to achieve a comfortable living situation with the following tips.
Insulate for noise control
Let's get the bad news out there first. Small houses suck when it comes to noise. This wasn't a problem for us until we had a newborn and a three-year-old.
Trying to get the baby to sleep whilst his big bro screamed the house down through the very thin non-insulated walls was not fun at all
No one got any sleep and we were all tired and cranky for months.
We soon realised it was easier to let the big boy 'help' me get baby to sleep than try to keep him quiet on the other side of the wall.
Now we're slowly renovating and will eventually add insulation to all the internal walls for noise control. We're also upgrading to soundproof curtains to reduce noise in the room as well as noise from outside. Noise is a major small home problem.
We were quite lucky coming back from overseas travel as we didn't have a whole lot of stuff so the big boy didn't feel deprived when we took his toys away.
The day we unloaded all our stuff from the storage unit was like Christmas for him, but we were able to selectively add and remove items.
Now we have a pretty ruthless attitude towards toys. We might pick something up from the local thrift store with the knowledge it will be donated again.
Any toys we do buy tend to be on the long-term side – think Hot Wheels cars, Schleich animals or Legos (with a dedicated Lego table which makes organizing easy.
For a more in-depth article on how we manage toy clutter, go here)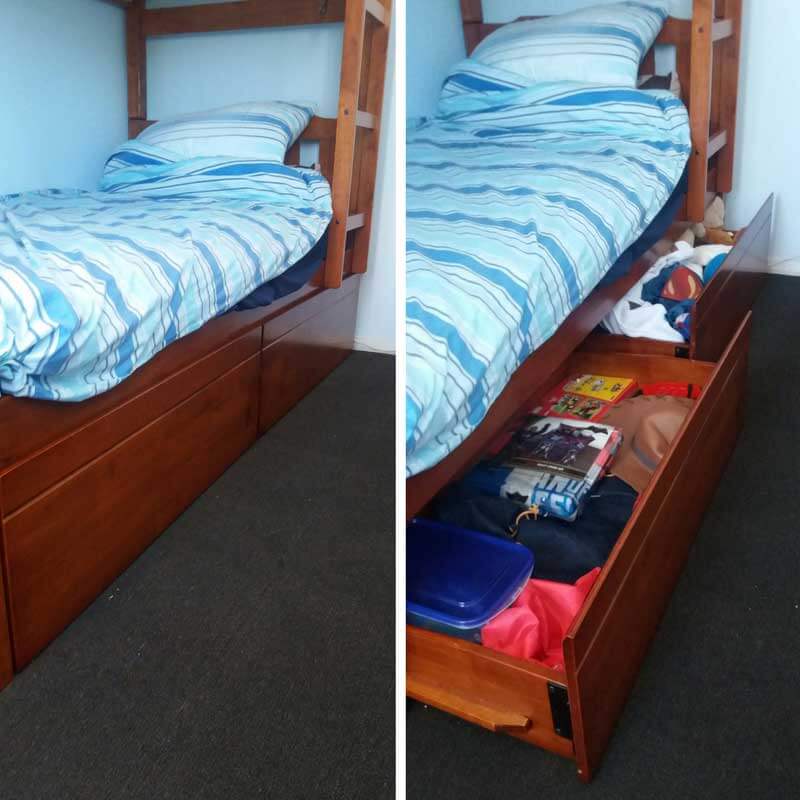 I could write a whole post on storage, but my tops tips are these. The space under beds is the best place to store clothes and toys.
Storage beds are the ideal solution. We love our storage beds.
If you have enough clearance, I recommend getting drawers that sit under the bed. Ours are on casters and roll right under the bunks, sitting flush against the side of the base when stored. They are huge and fit everything we need in the room.
If you don't have the space, these under bed storage bags are the next best thing.
Alternatively, you can invest in a hydraulic storage bed which lifts up so you can access the underside. I've written a comprehensive guide to finding the best storage bed for you here.
The backs of your doors can become swinging clothes racks. We have screwed hooks into the door frames, but if you're renting and can't put a hole in the wall, these over door clothes racks should see you right.
Make the most of outdoor space
We have a partially covered outdoor porch which is basically our mud room.
This is where shoes, gumboots and outdoor gear live.
It's not perfect but it keeps the outdoor stuff out of the house which helps to reduce clutter.
On the days where the kids are full of beans and bouncing off the walls, I send them out to our backyard and do what I can to make our backyard as fun for them as possible including games, bug exploration areas (a pile of bricks). I've been meaning to start a fairy house area as well, and when I do I'll be referring to this post on fairy house roofs for design ideas – so cute!
Other ideas I've seen used are enclosing a porch or verandah to give some extra 'outdoor' space when kids just need to be outside.
Multi-functional furniture
Any extra furniture needs to serve multiple purposes. Our toy box has a tough lid, like the one above, so it can be used as a bench if required.
We have no extra sleeping space for guests, so I'm eyeing up an ottoman bed. These are such a great idea for fitting in a guest bed in a small space.
You can even plan for your crib to do double duty as a bed. Lots of these mini cribs convert to a twin bed when the kids get bigger. Genius!
Something comes in something goes out
We try not to bring many new things into our home.
I prefer to use up what we have or make do with other things. That said, things like kids shoes and jackets need to be replaced.
We are lucky to live close to a charity donation bin so I'm often running over to place a bag of used items.
If something comes in, I always try to take at least one thing away.
Coach loved ones on not giving toys as gifts
You can do your best to minimize the toys your kid has and then boom – along comes Nana.
My parents have now been gently coached for over a year in how we live. We ask them not to buy toys for the kids, or if they must, those toys stay at their house.
Seriously, there is a teddy bear larger than my husband taking up an armchair in my parent's living room.
Every single time we go to their house the boys play with the oversized bear. I bet if it was at our house they would hardly touch it (and it would drive me bonkers).
We also do the 4 gift rule for Christmas – something they want, something they need, something to wear, something to read.
Accept that kids sharing a room is OK
I got a great comment on one of my first posts about small space living with kids and it went along the lines of 'making kids share a room is not child abuse'.
I laughed when I read that as I never had to share a room growing up and always felt sorry for friends who did.
Having my kids share a room was one of the downsides of living small for me, as I wanted them to have their own space.
But they'll be just fine, and hopefully become great friends.
We do have the option of putting up a stud wall and turning our dining room into a tiny third bedroom, which I'm considering for the future.
But really, downsizing to a smaller home with kids has been a great move for us. There are challenges, sure, but none that can't be overcome with smart storage and patience.
When the boys get older we might have to give them the larger bedroom or build a studio in the backyard to give them more space for themselves, but we can manage that.
Perhaps one of the greatest benefits of living small is being constantly aware of everything you bring into your life and making sure only the essential tools of life make the cut.
Plus, I like to think I'm doing my bit for the future generation by raising sons who lightly consume that which they need, and don't source their joy from things. It's hard work sometimes, but I think it's a worthwhile feat.
Like it? Pin it for later.