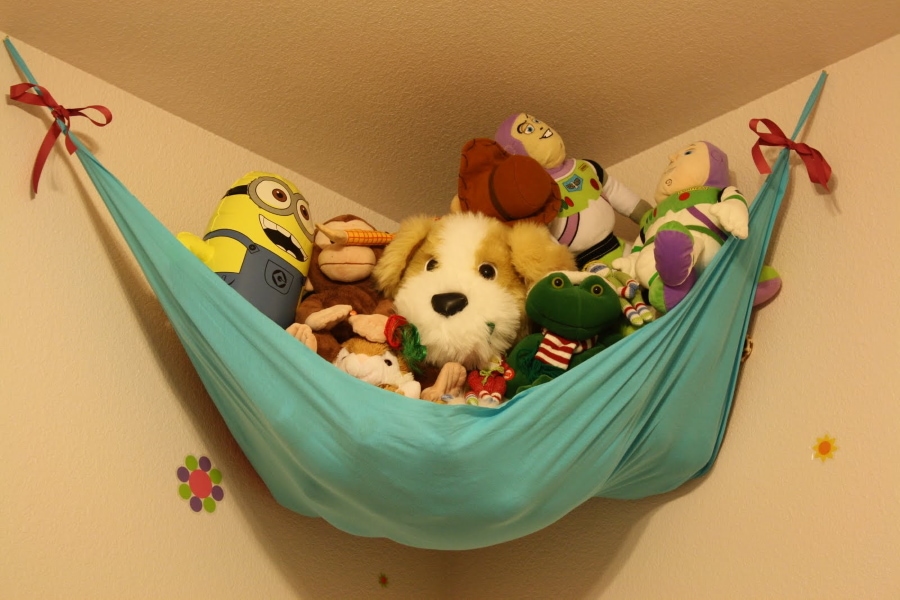 As children grow, their collection of stuffed toys grow with them. Even with hundreds of stuffed toys at home, their desire to buy a cute panda at the mall never fades.
What happens after countless soft toy shopping sprees? You get a house full of toys that just lay on the floor and make the house look messy. It's lovely to play with them, but as they are fluffy and big, they tend to eat a lot of space.
Coming home to a cluttered house with these stuffed animals isn't a pretty sight to look at, especially if you are a working parent.
11 Adorable Stuffed Animal Storage Ideas
In this article, we have listed some of the best storage ideas for your kids' stuffed toys.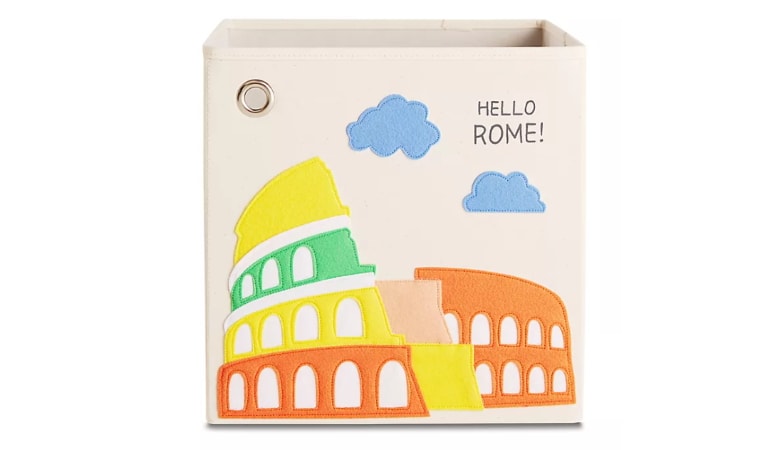 This cute travel-inspired storage bin is perfect for stacking.
It's ideal if you have a cubby cupboard, simply slip in inside, and you've got yourself a neat-looking room. These bins are elegant looking because of their symmetrical square shape.
It has a built-in metal ring or pulling out. When not in use, you can even fold this flat and store it under your bed. It even has felt appliques that add up to the texture of this box.
Additional Details:
Size measurements: 11″ sq.
Material: Paper chipboard with a canvas wrap
No assembly required.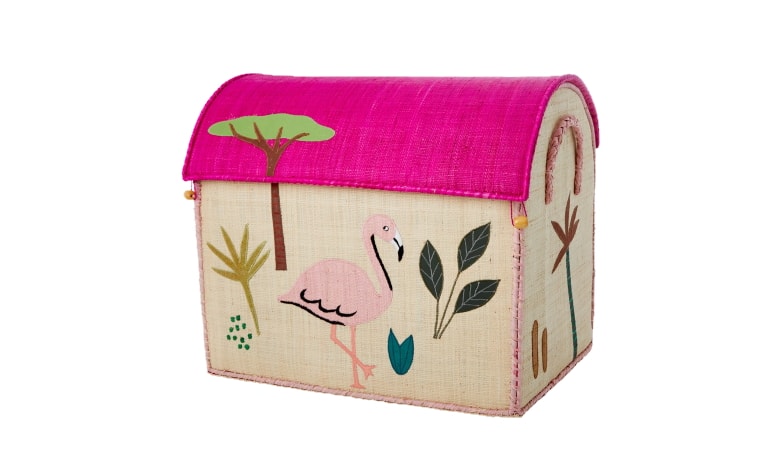 Comes with a set of 3, this stuffed toy basket is perfect for toys that are not in constant use.
The lid serves as a good cover that doesn't allow dust to penetrate. Toys stay protected and neatly stacked. As this product comes with 3 boxes, it adds décor value to your kids' room. Stack them on top of each other or arrange them horizontally.
They will look beautiful either way. Made out of 100% natural Raffia, this Madagascar-made product is perfect for parents who love handmade things made with soul.
Additional Details:
Size dimensions: Large box H: 44cm/17.3in, W: 54cm/21.2in, L: 34cm/13.3in
Material: Natural Raffia
No assembly required.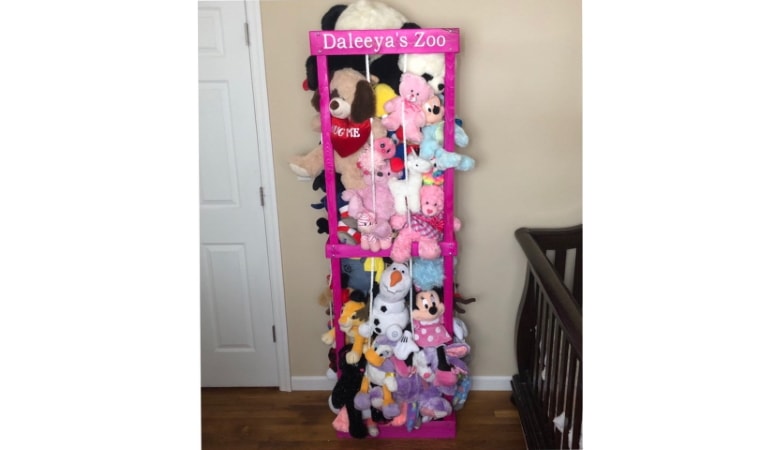 We all have seen Walmart's ball display pit.
It looks fun, and kids are always hovering around that display. So why don't you bring home a mini version of this display to amuse your toddler?
A practical and creative thing to have in your kids' room if they want to see their stuffed toys every time they enter their room. This handmade animal zoo is long, which gives your kid more floor space to play on.
Toys stay perfectly in place and won't budge on their own. The creator chooses rope over bungee cord due to safety issues. A bungee cord can snap back harming your kid but a rope doesn't have that elasticity, making it considerably safer to use.
Each zoo will come with a customized name at the top. You can even choose your child's favorite color from a wide variety of colors available.
Additional Details:
Size dimensions: H: 72 inches, W: 22 inches, D: 15 inches (Custom sizes available)
Material: Wood, rope
Assembly required.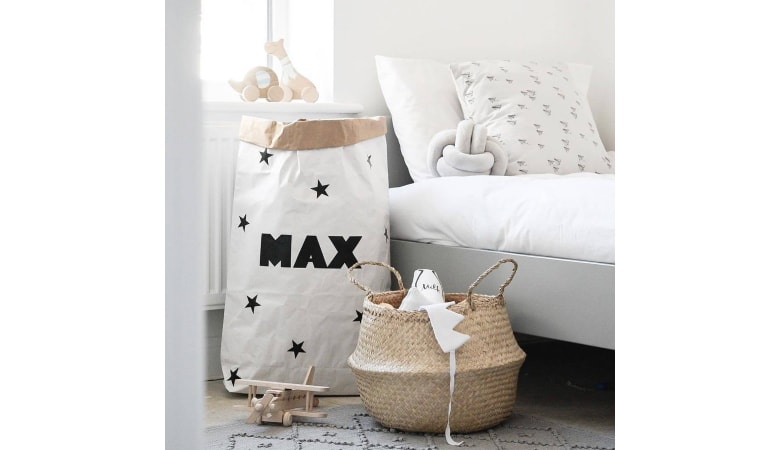 We know what you are thinking, and yes, let us assure you that these bags are incredibly durable and lightweight.
Perfect for moms who love Eco-friendly items. Don't keep this useful product just for yourself, gift other toddlers on their birthdays and special occasions. Write a cute encouraging message and send it their way.
This item is very customizable, so you can write your kids' names or simply customize different bags for different types of toys. Once filled, they look cute and lovely. It is also suitable for kids who love different sensory items around them.
Additional Details:
Size Dimensions:

Large – H85 x W55 x D13cm – will hold up to 32kg
Medium – H75 x W50 x D13cm – will hold up to 25kg

Material: 3ply reinforced kraft paper
No assembly required.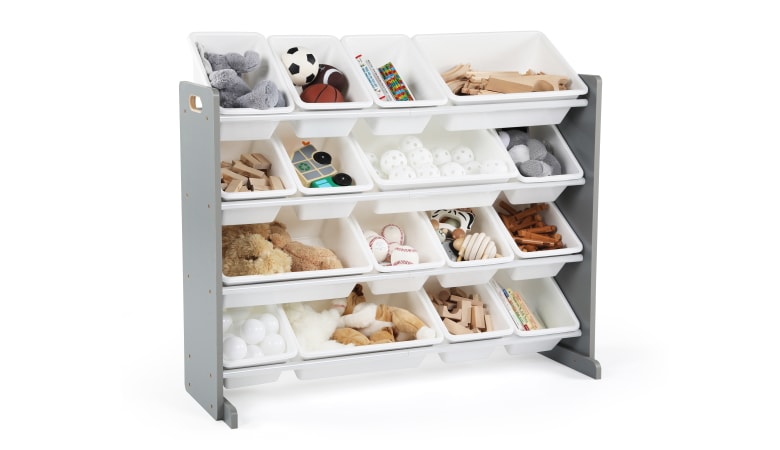 This storage set is perfect if your kid has many different toys apart from stuffed animals.
It comes with 12 regular-sized plastic bins and 4 big plastic bins. The plastic is sturdy and won't crack easily. The body is made out of wood and steel, so the whole structure is sturdy and has a firm base.
It will instantly add an organized look to your kids' room. Easily accessible so they can take out their playmates anytime.
Perfect for kids who are learning to categorize.
You can add one item of each category in the bins and let them decide which item goes where from a pile full of toys. Teaching and cleaning all at once. Now that's what we call smart parenting!
Additional Details:
Size dimensions: 42W x 15.5D x 31H in.
Material: Plastic, wood, and metal
Assembly required.
How about using toys as sitting furniture?
This bean bag cover is a vibrant addition to your child's room. Put all their plushies and stuffed animals in this cover and let them have a little comfy sitting experience.
It comes in 3 sizes, so take a look around your house and choose which best suits your needs. An Xl bag can hold more than 100 stuffed toys!
It is made out of premium cotton canvas, which has double seams, ensuring your bag stays tear-free for many years. A sturdy zip ensures that nothing falls out of it even after sitting, bouncing, or stomping on the bag.
It also comes with a handle for easily moving the bag from one place to another.
Additional Details:
Size dimensions: Medium- 32'' Large- 38'' Xl- 48''
Material: Cotton canvas
No assembly required.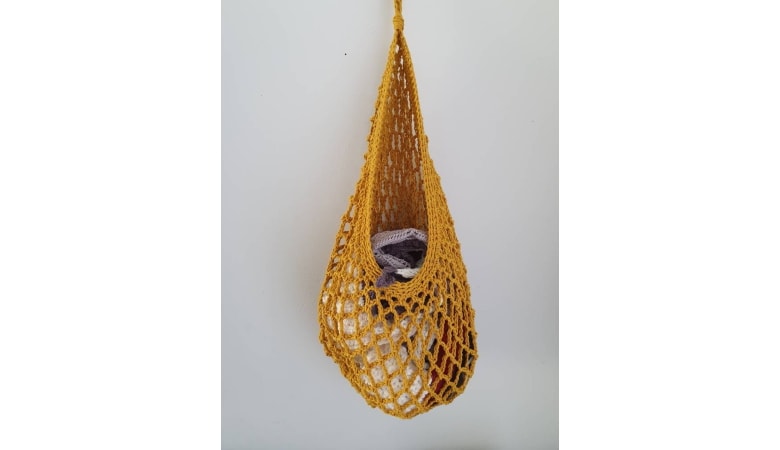 This beautiful crochet hanging basket can hold a lot of stuffed animals.
It's easy to use and reasonably easy to tie. It doesn't take up a lot of room. Made up of pure cotton, this handmade basket comes in various colors to choose from. Hang inside the door if you want the toys to stay away from your eyesight.
It's easy to clean, sturdy, and washable.
Additional Details:
Size dimensions: Before use- depth 14.5", width 13"
No assembly required.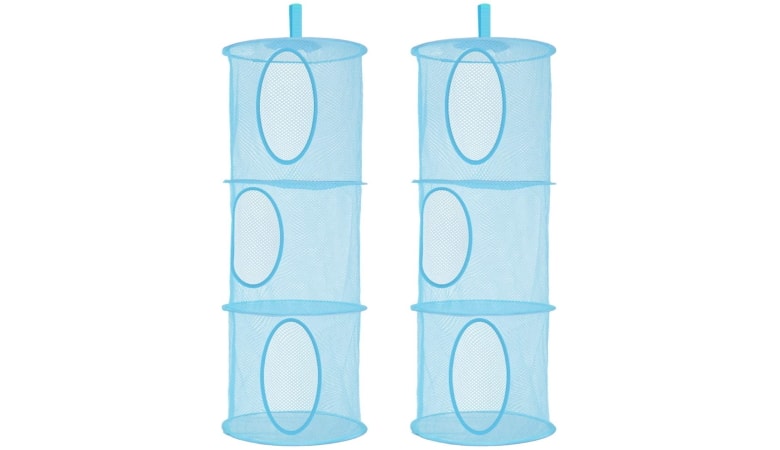 This nylon mesh hanging storage comes with 3 spacious compartments to hold your kids' cute stuffed toys.
It comes with a set of 2, so you don't have to worry if your child has lots of toys. Made out of sturdy polyester, this item is easily collapsible and easy to wash.
As it is net, air and light would flow through the toys and won't make them musty if stored for a long time.
This mesh storage item comes in a wide variety of bright colors. The installation is pretty simple, attach it to any sturdy rod, and you are good to go.
Additional Details:
Size dimensions:10.63 x 10.63 x 1.38 inches
Material: Steel wire, nylon mesh polyester
No assembly required.
You can imagine your little toddler sitting on this cute mini bench.
It has a storage compartment that will store all the stuffed toys and provide an item of nice fitting furniture to your kid. It has no live or sharp edge, which means your kid can't hurt himself. It also saves your efforts to baby-proof the furniture.
This bench Comes in a cute color that will blend well with the rest of the furniture.
If you are worried about your child's hand getting caught in the flap, worry not. This bench comes with a gap that ensures your child's fingers stay safe while playing or organizing the toys.
Additional Details:
Size dimensions: L: 25.6", D: 13.8", H: 22.6"
Material: Wood
No assembly required.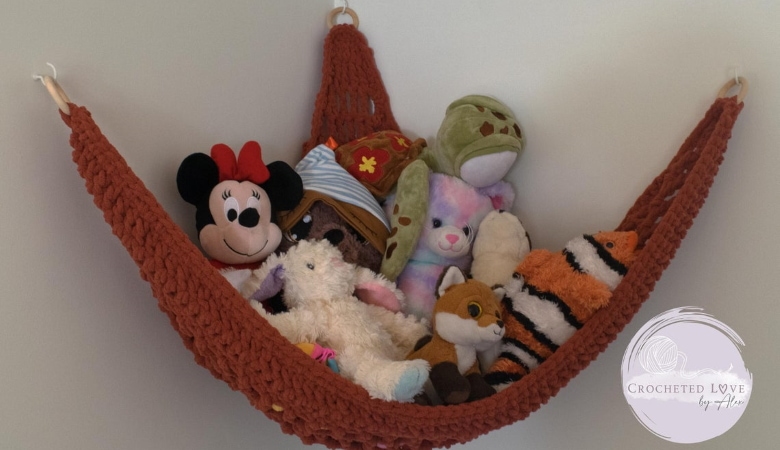 If your kid has a hammock for themselves, try making it a theme by adding a little hammock to their stuffed toys as well.
Make your kids' room a tropical haven by adding a few more tropical-themed decor. After seeing their room, their friends wouldn't want to leave!
Your kids' stuffies will chill on this hammock and have a clean floor space for your kid to play on.
This crochet item has incredible stretch to it so that a single hammock can hold lots of toys. It is easily removable in the event of a cleaning emergency. It comes with a crochet base, nails, and wooden rings.
Additional Details:
Size dimensions: 36" W x 27″ L
Material: Wool yarn
Installation required.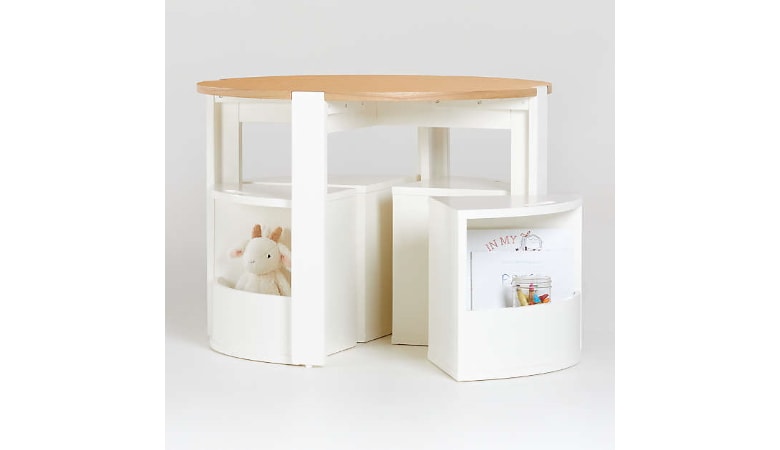 This neutral set has many practical uses and is perfect for storing toys at the same time.
Your kid can eat, play, study, and safely keep all their toys in this set without any mess. The table comes with an adjustable lever that you can adjust according to your toddler's height and comfort.
When not in use, the chairs can slide inside the table, saving a lot of space.
Each chair has storage, so you will never run out of storage space. Made out of pure wood, this table will serve you well in the long run.
Additional Details:
Size dimensions:

Table: W: 31.5",D: 31.5",H: 23"
Chairs W: 13.5", D:13.5", H: 14"

Material: Wood
Partial assembly required
Which stuffed animal storage idea is best for you?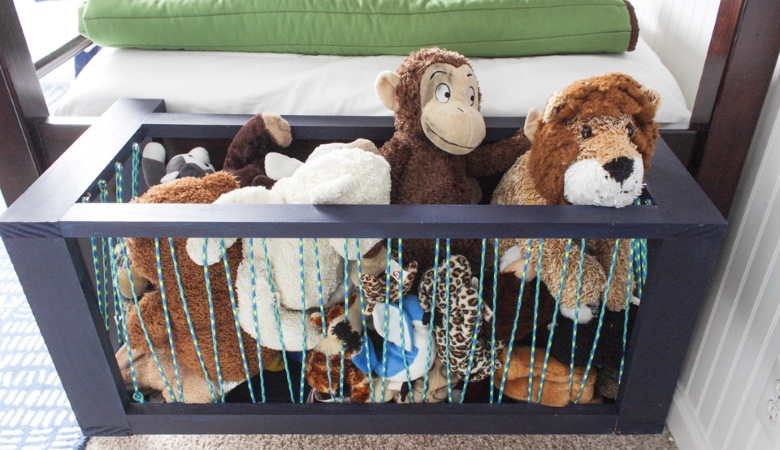 Now that we have provided you with so many creative storage options, you should remove the idea of throwing away those little plushies.