Christmas is one of the happiest and most beautiful times of the year — everything from the decorating to the food and the joy of celebrating with family and friends.
For those that have small living rooms, decorating can be challenging. No one wants to do without a beautifully decorated Christmas tree because of a lack of space.
So, it requires a little creativity to determine the best place to put it.
How to fit a Christmas tree in a small living room
Read on to find out some suggestions of where to put a Christmas tree in a small living room.
Remove furniture
You may need to remove a piece of furniture, such as a side chair or a table, from the room to place the tree.
This is quite a common practice for those with limited space.
If the tree is going in the corner, you may want to remove a chair or table on that side of the room.
Use a Tabletop Tree
If you cannot move a chair, try using a small tabletop tree in your room. This is a good option if you don't want to give up the seating.
Many manufacturers of artificial Christmas trees make a smaller size tree for just this purpose.
Use a sofa table or end table to place your tabletop tree on.
Put the Tree in Front of the Window
You might be sacrificing on natural light, but it's a gloomier time of year anyway. Put your Christmas tree in front of the window to maximize it's beauty.
Hang Decorations on the Walls
This is a simple tip that can make a big difference in how your tree looks as you approach it.
Hanging ornaments and lights high on the walls behind and slightly to each side of the tree will focus attention onto the tree itself. This technique can make your tree area appear larger than it actually is.
Request a Small Real Tree
If you require a real tree, you can find smaller ones at most Christmas tree lots.
Use lighting and ornaments instead
Small lighting and ornaments are available for purchase and can make your room just as lovely as a larger, grander tree.
Find a tall and narrow tree
Another consideration for those with space concerns is to find a tree that is tall but narrow.
You still have the presence of a larger tree, but without it overwhelming the entire room.
Christmas Tree Alternatives
If there really is no space at all for a Christmas tree, you could always use alternatives such as miniature Christmas trees or wreaths.
Wall hanging
Purchase a large wall hanging of a Christmas tree or a shower curtain — it may sound weird, but it actually works.
Christmas-print Shower curtain
A beautiful shower curtain can work really well. Some come with beautifully decorated Christmas trees on them, others with Christmas-themed prints. If space were minimal, it would look fabulous on a wall.
Related: Standard Shower Curtain Sizes
Ceramic Christmas Tree
A small ceramic Christmas tree would look beautiful on a table, mantle, or shelf in corner of your room.
Christmas Tree Ideas for Small Spaces
The best spot for a Christmas tree in the home are areas where it will be seen from many angles.
Ideally, your Christmas tree should be placed where it can be seen from the outside, as soon as you walk in, down the staircase, when you're eating in the dining area or room, or just relaxing with the family.
After assessing your space situation, if a Christmas tree simply won't work in your living room, here are some other locations in your home where you could showcase it.
Foyer
A tabletop Christmas tree in the foyer can transform your entryway into a festive way to welcome visiting family and friends.
A console table in the entry is a perfect spot for your tree because it sets the tone for the holiday décor throughout your home.
Use a theme and color palette that is complementary for a stylish and cohesive look to decorate the tree.
An easy rule to follow is to have your decorations in sync with the remainder of the space.
For example, a tree can mimic the gold finish of a sconce and mirror on display.
It is necessary to keep everything in proportion when adding festive colors.
For an expansive foyer, try using a few smaller trees for added drama.
Front, Side, or Corner Windows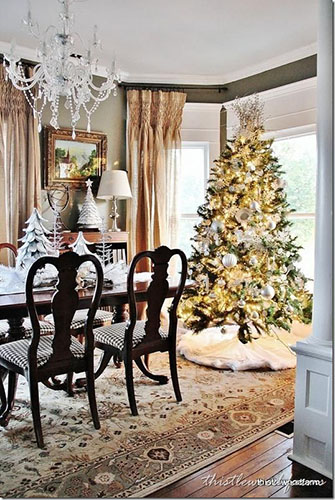 A Christmas tree by the windows is an excellent place to set up a holiday tree.
The window height and the amount of floor space will help showcase the tree's shape.
When viewed from outdoors, wider windows allow a better view of the tree from different viewpoints.
To make the most of the windows with nooks, such as bay or bow windows, place your Christmas tree there.
When you arrange the Christmas tree this way, there is a dedicated area with plenty of space for gifts under the tree.
Staircase
A Christmas tree by a staircase turns the stairs into a showcase with the beautifully decorated Christmas tree next to it.
Drape the handrail with a garland to complement the tree, then add a garland or two along the baluster to finish the look.
Family Room
A Christmas tree in the family room is a very popular place for a Christmas tree because of the quality family time that occurs there.
A corner near the seating area makes for an excellent spot for the tree to help create a cheery and cozy ambiance.
Children's Bedrooms
Consider putting a small dresser-top Christmas tree in each of the children's bedrooms.
Kids love this time of year and look forward to the decorating and the festivities that go along with it.
Allow them to decorate it themselves to provide a sense of ownership and pride in their handiwork.
Choosing a pre-lit Christmas tree with an enchanting glow also serves as a nightlight for little ones.
Dining Room
Add cheer to your meals with a narrow or tabletop Christmas tree in the dining room.
Measure the Space for Your Christmas Tree
Now that you've chosen where to place your tree, here is the most accurate way to determine the size of tree you should purchase.
You will need a stepladder, measuring tape, and pen and paper. Get the measurement from the ceiling to the floor.
If you are using a tree topper, subtract 12" from the ceiling height.
If you are not using a topper, subtract 6" from your ceiling height.
You can also use a laser distance measure as a handy alternative when measuring ceiling height. The measurement you arrive at is the maximum height for a tree in your space, including the tree stand.
Make sure the furniture in the area where the tree will be located is in place.
Then measure the available floor space for your tree. Subtract 12 inches from this measurement.
This is the maximum width your tree should be.
Using the guide below, find the perfect Christmas tree size for your small living room.
Under 6 Feet – Small spaces, tabletops, bedrooms, and kids rooms
6 to 6 ½ Feet – Areas with low ceilings
7 to 7 ½ Feet – Standard 8- to 9-foot ceilings
Artificial vs. Real
Most people prefer the look and fragrant smell of real Christmas trees.
Some artificial tree manufacturers offer trees that mimic the shape, color, and texture of actual tree cuttings made from high-grade material.
When face to face with a decorated real tree and a high-quality artificial one, it is hard to distinguish them.
Tree lots sell a limited number of trees at any given time. The most beautiful and popular trees sell first.
With artificial trees, you'll have many types and sizes from which to choose.
Artificial trees are often more costly than real trees but remember, they can be reused for several years instead of being discarded after New Year's Day.
With the price of real trees increasing every year, you'll end up saving money in the long run if you invest in a higher-quality artificial Christmas tree.
Some Basic Decorating Holiday Tips
Whether you're working within a small space or not, layering is always vital when it comes to holiday decorating.
Not only does it appear more attractive, but it makes decorating easier when you bring out your holiday décor.
Also, if you keep your basic décor more neutral, you can keep it out year-round and change the decorations based on the season.
If you have a large rectangular mirror on your mantle, for example, leave it on your mantle all year.
It's a classic and neutral piece, so you can easily add decorations around it.
Where not to put your Christmas Tree
When deciding where to place your tree, it is also essential to know where not to place it.
Safety being a major concern, make sure the tree is not exposed to a direct heat source.
Avoid placing it near a high-traffic area where it could be bumped by people walking by.
If the tree isn't sitting directly on the floor, ensure it is on something flat and stable to keep it from falling over.
Remember there are many ways to display Christmas trees throughout your home, even if you have a small living room.
With some imagination, you can turn your home into a holiday retreat that friends and family will love to visit!
Related: