Get ready to tackle your laundry room! These stunning and inspirational laundry room decor ideas will help you conquer this space once and for all.
Are you like me? Do you enjoy doing even the most mundane tasks when you have a pretty area to do it in? I just love interior design (and admire everyone that has a knack for it!).
The laundry room is a wonderful place for even beginning designers to start out.
It's a small space that you can plan for and finish in no time at all! If your laundry room is in need of a makeover, then check out these ideas for some inspiration!
Have a small laundry room? Then check out these 14 small laundry room ideas that will make you swoon!
Inspirational Laundry Room Decor Ideas
I just love looking at beautifully-designed laundry rooms. They are so pretty that I might even enjoy doing laundry in them! (I know, maybe that's a stretch).
After you tackle organizing your laundry room, you can get to the fun part – decorating it! As you browse these inspirational laundry room decor ideas, pick out your favorites – and don't forget to pin this post so you can come back to it later.
All White Room With Butcher Block Countertops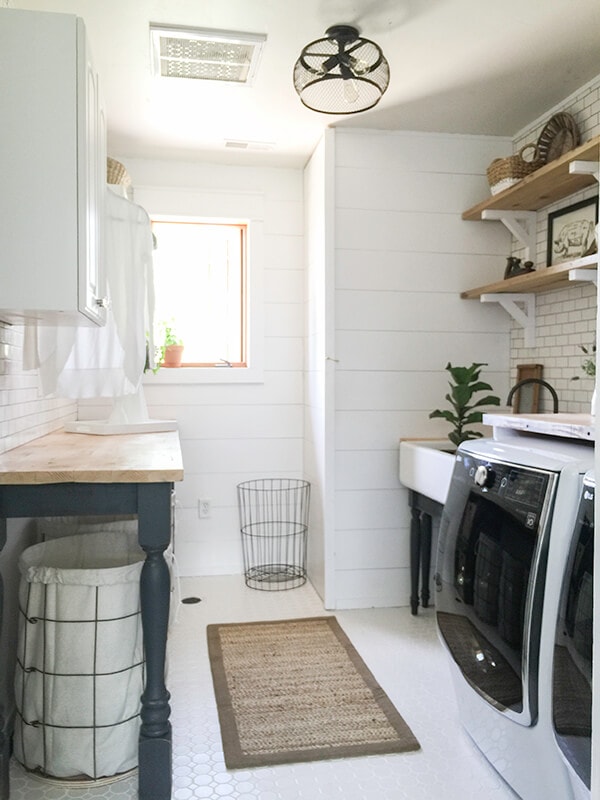 If you think this room is stunning, you'll be even more impressed when you see the before and after pictures. My favorite thing about this room is the reclaimed wood butcher block countertops.
Every color – even the plants – has an earthy feel to it. If you do install a folding table, leave room underneath for laundry baskets, that keeps the room from feeling too crowded.
Small Laundry Bathroom Combo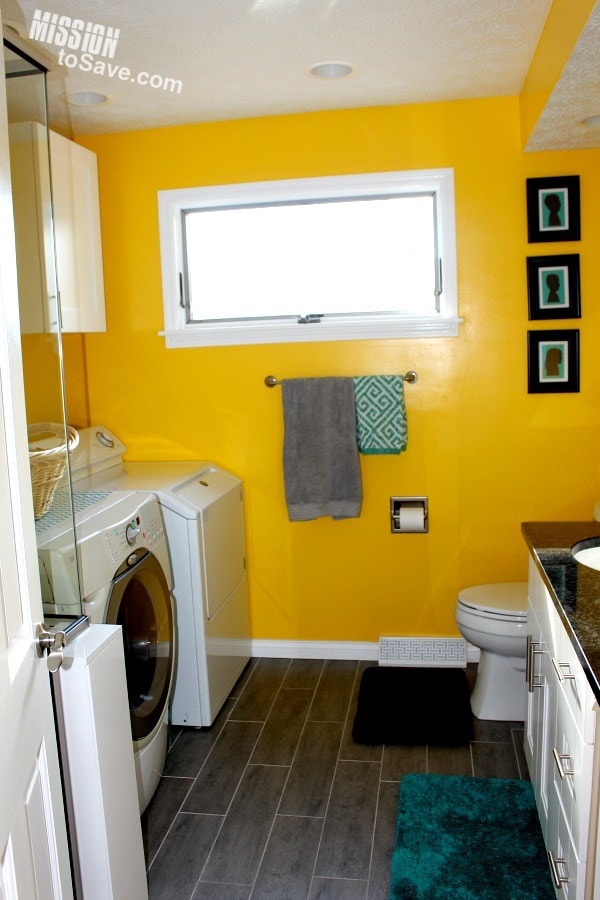 I love sharing pictures of real-life laundry rooms. This one is amazing!
They turned a bathtub into space for a washer and dryer.
The best thing about this decor is the bright yellow paint on the walls. It's so happy!
So many other laundry rooms in this list have grey or white walls – which is fine. It's just refreshing to see some bright paint on the walls too.
Laundry Closet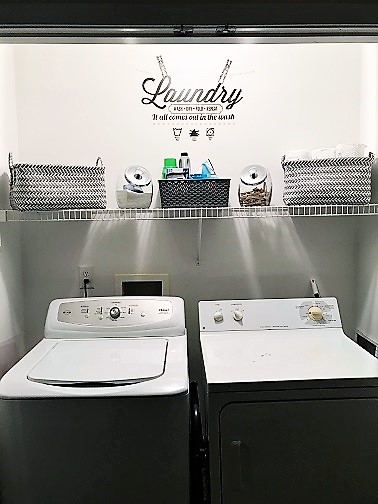 As stunning as vast laundry rooms are, I found a charming laundry closet with cute decorating tips.
You can make even the smallest laundry space look darling.
All you need is the right containers, a shelf, and some wall decor. It's pretty simple!
The key to keeping small laundry areas from being too cluttered is to use baskets and containers and to store extra things somewhere else.
Use space between the objects to make it feel more open.
Wall Stencils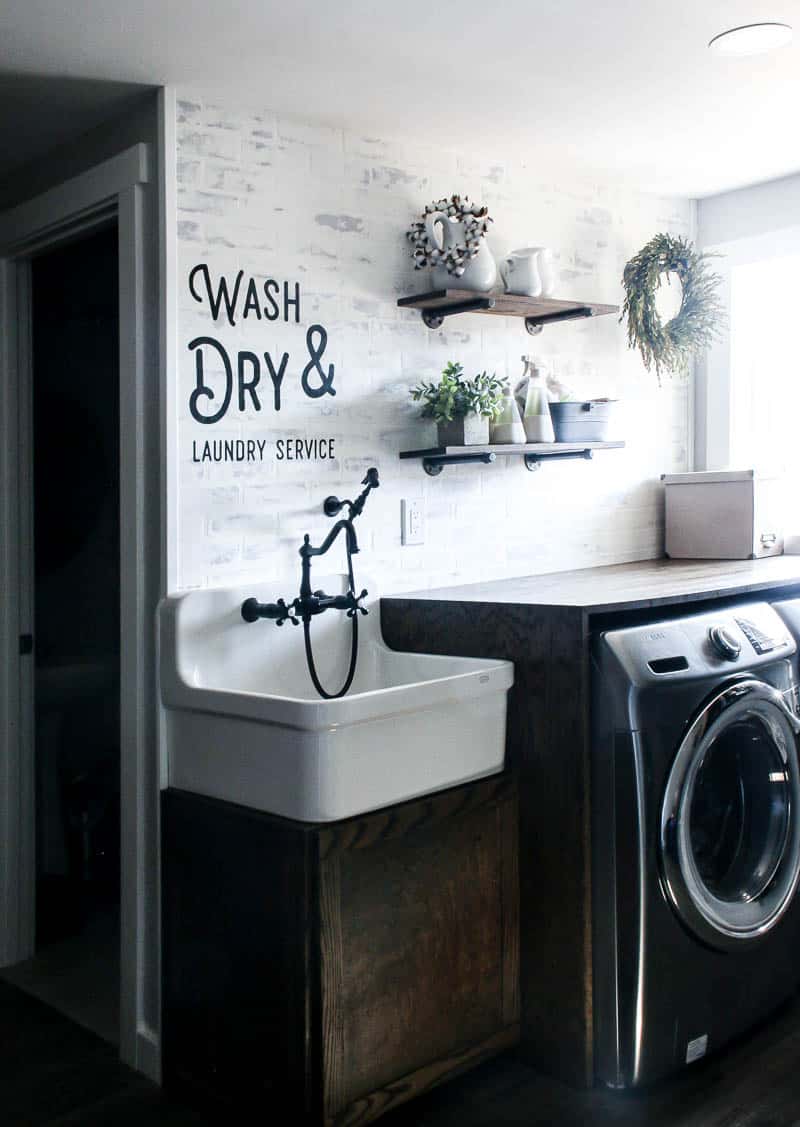 This laundry room is absolutely dreamy! Wall art is a lot of fun to put in your laundry room.
You can make your own stencils if you have a Cricut cutting machine.
There are also lots of free SVG files online you can choose from too.
Antique Washboards On the Wall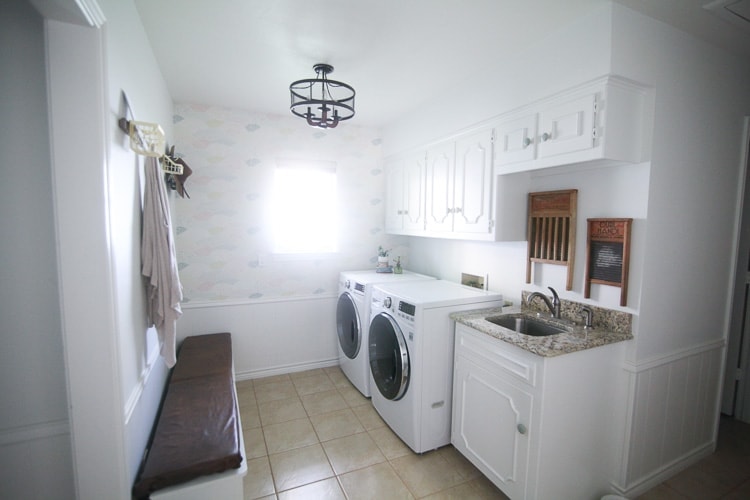 There are so many things I love about this laundry room.
The white cabinets are breathtaking and fill the entire room with light.
I think my favorite thing is how they hung up antique washboards on the wall.
This room doubles as a mudroom (hence the bench and coat hooks). I love the additional storage inside the bench too.
Laundry Room Shiplap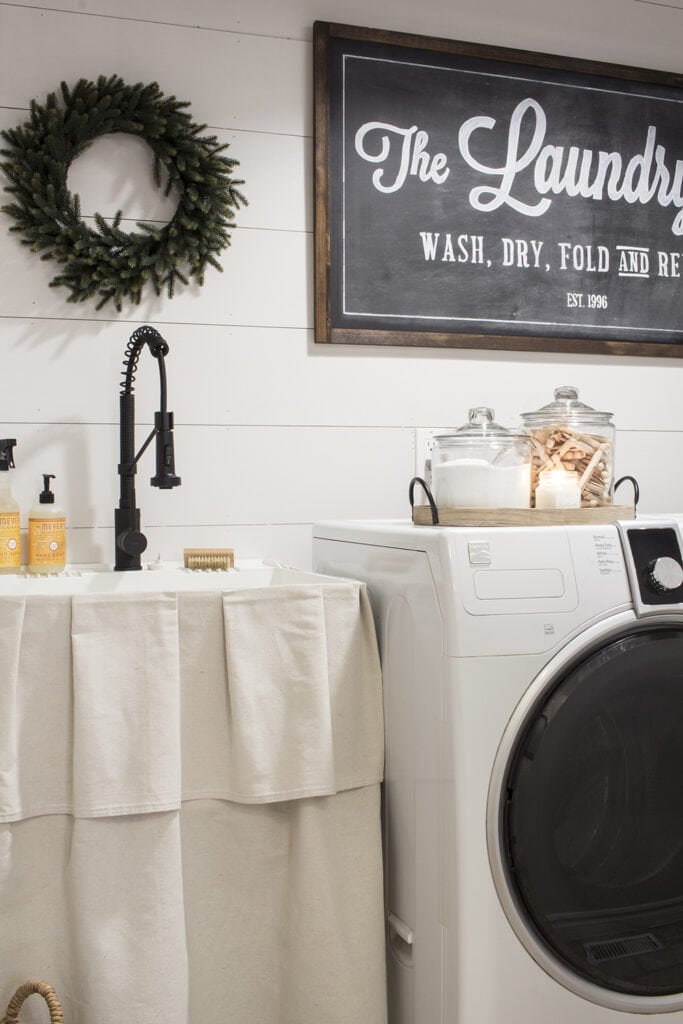 I don't know if you call this cottage chic or farmhouse decor, but I seriously love shiplap!
Homemade Lovely did a laundry room makeover and the results are inspiring.
The secret to modern farmhouse decor is keeping the color to a minimum and using earth-tones throughout.
Everything in this room is cream, grey, and white, with a few earthy greens dispersed around it.
Extra Large Wall Letters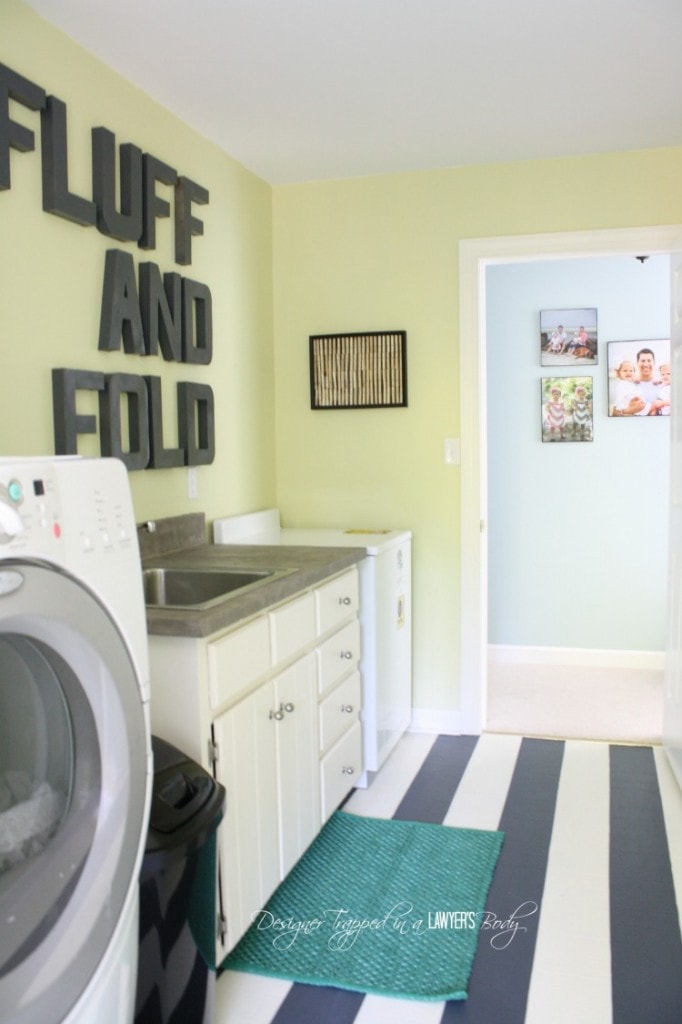 There is so much I love about this laundry room from Designer Trapped.
I love the striped floor and the cheerful green walls. I think it's the extra-large "Fluff and Fold" wall art that has my full attention.
This is another design inspiration for anyone that wants to break away from the whites and greys that are so popular.
White Brick With Plants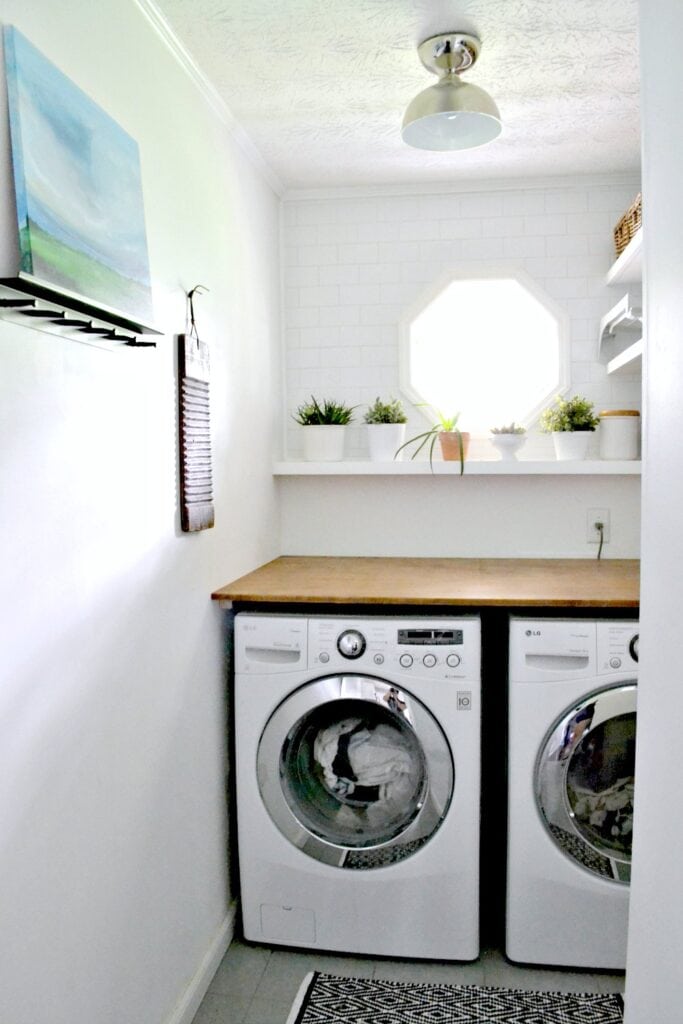 Another way to add some color to your laundry room is by adding a few potted plants and hanging up some wall art. I love how the plants and art both bring in elements from nature into the space.
This room is still small but feels so inviting. Check out the Ugly Duckling House tour for more pics of it.
Rolling Barn Door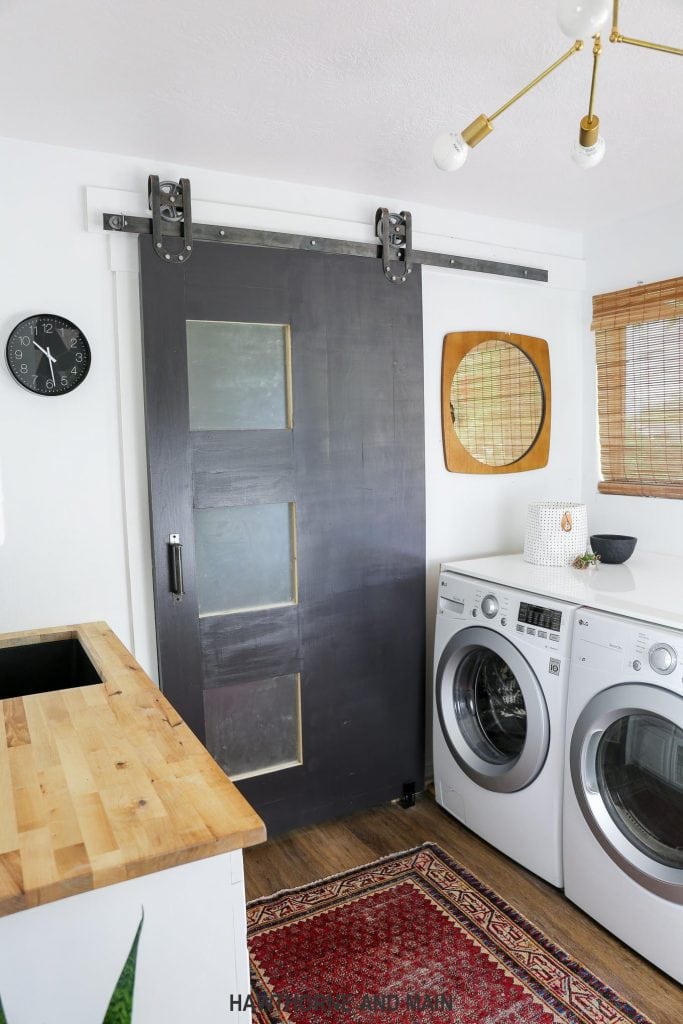 One of the best things about a barn door – like this one – is that not only does it look stylish, but it is functional too.
When you don't have much room for a door to swing, having one that rolls to the side saves you lots of space.
I also really like seeing rugs in laundry rooms.
Designers recommend using tile floors here due to the chance of water leaks.
Rugs add a stylish dimension on plain floors – and you can roll them up and clean them whenever you need!
Stunning Neutral Greys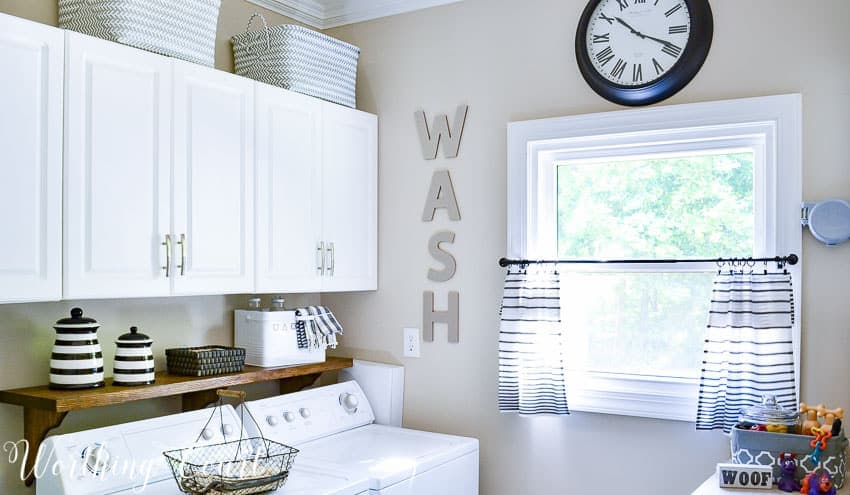 Don't be afraid to stick with black, white, and grey.
When you use these stunning neutral shades, you can make changes during the seasons without much effort. When you decide what your color scheme is going to be, use it everywhere.
Choose baskets, bins, totes, and jars that all use these colors. It will unify the room and create a common aesthetic.
A Fun Laundry Room Floor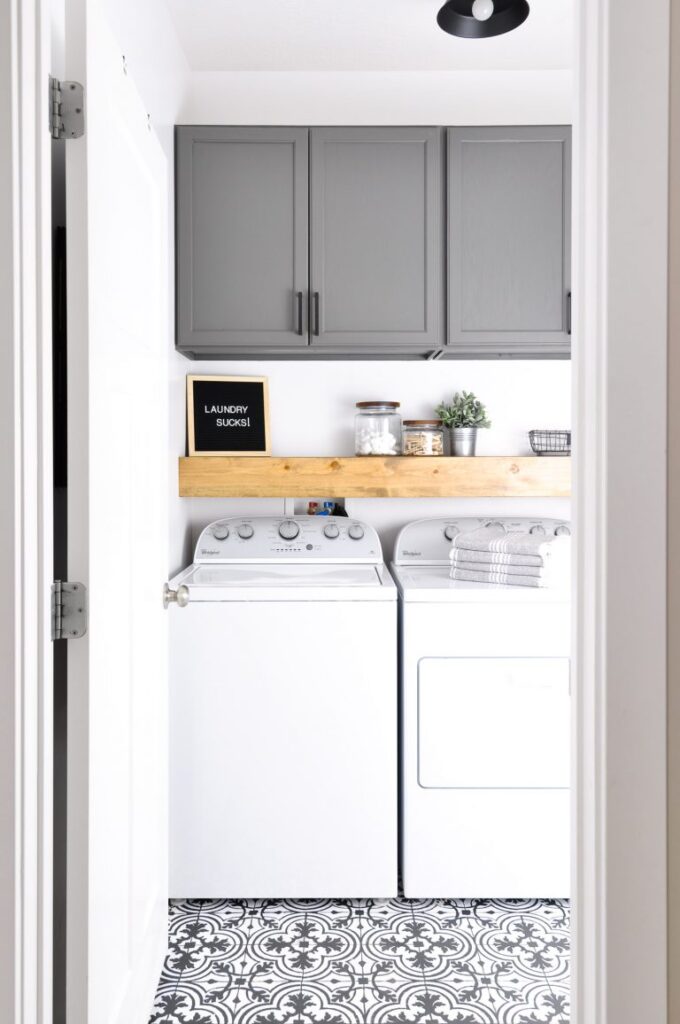 Don't you just love bold floors?
I mean, you either love them or hate them, there isn't much in between.
Tour the entire laundry room – you will love all the pictures! It's filled with calming neutrals and full of natural light.
A Laundry Room With a Chandelier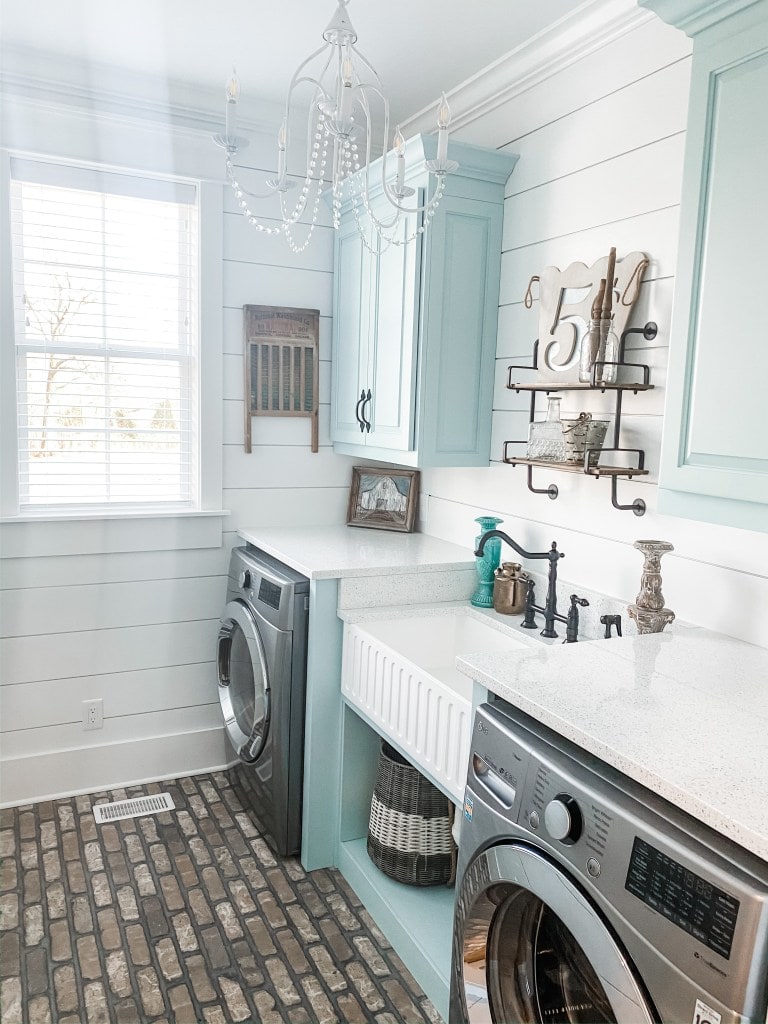 Now, this is different – but in a very good way.
There is plenty of room for washing and folding the clothes and the sky blue cabinets look amazing with the white walls and sink.
My favorite part of this room is the chandelier. It adds charm and beauty to the room.
Hanging Things Up On A Slat Wall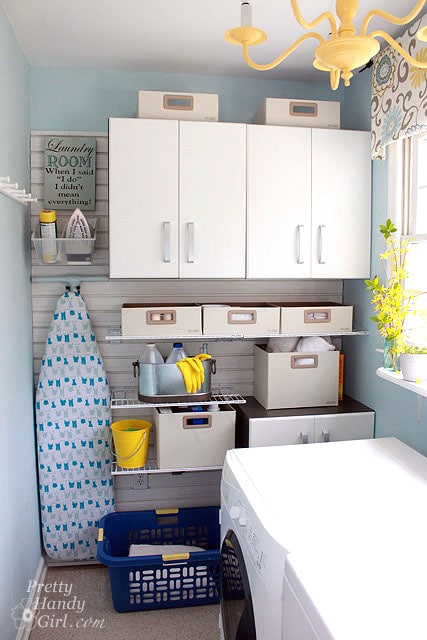 Here's another laundry room that shows how even small spaces can be organized and decorated beautifully.
Pretty Handy Girl installed a slat wall and hang up her shelves that way.
This means she can easily move the cabinets and the shelves whenever she needs to. So smart and it looks so good!
Artwork In the Laundry Room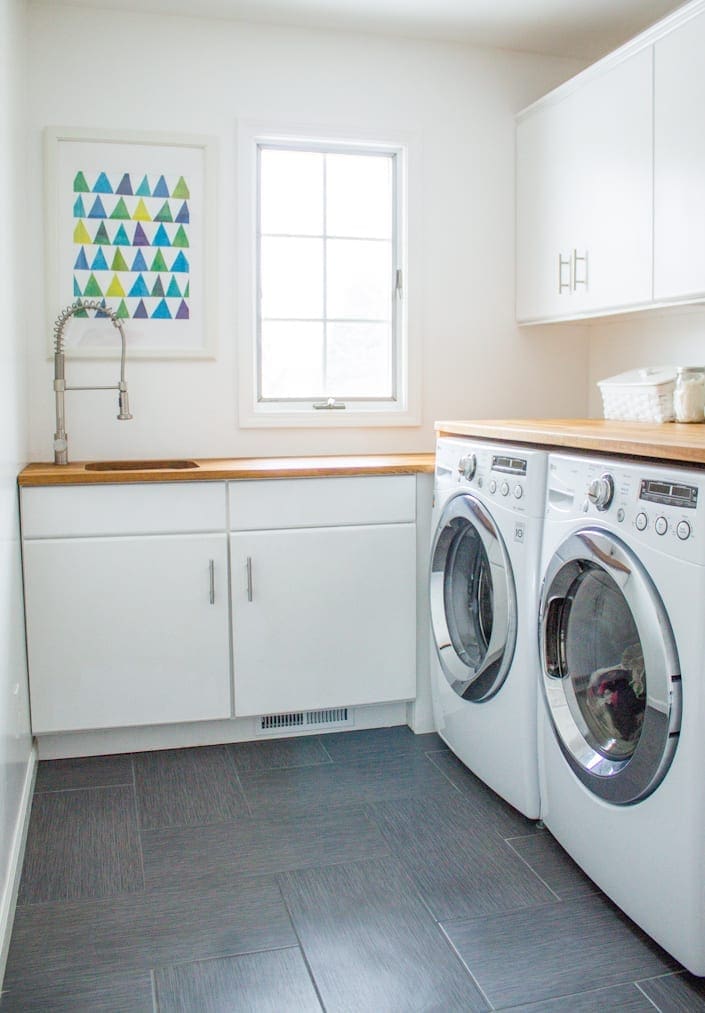 I am really loving cabinets in laundry rooms.
I can just picture all the ways I'd use that extra storage.
Those floors look amazing with a nice contrast.
What really sets this laundry room apart is the whimsical artwork that is hanging above the sink.
Charming Laundry Closet Wall Decor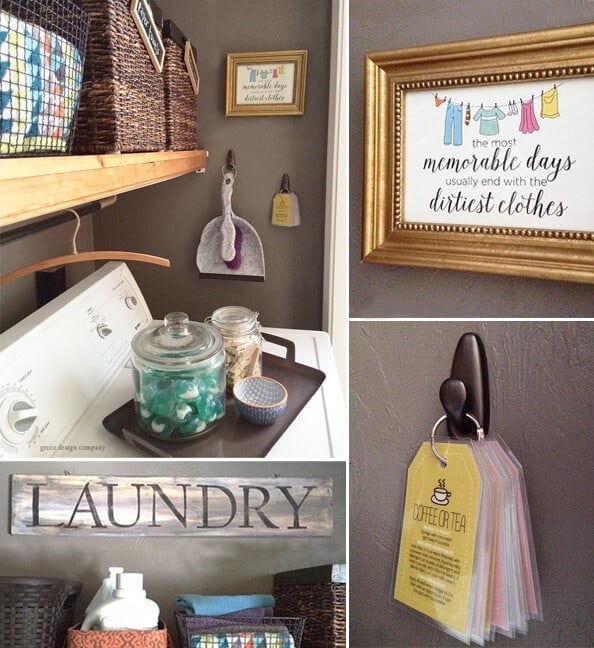 Finally, this collage shows all the thoughtful and easy ways that you can decorate even a small laundry closet.
Using bins and baskets that don't match can actually have a quaint beauty.
I especially appreciate the cute keychain full of common laundry issues and how to treat them.
The idea is to be intentional with every bit of space. Use decorative baskets and jars that effectively organize your supplies while looking lovely at the same time.
More Laundry And Cleaning Tips
Now that you a bit of an idea of how you want to decorate your laundry room, here are a few laundry and cleaning tips to help you get the job done.
Like it? Pin it for later.