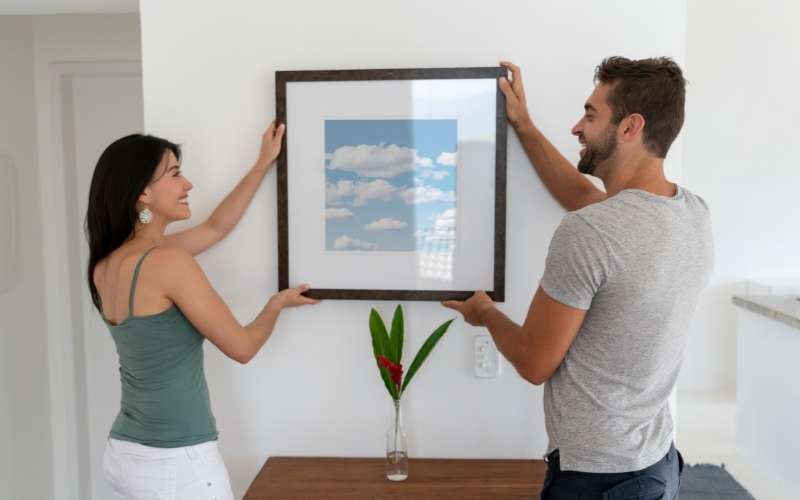 Command strips are a great invention for hanging small items, and they work really well.
But what if you need to hang something heavier? What if you want something that doesn't leave any residue on the walls?
Luckily, there are many alternatives to command strips that can further help you to customize your decorating needs.
9 Alternatives To Command Strips for Hanging Décor
The following command strip alternatives will allow you to use the power of gravity to get your heavy décor hung without breaking the bank.
Adhesive hooks are great Command Strip alternatives because they are very affordable, easy to use, and leave no residue on your walls.
They can be attached anywhere you want with the adhesive backing provided.
Just make sure that whatever area of the wall where you plan to attach it is clean before applying!
Hooks may be more functional than command strips because they can hold heavier objects and they come in a greater variety of sizes.
They can also be very decorative and add style to your walls as well!
They make it easy to take items on and off of your wall in case you want to switch up your décor.
They also add functionality by providing you with surfaces to hang your coats, bags, towels, and anything else you may need.
Being able to organize your home on vertical spaces such as your wall is essential for those living in smaller homes, and can look stylish as well!
Nails are another great stronger alternative to command strips.
They are very easy to use and come in a large variety, meaning that there is a size for everything.
From heavy-duty to mini, you'll be sure to find the perfect fit!
Nails are very cost-effective as well, which makes them great for larger projects where you may need to hang more than one item.
They leave small holes in the wall once they are removed, but can easily be filled and painted over if you want to change up your décor!
There are many types of nails.
Some of the most popular types include standard nails, drywall nails, toggle bolts, and hollow wall anchors.
In order to choose the best nails for your home décor project, it's best to do some research. Make sure that your nails can support the weight and size of your décor.
You also want to make sure that you're not using too big of nails for any project, since they will leave sizable holes in your walls.
Monkey Hooks are the best way to hang anything on drywall.
They don't need any tools or studs and make a minimal impact on the wall by only creating a tiny pinhole.
This pack comes with three different sizes that can hold different sizes and weights of décor.
Puncture and push the hanger into the wall, and twist it to secure it in place.
A self-locking feature will secure the piece and leave you with a clean small hook that is ready to hold up to 50 pounds of weight.
You can use multiple hooks for larger or irregularly sized items.
Hardwall hangers are made out of plastic and have small metal pins that can be pushed into the surface of the wall.
The multiple pinheads give the hanger a better weight distribution of support.
They are great for objects that weigh up to 20 pounds (ideal for patio lights).
Make sure that the weight of your décor pulls down from the wall and not away from the wall, since this could pull the pins out from their placement.
These hangers are a perfect choice for brick, cinderblock, and concrete surfaces.
They replace the standard process of drilling and adding an anchor to tough walls, which means that they're easy for anyone to use and will make a minimal dent in your wall.
They're also a great option for outdoor spaces made of these materials.
Since the nails on these hangers are very small, it's very important not to overload them with more weight than the manufacturer suggests.
Make sure to install several hardwire hangers rather than use one to hold a heavy piece of décor.
This way, you'll know that your valuable decorations are safe and secure.
Although a cork board wouldn't be considered an adhesive on its own, it's a great way to minimize holes in your wall if you plan on hanging several smaller items.
It's also a unique way to create a customized and themed piece of home décor.
You can simply put in one nail or another form of adhesive to hang a wire hanger for your board, and then use the corkboard itself.
Corkboards can be further customized to match your home décor and your home's color scheme.
You can take a piece of fabric, stretch it over the corkboard, and staple it to the back to create a cute design that will elevate your corkboard to look like a piece of décor itself.
Velcro is a great way to hang even heavier items without creating holes and marks in your walls.
You will attach one side of the Velcro to the wall and attach another piece of it to your décor.
This will allow you to adjust the height or change up where you hang things without damaging your walls.
One nice thing about using Velcro is that is adjustable and interchangeable, in case you want to slightly reposition your décor or switch it out for an entirely new décor piece.
Simply pull the two pieces apart and reattach them in a different spot.
You can use it for more than just home décor, as well. In smaller spaces, Velcro helps to keep things neat and organized.
It's also a great way to hang your keys or other small items where you can easily find them, without taking up counter space or putting holes in the wall for traditional hooks.
People often use Velcro for their television remotes, car keys, and even their pet leashes.
Double-sided tape is a great option for hanging décor since it can be customized to any length and you can use several strips to increase the width.
This means that your tape can hold very heavy or irregularly-shaped items safely.
Double-sided tapes are made out of acrylic and gel, which allows them to set and bond instantly. This means you won't have to wait for the adhesive to cure before you can hang your home décor.
This tape is perfect for your home organization as well as home décor.
A long strip can hold several of your small daily-use items such as pens, remotes, and more. In your kitchen, you can use it as a strip to hold your spatulas, cooking spoons, and whisks.
One of the best things about double-sided tape is that it can be reusable! You simply wash the tape and let it dry. Once it is completely dry, it will be sticky once more.
Removing double sided tape is easy and won't remove paint from your walls. Simply use a blow dryer to warm up the strip and gently pry it off with a paint scraper or similarly sharp tool.
Magnets are a great alternative to traditional command strips when you're looking to hang your décor.
One great advantage of using magnets is that you can easily remove your décor and mix them around since they aren't bound by an adhesive.
Magnets can be attached by using double-sided tape, adhesive hook and loop strips, or even simply placing them directly onto the back of what you want to attach.
You can add a magnet to your wall with a piece of adhesive to secure it to the wall, and you can also directly place them on magnetic surfaces for an easy, mess-free solution.
A single magnet can hold a lightweight object, and you can apply more to increase the weight-bearing load.
For very heavy objects, consider using neodymium or ceramic magnets, since they have a much stronger magnetic pull.
Don't underestimate shelving as a solid alternative to using Command strips or other options. Sometimes, a shelf is your best bet.
Floating shelves can often be mounted without drilling or damaging the walls. They look great and have a variety of uses including placing art and décor on as well as increasing storage.
Be sure to pay attention to the maximum weight limits when choosing shelving options.
How To Choose The Right Command Strip Alternatives For Your Home
With so many command strip alternatives on the market, it may feel overwhelming to choose the right options for your home.
Here are a few considerations that can help you decide which alternative is the right choice for you.
What Kind of Décor Will You Hang?
The first thing to consider is what kind of décor you want to hang.
Some home decorations are lightweight and work well with most adhesives, while others are made out of heavy materials and need special installation.
Take note of the weight and dimensions of your décor and read the manufacturer's recommendations to make sure that you're choosing the right product.
If the object has a high weight-bearing capacity that may be hung vertically or across several walls, then double-sided tape can work well.
If you want to hang your décor in a less permanent way, such as switching out the holiday decorations every season or swapping out photos, magnets may be more ideal.
Is The Surface You Want To Hang On Smooth or Textured?
Another thing to consider is whether your object will be hanging from a smooth, nonporous surface (such as glass), or if it will hang on something textured like tile or brick.
Removable adhesives will work well on smooth surfaces, whereas magnets and hook and loop strips are better suited for textured ones.
Do Command Strips Work on Textured Walls?
Command strips won't work on textured walls or any other porous surface. If you are trying to adhere to a textured wall, your best bet is to use one of the alternatives listed here including magnets (for a smoother textured wall), hook and loop velcro tape or even permanent shelving.
We've got tons of ideas on how to adhere to brick in our article here
Make sure to do some research to make sure you're using a compatible hanging material.
Not only do you risk damaging your wall surface with the wrong product, but your home decorations may fall down if they're not secure as well.
Does The Surface Get Warm?
Another thing to consider is if the surface you want to hang your object onto gets warm or not. Windows, outdoor spaces, and bright areas in your home may be susceptible to high heat during sunny days.
Removable adhesive can get damaged when exposed frequently to heat sources like radiators and direct sunlight. If this is the case, consider using magnets or hook and loop strips instead.
Final Thoughts
If you're renting a home or don't want to leave unsightly marks on your walls, consider using these adhesive alternatives instead of command strips.
They are easy to remove and won't leave any residue behind when you're ready to move or switch up where your décor is placed in your home.
Happy decorating!
Related: