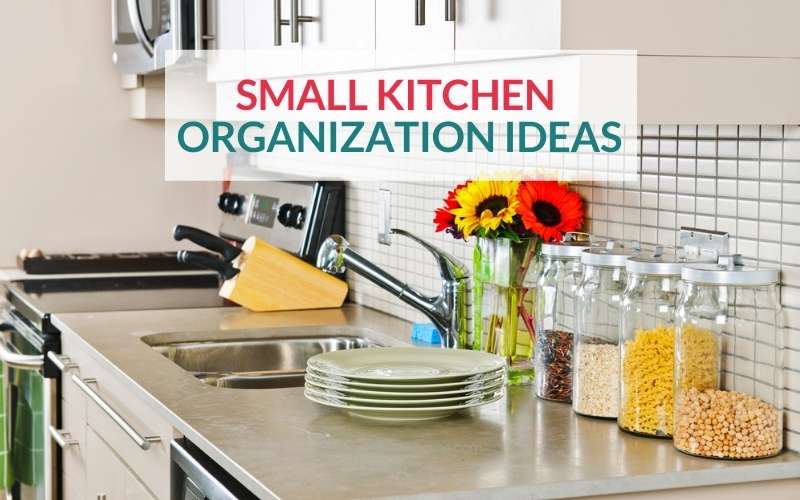 Small kitchens force us to be resourceful. Luckily, clever storage ideas for small kitchens abound online and I'm here to share them with you.
Check out these genius kitchen storage and organization hacks and get inspired!
25 Small Kitchen Organization Ideas You're Going to Love
Trying out new kitchen organization ideas in small spaces be extra challenging.
Using every available space in your small kitchen will make your kitchen look cluttered, instead, you need to find a balance of keeping only what you need and use in your kitchen and decluttering or storing the rest.
The following organization ideas for small kitchens include extra storage ideas, space-saving ideas and some just plain genius kitchen ideas for small spaces.
1. Magnetic Spice Jars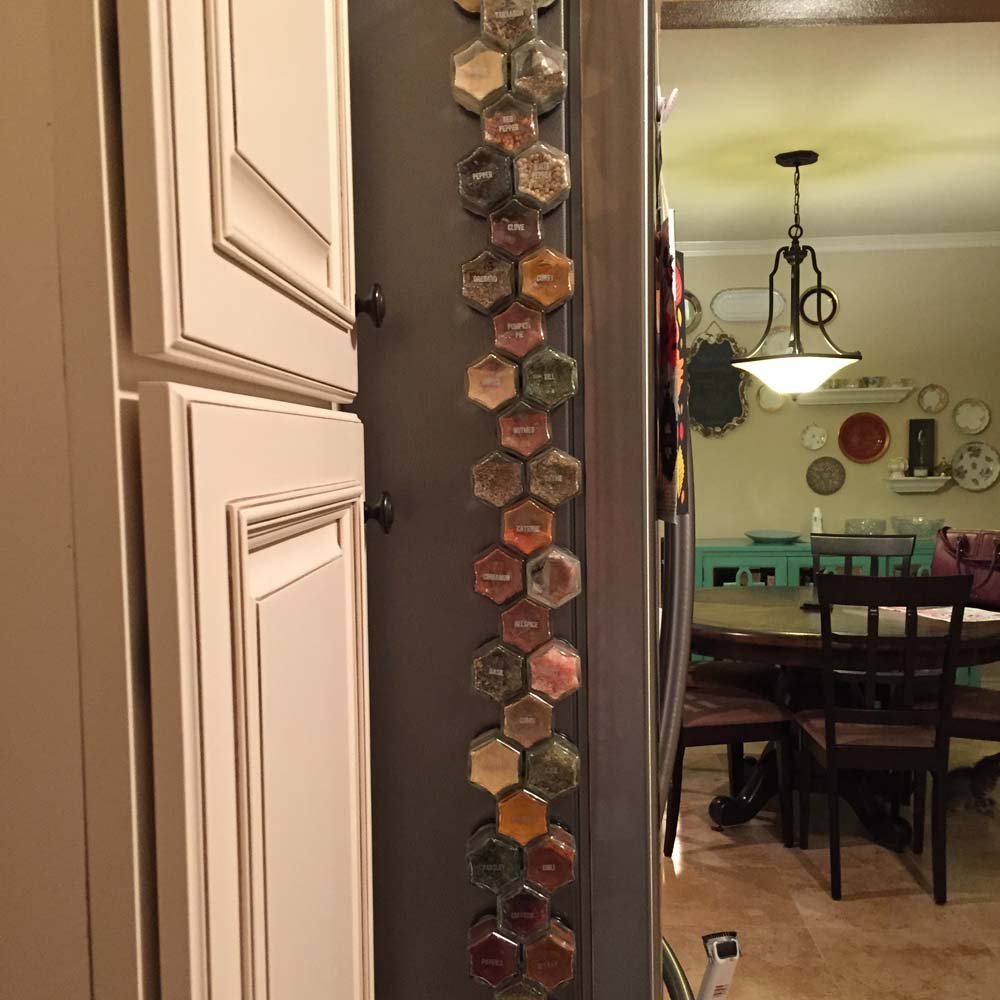 Sometimes the best small kitchen organizing ideas are the simplest ones.
Magnetic spice jars are such a clever idea to save on storage.
Plus, they add a design element to your kitchen.
Either arrange them on a magnetic surface such as your fridge or pickup some cheap magnetic paint and they can go anywhere you fancy.
2. DIY Drawer Dividers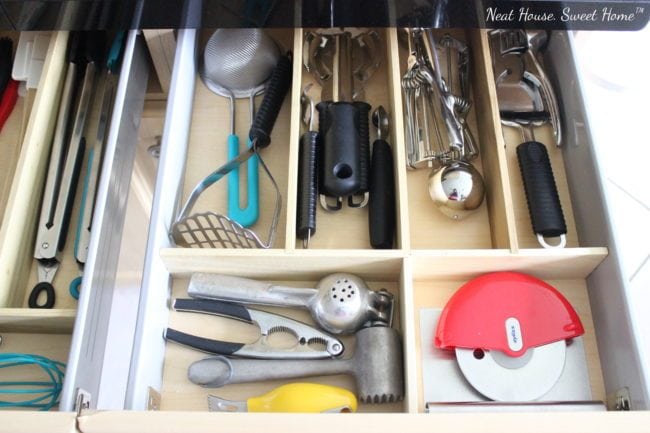 If you're wondering what to do with a small kitchen drawer that doesn't fit conventional drawer dividers, these DIY drawer dividers from Flavia at Neat House Sweet Home are just what you need.
This will solve counter clutter issues because I'll finally have a place to store my oversized utensils.
Check out the full post on how to make them here.
3. Undersink storage shelves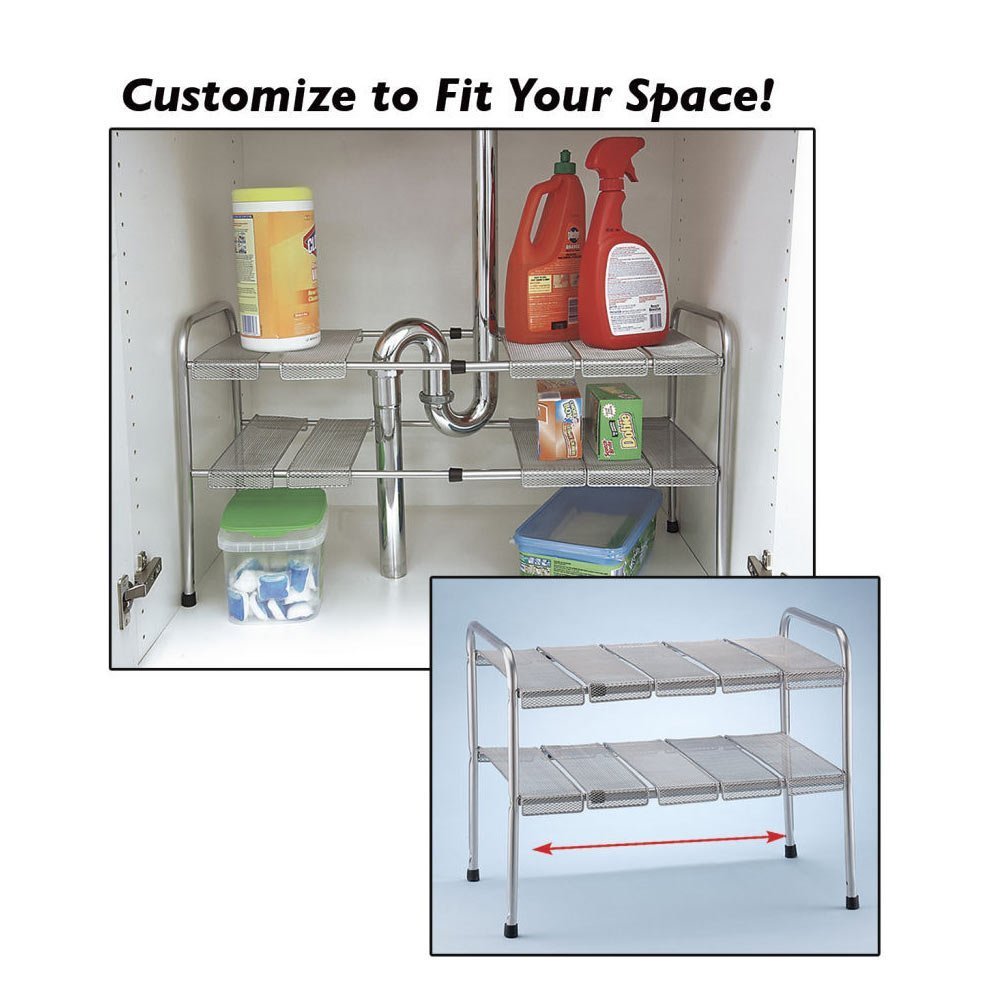 Do you lament the waste of valuable storage space that lies under your sink?
Well, cry no more!
This amazing under sink organizer expands and adjusts to fit the dimensions of your sink cupboard.
Grab the 2 Tier Expandable Adjustable Under Sink Shelf Storage Shelves Kitchen Organizer here.
4. Kitchen Pegboard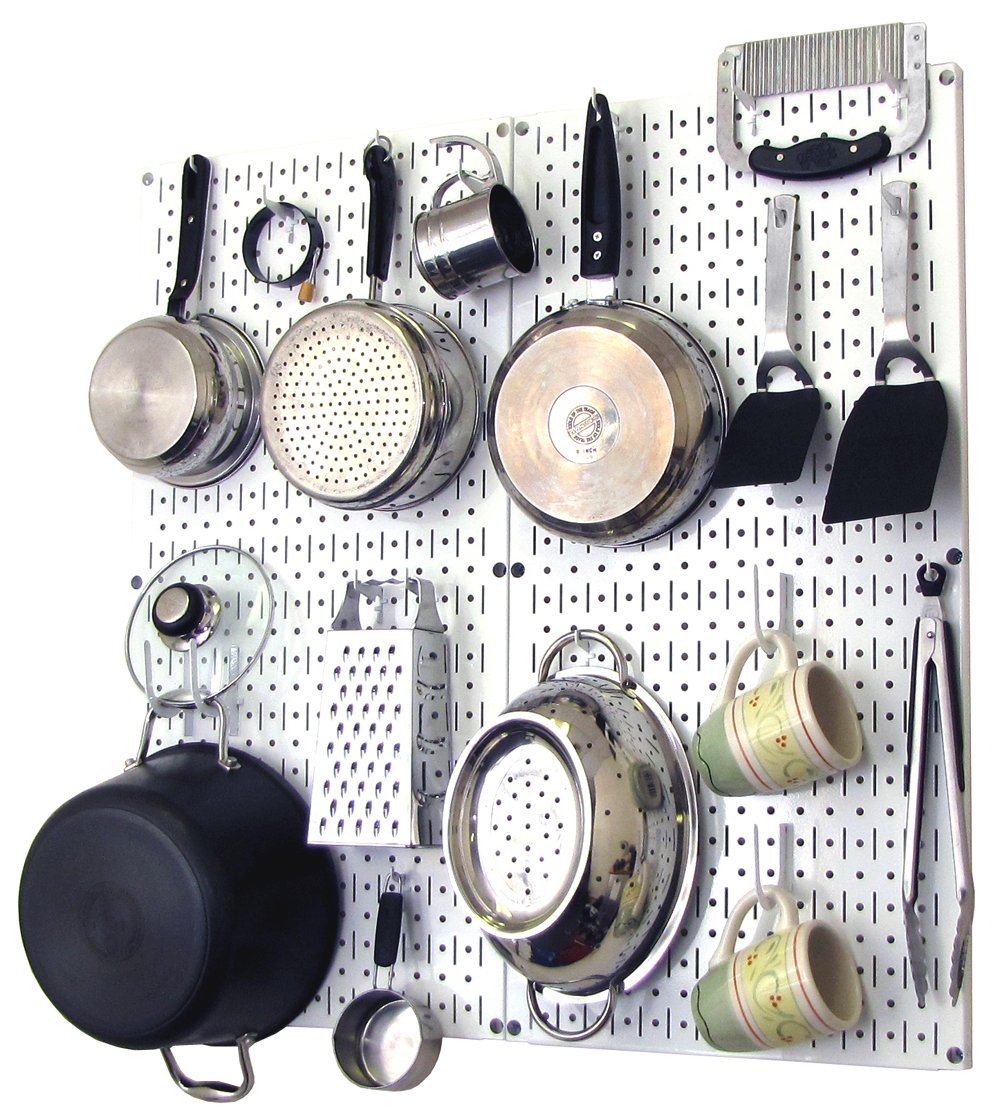 If you're looking for small kitchen organizer ideas you really can't go wrong with a pegboard.
They have so many uses and look stylish too.
I love this idea of storing your pots and pans on a pegboard.
This Kitchen Pegboard Pots and Pans Pegboard Organizer Storage and Organization Kit is ten times stronger than traditional pegboard so you know those pots and pans aren't going to come crashing down. Check it out here
Related: 10 Dry Food Storage Containers Perfect for Small Kitchens
5. Dish Rack turned Counter Organizer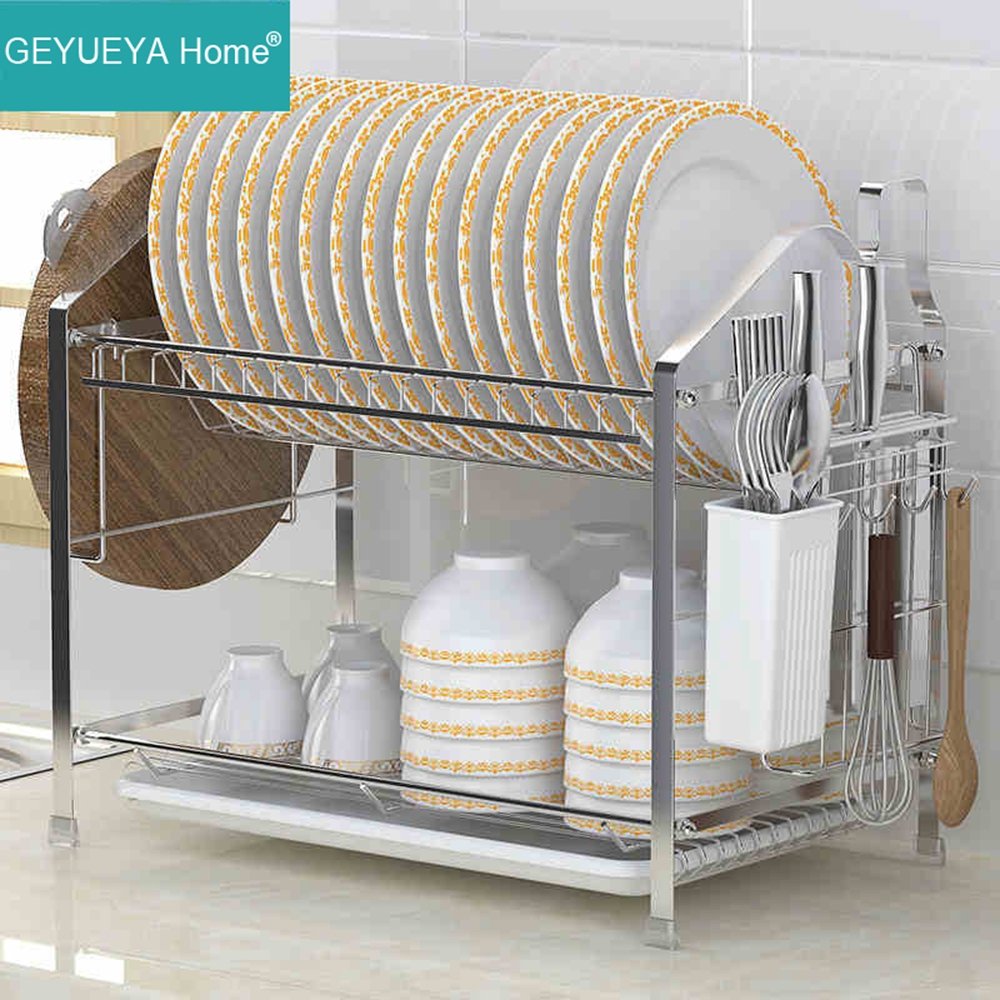 If you're wondering how to organize small kitchen counters, you need the gear you use to work double-time.
This genius piece of equipment doubles as a dish rack and counter storage.
This is a game-changer for a small kitchen, and it looks great too. Check it out here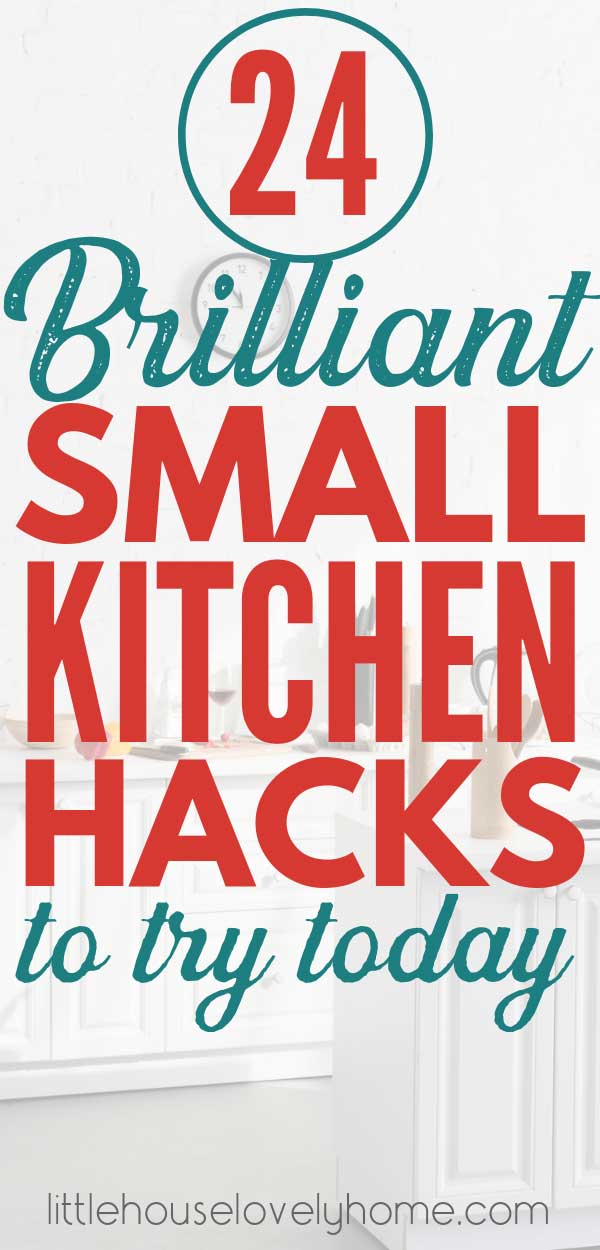 6. Kitchen Equivalent / Measurement Conversion Chart Decals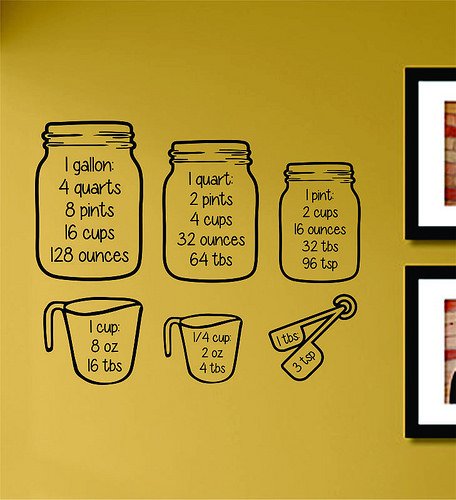 This gorgeous decal would look great on some bare wall space or alternatively on the inside of your cupboards.
I love making use of the insides of cupboards as they are such a waste of space otherwise.
This neat idea is super functional. A double-whammy for a small kitchen. Get the decals here
7. Gap Storage Shelf/Canned Food Shelf
This canned food shelf or gap storage is one of the smartest small space kitchen solutions I've found for those of us who don't have a pantry or just need a little extra storage.
I love that it makes use of the awkward space next to the fridge where my son usually hides his toys. Check it out here
Related: 10 Clever Fridge Organization Hacks You Need to Know
8. Wall-mounted hanging pot rack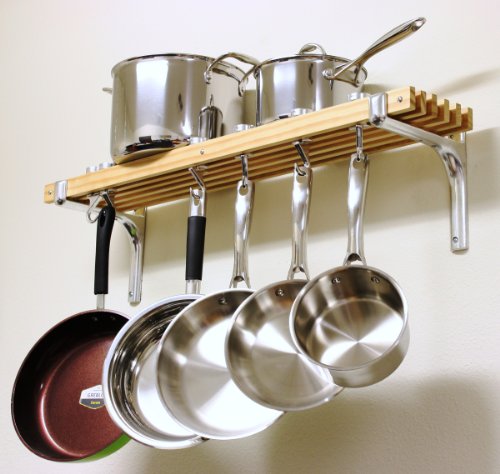 When considering small kitchen space ideas, pots and pans can throw a spanner in the works.
Luckily, kitchen storage ideas for pots and pans cater for all kitchen sizes.
This wall mounted hanging pot rack looks great and frees up space in your drawers. Check it out here
9. Drawer-mounted Hanging Pots and Pans organizer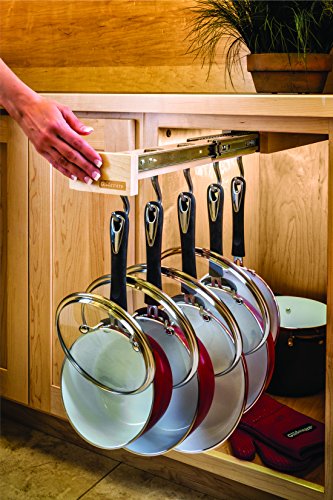 Pots and pans are the bane of my small kitchen's life.
I could totally handle this small kitchen business if I didn't need pots and pans, but that's just being silly.
This clever way to store pots and pans
is a fine solution to stacks of mismatched pots and lids, spilling all over your limited cupboard space.
Related: More Genius Ways To Organize Pots And Pans
10. Dropdown Tablet Tray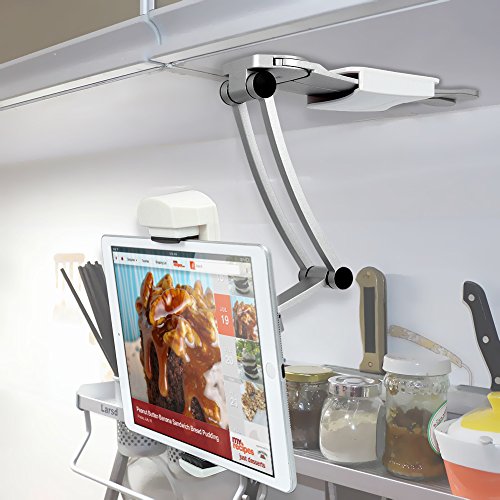 Who still uses a cookbook?
Well, I do sometimes for some old-time recipes that I grew up with, but thanks to Pinterest, my family now eats lots of different things each week.
I mostly get my recipe loaded on the iPad and get cooking.
But trying to find a safe and accessible place to store the iPad while I'm cooking is a problem with my limited counter space.
Enter the Kitchen Tablet Mount Stand by iKross 2-in-1 Kitchen Wall/CounterTop Desktop Mount. I'm definitely getting one of these.
11. Toekick Drawers
Have you ever noticed how much space lies underneath your kitchen cupboards?
Well, if you have limited space for large items like baking trays and muffin tins, toekick drawers could be the perfect solution.
Check out this tutorial from Tikkido on making secret toekick drawers.
12. Extra shelving on the wall
Using a narrow floating shelf under your wall-mounted cabinets can free up loads of space in your pantry.
The crates pictured above look great (see them here).
13. Acrylic spice racks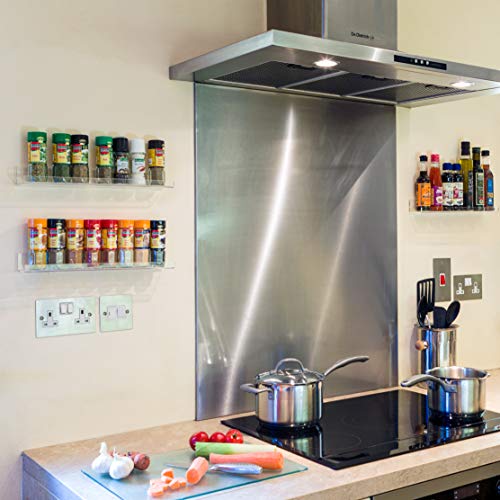 These acrylic spice racks make a gorgeous feature of your colorful spices.
Arrange them whichever way best suits your small kitchen space.
I really love the use of the dead space between the cooker and the microwave in this image.
Find these spice racks here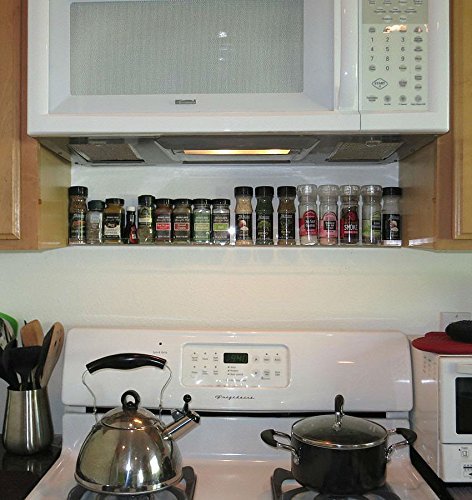 14. Ikea Kitchen Organizer Rail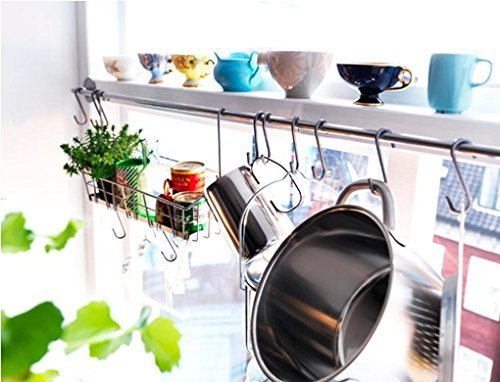 These Ikea Bygel rails and organizing hooks have loads of uses.
You can hang pots and pans, use baskets for fresh produce or cutlery.
Best of all they are easily removable, perfect for renters. Check them out here
15. Hidden Magnetic Knife Racks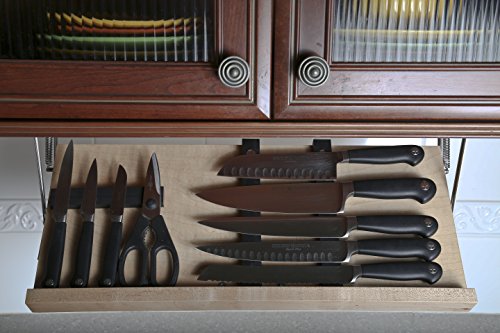 This idea is not only great for clearing counter clutter, it's so much safer if you have kids about.
You can read more about this product here
16. Tipout Sink Front Tray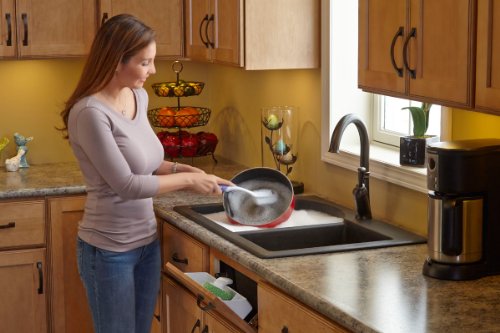 Say bye bye to sponges and dishcloths hanging around your sink.
This tipout tray is another great way to utilize the dead space between your sink and top of your cabinets.
Find out more about it here
17. Use the tops of your cabinets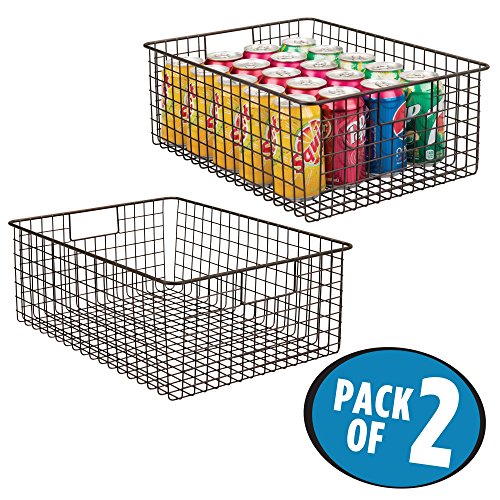 Most of us aren't lucky enough to have full height cabinets, leaving extra dead space that drives any small space kitchen storage seeker nuts!
When you're organizing a tiny kitchen you need to make the most of height, to avoid clutter at eye level.
Simple wire baskets placed on top of cabinets can help you find space in your small kitchen, I love these ones.
18. Get custom cabinets to maximize height
We know that the some of the best storage ideas for small kitchens use height so if you've got the money and you're not renting, custom cabinetry can be a great way to use your height.
A joiner or cabinet maker can make any design you choose, and often will quote for free.
I found this super helpful for when we were planning our new cabinets.
The joiner suggested ways of fitting in extra storage into the design which I hadn't considered.
19. Sink cover/extra counter space
When I was gathering ideas for a small kitchen space, I knew we wouldn't have enough counter space, unless we got creative.
There was only one place for us to add extra storage, and that is over the kitchen sink.
We were able to get a kitchen sink cover which sits to the side of our sink while we use the sink.
When we need more counter space, we simply slide it over top of the sink.
It works great for stacking items on, or we can place a chopping board on top and use it as prep space.
I really like this one on Amazon too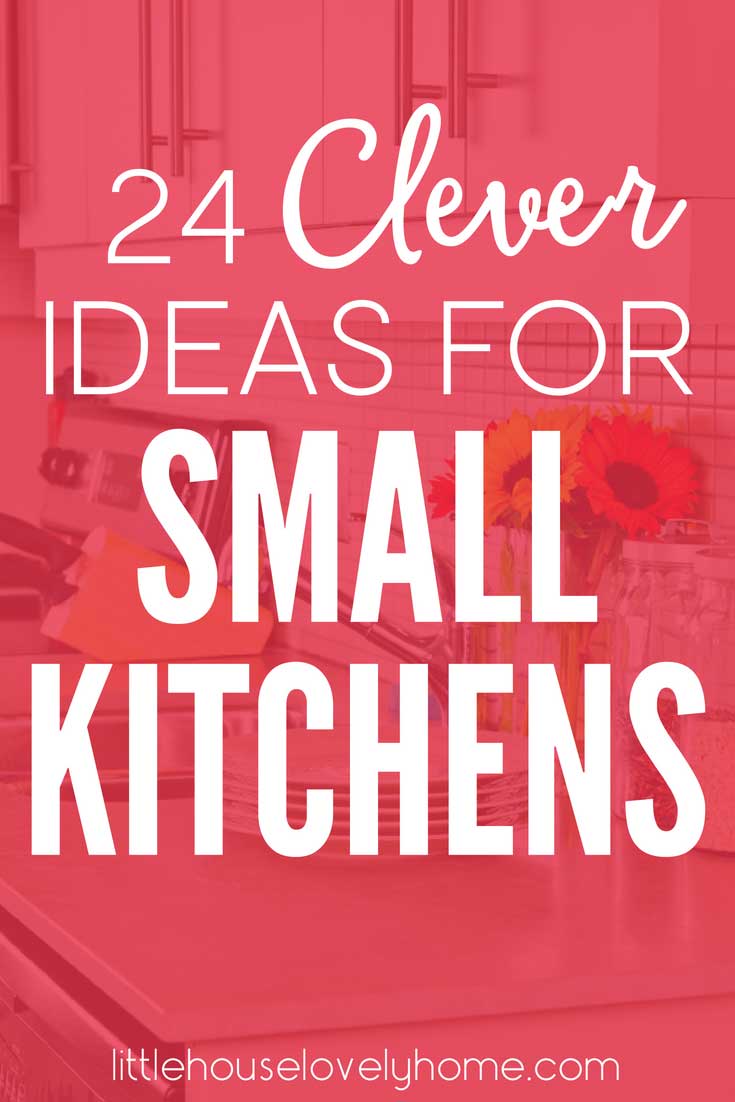 20. Stovetop cover
One of the simplest space saving ideas for small kitchen dwellers is to use a stovetop cover and transform your stovetop into usable space.
Check out my top pick here
21. Foldable dining table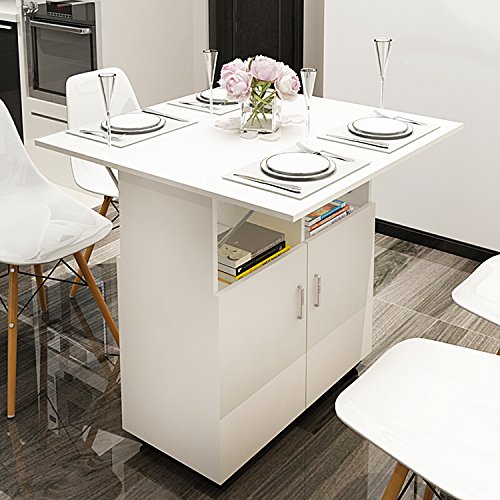 Another storage idea for small kitchen areas is to use a foldable dining table with storage.
This design is super clever, with well-sized cabinets for storage.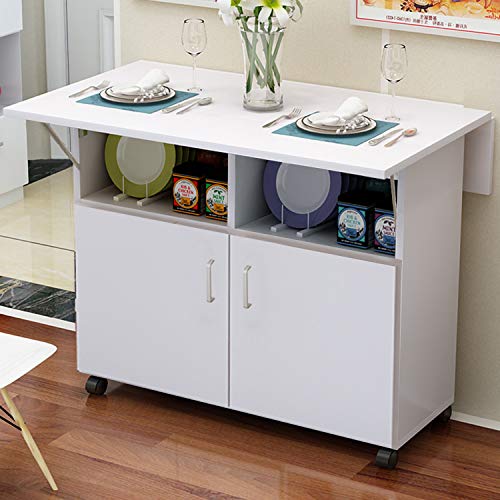 The table can be converted to suit either 2 or 4 place settings and can be used as a side table when not in use.
Click here to read more about it
22. Use shelf risers to double the use of your shelving
Shelf risers make more clever organizing ideas for kitchen shelves and countertops.
Shelf risers simply allow you to fit in double height storage for smaller items. Find them here
23. Can shelving
Dedicated can shelving is a boon to those of us wondering how to organize a small kitchen.
Stack 'em up and never fear can-valanches again!
24. Hang under shelf baskets in your cupboards
These undershelf storage baskets are such a clever way to achieve kitchen organization for small spaces.
Again, they enable you to use the full height of your cupboards and are perfect for tea towels and other light items that can be tidily shoved away behind closed cupboards.
You can find them here
25. Countertop Microwave Rack
Who knew that figuring out where to put your microwave in a small kitchen would be so hard.
I swear it's like Jenga trying to make a small kitchen function.
Anyway, these clever microwave rackswork double time – they give you somewhere to store your microwave as well as a storage shelf on top.
More microwave storage options can be found here.
Organizing a small kitchen can be tough, but it can also be super-fun.
There are so many amazing products and ideas out there to help you get your small kitchen organized and make it into the perfect space to create your favorite recipes.
Getting your small kitchen organized makes a huge difference to the way you feel about your kitchen. These clever ideas will help you achieve kitchen organization nirvana.
Like it? Pin it to your Kitchen Organization board for later.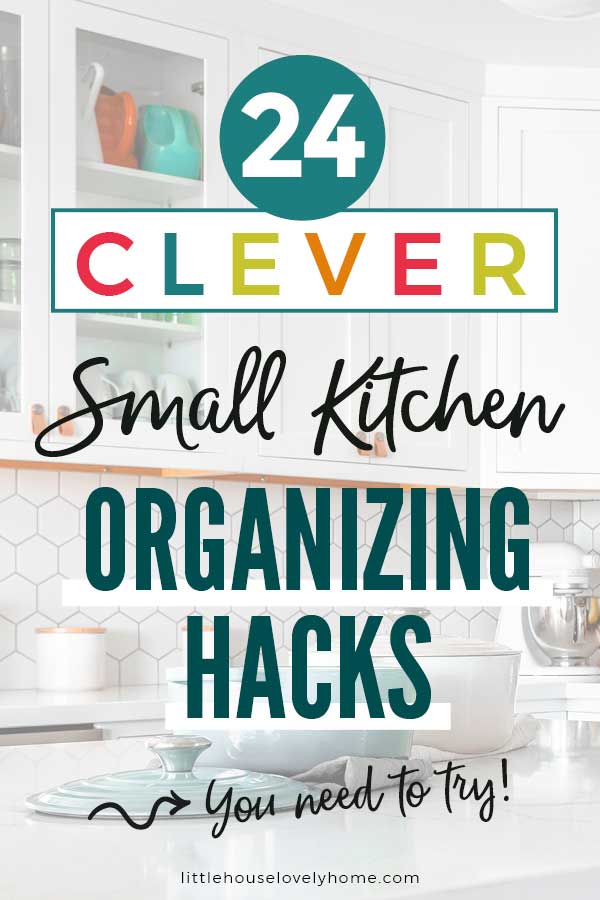 Let me know your best tips for small kitchens in the comments below.